Yellen warns of debt ceiling "catastrophe" for U.S. and beyond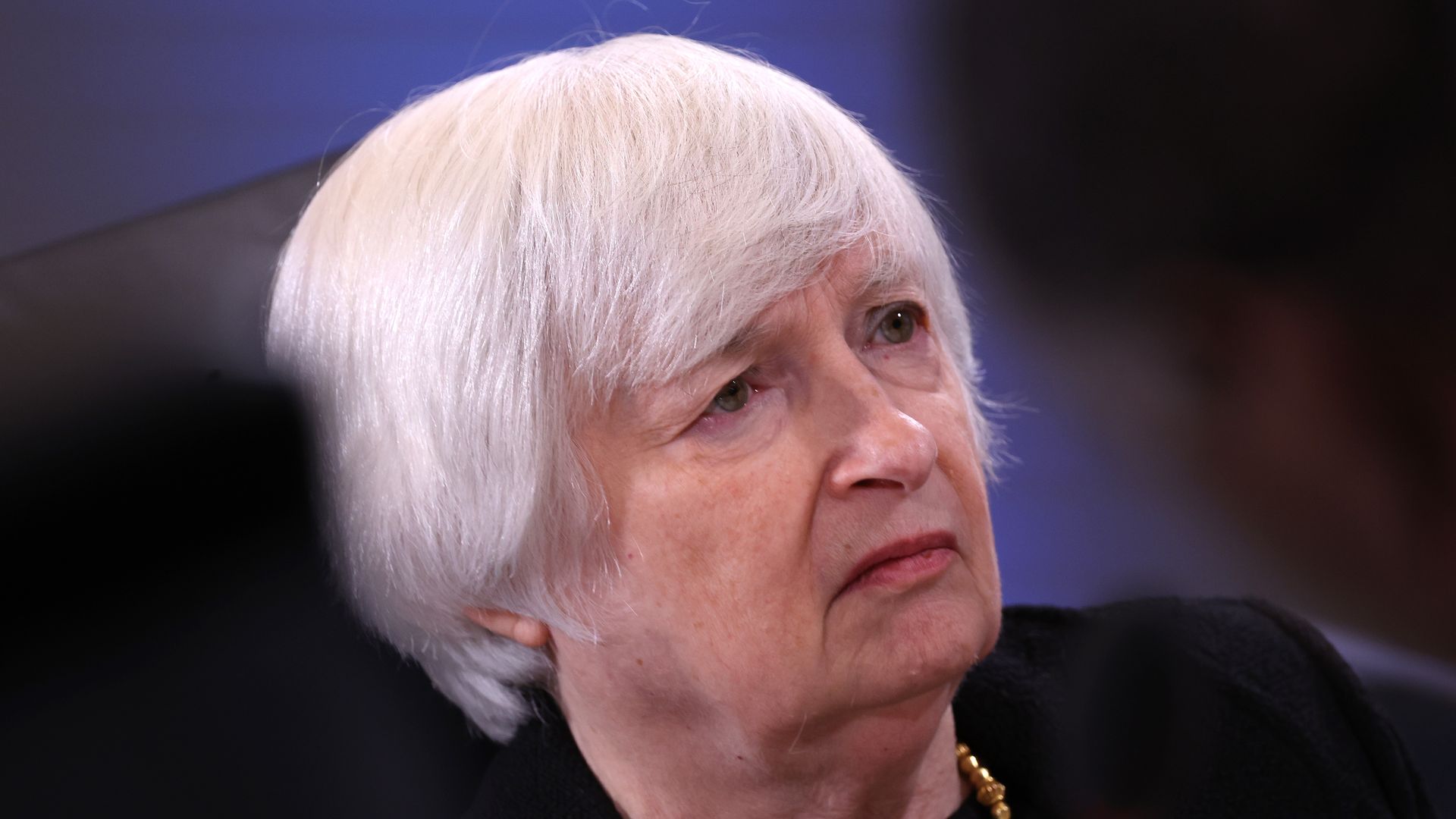 Treasury Secretary Janet Yellen told Axios she is "nervous" about the U.S. defaulting on its debt and cautioned that Americans likely will face a scary and spiraling recession if Congress doesn't raise the debt ceiling this summer.
Why it matters: Yellen's dark financial forecast is part of the Biden administration's attempt to put political pressure on the new House GOP majority to raise the debt ceiling without delay or hesitation.
It's also the unvarnished prediction of a former Fed chair who had a ringside seat to the 2011 debt ceiling showdown, when credit agencies downgraded U.S. debt for the first time in American history.
What they are saying: "Of course, it makes me nervous," Yellen told Axios from Johannesburg, South Africa, at the end of a 10-day trip across the continent. "It would be devastating. It's a catastrophe."
In the event of a default, "we'll have a financial crisis," she said. "And I believe we would have recession in the United States."
If the government were unable to issue new debt, the economy would go into a tailspin. "Spending would have to decline to match the tax revenues," Yellen said, depriving the government of any ability to juice the economy with stimulus.
Then fear might run loose, making consumers too scared to spend — a scenario Yellen called "psychological consequences" that "could further impact spending and deepen a recession."
Driving the news: The threat of a debt default has shadowed Yellen's trip to Africa, where on her first stop, in Dakar, she dismissed a Republican proposal to prioritize debt payments.
Zoom in: Yellen's trip was designed to persuade Africans, including elected officials, business leaders and farmers, that the U.S. is looking for a long-term relationship on everything from food security to rural electrification.
But the possibility of an American default was a reminder to Yellen's African hosts that the U.S. is house divided. Promises made by one political party are not guaranteed to be honored by the other.
Zoom out: Like Russia's invasion of Ukraine, a full-on U.S. default would have ripple effects across the globe, making it more expensive to borrow money in some of the world's poorest countries.
"Americans would face higher borrowing costs, and it would cause a good deal of turmoil globally as well," Yellen said.
Between the lines: Yellen doesn't seem terribly keen to spend late nights negotiating the debt ceiling with new House Speaker Kevin McCarthy (R).
She is careful to say that any official negotiations will happen between the White House and Congress. "The president and the leadership of Congress are responsible to find a way to get the debt ceiling raised," she said.
Be smart: By law, the Treasury secretary is the nation's bookkeeper. On the debt ceiling, she's also the timekeeper.
Throughout this process, she will raise two kinds of alarms: Warning how close the U.S. is to an actual default, and how catastrophic a default would be for the U.S. and global economy.
Go deeper