Updated Jan 31, 2023 -

World
China's first African debt rodeo is playing out in Zambia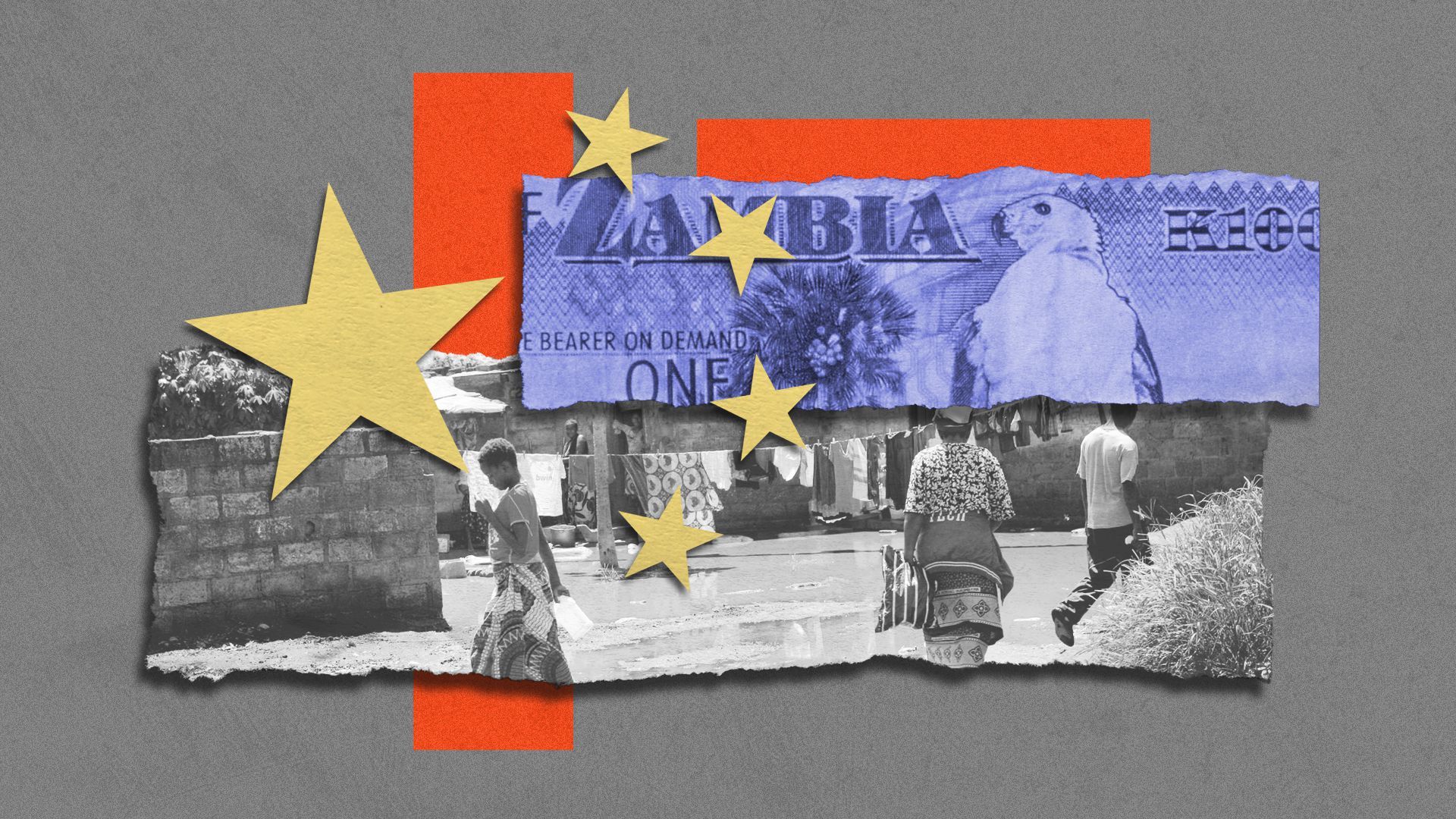 Lusaka, Zambia — The first test for African debt restructuring in a post-COVID world is playing out in Zambia, a land-locked country bigger than Texas, rich in copper and loaded with Chinese debt — and so poor that most of its population lives on less than $2 dollars a day.
Why it matters: If Zambia, China and international creditors cannot come to an agreement on how to restructure Zambia's debt, other African countries might get a glimpse of their fate. It's not pretty.
Unable to pay their bills, and unable to restructure their debt, countries like Zambia will be unable to attract any investors to help them them improve their economy — and grow out of poverty.
The big picture: China has agreed, in principle, to help restructure the debt of struggling Africa economies. But the question remains if China is willing, in practice, to take a haircut on any of its loans.
Zambia, which defaulted on $17 billion of its external debt two years ago, is China's first debt rodeo under the new so-called "Common Framework" program.
That makes the debt question in Zambia, Africa's second largest copper producer, bigger than just a single country.
Driving the news: The Biden administration and the International Monetary Fund are swinging into action.
Putting pressure on China, the biggest holder of Zambia's external debt, has been a central push of Treasury Secretary Janet Yellen's private and public diplomacy on the first two stops of her 10-day Africa tour.
"We will continue to press for all official bilateral and private-sector creditors to meaningfully participate in debt relief for Zambia, especially," Yellen told Zambia's president on Monday. She also called China a "barrier."
The IMF's Managing Director Kristalina Georgieva also flew to the capital of Lusaka, where new Chinese-built roads lead onto old British traffic circles, for private talks on Monday.
China's embassy in Lusaka shot back at Yellen's comments. In a statement, a spokesperson accused the U.S. of "sabotaging" efforts to find a debt solution and needled the U.S. on its own "catastrophic debt problem."
The intrigue: The U.S. and China discussions over Zambia could also be a game of footsie for two countries, testing their willingness to cooperate on a range of global issues after President Biden and President Xi promised to communicate better at the G-20 last November.
Yellen had a largely positive meeting with her Chinese counterpart, Vice Premier Liu He, in Zurich before heading to Africa.
And while she has name-checked China in prepared remarks, calling on Beijing to do more, she's also gone out of way to call the talks with Liu "constructive."
A senior Treasury official expressed some optimism that a call could be complete soon, but didn't specific a timeline.
Go deeper: In response to the global pandemic – which increased the odds of debt defaults in emerging economies – the G-20 in 2020 devised so-called "Common Framework for Debt Treatments."
The goal was to create a process that would include China, a new player the lending game, in any likely international debt-relief negotiations.
Zambia, which elected a new president in 2021 after its default in 2020, asked the IMF for $8.4 billion in debt relief last September, making it the first for the Common Framework program.
Ethiopia and Ghana have also applied for debt restructuring under the program. (Chad initially applied, but reached an agreement with creditors that didn't involve a restructuring.)
Be smart: As African countries assumed some $700 billion in debt over the last two decades, China emerged as one of the continent's biggest lenders.
Despite its reach across Africa, Beijing is still a relatively new creditor.
If China continues to slow-walk the talks, other African countries will be on notice, and it will be clear that Beijing plans to drive a hard bargain.
Editor's note: This article has been corrected to note that roughly $700 billion in outstanding African debt belongs to many countries and institutions, not just China, which has emerged as one of the continent's biggest lenders.
Go deeper