Yellen slams Russia and China in Africa speech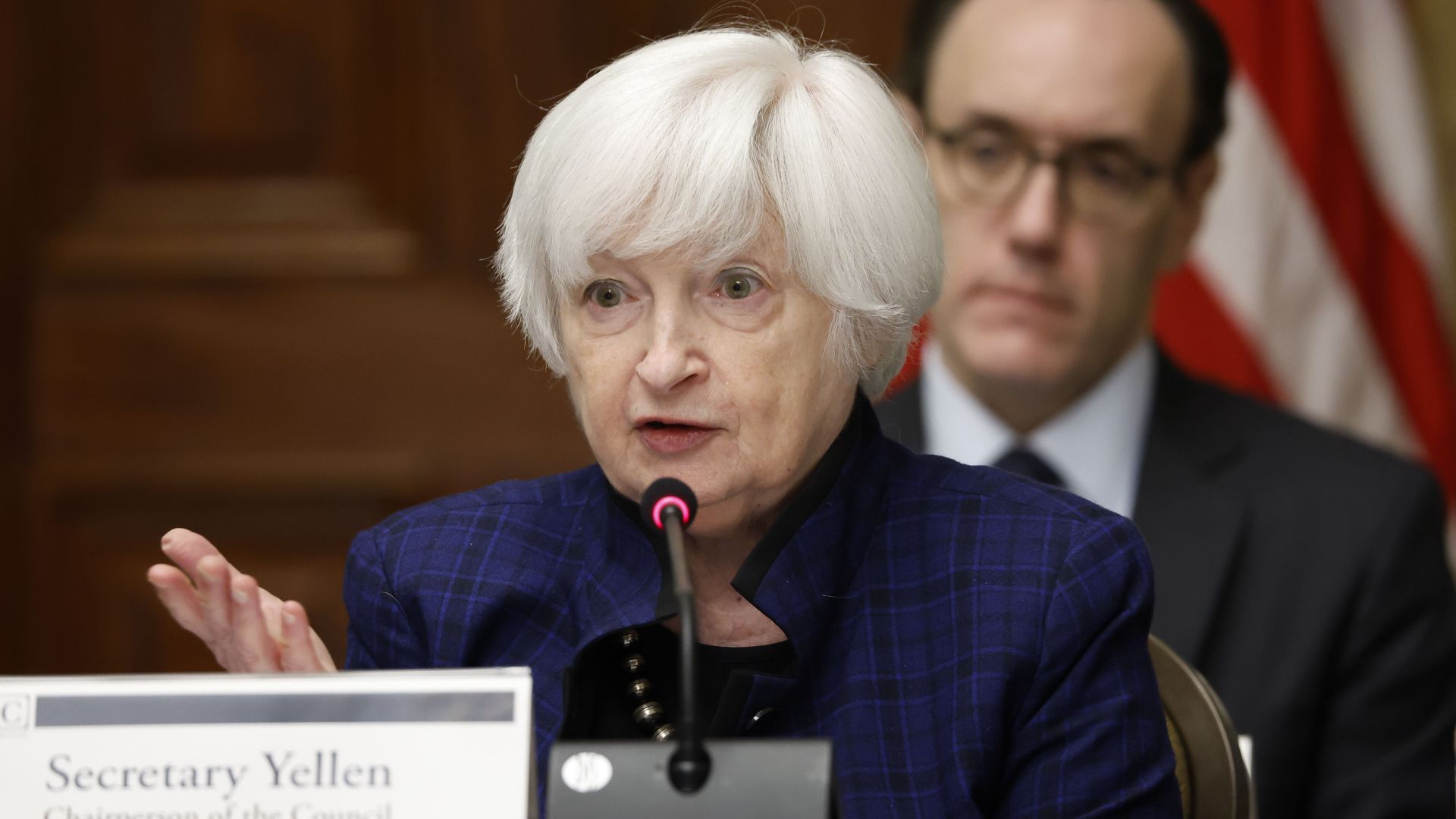 DAKAR, Senegal — Treasury Secretary Janet Yellen used her first speech on African soil to take direct aim at Russia — citing the war in Ukraine as the leading cause of African misery — and to call on China to offer debt relief to struggling economies.
Why it matters: Yellen's ten-day trip is designed to highlight what the U.S. can offer Africa, and not dwell on where other countries fall short. But Russia's military aggression and China's unyielding approach to indebted, poor countries, is the unavoidable background music to Yellen's three-country tour.
Friday's speech in Dakar laid bare the Biden administration's raw feelings, with Yellen trying to harness African frustrations over food insecurity and high energy costs and direct them at one man: Vladimir Putin.
She also singled out China for slow-walking efforts to provide debt relief.
What we're watching: Neither Beijing nor Moscow appears willing to cede their influence. In their own ways, they remain convinced that big infrastructure investments and hard military training are more persuasive than the U.S.' soft diplomacy.
The intrigue: Both China's new foreign minister — and Russia's veteran one — were able to front-run Yellen's trip.
China's Qin Gang arrived last week for a five-country tour. Russia's Sergei Lavrov is scheduled to beat Yellen to Pretoria, the capital of South Africa, by two days.
What they're saying: "Russia's barbaric aggression against its neighbor is particularly being felt by Africa and its people" Yellen said in prepared remarks in a speech at a Dakar business incubator, designed for women and young people. (The median age of Senegal's population is 19 years.)
"Russia's war and weaponization of food has exacerbated food insecurity and caused untold suffering."
Between the lines: Yellen's shot at China is more subtle, but it comes after she raised concerns about Zambia's debt restructuring directly with China's Vice Premier Liu Hu in their first face-to-face meeting two days ago in Zurich.
Many African countries "simply have unsustainable debt burdens," Yellen said.
"We believe that the international community, including China, needs to provide meaningful debt relief to help countries regain their footing."
The big picture: Africa has long been played host to rivalries between big powers, with colonists, and then Americans, eager to exploits its resources — and its people — for at least four centuries.
While Africa's natural resources are still of crucial importance, especially its minerals, Yellen is more focused on tapping into Africa's human capital and helping individual entrepreneurs and workers realize their potential.
By the numbers: Yellen rattled off some demographic statistics to make her case that the time for engaging Africa's workforce is now.
In approximately 30 years, Africans will make up a quarter of the world's population.
Some 1.7 million Africans enter the job market every month.
By 2035, there will be more sub-Saharan Africans who will reach working age than the rest of the world combined.
"Demographics is not destiny," she said. "Africa's demographic momentum can propel economic growth if, and only if, adequate investments are made today to create economic opportunity for all."
Be smart: Even if part of the trip is about offering African countries an alternative to China, Treasury officials bristle that Beijing is the main motivating factor behind the trip.
"This wasn't the China team saying: "Hey, we need to engage with Africa to ward off China,'" a Treasury official told reporters traveling with Yellen.
"This was the Africa team lifting this up and saying: 'This is a really important opportunity and we need to do this.'"
Go deeper