House's no-show budget plan fuels GOP Wild West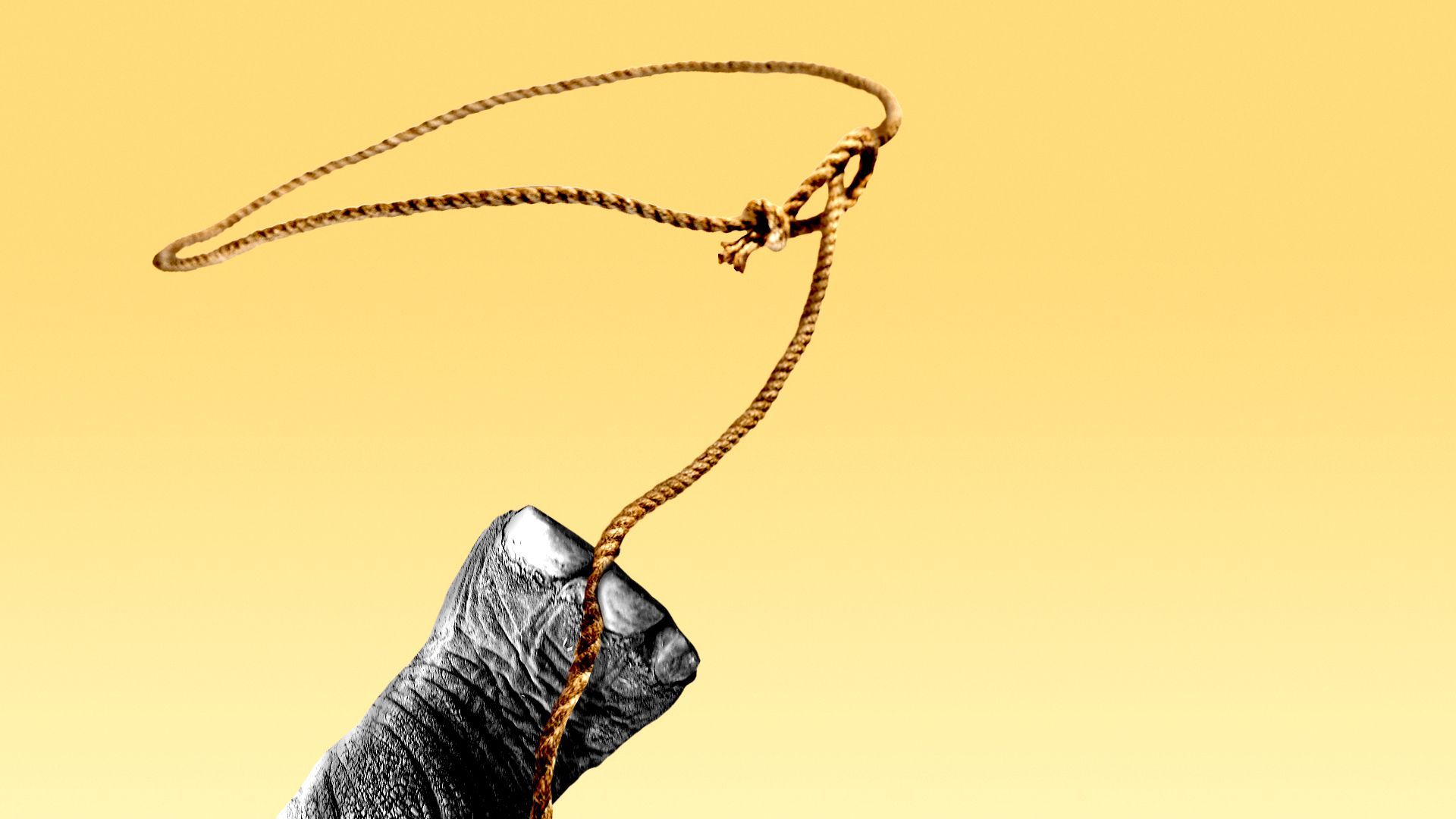 House Republicans from every ideological caucus — known colloquially as the "five families" — are using the absence of a unified GOP budget proposal to attempt to shape negotiations with the White House.
Why it matters: House Speaker Kevin McCarthy's (R-Calif.) accommodating leadership style and narrow majority — along with the concessions he made to become speaker — have empowered rank-and-file lawmakers to try to exert new influence.
But the splintering efforts threaten to make it even more difficult for McCarthy to unite the conference and wield leverage against the White House — both on spending cuts and the debt ceiling.
"I've never been more pessimistic about where we stand with the debt ceiling," House Financial Services Chair Patrick McHenry (R-N.C.) told Punchbowl News on Tuesday, warning he does not see a path to a deal.
Driving the news: President Biden responded to Speaker McCarthy's request for a meeting on Tuesday by calling for the House GOP to release its counter-proposal to his administration's budget request before the House breaks for a two-week recess on Thursday.
McCarthy, in his letter, laid out broad proposals for cutting trillions of dollars in spending in exchange for raising the debt ceiling but stopped short of presenting a more comprehensive plan.
What we're hearing: GOP lawmakers across the ideological spectrum told Axios on Tuesday they agree with the sentiments of the letter. But that's not stopping them from charging ahead with their own demands.
The latest: Members of the Freedom Caucus, which has already laid out a list of drastic prerequisites for voting to raise the debt ceiling, on Tuesday announced plans to introduce more than 500 pieces of legislation totaling around $1 trillion in cuts over 10 years.
"Somebody had to take the first step," said Rep. Ralph Norman (R-S.C.).
The Freedom Caucus may go further still: The bills "don't represent the entirety of all the cuts that need to occur," Rep. Chip Roy (R-Texas) told Axios. "But those are upfront cuts that we could do almost immediately."
"I would like to see more," said Norman, "But this is a first step. ... We're on a deadline that we want to meet so we're not backed into a corner."
What to watch: Rep. Kevin Hern (R-Okla.), the chair of the Republican Study Committee, said the 176-member conservative group still plans to release its annual alternative budget in mid-April.
"The RSC budget is a roadmap, a playbook if you will," Hern said, boasting that a "huge majority" of RSC's debt limit playbook was included in McCarthy's letter on Tuesday.
Other groups, including the "pragmatic" Main Street Caucus and moderate Republican Governance Group, are playing a more behind-the-scenes role in the negotiations.
Yes, but: Main Street Caucus chair Rep. Dusty Johnson (R-N.D.) told Axios, "To the extent that deals get cut, they don't get cut in the press. They get cut by people with the power to cut deals sitting down and talking. That's what we need to happen."
Johnson said his group has taken a more behind-the-scenes approach in trying to shape the budget, meeting with GOP leadership "on an almost daily basis" for the last two months.
Between the lines: McCarthy "obviously can't pass anything without 218 votes," Hern said, adding that the speaker's job is to balance the equities within the conference to craft a GOP budget everyone can coalesce around.
One senior House Republican, speaking on the condition of anonymity, told Axios, "Most of the Freedom Caucus members I talk to are acutely aware of the fact that they're not going to get everything they want. That's not how negotiations work."
"At the end of the day, I'll make you a bet, nobody gets everything they want," said Rep. Tom Cole (R-Okla.), the chair of the Rules Committee.
The intrigue: There has been some apparent discord at the top of the GOP's ranks over whether to even put out a codified proposal.
McCarthy swiftly shut down Budget Committee Chair Jodey Arrington's (R-Texas) suggestion last week that they were preparing a "deal sheet" laying out the GOP's terms in debt ceiling talks.
House Republicans may wait until after the June debt-ceiling deadline before even passing a budget resolution, according to Punchbowl News.
Go deeper