The Biden/Trump split screen could be a preview of '24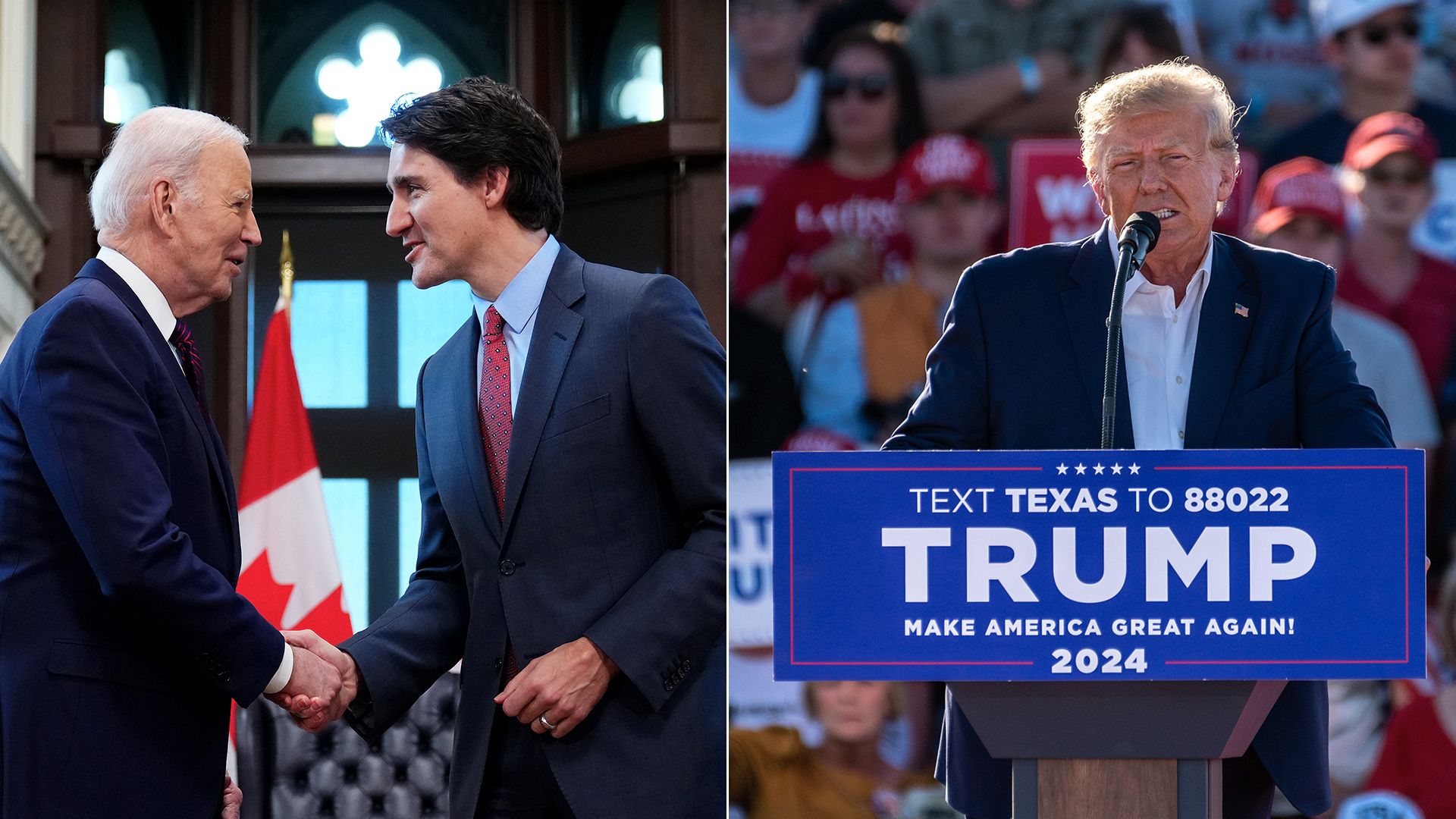 The split screen of the two presidential frontrunners for 2024 was jarring the past week: President Biden at the White House and in Canada, trying to project calm leadership — and former President Trump, bitterly railing against his enemies as he faces a possible indictment in New York.
Why it matters: The scenes previewed what a Biden-Trump rematch could look like, as Biden seeks to crawl out from low poll numbers by showing stability and selling his legislative wins, while Trump — facing multiple criminal probes — uncorks chaos and taps into the anger of his MAGA base.
Driving the news: "They're coming after you." Trump told thousands of supporters at a rally in Waco, Texas, on Saturday, warning of the "weaponization of law enforcement."
In the run-up to the rally, Trump had predicted he would be arrested in the Manhattan district attorney's probe into alleged hush money payments Trump made to porn star Stormy Daniels, who says she and Trump had an affair.
Trump also made comments that were widely interpreted as encouraging violence, warning of "potential death and destruction" if he were charged, and calling Manhattan DA Alvin Bragg an "animal."
The other side: Biden advisers are mapping out a Rose Garden re-election strategy that will rely on sunny White House ceremonies, surgical sorties to swing states, and a busy international travel schedule.
Team Biden's goal is to project a sense of normalcy and highlight his legislative accomplishments and economic record.
Biden's advisers are convinced the president can overcome his low approval rating — which slipped to 38% in an Associated Press survey last week — by outlining his infrastructure plan Congress passed last year, project-by-project and city-by-city.
He'll head to North Carolina on Tuesday to promote the semiconductor law he signed last year, kicking off a 20-state "Investing in America" tour for him and his Cabinet.
Zoom in: Meanwhile, Trump is returning to a familiar playbook — raging against political foes and the various prosecutors who have him in their sights — and telling his fans that he's the only one who can save the country.
As Trump faces a federal investigation into his role in the Jan. 6 insurrection, his campaign has stepped up an emphatic defense of the Trump supporters who attacked the U.S. Capitol that day.
He opened his Texas rally with video footage of the attack, and a recording of the "J6 Prison Choir" — jailed rioters from that day — singing the national anthem, with breaks in the song in which Trump recites the Pledge of Allegiance.
"If we don't win this next election, 2024, I truly believe our country is doomed," Trump told the Waco crowd.
But he also did a 180-degree turn on his potential arrest in the New York case by suggesting he might be in the clear: "I think they've already dropped the case," he told reporters on his plane after the rally.
Bragg, the Manhattan DA, has not commented on the case's status.
What we're watching: The split screen is likely to be most obvious when Biden is on foreign soil. He can attend summits and be photographed with foreign leaders while promoting U.S. interests.
In April, he heads to Ireland for a six-day trip. Then in May, he'll head to Japan for a G7 summit, followed by a likely stop in Australia.
In July Biden will be on Russia's doorstep for the NATO summit in Vilnius, Lithuania.
There's still talk of squeezing in a trip to Africa this summer or fall, before the president heads to the G20 in India.
The bottom line: Biden advisers know there's little they can do to contain the chaos of a Trump candidacy, but they will studiously avoid commenting on Trump's potential legal predicaments.
However, they will call for calm.
"The president has been very clear when it comes to Americans who want to — to protest: They should do it peacefully," White House press secretary Karine Jean-Piere said last week.
Go deeper