TikTok's time in the barrel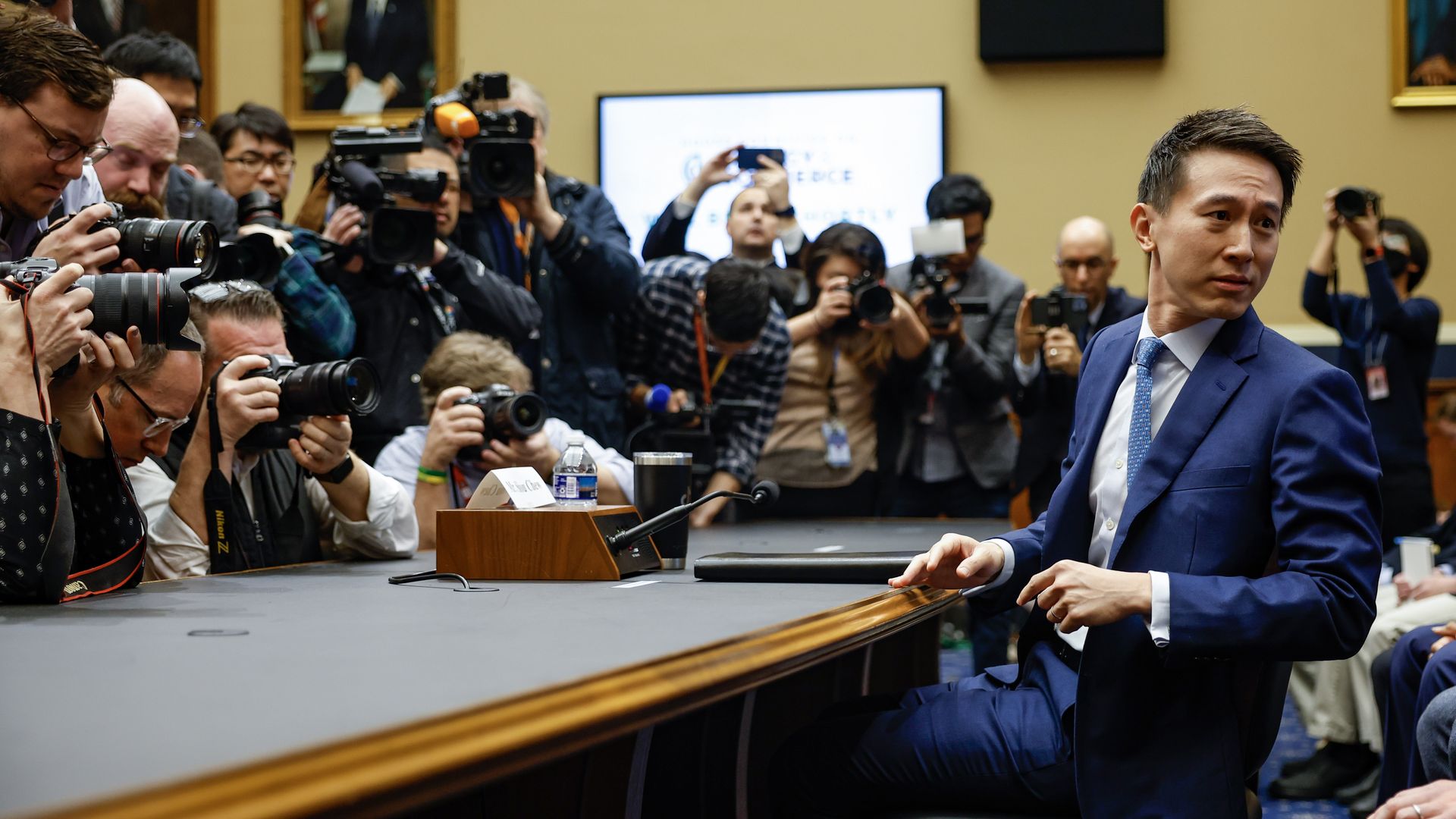 TikTok CEO Shou Zi Chew joined the illustrious club of Big Tech CEOs paraded before Congress for a public flogging, producing a viral spectacle that has hardened lawmakers' animus toward the Chinese-owned app.
Why it matters: The Singapore-born, Harvard-educated Chew faced a near-impossible task as he was grilled by the House Energy and Commerce Committee on TikTok's ties to the Chinese government, data practices and harmful effects on children.
Some of Chew's answers seemed likely to accelerate a U.S. ban of the immensely popular app, even as the Biden administration prefers to force a sale by TikTok parent ByteDance.
"If this committee gets its way, TikTok's time is up," Rep. Randy Weber (R-Texas) told Chew, a comment that reflected the absence of friendly faces — Democratic or Republican — throughout the hearing.
Zoom in: Some lawmakers used their time to challenge Chew on the same health and safety issues that plague all social media platforms, but questions about the Chinese Communist Party's ability to obtain user data or promote propaganda produced the most striking answers.
"I have seen no evidence that the Chinese government has access to [TikTok user] data. They have never asked us. We have not provided," Chew told Rep. Anna Eshoo (D-Calif.). "I find that actually preposterous," the Democrat shot back.
Asked about a Forbes report that ByteDance planned to use TikTok to spy on individual Americans, Chew told Rep. Neal Dunn (R-Fla.): "I don't think 'spying' is the right way to describe it."
And when pressed three times by Rep. Debbie Lesko (R-Ariz.) whether the Chinese government is persecuting Uyghur Muslims, Chew declined to answer specifically and said he was there to discuss TikTok.
Context: The House China Select Committee is holding a hearing tonight featuring Uyghur witnesses who spent time in Chinese "re-education camps," which the U.S. government says are central to Beijing's campaign of genocide.
The big picture: The army of lobbyists and staffers deployed by TikTok — including people close to House Speaker Kevin McCarthy (R-Calif.) and other powerful members of Congress — appear to have done little to swing momentum on Capitol Hill.
McCarthy told reporters he supports Congress moving forward with a TikTok ban, citing the "bipartisan concern" on display at the hearing.
"Nothing we heard from Mr. Chew today assuaged" U.S. national security concerns about TikTok, said Sens. Mark Warner (D-Va.) and John Thune (R-S.D.), co-sponsors of a bill that would give President Biden greater power to regulate and sanction China-affiliated companies.
Sen. Thom Tillis (R-N.C.) issued a statement demanding all members of Congress stop using TikTok, calling it "beyond reckless."
The other side: "Shou came prepared to answer questions from Congress, but, unfortunately, the day was dominated by political grandstanding that failed to acknowledge the real solutions already underway," a TikTok spokesperson said, pointing to the "Project Texas" plan to store American user data on U.S. soil.
The spokesperson also reiterated TikTok's argument that a ban would harm the 150 million Americans and 5 million businesses who use the app.
The bottom line: "You have, in fact, been one of the few people to unite this committee," Rep. Tony Cárdenas (D-Calif.) told Chew, before comparing him — unfavorably — to Facebook CEO Mark Zuckerberg.
Go deeper