The Senate is entering the chat on TikTok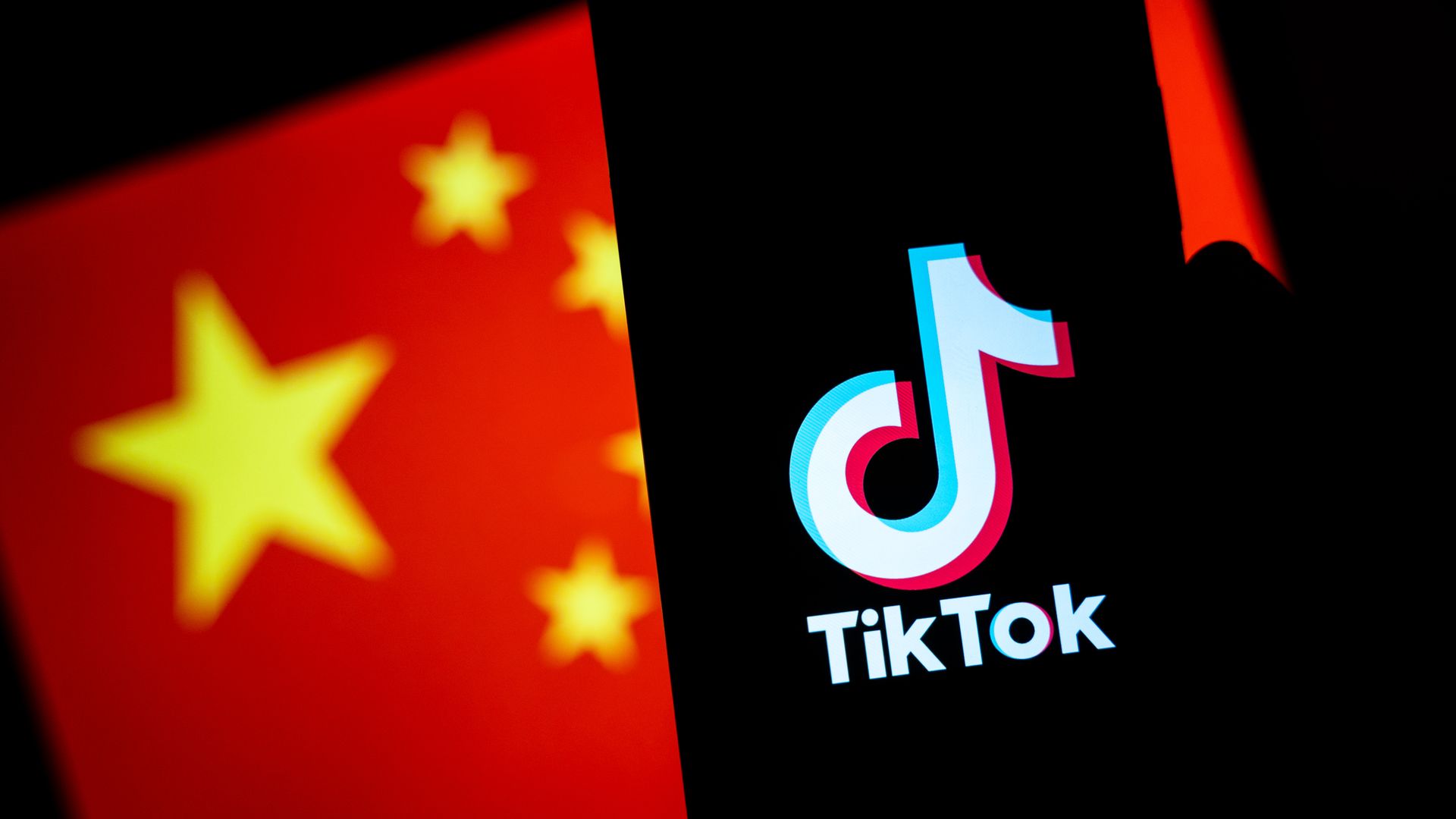 Sens. Mark Warner (D-Va) and John Thune (R-SD) introduced a bipartisan bill Tuesday giving President Biden greater power to regulate and sanction China-affiliated companies, including social media giant TikTok.
Why it matters: Interest in TikTok-related legislation is high on Capitol Hill for both parties, as TikTok's national security deal being determined by the Committee for Foreign Investment in the United States remains unfinished.
Warner and Thune's bill, called the RESTRICT Act, gives the Department of Commerce more power to review, prevent and mitigate information communications and technology transactions that pose "undue" risk.
The introduction comes a week after the House Foreign Affairs committee approved of a similar Republican-sponsored bill, the Deterring America's Technological Adversaries Act.
TikTok has particularly been under fire due to having a China-based owner, ByteDance, along with perceived worries about national security.
Zoom in: Warner and Thune are high-profile senators with a track record on tech and national security legislation.
Thune, the No. 2 Senate Republican, told Axios he's confident about the bill's chances because it has "good, strong bipartisan support [from] people in the right positions."
"Our beef is with the Chinese Communist Party, certainly not the Chinese people or Chinese Americans," Warner said at a press conference. "This is a popular application... it's going to be incumbent upon the government to show its cards for why it's a threat."
Background: The House effort currently lacks bipartisan support and has been criticized by the American Civil Liberties Union and others for potentially stifling free speech.
Governments across the world, including in the U.S., Canada and the EU, are banning TikTok on government devices.
TikTik CEO Shou Zi Chew will testify before the House Energy and Commerce Committee on March 23.
How it works: The House GOP "singled [TikTok] out," whereas the Senate bill "creates a process" for screening companies from foreign adversaries, according to Thune.
The House bill, he said, could be vulnerable to a legal challenge on the grounds that it's a bill of attainder – legislation targeting specific people or entities without due process.
"We think this approach has a better chance of withstanding ... a legal challenge," said Thune.
Bill sponsors described the effort as a "holistic" and "comprehensive" approach to mitigating technology risks in the U.S. from countries including China, instead of playing "whack-a-mole" by addressing companies one by one.
The intrigue: The White House is supporting this bill, per a statement from National Security Council Advisor Jake Sullivan.
The big picture: Critics are concerned that TikTok could put U.S. customer data at risk because Chinese law requires China's companies to share information with the government, Axios Scott Rosenberg and Sara Fischer write.
Details: The bill is co-sponsored by Sens. Tammy Baldwin (D-Wisc.), Deb Fischer (R-Neb.) Joe Manchin (D-W.Va.), Jerry Moran (R-Kan.), Michael Bennet (D-Colo.), Dan Sullivan (R-AK.), Kirsten Gillibrand (D-N.Y.), Susan Collins (R-Maine), Martin Heinrich (D-N.M.) and Mitt Romney (R-Utah).
The bill does not call companies out by name but includes different regions, meaning actions from Commerce empowered under this bill may impact technology from China, Cuba, Iran, North Korea, Russia and Venezuela.
"The RESTRICT Act establishes a risk-based process, tailored to the rapidly changing technology and threat environment, by directing the Department of Commerce to identify and mitigate foreign threats to information and communications technology products and services," a release about the bill reads.
The other side: "The Biden Administration does not need additional authority from Congress to address national security concerns about TikTok: it can approve the deal negotiated with CFIUS over two years that it has spent the last six months reviewing," TikTok spokesperson Brooke Oberwetter said in a statement.
"We appreciate that some members of Congress remain willing [to] explore options for addressing national security concerns that don't have the effect of censoring millions of Americans."
Go deeper