Team Biden to TikTok's owners: Just sell it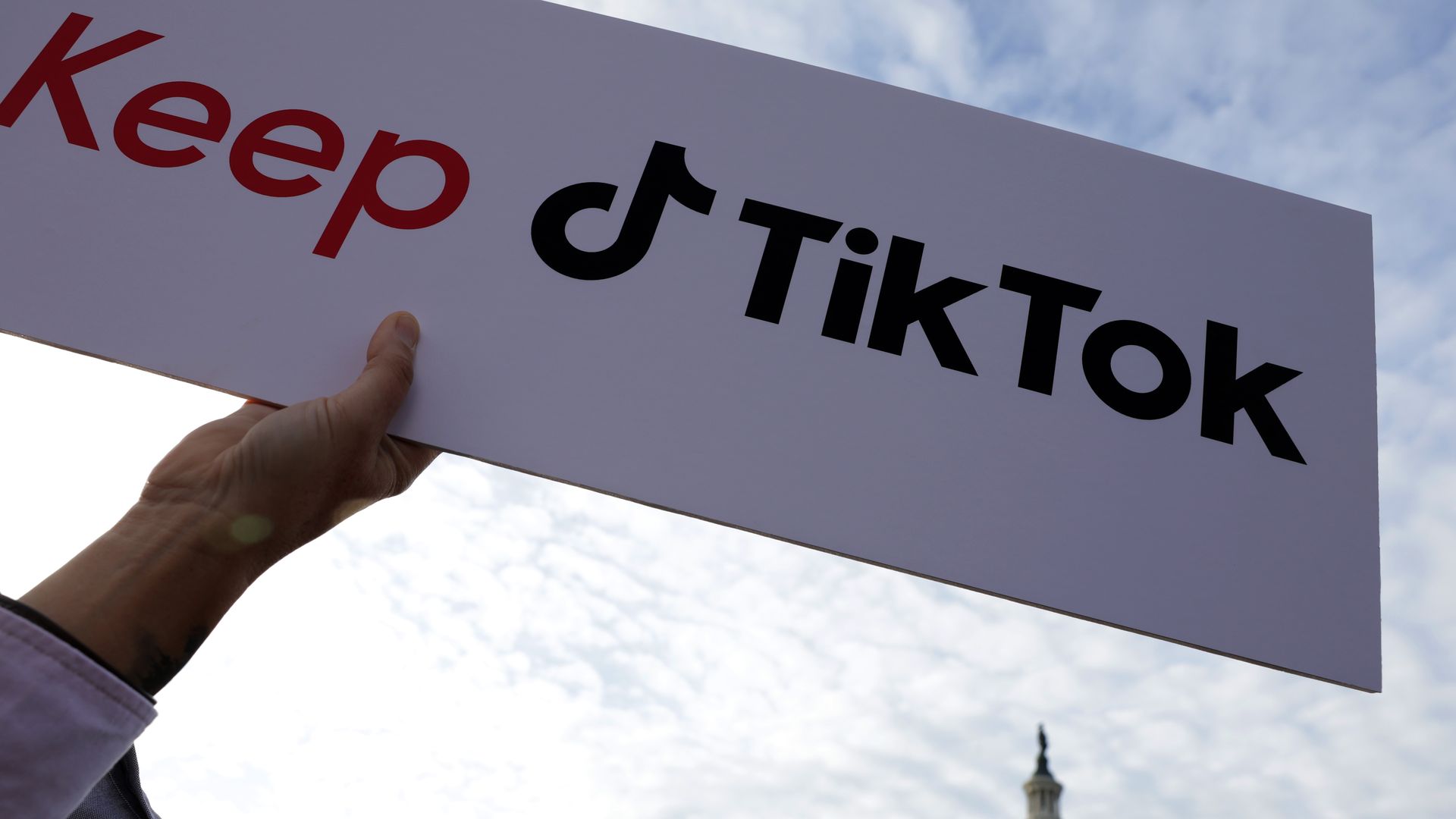 The Biden administration has a simple response to the army of TikTok influencers who swarmed Capitol Hill yesterday: The app can stay — if ByteDance agrees to sell it.
Why it matters: The White House is under intense pressure from Republicans — and President Biden's fellow Democrats — to protect the nation from potential security threats posed by the Chinese ownership of TikTok, the wildly popular app with 150 million active users in the U.S.
At the same time, many young — and progressive — Americans use TikTok as though their life depends on it.
Democrats close to the White House are concerned that Biden could face a political reckoning if his actions lead the app to be deleted from the phones of young Americans — a voting group that was crucial to Democrats' surprising success in last year's elections.
Driving the news: Ahead of TikTok CEO Shou Zi Chew's testimony to Congress on Thursday, a U.S. official told Axios: "The administration can achieve its national security goals without necessarily banning the app, including by ByteDance selling TikTok."
It was the Biden administration's most explicit official statement yet about its preferred outcome in the debate over TikTok.
The big picture: The official's comments come as the administration, Congress and TikTok are amplifying their arguments on whether the app that features user-generated videos should be sold, banned or modified.
For TikTok, that's being done largely by its army of users, influencers and content generators — a powerful alliance the White House has long recognized and courted.
The strategy isn't unique, but the scale is: TikTok's users in the U.S. — a little less than half the nation's population — are on notice that the app could be wiped from their phones.
"Some politicians have started talking about banning TikTok," Shou said Tuesday night, on a TikTok video. "Now this could take TikTok away from all 150 million of you."
Rep. Jamal Bowman (D-N.Y) is leading the congressional defense of the app in the face of bipartisan efforts to ban it in the U.S. He held a press conference Wednesday night to make his case.
The other side: Senate Intelligence Committee Chair Mark Warner (D-Va.) has been warning about the risks posed by TikTok.
He told reporters yesterday he is concerned about "the notion of this many Americans' data in jeopardy, and the ability to have this platform to be used for propaganda purposes."
Warner and Sen. John Thune (R-S.D.) are lead sponsors of the RESTRICT Act, which would give the Commerce secretary more latitude to restrict and potentially ban companies from countries such as China and Iran.
That plan has the support of the White House.
Another bipartisan, bicameral effort led by Sen. Marco Rubio (R-Fla.) would ban TikTok entirely. Sen. Josh Hawley (R-Mo.) and Rep. Ken Buck (R-Ohio) also have proposed a bill to ban it.
Go deeper