Updated Mar 3, 2023 -

World
Biden and Germany's Scholz commit to continued Ukraine aid in meeting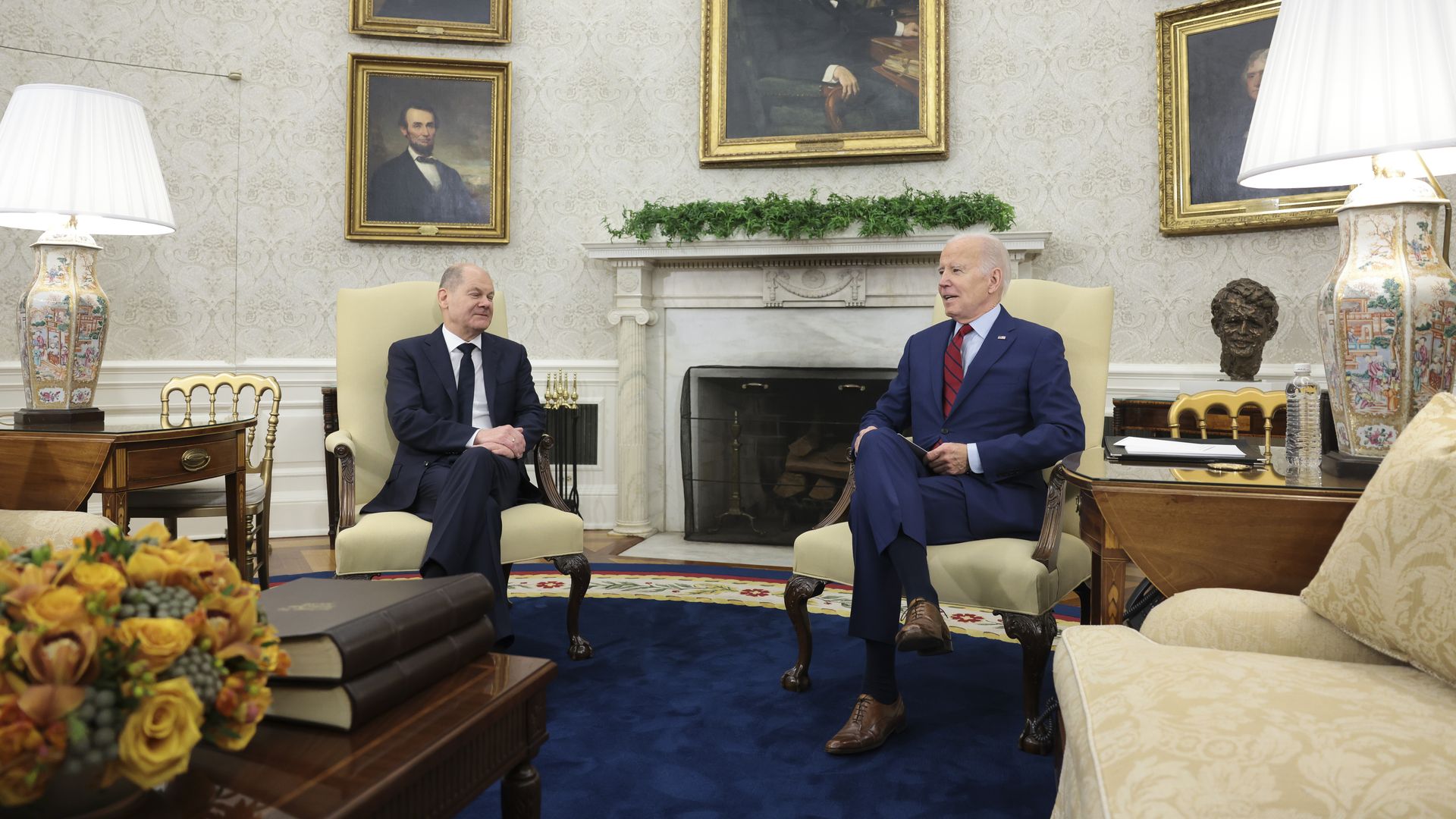 German Chancellor Olaf Scholz and President Biden met at the White House Friday to discuss the allies' support for Ukraine against the ongoing Russian assault.
Why it matters: It was Scholz's first visit to the White House since the invasion began and comes shortly after Biden reaffirmed U.S. commitment to Ukraine on the war's one-year mark.
Scholz last visited the White House in February 2022, weeks before the start of the war. At the time, he vowed to be "very, very hard to Russia" and stand up for Ukraine as it faced the threat of a large-scale invasion.
Friday's meeting came on the same day the U.S. announced millions more in military aid to Ukraine.
What they're saying: "I want to thank you, Olaf, for your strong and steady leadership," Biden said during the Oval Office meeting. "You stepped up to provide critical military support. And I would argue, beyond the military support, the moral support you've given Ukrainians has been profound."
"It's really important that we act together […] and that we make it feasible to give the necessary support to Ukraine," Scholz responded.
The U.S. and Germany must "give the message that we will continue to do so as long as it takes," Scholz added.
Catch up quick: Biden and Scholz were expected to discuss efforts to bolster Ukraine's defenses and transatlantic security, as well as counter Russia's aggression, White House press secretary Karine Jean-Pierre said in a statement last month.
The U.S. and Germany announced in January that they would send battle tanks to Ukraine but so far both Biden and Scholz have opposed Kyiv's calls for fighter jets.
The pair would also discuss "shared challenges posed by China," Jean-Pierre said.
The big picture: Russian President Vladimir Putin appears to be waging a war of attrition as his invasion of Ukraine grinds into its second year, with brutal fighting in the eastern Donbas reason.
The U.S. warned last month that China was considering sending lethal aid to Russia.
Scholz urged China not to send weapons to Russia in an address to the German Bundestag on Thursday, Reuters reported. "My message to Beijing is clear: Use your influence in Moscow to urge the withdrawal of Russian troops," he said.
Of note: The latest U.S. aid package for Ukraine is valued at up to $400 million and features "more ammunition and support equipment for Ukraine's precision fires, artillery, and armored vehicle operations," per the Pentagon.
The U.S. has now provided Ukraine more than $32 billion in security assistance since the start of the Russian attack, the Pentagon said.
Editor's note: This story has been updated with comments from Biden and Scholz, as well as details about the new U.S. aid package for Ukraine.
Go deeper