Updated Jan 25, 2023 -

World
U.S. and Germany to send battle tanks to Ukraine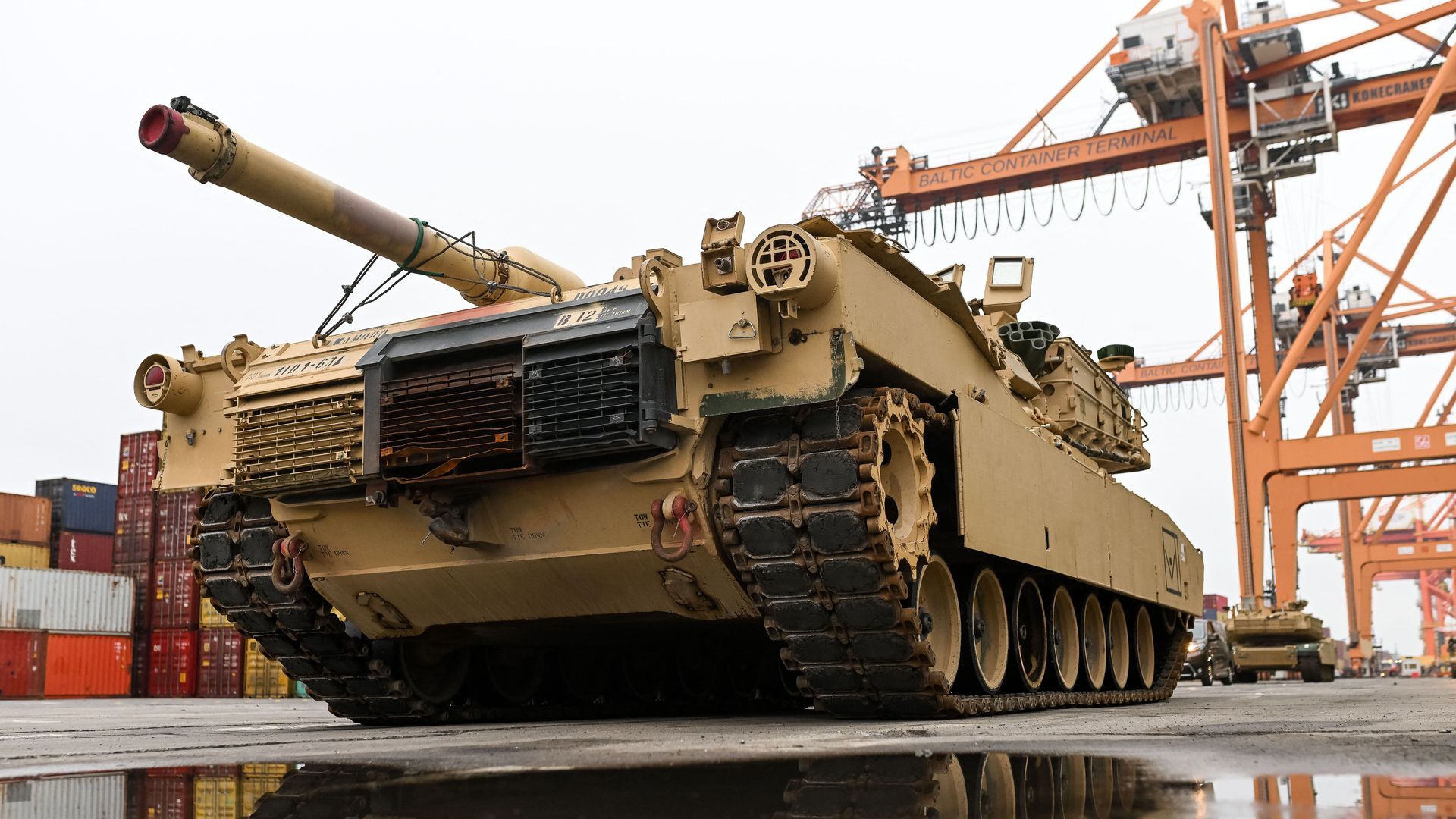 The U.S. and Germany separately announced on Wednesday they would send battle tanks to Ukraine after pressure from NATO allies and Ukraine to supply the advanced armored vehicles as Kyiv prepares for a possible new Russian offensive.
Why it matters: The U.S. decision to supply Abrams M1 tanks and the German announcement on the Leopard 2 tanks is a major boost for Ukraine, which has pleaded with the West for months to send more advanced weaponry as it tries to take back territory from Russia.
Details: The U.S. will send 31 Abrams tanks to Ukraine and will begin training Ukrainian troops on sustaining the tanks as soon as possible, Biden said at a press conference Wednesday.
Biden cautioned that delivering the tanks would "take time."
Biden said that prior to the announcement he had spoken to the leaders of France, Germany, Italy and the U.K. "to continue our close coordination and full support of Ukraine."
During a press briefing Wednesday afternoon, National Security Council spokesperson John Kirby called the Abrams tanks "the most capable, powerful tank in the world" and said it would help Ukraine "fight effectively on open terrain."
Kirby noted that no date has been set for the Abrams' delivery but that it would likely be "many months before they're actually there."
Germany will initially supply 14 Leopard 2 tanks from its own stock, as well as ammunition and logistical and maintenance support, its government said in a statement.
Training Ukrainian forces on the Leopards is expected to begin soon.
Germany will also quickly provide licenses to other European countries that wish to supply Leopards from their own stock, the statement added. Poland has already requested approval to send some of its Leopards to Ukraine.
The goal, the German government said, was for Germany and its allies to supply two battalions with Leopards, which would be 88 tanks, per AP.
Catch up quick: Debate among Western allies — particularly between the U.S. and Germany — over sending tanks to Ukraine had escalated over the last week.
The Biden administration argued in recent days against sending Abrams, citing logistical issues. Instead, U.S. officials said sending German Leopard 2 tanks would be more beneficial since many European allies already have them and they're easier to maintain.
"The M1 (Abrams) is a complex weapons system that is challenging to maintain ... that was true yesterday, that is true today and will be true in the future," Pentagon spokesperson Brig. Gen. Pat Ryder told reporters on Tuesday.
Until Wednesday, Scholz had expressed reluctance to send Leopards, fearing it could escalate tensions with Moscow. German officials also reportedly privately linked its own commitment to providing its tanks to a U.S. decision to send Abrams as well. Publicly, however, U.S. and German officials denied any link between the two decisions.
"Germany didn't force me to change my mind," Biden said Wednesday, adding that the countries were waiting to act together.
What they're saying: "Today's announcement builds on the hard work and commitment from countries around the world, led by the United States of America, to help Ukraine defend its sovereignty and territorial integrity," Biden said Wednesday.
"That's what this is about. Helping Ukraine defend and protect Ukrainian land. It is not an offensive threat to Russia. There is no offensive threat to Russia," he added.
"Germany has really stepped up," Biden said, praising Scholz as a "strong voice for unity."
"Putin expected Europe and the United States to weaken our resolve. He expected our support for Ukraine to crumble with time. He was wrong," Biden said.
"This decision follows our well-known line of supporting Ukraine to the best of our ability. We are acting in a closely coordinated manner internationally," Scholz said in a statement.
The German government added that Wednesday's decision was "the result of intensive consultations with Germany's closest European and international partners."
Ukrainian President Volodymyr Zelensky expressed his thanks for the U.S.' decision to send Abrams tanks in a tweet Wednesday, writing that it was "an important step on the path to victory."
Earlier Wednesday, Zelensky tweeted that he was "sincerely grateful" for Germany's decision to send the Leopards.
The Kremlin called the German announcement and expected U.S. decision to send battle tanks "a rather disastrous plan," according to state media.
"The main thing is, this is a completely obvious overestimation of the potential [the tanks] would add to the armed forces of Ukraine. It is yet another fallacy, a rather profound one," Kremlin spokesperson Dmitry Peskov said on Wednesday.
Editor's note: This story has been updated with new details throughout.
Go deeper