Transport of East Palestine soil, water to other states prompts backlash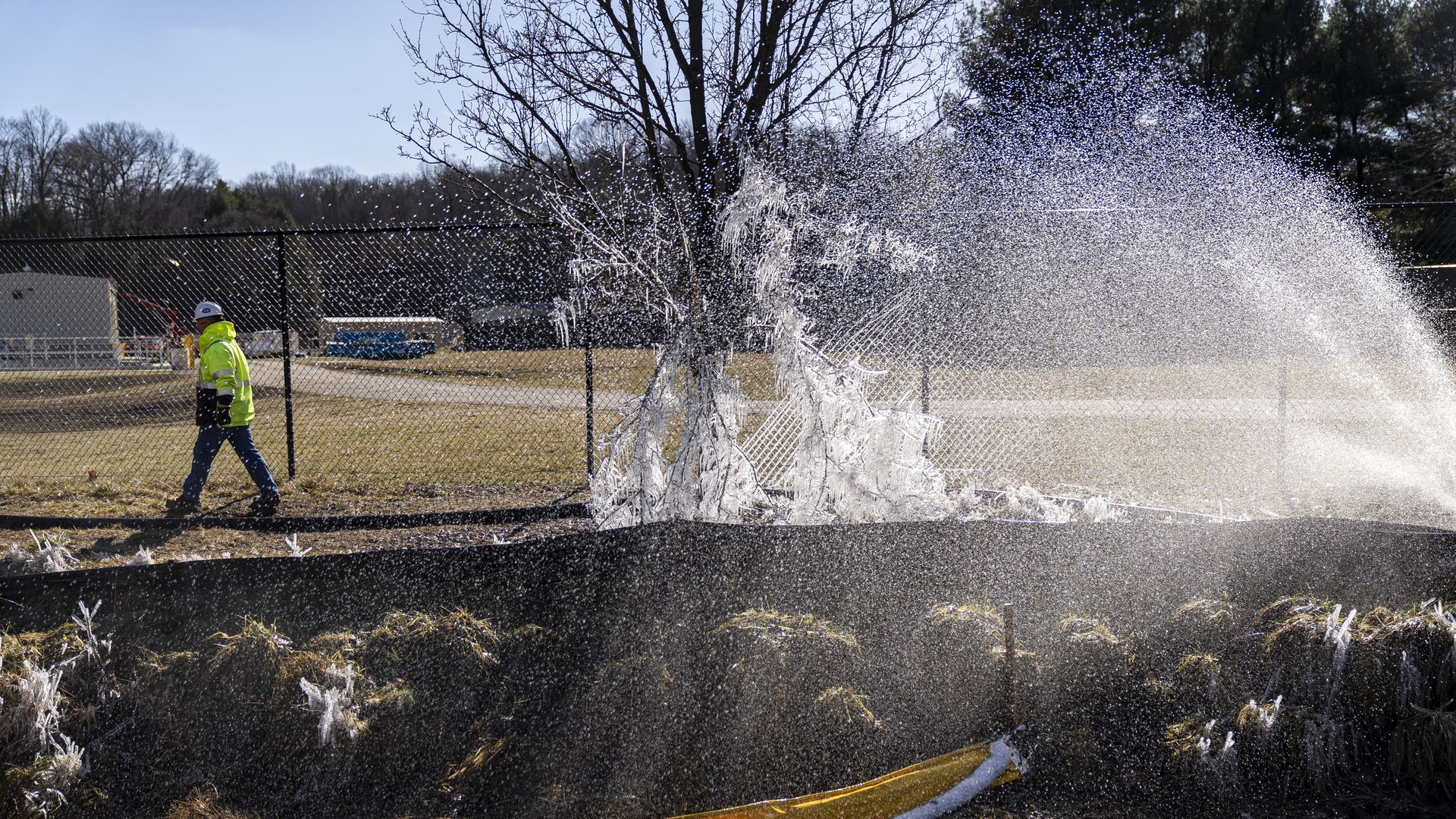 Officials in Texas and Michigan are raising concerns about the water and soil transported from the East Palestine train derailment into their jurisdictions.
Why it matters: Their comments come as East Palestine residents report diagnoses of bronchitis and other conditions which they attribute to the crash. The freight train was carrying hazardous materials, including the carcinogenic gas vinyl chloride, when it derailed on Feb. 3 and forced the company to release and burn the contents of several cars.
What they're saying: "I and my team learned yesterday that firefighting water from East Palestine was going to be sent to Deer Park, which is one of the 34 cities in Harris County, for disposal," Harris County Judge Lina Hidalgo said at a press conference Thursday.
"I learned about this not from a regulatory agency, not from the company, but from a member of the press, and that's unacceptable," Hidalgo noted, adding that she only learned Thursday that the water actually began arriving a week ago.
"There are many things we don't know that we should know."
Rep. Debbie Dingell (D-Mich.) similarly said in a statement Friday that "[w]e were not given a heads up" about the transportation of contaminated soil from East Palestine to U.S. Ecology Wayne Disposal, Inc. in Belleville, Michigan.
"We are making inquiries of EPA, DOT, Norfolk Southern, U.S. Ecology, the state of Ohio, and all others involved to understand what is being shipped, whether these are approved storage facilities, the implications of this decision, and how we ensure the safety of all Michigan residents."
Officials in Wayne County, where the U.S. ecology facility is located, said they're still not sure how the waste is being transported, per local ABC News affiliate WXYZ.
"1.8 million people are being sandbagged," Wayne County Executive Warren Evans noted at a press conference Friday. "Vinyl chloride is a serious carcinogen and something we should have heard about sooner.
"The landfill taking the deep well injections is a facility cited many times and shut down in the past," Evans added. "Any of us that live and breathe are at risk."
The big picture: The crash has drawn ire and demands for accountability from both sides of the aisle.
A preliminary report released this week by the National Transportation Safety Board found that a wheel bearing, which connects the wheel to its axis, overheated on a hopper car toward the front of the train and resulted in the crash.
"This was 100% preventable," NTSB chair Jennifer Homendy said during a press conference Thursday.
Worth noting: Transportation Secretary Pete Buttigieg, who has faced accusations of not doing enough in response to the wreck, visited the site of the train derailment on Thursday.
Go deeper