Axios interview: Sen. J.D. Vance sees "our people" hurt by derailment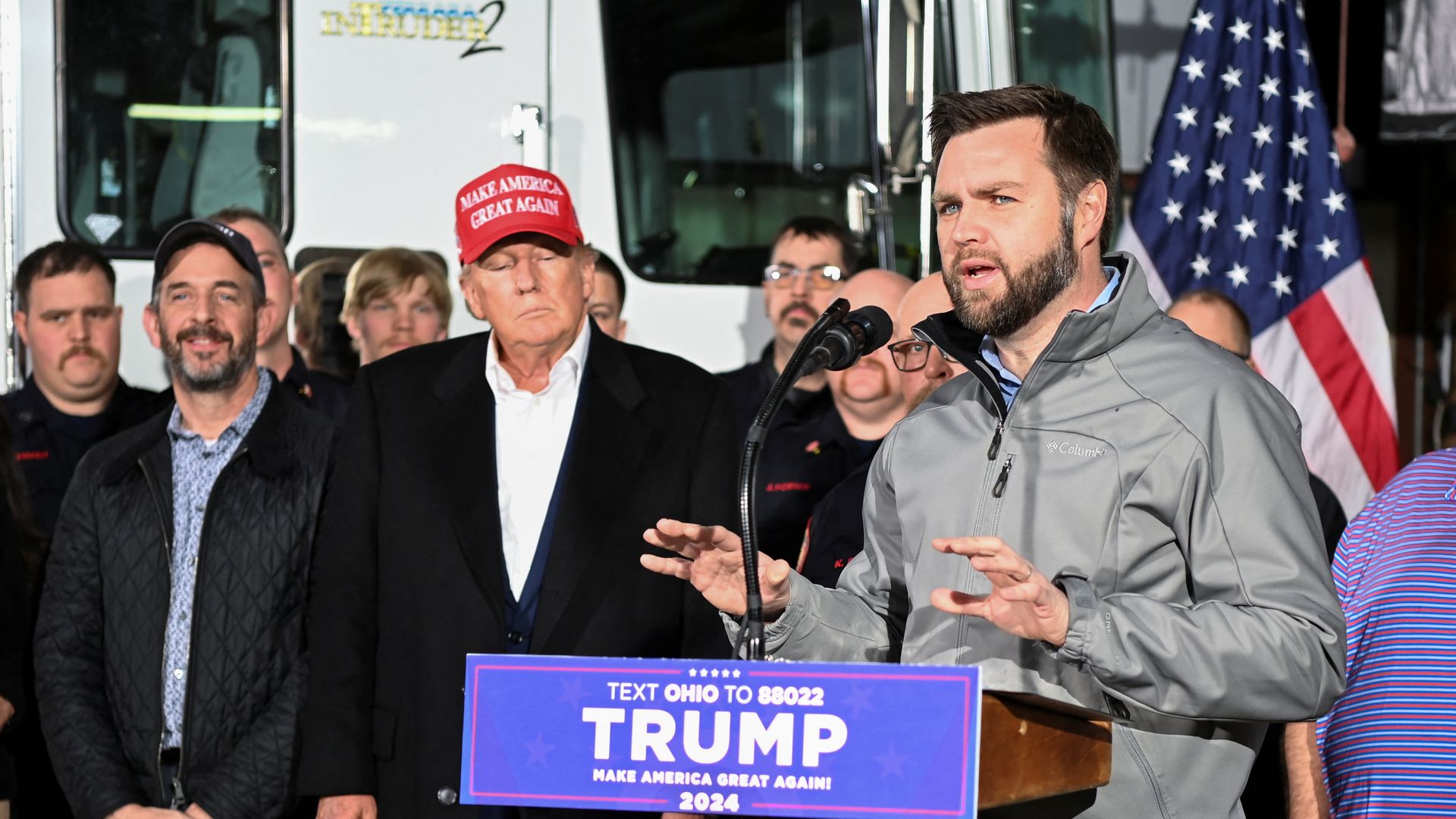 Sen. J.D. Vance (R-Ohio) tells Axios he quickly felt a kinship with the residents of East Palestine (pronounced PAL-ə-STEEN), Ohio, after a toxic train derailment because they're "people who feel forgotten."
Why it matters: Top figures 0n the populist right — Vance, Tucker Carlson, former President Trump — jumped on the coal-country calamity before top Biden administration officials became visibly engaged.
"The three of us, in our own ways, recognized instantly: This is fundamentally our voters, right?" Vance, a freshman, said in a phone interview yesterday, referring to himself, Carlson and Trump. "These are sort of our people. It's a reasonably rural community. It's been affected by industrialization."
"These are the people who really lost when we lost our manufacturing base to China," Vance added. "And these are the people who are going to be forgotten by the media unless certain voices make sure that their interests are at the forefront."
What's happening: Vance spoke as he was leaving an event in East Palestine with Trump, who motorcaded in to deliver water and speak behind a podium festooned with his campaign sign.
Residents of the Pittsburgh-area town have been fearful of the air and water since the Feb. 3 derailment of a 150-car Norfolk Southern train carrying vinyl chloride and other toxic substances. Chemicals spilled or burned off, prompting evacuations and fears of contamination.
State Senator Michael Rulli (R), who represents the area, said: "President Trump and Senator Vance drew attention to the situation in East Palestine in a way that nobody else could."
The other side: The Biden White House has defended its response to the derailment, saying the EPA, NTSB and other agencies were at the site within hours.
Transportation Secretary Pete Buttigieg is to visit East Palestine on Thursday.
The finger-pointing has gone both ways: The White House has said Trump's deregulation "laid the groundwork" for the disaster.
The big picture: Vance, 38 — who won national acclaim as author of "Hillbilly Elegy," his memoir about growing up in Ohio's Rust Belt — said the East Palestine disaster "stands at the intersection of corporate power and government power," adding that people in his "wing of the party are very skeptical of each."
When I asked Vance if companies should face higher liability or fines for such accidents, he replied: "They need to face more responsibility for causing accidents like this. … You still smell the aroma of chemicals in the air. And, obviously, that scares the hell out of the local population."
Go deeper