Ohio crews release toxic chemicals from derailed train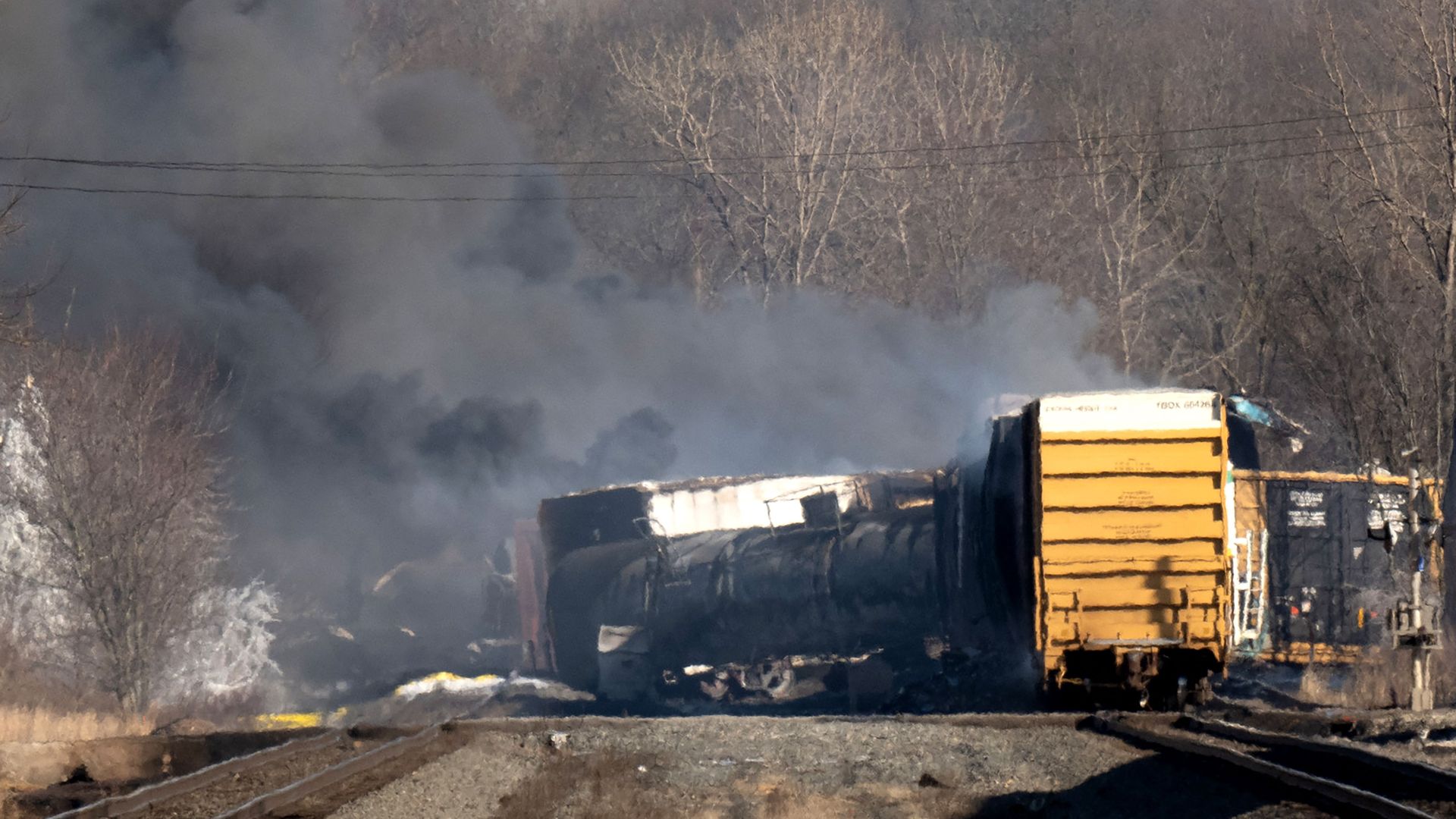 Ohio crews conducted the controlled release of toxic chemicals into the air on Monday from five train cars involved in a derailment in East Palestine.
The latest: "The controlled breach of several rail cars has been completed successfully under the supervision of experts and first responders," per a Monday night statement from Norfolk Southern Railroad, which was overseeing the release.
"Some of the material is now burning off consistent with expectations from the earlier models, and is expected to drain for a short number of hours," Norfolk Southern said.
Company officials will keep monitoring air quality with the Ohio Environmental Protection Agency and remediation work "can now safely continue," the statement added.
The big picture: The 150-car freight train was carrying hazardous materials when it derailed near Pennsylvania around 9pm Friday and caused a fire, AP reports.
Gov. Mike DeWine (R) ordered evacuations within a one by two-mile area of the site of the derailed train ahead of Monday's release. He also activated the Ohio National Guard on Sunday to assist local authorities.
"The vinyl chloride contents of five rail cars are currently unstable and could potentially explode, causing deadly disbursement of shrapnel and toxic fumes," DeWine's office said in the order.
The controlled release was designed to reduce the threat of a potentially deadly explosion, officials said. Norfolk Southern Railroad said the release involved "the burning of the rail cars' chemicals."
Of note: About half of the 4,800 residents in East Palestine were warned to leave over the weekend before the controlled release was planned, AP reports.
Most individuals had already left the affected areas before the release began, according to DeWine's office.
Meanwhile, Pennsylvania Gov. Josh Shapiro (D) urged residents within a one mile radius of East Palestine to "evacuate immediately" on Monday and the local sheriff's office said anyone who remained in the affected area could be arrested for misconduct during an emergency.
It was not immediately clear when residents could return home.
What we're watching: The National Transportation Safety Board, which is investigating the incident, said the three-member train crew received an alert about a mechanical issue and applied an emergency brake just before the derailment.
Federal investigators said it's possible that a problem with a railcar axle was the main cause.
Editor's note: This story has been updated with additional details throughout.
This story has been corrected to show the train had 150 cars, not 50.
Go deeper