Updated Feb 18, 2023 -

World
Blinken meets top China diplomat for 1st time since U.S. downed spy balloon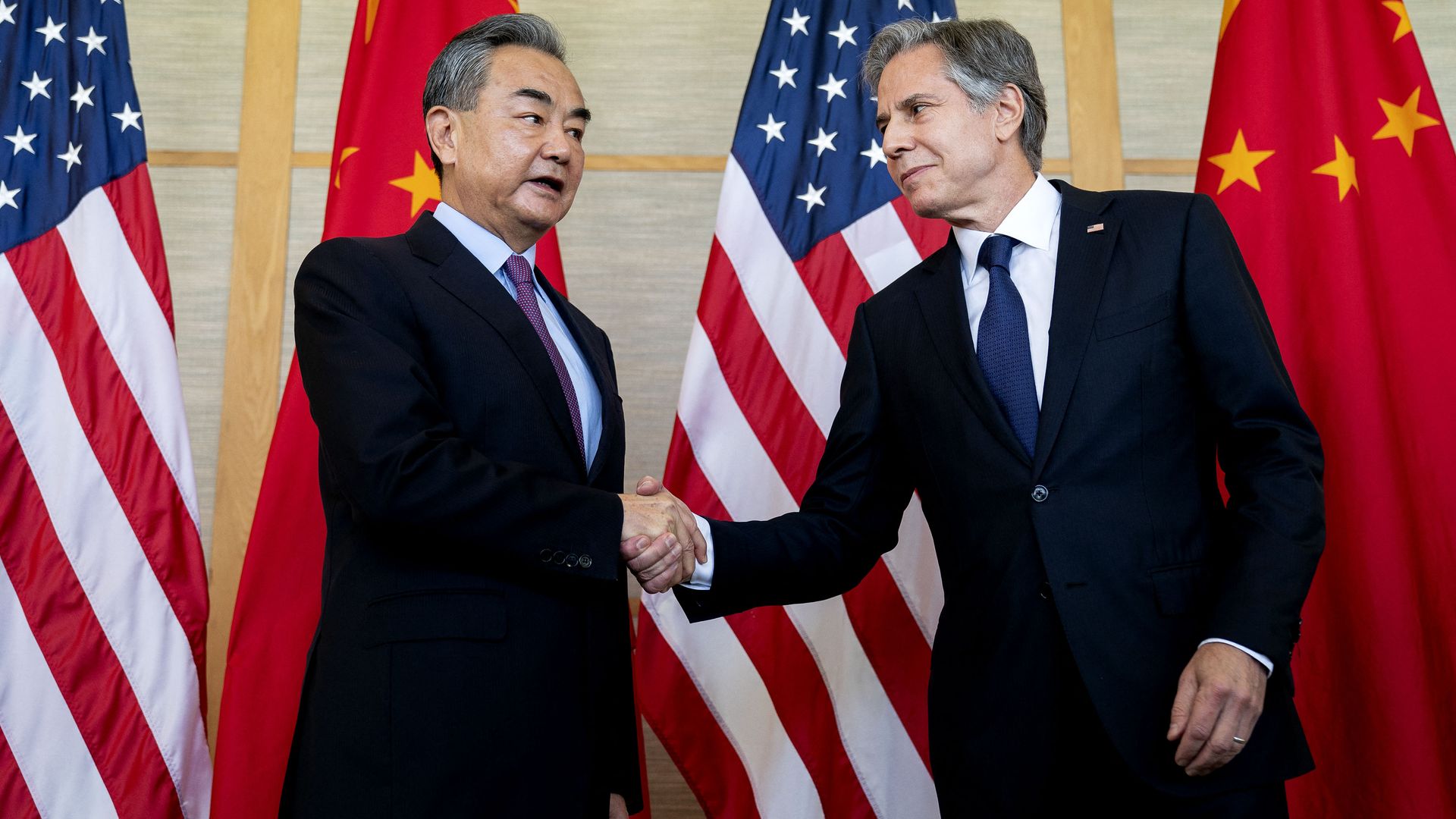 Secretary of State Tony Blinken on Saturday met with Wang Yi, China's top diplomat, on the sidelines of the Munich Security Conference, the State Department said on Saturday.
Why it matters: It was the first face-to-face meeting between the two diplomats since the U.S. shot down a Chinese government surveillance balloon flying in U.S. airspace earlier this month, heightening tensions between the two powers.
The detection of the balloon, which Beijing claimed was a civilian airship that blew off course, forced Blinken to postpone his planned trip to China earlier this month, claiming it was a "clear violation of U.S. sovereignty and international law."
China has since accused the U.S. of sending high-altitude balloons over its territory at least 10 times — an accusation U.S. officials promptly rejected.
What they're saying: Blinken "directly spoke to the unacceptable violation of U.S. sovereignty and international law by the PRC high-altitude surveillance balloon in U.S. territorial airspace, underscoring that this irresponsible act must never again occur," State Department spokesperson Ned Price said in a statement.
"The Secretary made clear the United States will not stand for any violation of our sovereignty, and that the PRC's high altitude surveillance balloon program — which has intruded into the air space of over 40 countries across 5 continents —has been exposed to the world," Price added.
"The Secretary underscored the importance of maintaining diplomatic dialogue and open lines of communication at all times."
Earlier Saturday, Wang called the U.S. response to the balloon incident "absurd and hysterical."
Wang said China made it clear to the U.S. that the balloon was a civilian unmanned vehicle with limited navigation capability that blew off course.
"We asked the U.S. to handle the issue in a calm and professional manner but unfortunately the U.S. disregarded the facts and used fighter jets to intercept the balloon. It was absurd and hysterical," he said.
Wang accused the U.S. of violating international treaties by using force against the balloon and said China filed an official diplomatic protest.
The big picture: The purpose of Blinken's now-postponed trip to Beijing was aimed at keeping the lines of communication between the U.S. and China open after President Biden met with Chinese leader Xi Jingping on the sidelines of the G20 in Bali, Indonesia, the State Department had previously said.
What to watch: Biden said earlier this week that he expects to speak with Xi about the balloon incident, although he did not provide specific details on when that may happen.
Editor's note: This story has been updated with additional details throughout.
Go deeper