Updated Feb 9, 2023 -

World
Chinese balloon was likely capable of collecting communications, U.S. says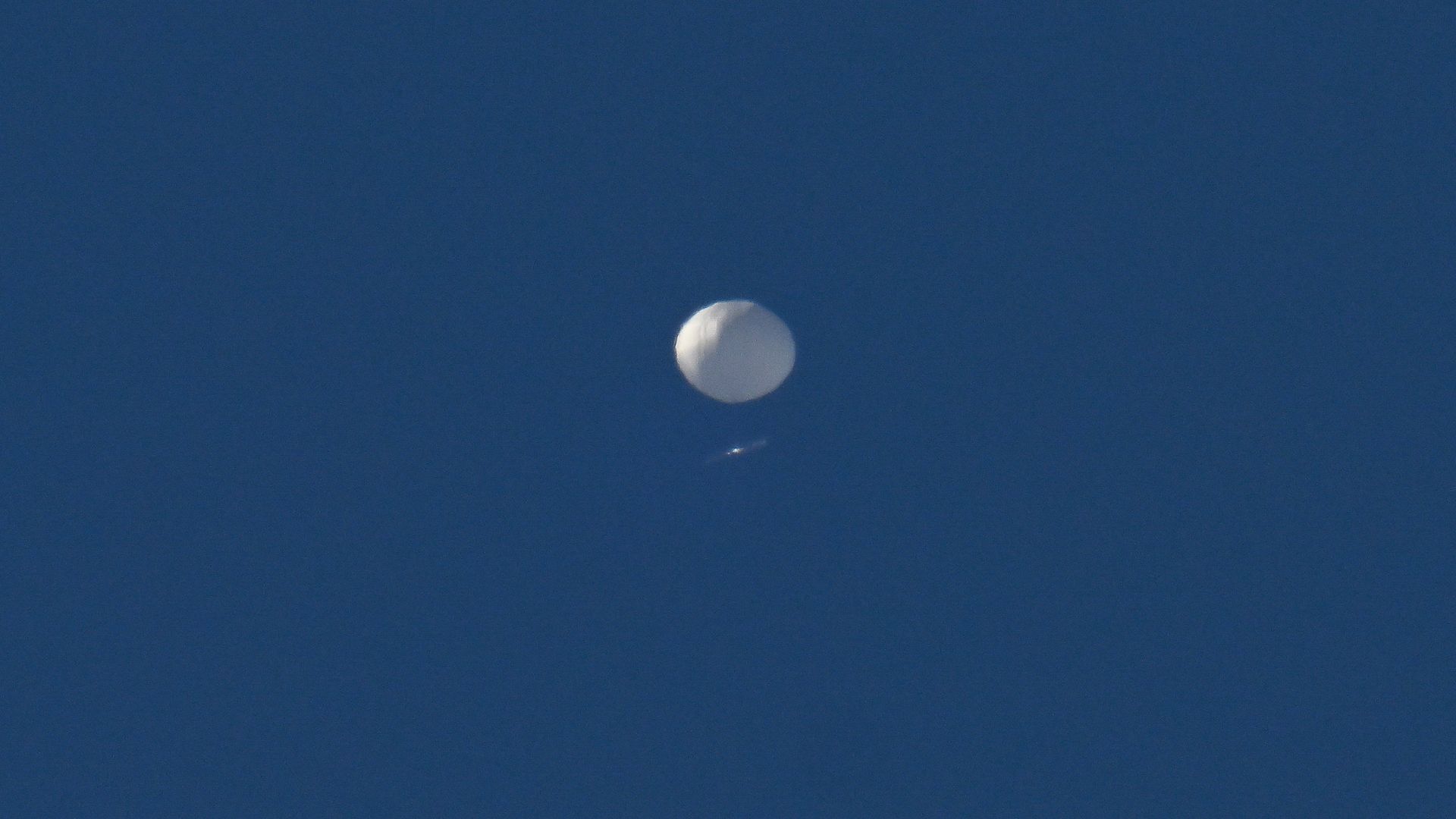 The suspected Chinese surveillance balloon that traversed the U.S. last week before it was shot down was capable of collecting communications, a State Department spokesperson said Thursday.
Why it matters: The balloon was furnished with "multiple antennas" and other equipment that was "clearly for intelligence surveillance," the spokesperson said.
Details: The antennas in an array were "likely capable of collecting and geo-locating communications," the spokesperson said.
It also had solar panels big enough to produce sufficient power to "operate multiple active intelligence collection sensors."
China has flown similar surveillance balloons over more than 40 countries across five continents in the past, they added.
The big picture: While the Chinese government previously said the balloon was a civilian aircraft being used primarily for meteorological purposes, the spokesperson said the equipment on the balloon was "inconsistent" with the kind typically found on weather balloons.
The State Department is "confident" the balloon's manufacturer "has a direct relationship with China's military," the spokesperson added, though they did not name the company.
The company's website advertises balloon products and even includes videos from past flights that appear to fly over U.S. airspace and airspace of other countries.
The balloon's capabilities were determined using high-resolution imagery from U-2 flybys, the spokesperson said.
What they're saying: Judging from the Chinese government's public comments around the issue, "it's clear that they have been scrambling to explain why they violated U.S. sovereignty and still have no plausible explanation — and have found themselves on their heels," the spokesperson added.
"China messed up publicly, but this only highlights what it has been doing behind the scenes for years," Senate Foreign Relations ranking member Jim Risch (R-Idaho) said in an opening statement to the Senate Foreign Relations committee hearing Thursday.
"I don't want a damn balloon going across the United States when we potentially could have taken it down over the Aleutian Islands," Sen. Jon Tester (D-Mont.) told the committee, referring to a string of islands belonging to Alaska.
"I've got a problem with a Chinese balloon flying over my state, much less the rest of the country," Tester added.
At a press conference Thursday, China's Foreign Ministry spokesperson Mao Ning did not confirm allegations the balloon was equipped with antennas or solar panels, or that it had been one of many the Chinese government deployed across five continents.
"I am not aware of any 'fleet of balloons.' That narrative is probably part of the information and public opinion warfare the U.S. has waged on China," Mao said.
Mao reiterated the Chinese government's stance that the balloon had crossed into U.S. airspace unintentionally.
What to watch: The Senate will receive an all-member classified briefing related to the balloon later Thursday.
Editor's note: This story was updated with additional information and context.
Go deeper