CVS bets big on primary care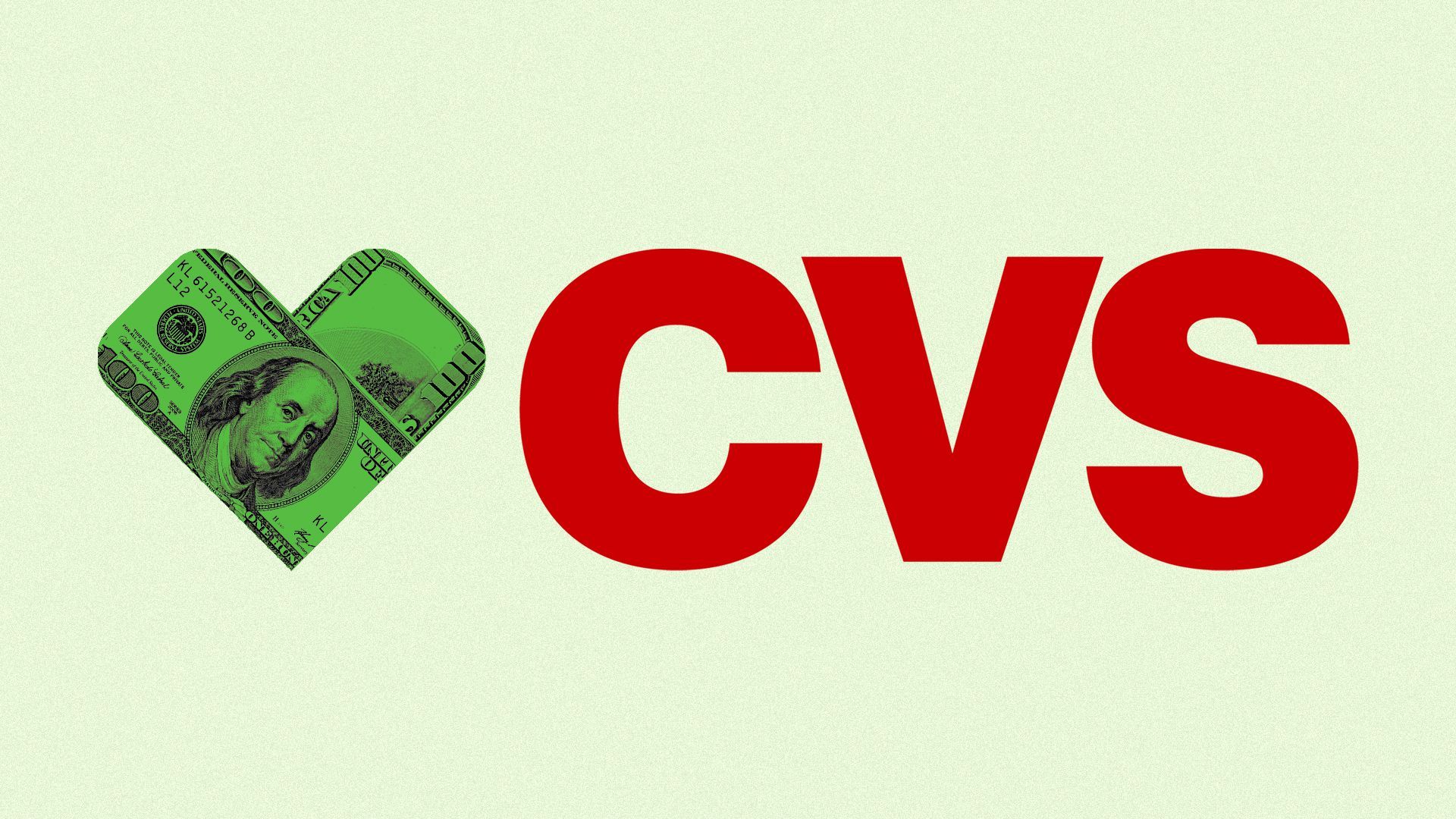 CVS Health's planned $10.6 billion purchase of Oak Street Health is the latest installment of a buying spree that's seen the pharmacy giant go deeper into delivering primary care — especially for seniors.
Why it matters: Absorbing a network of primary care centers focused on caring for Medicare patients helps CVS vie with other major retail and insurance giants that have been gobbling up providers.
"It's an arms race, in some ways," Whit Mayo, a senior managing director for SVB Securities, told Axios.
"Everyone seemingly has to assemble an accelerating strategy around value-based care," he said.
As we've previously written, value-based payments have been slow to gain traction, in part because powerful incumbent providers have significant leverage negotiating reimbursement with health plans.
The exception may be in Medicare markets, where investors are flocking and the government is overhauling payment models to pay providers based on outcomes rather than the volume of services they perform.
The big picture: In addition to being a pharmacy behemoth, CVS is also a payer (it owns Aetna), a pharmacy benefit manager (CVS Caremark), an urgent care provider and a provider of disease management and home infusion services.
Oak Street has around 600 providers serving around 159,000 patients in value-based agreements in 169 locations and 21 states.
In January, CVS announced minority investments in Monogram Health and Array Behavioral Care. CVS has also invested $100 million into primary and urgent care chain Carbon Health, in a deal to include opening pilot clinics inside select CVS stores.
What they're saying: "The acquisition of Oak Street Health will broaden our value-based care platform into primary care and accelerate our long-term growth," CVS Health CEO Karen Lynch said Wednesday during its quarterly earnings call.
CVS said it is projecting "double-digit returns on invested capital over time as clinics mature and synergies are realized."
Be smart: One obvious advantage to the deal would be combining Oak Street's clinic footprint and patient base with pharmacy and pharmacy-related products CVS delivers, Owen Tripp, CEO of Included Health, which delivers virtual primary care, told Axios.
"I think CVS also is earnest in their desire to become a true health company and they realize there are limitations to what they can do out of the back of a traditional CVS store," Tripp said.
"You can imagine, you start to take the economics of an Oak-style clinic where they're taking value-based payments and you start multiplying that out by the number of CVS members coming through the clinic and you start getting a sense of the potential if you combine the Oak playbook on top of the CVS real estate model."
Between the lines: This particular move, along with CVS' investment in Signify, is a bet on the continued growth of their Medicare Advantage business.
"As we think about navigating the future of Medicare Advantage, and maybe even a broader opportunity in Medicare value-based care in the fee-for-service population, I think both Signify and Oak are exactly the kind of assets that you would like to have at your side as you do that," CVS chief financial officer Shawn Guertin said during the Q4 call with analysts.
Yes, but: Several analysts flagged headwinds in the Medicare Advantage market such as clawbacks and lower-than-expected proposed rate increases for next year.
Oak Street has been operating at loss, has a big exposure to a low-income population which can raise costs in a risk-based environment and there has been concern around whether the company could execute its growth plan, Mayo said.
"One of the concerns I had was around the ability to control cost," he said.
What to watch: Whether the Federal Trade Commission will allow the deal or nix it over antitrust concerns.
Tripp suggests watching the response from traditional payers and future primary care deals and partnerships targeting commercially-insured patients.
"The majority of the way that people consume care in this country is through employer-sponsored benefits and none of these organizations, CVS, Walgreens, Amazon ... have actually come up with that answer yet. I think you'll see more of those answers coming in the next 12 months."
The bottom line: "This deal is an elegant end to a journey CVS has been pursuing for many years now," Mayo said. "Did they overpay? Time will tell."
Go deeper