Biden urges Congress to "do something" on police reform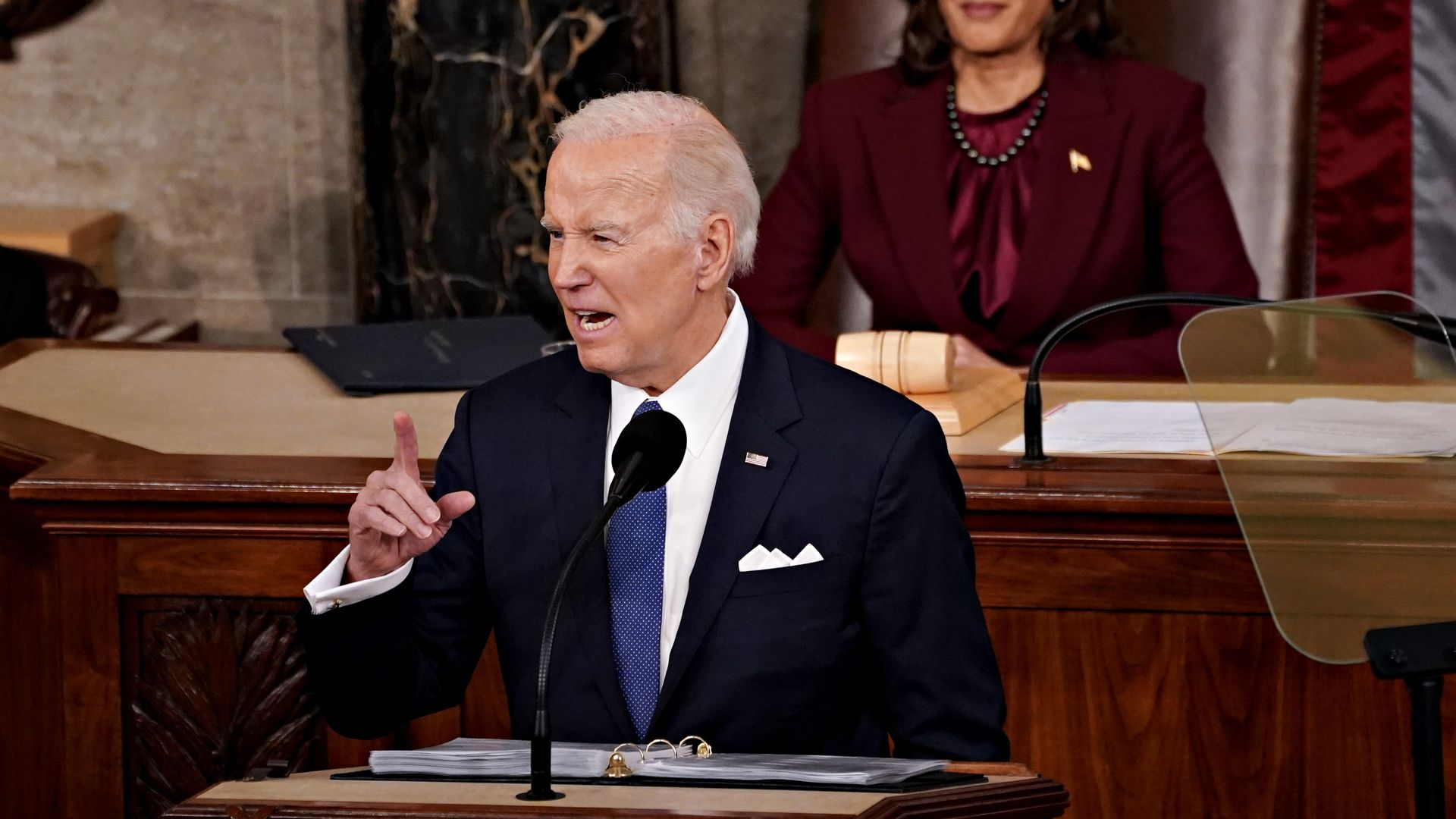 President Biden asked Congress to "do something" about police reform during his State of the Union speech Tuesday night, once again signaling that Democrats have no clear path forward on this issue even after 29-year-old Tyre Nichols' death in Memphis, Tennessee.
Why it matters: Congress isn't going to pass the George Floyd Justice in Policing Act and there's so far no alternative bipartisan legislation being discussed.
Driving the news: "We need to rise to this moment. We can't turn away. Let's do what we know in our hearts that we need to do. Let's come together to finish the job on police reform," Biden said at the State of the Union.
"Do something. Do something," he implored the bipartisan group of members on the House floor.
The backdrop: The president did "everything that he could" when he signed an executive order on policing last year, press secretary Karine Jean Pierre previously told reporters. Biden's order included restrictions on chokeholds, required anti-bias training and created a nationwide database for police misconduct.
Civil rights leaders and others have already been going around Congress, instead looking to work directly with mayors and city officials on police reform in an acknowledgement that Democrats in Washington are at a standstill.
Between the lines: Biden didn't reiterate forceful calls for funding the police or hiring 100,000 more cops, as he has in the past, but he got bipartisan applause for lines about how "the vast majority" of cops are "good, decent, honest people."
The president called for community intervention programs, improved hiring and training practices across police departments, measures to help keep officers safe, and to increase the presence of first responders to address "growing mental health and substance abuse issues."
"We know police officers put their lives on the line every single night and day, and we know we ask them, in many cases, to do too much," Biden said.
He spent roughly five minutes of a nearly 1.5-hour speech discussing police reform, as Nichols' parents sat in the audience.
Zoom in: Several members of the Congressional Black Caucus wore black pins with the number "1870" on them to the State of the Union address — the first known year that U.S. police killed an unarmed and free Black man.
It was a small but mighty call to action to reform policing, highlighting America's 153-year history of police brutality and violence.
Go deeper