House eyes making committee removals tougher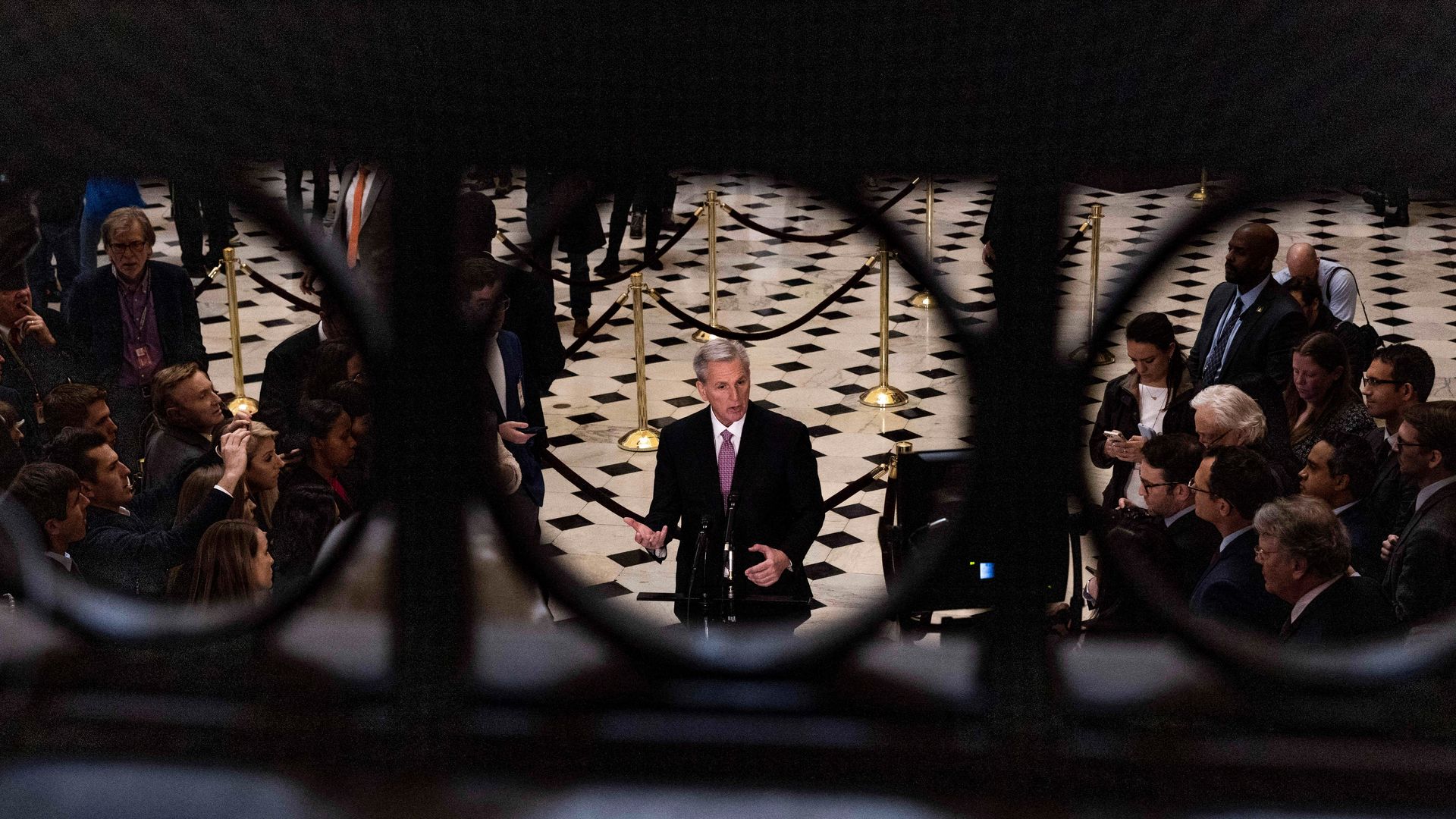 House Republicans and Democrats will negotiate how to make it more difficult for the majority party to hold votes on removing the other party's members from committees.
Why it matters: The changes could defuse an ongoing spat over committee assignments that lawmakers in both parties say is fueling already-boiling tensions in the House.
Driving the news: House Speaker Kevin McCarthy (R-Calif.) announced bipartisan talks to change the process for removing members from panels after Thursday's vote to kick Rep. Ilhan Omar (D-Minn.) off the Foreign Affairs Committee.
She was ousted over comments about Israel that Republicans cast as antisemitic.
What they're saying: Rep. Nancy Mace (R-S.C.), who had been a key holdout on Thursday's vote, told reporters that McCarthy agreed to move toward changing House rules in exchange for her vote to remove Omar.
"We shook hands, we looked mano a mano into the eye, and I got this commitment from him," Mace said, adding that the talks will last 30 days and include lawmakers from both parties.
McCarthy told reporters he asked Minority Leader Hakeem Jeffries (D-N.Y.) to select Democrats to deal with McCarthy's negotiators, who include Mace and Rep. Ken Buck (R-Colo.), another holdout swayed by McCarthy's vow to change the process.
"We'll work to … clarify the rules and pass something for not only this Congress but future congresses as well," McCarthy said.
The details: The rules change is expected to require the House majority to get approval from the Ethics Committee before holding a vote on removing a member of the minority party from committees.
The ethics panel is split evenly between the two parties and requires a majority vote to conduct business, meaning any removal effort would need bipartisan support to reach the House floor.
The panel would have to conduct an investigation and hold a hearing before voting on any removal.
The big picture: Lawmakers in both parties have grown increasingly frustrated with the partisan warfare over committee assignments.
The fight kicked off in 2021, when Democrats and a few Republicans voted to remove Reps. Marjorie Taylor Greene (R-Ga.) and Paul Gosar (R-Ariz.) from their committees, prompting McCarthy to vow retribution.
Last month, McCarthy removed Reps. Adam Schiff (D-Calif.) and Eric Swalwell (D-Calif.) from the House Intelligence Committee.
Some House Republicans told Axios they hoped their vote to remove Omar would be the last such vote they, or their colleagues across the aisle, ever had to take.
What's next: After the bipartisan group hashes out the language of the rules change, the House will vote on it.
Mace's office said that vote is expected within a month.
Go deeper