McCarthy whips votes on Omar as House preps Thursday vote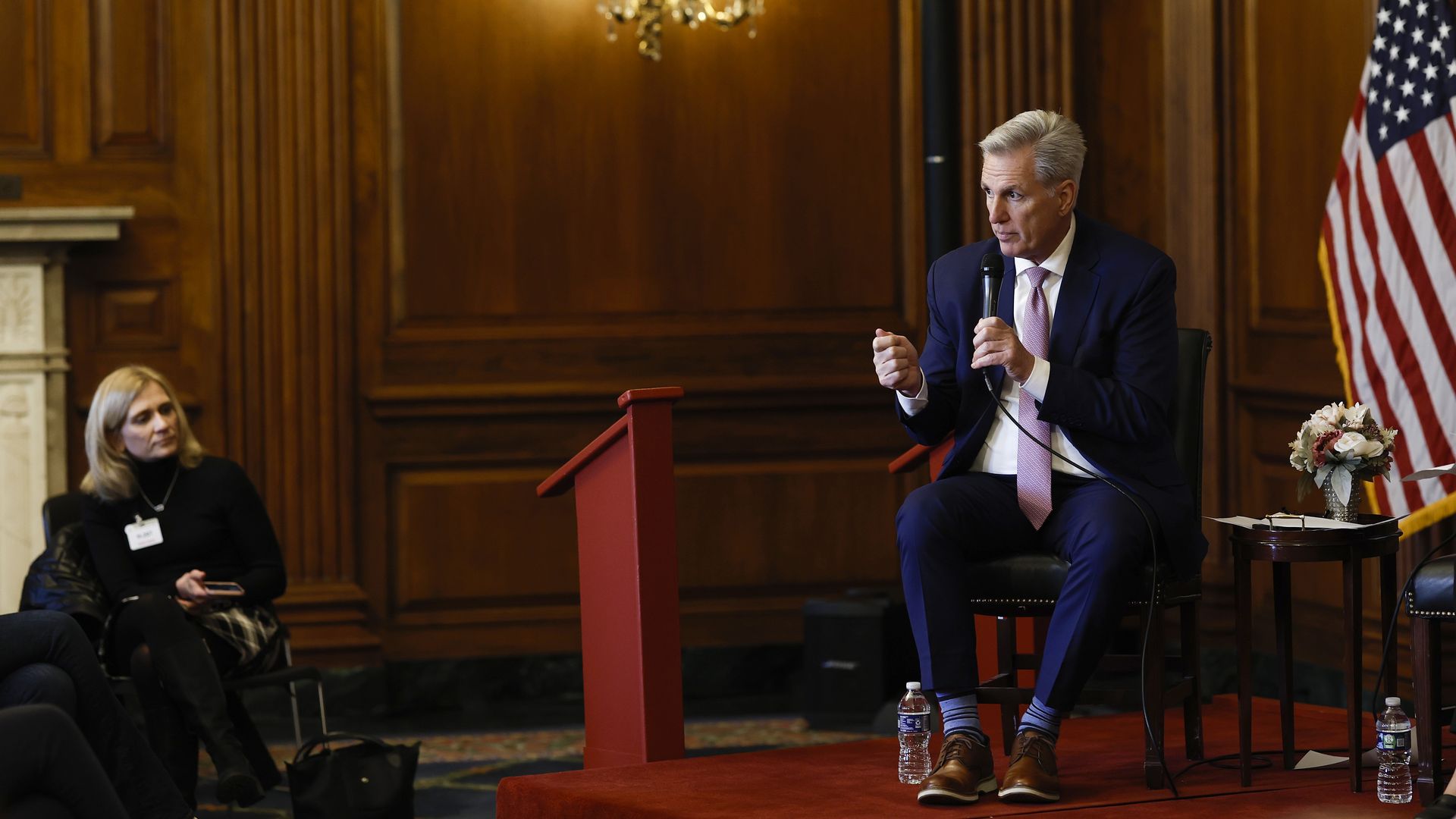 The House plans to vote Thursday on removing Rep. Ilhan Omar (D-Minn.) from the Foreign Affairs Committee after House Speaker Kevin McCarthy (R-Calif.) flipped several votes in his favor.
Why it matters: McCarthy made several concessions to dissenting members of his conference in order to get them on board — a tactic that has become a hallmark of how he governs his narrow majority.
Driving the news: Rep. Ken Buck (R-Colo.) told Axios that McCarthy, in a phone call Wednesday morning, gave a verbal agreement to push a rule change making it more difficult to remove members from committees — defusing what lawmakers in both parties have lamented is a tit-for-tat.
Buck's proposal would require bipartisan approval from the Ethics Committee for the House to vote to remove a member from a committee.
"He committed to the process of getting something like that done," Buck said of his call with McCarthy.
What he's saying: McCarthy confirmed the conversation to Axios.
"What I told him ... [is] we want due process," McCarthy said, "I actually want to work with the Democrats on it, too, because I think it's healthy for the institution."
The backdrop: Even as they plan to boot Omar from Foreign Affairs, many Republicans, particularly moderates, have complained about committee assignments being increasingly forfeit as part of escalating partisan tensions.
"I do think when this is all said and done, at some point, can we just shake hands and say, 'Let's not do this anymore,'" said Rep. Don Bacon (R-Neb.). "It's just not healthy for the rapport of the House."
By the numbers: Buck is the second House Republican McCarthy flipped in recent days. Rep. Victoria Spartz (R-Ind.) announced her plan to vote for the resolution on Tuesday.
McCarthy told Axios he had the same conversation with her as he did with Buck.
"I think giving people a chance to explain themselves ... is always good," she said, "And I think it sets a precedent and I hope Democrats will also have things like that."
The other side: Rep. Nancy Mace (R-S.C.), at an Axios News Shapers event on Wednesday morning, signaled she is still strongly opposed to the resolution.
"We're saying, because you said something we disagree with, that your opinion is wrong, we're now just going to arbitrarily kick you off a committee," she said. "There's no due process in that."
"If there were a process with due process that gave somebody the right to have an investigation, have a hearing, have a vote handled by the Ethics Committee unanimously and then brought to the floor, that's different," Mace added.
What we're hearing: Several other representatives have told Axios they are either undecided or refused to say how they're voting.
"I'm kind of listening to everybody," said Rep. Tim Burchett (R-Tenn.), calling Omar a "friend" and saying he and McCarthy "have a pretty good understanding."
Rep. Brian Fitzpatrick (R-Pa.) said he still needs to read the resolution, while Rep. Dave Joyce (R-Ohio), who had expressed concerns about giving Omar due process, said, "We'll find out tomorrow."
Another undecided, Rep. Tony Gonzales (R-Texas), declined to say how he plans to vote, but told Axios, "I think it's pretty clear how this thing is going to end up."
The bottom line: "It'll pass," said House Majority Leader Steve Scalise (R-La.)
Go deeper