Big-name Dems face McCarthy's firebrands on oversight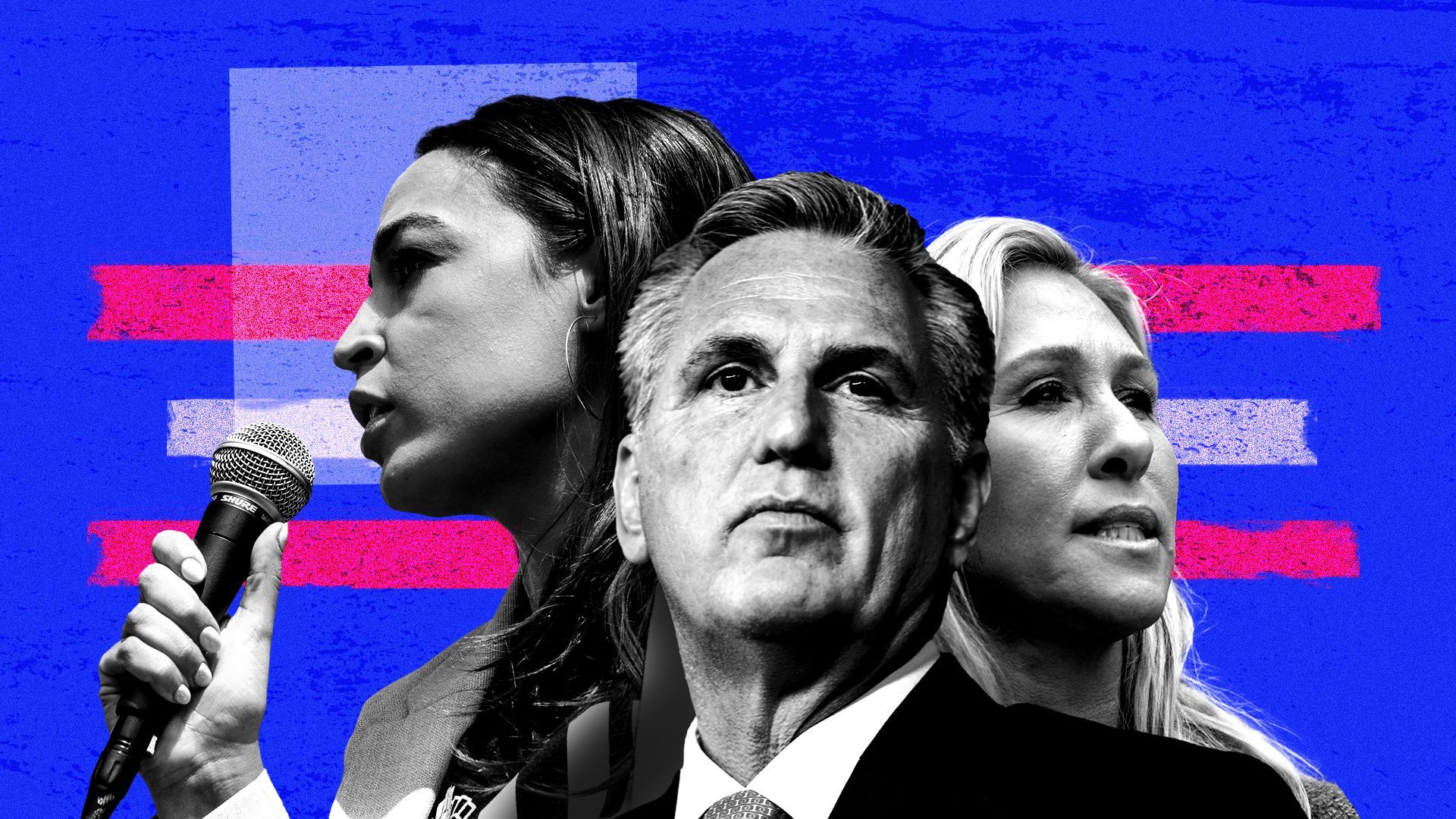 Democrats are gearing up for a fight, with senior members acknowledging that countering Republican firebrands was a factor in deciding who to appoint to the House Oversight Committee.
Why it matters: Rep. Jamie Raskin (D-Md.), the top Democrat on the panel, told Axios he wanted to assemble a team equipped to "refute and debunk any nonsense that comes down the pipe," adding, "I would gladly put them up against everyone who's come from the other side."
Rep. Dan Kildee (D-Mich.), a member of the Democrats' steering committee, told Axios: "We expect [Republicans on Oversight] to be pretty belligerent and we need some pugnacious members who are ready for that."
The details: Democrats tapped some of the highest profiles in their freshman class in addition to Democratic stars already seated on the committee, including Rep. Alexandria Ocasio-Cortez (D-N.Y.) — anticipating heated hearings.
The list includes Rep. Maxwell Frost (D-Fla.), who has grabbed headlines as the first Gen. Z member of Congress, and Rep. Dan Goldman (D-N.Y.), the lead counsel for Democrats during the first impeachment of former President Trump.
They join progressive personalities such as Rep. Cori Bush (D-Mo.) and Raskin, a former impeachment manager and Jan. 6 committee member.
Ocasio-Cortez lauded the new members as "amazing stars" and said together they form a "rock-star team." Bush said they are "dynamic freshmen … [who] aren't afraid to speak directly to an issue."
What we're watching: This committee is set to be a hub of controversial investigations into the Biden administration— described by its chair as "probably the most exciting committee" in congressional history.
"I think we're going to have a lot of fun. I think I'm going to have a lot of fun on this committee," said Ocasio-Cortez, who gave up a seat on the Financial Services Committee to stay on Oversight.
The other side: The Republican roster is a who's who of Freedom Caucus members and McCarthy rebels, including...
Reps. Marjorie Taylor Greene (R-Ga.) and Paul Gosar (R-Ariz.), who were stripped of committee assignments last year.
Reps. Lauren Boebert (R-Colo.), Byron Donalds (R-Fla.), Anna Paulina Luna (R-Fla.) and Scott Perry (R-Pa.) — all of whom initially voted against McCarthy during the speaker elections.
What they're saying: The new members signaled a clear-eyed understanding about their role for the next two years. "It's football, right," said Rep. Jared Moskowitz (D-Fla.). "When the offense comes on the field, you put on the defense to match."
Rep. Robert Garcia (D-Calif.) told Axios, "Marjorie Taylor Greene, Lauren Boebert, Paul Gosar … I'm fired up to take them on directly."
"There are going to be a lot of debates and it's going to be very politically charged, very intense," said Frost, "But I ran on being a fighter. So I'm ready for it."
What's next: The committee is already readying for its first hearings, with one on the "waste of taxpayer dollars" in COVID-19 relief programs scheduled for Wednesday.
Go deeper