House Oversight launches border investigation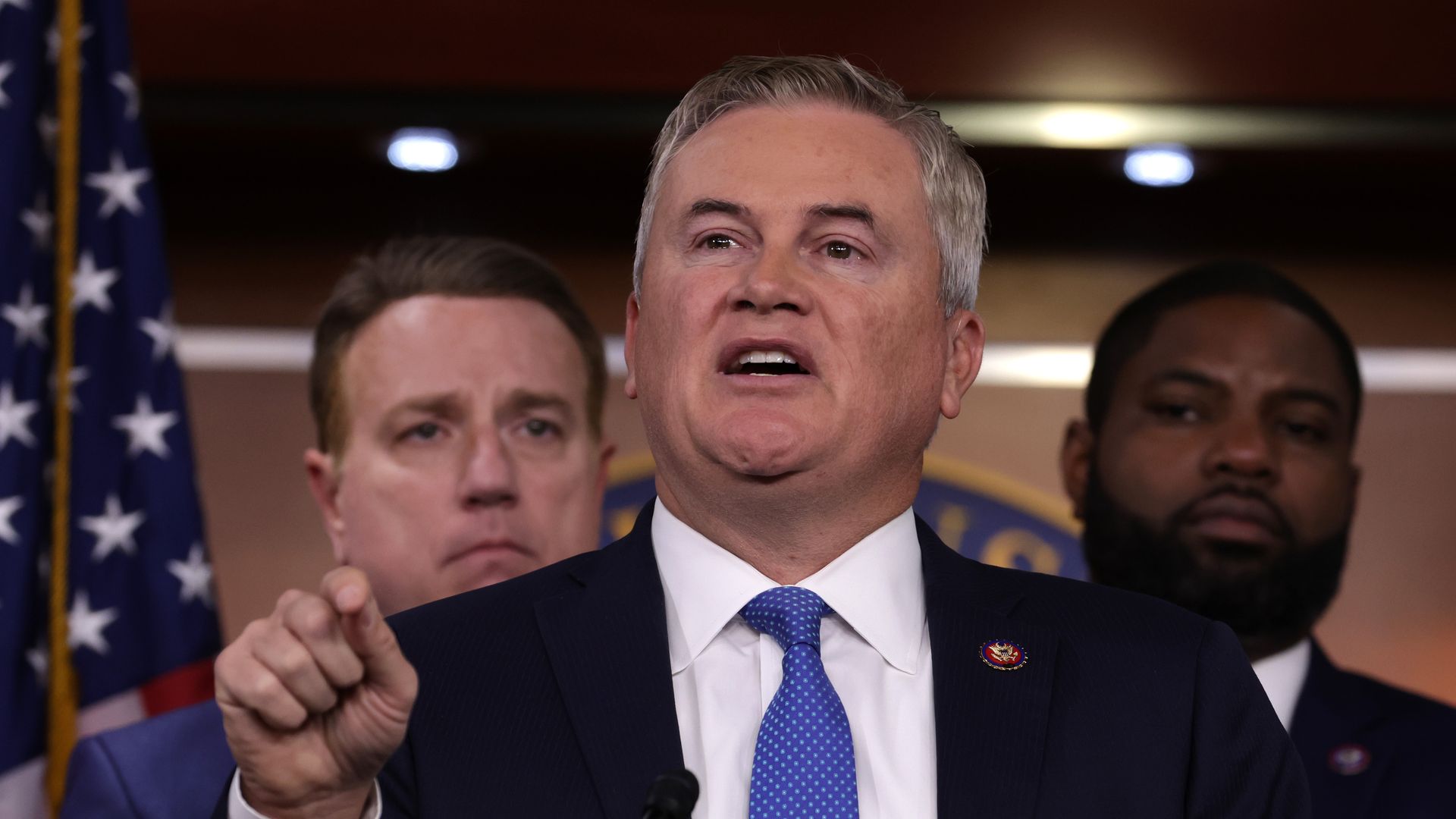 The House Oversight Committee is launching its investigation into the Biden administration's handling of the southern border, with Chair James Comer (R-Ky.) inviting Border Patrol sector chiefs to testify the week of Feb. 6.
Why it matters: House Republicans are eager to highlight the record number of border crossings at the southern border and probe the Department of Homeland Security's policies and operations.
The Oversight committee is one of three committees expected to dig into the border issue.
"Republicans will hold the Biden Administration accountable for this ongoing humanitarian, national security, and public health crisis that has turned every town into a border town," Comer said in a statement.
What to watch: Comer sent letters Thursday morning inviting chief Border Patrol agents Jason Owens, Gregory Bovino, Gloria Chavez and Patricia McGurk-Daniel to testify in a hearing the week of Feb. 6, according to a release and copies of the letters.
The agents oversee busy border sectors in Texas, Arizona and California.
Details: Comer also sent a letter to DHS Secretary Alejandro Mayorkas requesting a sweeping set of documents and internal communications "to understand DHS's policies, the costs of the emergency measures needed to respond to the worsening crisis, and the national security risks created by these policies," according to the letter.
The committee is asking for data, communications and documents related to migrant releases from DHS custody, the ending of the "Remain in Mexico" policy, the role of nongovernment organizations in releasing into the U.S. migrants who have illegally crossed the border, the impact of the border situation on Border Patrol morale, among other topics.
In the letter, Comer criticizes President Biden for waiting "until there was a Republican majority in the House" to visit the border.
He also accuses the administration of "lying to the American people" and calls a newly announced border policy for Nicaraguans, Haitians and Cubans an "unlawful abuse of the parole process."
The big picture: Record numbers of migrants and asylum-seekers arriving at the U.S.-Mexico border have created humanitarian crises, logistical headaches and a political nightmare for Biden from nearly the start of his presidency.
There are no simple explanations for migration trends. Political unrest, natural disaster and economic instability throughout the Western Hemisphere often drive desperate people to leave their home countries to head toward the U.S.
At the same time, the outdated and backlogged U.S. immigration system often ensures people will be able to live and work in the U.S. for years — even if they are unlikely to ultimately be granted asylum.
Republicans have focused on Biden's domestic policies and rhetoric on immigration, campaigning on "chaos at the border" and threatening an impeachment inquiry into Mayorkas.
Go deeper