Top Dems push to deny Santos access to classified info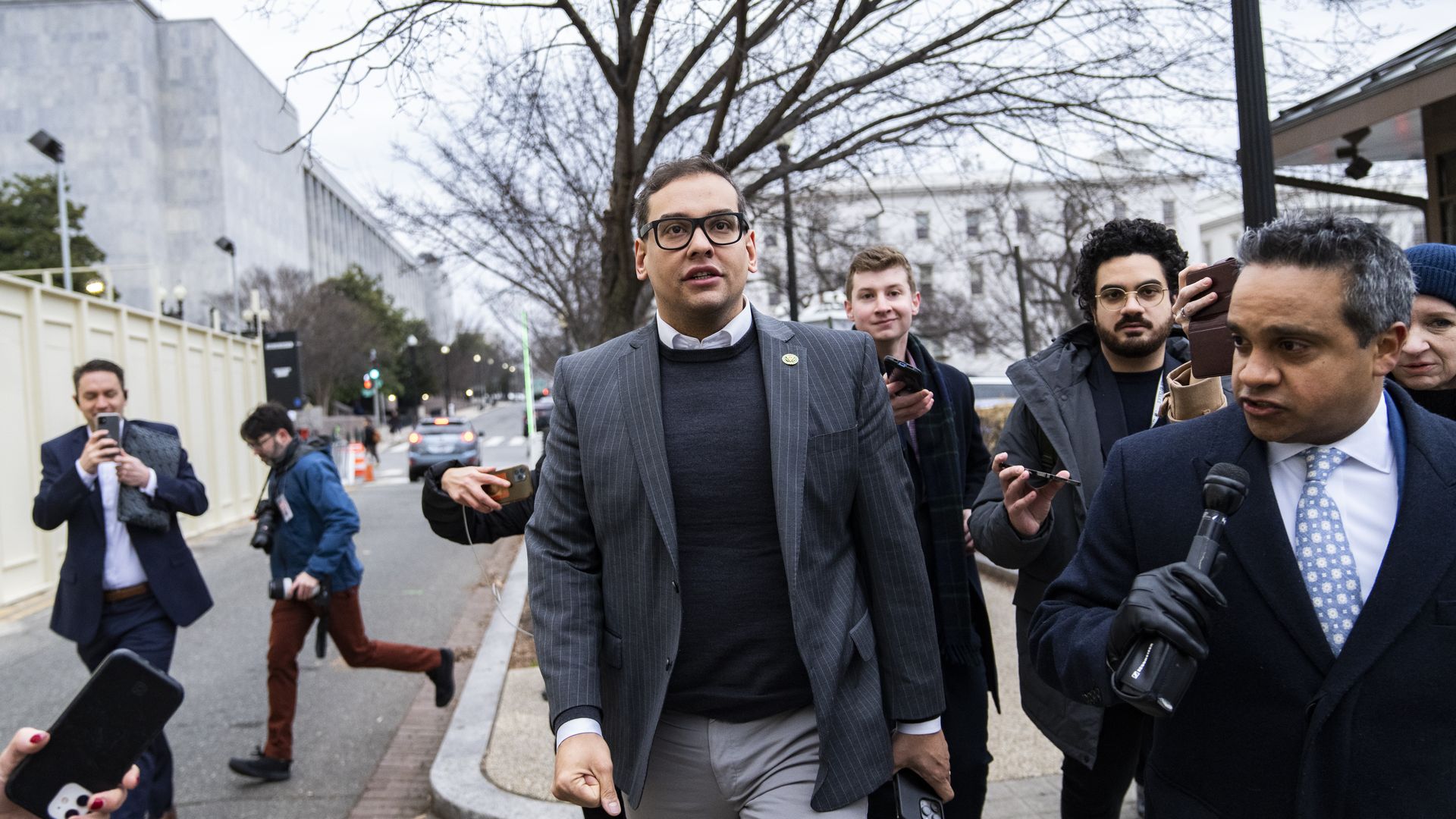 Two top New York House Democrats on Wednesday pressed House Speaker Kevin McCarthy (R-Calif.) to deny Rep. George Santos (R-N.Y.) access to classified information.
Why it matters: It's the latest example of lawmakers trying to sideline the embattled Long Island first-term House member, who has faced calls to resign and a series of investigations into revelations he fabricated huge swaths of his resume, background and finances on the campaign trail.
Driving the news: Reps. Gregory Meeks (D-N.Y.) and Joe Morelle (D-N.Y.), the ranking members on the House Foreign Affairs Committee and the House Administration Committee, respectively, made the push in a letter on Wednesday.
They wrote that Santos' "myriad deceptive actions ... put his character into question," and "suggest he cannot be trusted with confidential and classified information that could threaten the United States' national security."
"We call on you to limit Congressman George Santos' ability to access classified materials, including preventing him from attending any classified briefings and limiting his access to such information through his committee assignments."
Between the lines: Santos is not likely to be regularly exposed to classified information as a member of the Small Business Committee and the Science, Space and Technology Committee, but lawmakers still face few barriers in accessing classified information.
"Members are not mandated to have security clearances nor sign a nondisclosure agreement, however, that does not entitle them to unlimited access to classified information," Meeks and Morelle wrote.
The other side: McCarthy's office did not immediately respond to a request for comment, though the House speaker has begun laying out potential consequences for Santos.
He told reporters on Tuesday that if a House Ethics Committee finds Santos broke the law, "then we will remove him" from Congress.
On Wednesday, he floated a potentially lesser penalty — removal from committees, pending investigation — during a closed-door GOP conference meeting, according to a Republican member and aide in the room.
Zoom in: New York lawmakers — both Democrats and Republicans — have been out front in trying to marginalize and scrutinize Santos.
Editor's note: This story has been updated with additional reporting.
Go deeper