Abrams seeks to tie Kemp to Herschel Walker at final Georgia debate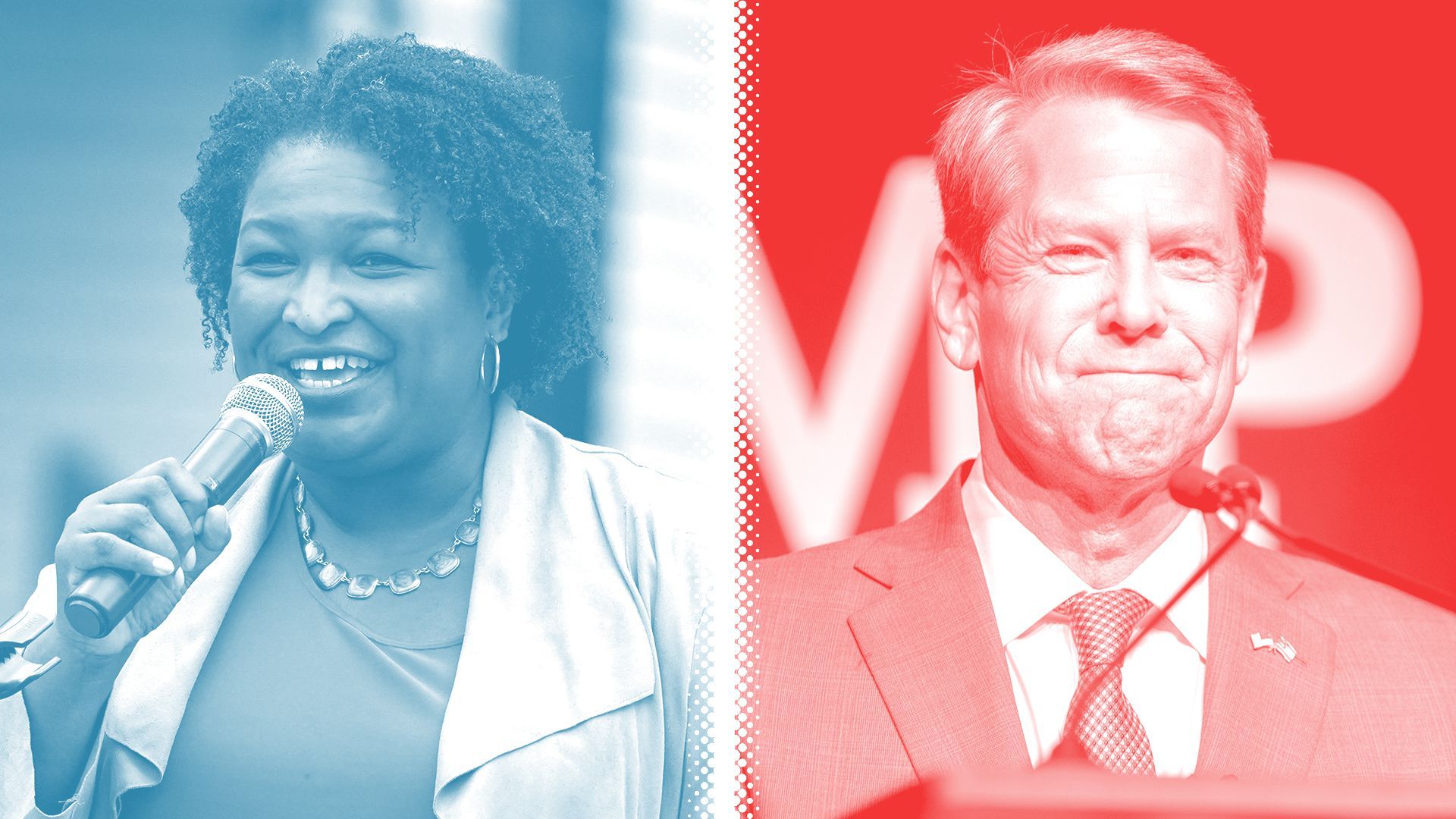 In Georgia's final gubernatorial debate, Democratic nominee Stacey Abrams sought to attack incumbent GOP Gov. Brian Kemp's controversial social policies in a rematch for the job that has appeared less competitive than their 2018 race — and even to tie him to his embattled counterpart in the state's high-stakes Senate race, Herschel Walker.
Why it matters: With polling averages continuing to show Abrams trailing Kemp, the candidates' final debate posed one more opportunity for the Democratic challenger to change the perception that momentum is not on her side while onstage alongside him.
Abrams finished her closing remarks by alluding to that perception: "I want you to know that polls do not see you, but I do. And the only poll that matters, is the poll at the ballot box."
Her campaign has consistently rejected public polling as inaccurate given a volatile political climate.
The intrigue: In an era in which Republican politics remains dominated by former President Trump, his name never came up in the one-hour debate. Kemp weathered withering attacks from Trump after refusing to overturn the state's 2020 election results and easily fended off a Trump-backed primary challenger. 
Driving the news: The two experienced state officials, who are running against each other for a second time, debated largely on their deep policy differences.
Abrams touted her legislative and nonprofit record and focused on Kemp's policies.
She highlighted his socially conservative anti-abortion and gun policy stances and blamed him for inflation and high crime. "Communities are in turmoil," she said. "They are worried about their rights, and they're worried about their futures. But I want to do better by Georgians."
Kemp accused Abrams of attacking his record because she "doesn't want to talk about her own." Of his own tenure, he said: "I made a very simple promise to people: I told them I would put them first ahead of the status quo and the politically correct ... and that's exactly what I've done."
Catch up quick: The candidates sparred again on gun regulation, as they did in their first debate earlier this month. (Kemp championed a law loosening gun permit regulations this year.)
Some key issues during the debate:
Abortion
Kemp dodged a question asking whether he would sign any additional hypothetical abortion restrictions if they were passed by the legislature; however he said it is not his "desire to move the needle any further on this issue."
Kemp championed the state's restrictive abortion law, which Abrams has tried to mine on the campaign trail after Roe v. Wade was overturned.
Kemp defended his anti-abortion stance, even though polls show a majority of Georgians do not support it: "Nobody's going to agree with the governor every single time on every single issue but at least I've been transparent."
Abrams underlined his hedge. "Under this governor women are in danger," she said, citing dismal maternal mortality rates in the state. "Brian Kemp does not have a plan for the lives of women who are being forced to carry pregnancies to term."
The two also tussled over the implications of the state's law for miscarriages. Abrams has repeatedly argued it opens women up to prosecution for miscarriages.
Kemp told the story of his wife Marty's miscarriage — a baby who would have been a twin to his eldest daughter. Abrams responded, "Tragedies of miscarriage should not be political fodder."
Between the lines: The state's abortion law, which bans abortions when cardiac activity has been detected in an embryo — generally around six weeks — says miscarriage is legal.
"The naturally occurring death of an unborn child, including a miscarriage or stillbirth" and the removal of an ectopic pregnancy are removed from the definition of "abortion."
Herschel Walker
While attacking Kemp on abortion, Abrams again sought to tie him to GOP Senate nominee Herschel Walker.
"[He] refuses to defend us and yet he defended Herschel Walker, saying that he didn't want to be involved in the personal life of his running mate, but he doesn't mind being involved in the personal lives and the personal medical choices of women in Georgia."
Kemp has scarcely appeared on the campaign trail with Walker. But while he recently said he voted for Walker, he has dodged questions from reporters about Walker's scrutinized past.
Two women have alleged that Walker, the Republican nominee in Georgia's hotly contested Senate race, paid for their abortions.
Walker, who has taken a firm-anti abortion stance, has denied the allegations.
Context: Kemp has tip-toed around tying himself too closely to the embattled Senate candidate, saying: "I'm focused on my race."
"I can't control what other people are doing. I certainly can't control the past. But I can control my own destiny and that's what we're doing," Kemp told the New York Times.
Voting rights
Abrams, who became a national voting rights advocate after losing her 2018 election, criticized Georgia's 2021 voting law, SB 202, passed by Georgia lawmakers last year. It introduced changes to absentee and early voting, among other updates
She reiterated her point that just because the state is seeing high voter turnout, does not mean Republican policies do not have a suppressive effect.
"Let's be clear, that the voter suppression that I'm talking about is being felt by Georgians every single day," she said.
Kemp, a former Secretary of State, has consistently dismissed Abrams' criticisms, saying the law "makes it easy to vote and hard to cheat." He and other Republicans point to record early voting turnout and record voter registration as vindication of any suppression allegations.
He added that Abrams has been "running around and scaring people about suppressive votes and suppressive legislation."
Between the lines: Both candidates said they would accept the results of the midterm election.
COVID
Kemp has made his controversial decision begin reopening the state's economy in spring 2020 earlier than others a centerpiece of his record.
He has argued that decision paved the way for the state's record surplus and revenues and he's mined it to draw a stark contrast with Abrams, who has criticized his decision to reopen on news outlets.
"We're one new COVID variant away from Ms. Abrams wanting to lock our state down," Kemp said.
Abrams fired back: "I didn't say we need lockdowns. I said we need caution."
Economy
Abrams made her case on economic policy by saying the "economic pain people are feeling is real," and tying it to Kemp's policies as governor, including his refusal to expand Medicaid.
She attacked him for a tax cut passed this year: "What I will not do is give tax cuts to the wealthy and the powerful, I will focus on our workers and our small businesses, putting them first." Kemp championed an income tax cut, which proportionately benefits the state's highest earners.
It's a stark difference from Kemp and Republicans' argument, which is that inflation and economic pain should be blamed on a "disastrous policy agenda by Joe Biden and the Democrats who have complete control in Washington, D.C."
Context: Kemp has sought to link Abrams to Biden during the campaign as the president's popularity has dropped in the state despite winning it in 2020. Abrams, however, scarcely mentions the president, though she did campaign for him in 2020.
What to know about the race
The big picture: Sunday's debate marked the third and final for Kemp and Abrams between this year's midterms and the 2018 election, when the Democrat narrowly lost by fewer than 2 points.
Between the lines: While the candidates are the same, this race has played out far differently than during 2018. Kemp has since led the state during COVID and weathered attacks from Trump.
Abrams' national platform has since risen alongside her powerhouse fundraising capabilities.
She has been credited for building a turnout infrastructure for Georgia Democrats that helped propel Joe Biden and two Democratic senators — Jon Ossoff and Raphael Warnock, who's in a dead heat to secure a full term against Walker — to victory last election cycle.
The bottom line: A record nearly 1.6 million Georgians have already cast their ballots. Polls show the percentage of undecided voters to be less than 5%.
But if neither candidate reaches 50% plus one vote, the race will head to a December runoff.
Worth noting: Political debates have been dwindling in races up and down the ballot, all over the country, Axios' Andrew Solender reports.
Go deeper: Everything you need to know to vote in the 2022 midterm elections
This story has been updated with additional reporting and background.
Go deeper