Updated Mar 16, 2022 -

World
Zelensky says Russian peace talk positions "more realistic"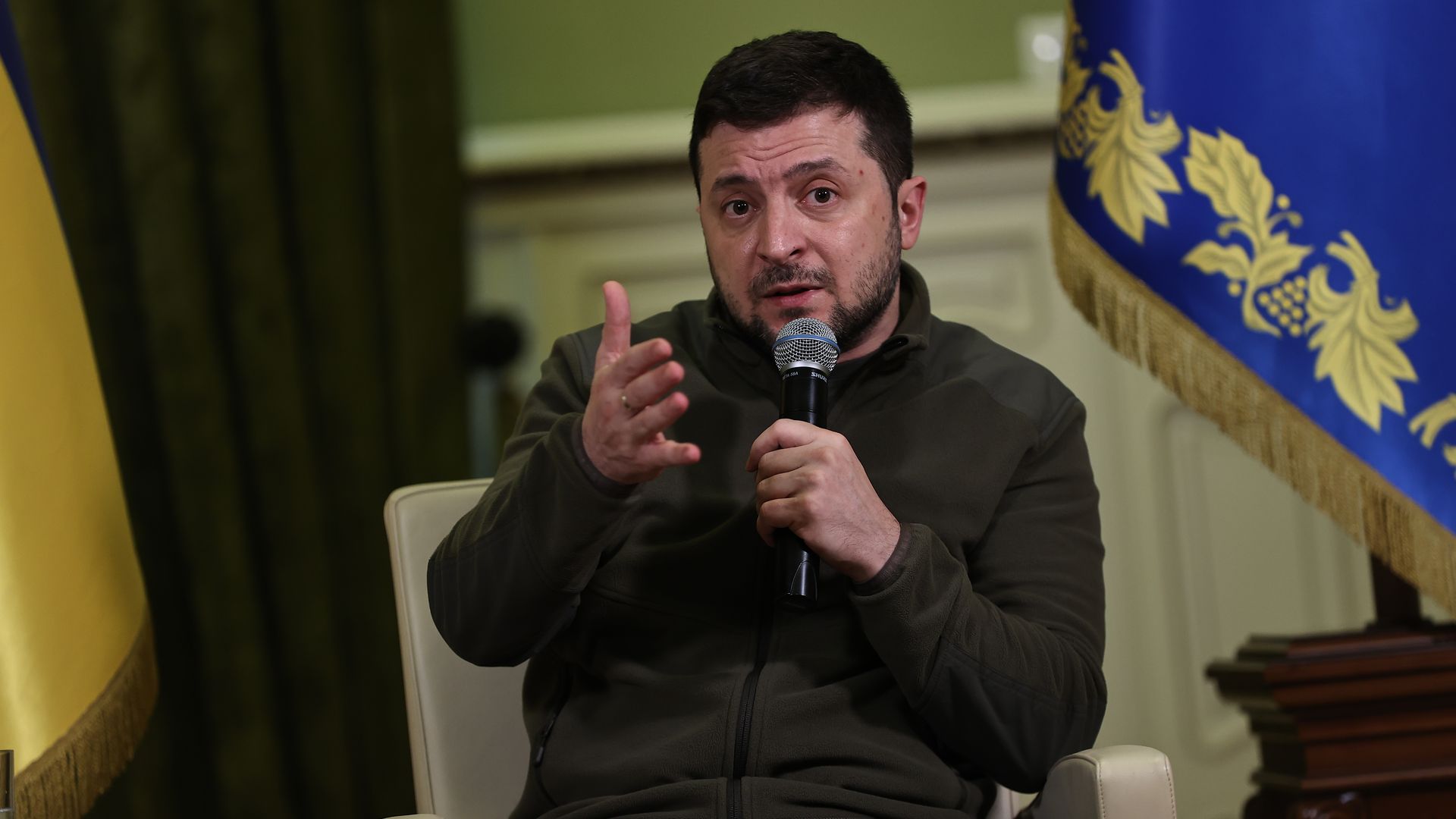 Ukrainian President Volodymyr Zelensky said Wednesday peace talks were beginning to "sound more realistic," as the war entered its third week with Russian forces intensifying attacks on Kyiv and Mariupol.
What they're saying: "Efforts are still needed, patience is needed," Zelensky said during a televised address. "Any war ends with an agreement," added Zelensky, who thanked the U.S. ahead of his congressional address later Wednesday for a $13.6 billion aid package.
Ukrainian presidential aid Mykhailo Podolyak, a member of the peace talks delegation, tweeted that "fundamental contradictions" remained as peace talks with Russian officials were expected to continue Wednesday. "But there is certainly room for compromise," he added.
Kremlin spokesperson Dmitry Peskov said it's too early to say how negotiations were progressing, but "in the current situation the very fact that [negotiations] are continuing is probably positive," per Reuters.
Russian Foreign Minister Sergei Lavrov said that "there are absolutely specific formulations which in my view are close to agreement," Reuters reports.
Worth noting: Zelensky indicated during a video-link to leaders of the British-led Joint Expeditionary Force Tuesday that he realized Ukraine couldn't soon become a NATO member, saying, "We have heard for years that the doors were open, but we also heard that we could not join."
"It's a truth and it must be recognized," he added. "I am glad that our people are beginning to understand this and rely on themselves and on our partners who assist us."
The big picture: Russian airstrikes on Kyiv Wednesday morning destroyed several residential buildings and killed at least two people, Ukraine's state emergency services said. Kyiv entered a 35-hour curfew on Tuesday night, hours after at least four people were killed in a Russian airstrike on a city apartment.
Fresh attacks were also reported in Mariupol, where local officials said Russian forces had seized a hospital and taken some 500 people hostage.
But Zelensky said during his address that, despite Russia's military bombardment, its forces had failed to break through.
Situation report: U.S. and British officials also reported that Russian forces had in general stalled across Ukraine.
A U.S. defense official told AP that Russian forces were about nine miles outside Kyiv and their long-range missiles were striking civilian targets in the capital "with increasing frequency." But Putin's ground forces were "making little to no progress around the country."
Meanwhile, the U.S. Ministry of Defense said in an intelligence update Wednesday that Russia's military has been "struggling to overcome the challenges posed by Ukraine's terrain."
"Russian forces have remained largely tied to Ukraine's road network and have demonstrated a reluctance to conduct off-road manoeuvre. The destruction of bridges by Ukrainian forces has also played a key role in stalling Russia's advance," the Defense Ministry added.
"Russia's continued failure to gain control of the air has drastically limited their ability to effectively use air manoeuvre, further limiting their options" in the face of Ukrainian resistance, according to the statement.
What to watch: "Russia is increasingly seeking to generate additional troops to bolster and replace its personnel losses in Ukraine," the U.K. Defense Ministry said Tuesday.
The Kremlin "is redeploying forces from as far afield as its Eastern Military District, Pacific Fleet and Armenia. It is also increasingly seeking to exploit irregular sources such as Private Military Companies, Syrian and other mercenaries," the update added.
"Russia will likely attempt to use these forces to hold captured territory and free up its combat power to renew stalled offensive operations."
Go deeper:
Editor's note: This article has been updated with new details throughout.
Go deeper