Updated Mar 7, 2022 -

World
Third round of Ukraine peace talks ends with no major breakthroughs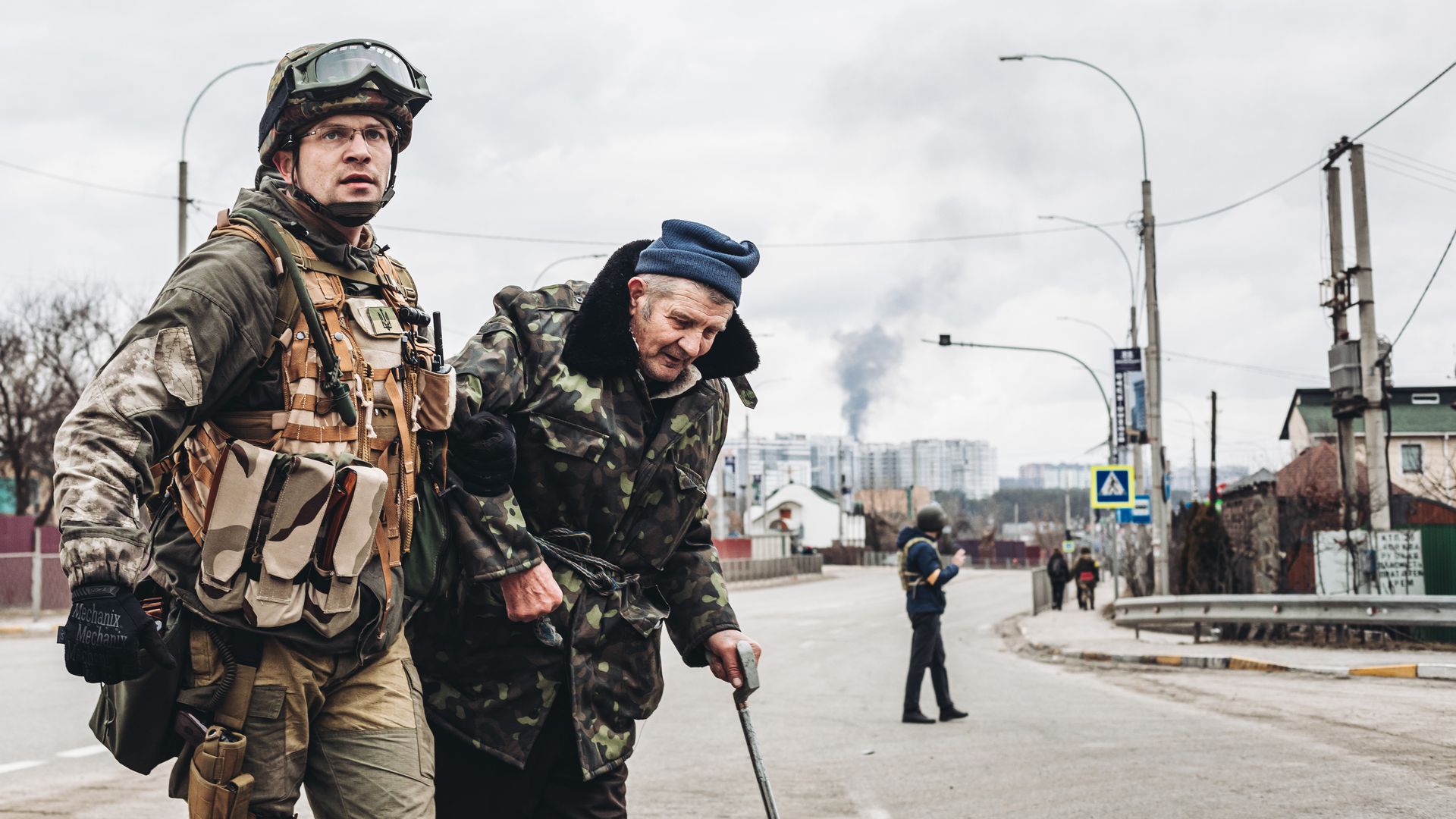 Ukraine on Monday criticized the Kremlin's announcement of new humanitarian corridors to transport civilians to Russia and Belarus as an "immoral" stunt ahead of a third round of peace talks.
The latest: The talks near the Belarus border concluded after about four hours, with no major breakthroughs but positive developments on improving the "logistics of humanitarian corridors," according to a Zelensky adviser. Negotiations on a potential ceasefire and broader political solution will continue.
State of play: A senior U.S. defense official said Russia has now deployed "nearly 100%" of the combat power that it had massed on Ukraine's borders, and that Russia has launched over 625 missiles into Ukraine since the start of the invasion.
The official said the Pentagon can confirm reports that Russia is recruiting Syrian mercenaries to fight in Ukraine, though they could not comment on the size or success of the effort.
"We find it noteworthy that [Putin] believes he needs to rely on foreign fighters to supplement what is a very significant commitment of combat power inside Ukraine as it is," the official said.
Defense Secretary Lloyd Austin ordered an additional 500 U.S. troops to deploy to Europe this weekend to shore up NATO's eastern flank, bringing the total number of U.S. service members stationed in Europe to approximately 100,000.
The big picture: Just prior to the third round of talks, the Kremlin outlined the most explicit set of demands Moscow has given so far for ending the war.
Kremlin spokesman Dmitry Peskov said Ukraine should amend its constitution to "reject any aims to enter any bloc," likely in reference to NATO and the European Union.
Peskov also called for Ukraine to recognize Crimea as Russian and the pro-Moscow separatist republics in eastern Ukraine as independent — but appeared to stop short of demanding regime change. "[T]hat's it," Peskov said. "It will stop in a moment."
What to watch: Russia's Foreign Minister Sergei Lavrov will meet with Ukraine's Foreign Minister Dmytro Kuleba in Turkey on Thursday for the highest-level talks since the invasion began, according to Turkish Foreign Minister Mevlüt Çavuşoğlu.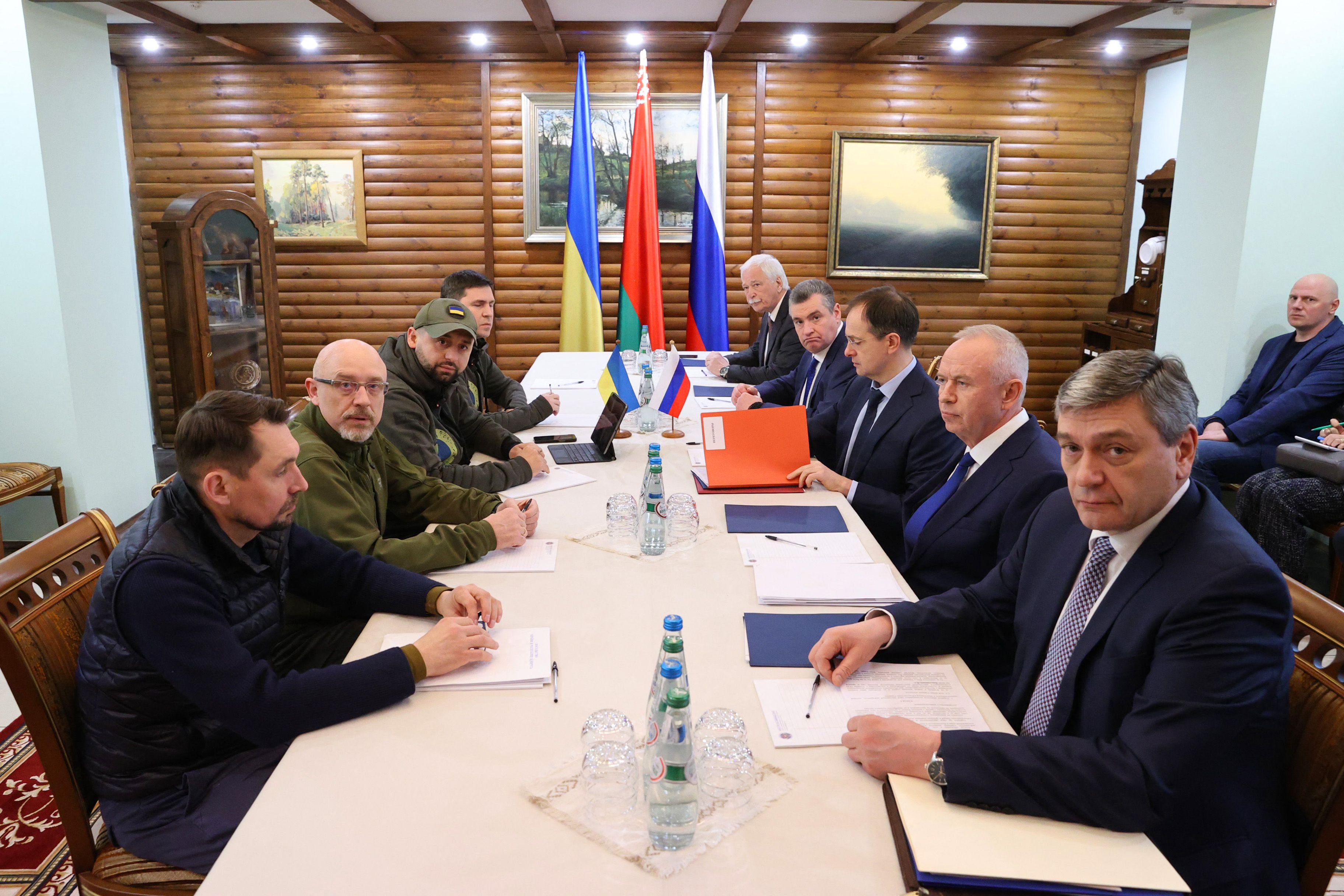 State of play: Russia's Defense Ministry said it had agreed to hold fire and open humanitarian corridors from Kyiv, Kharkiv, Sumy and Mariupol. But the apparent evacuation routes would take Ukrainians under siege to cities in Russia and Belarus.
The move was quickly denounced by Ukrainian officials, who pointed to previous failed efforts to establish evacuation corridors.
A spokesperson for President Volodymyr Zelensky told Reuters it is "completely immoral" and said Russia was trying to "use people's suffering to create a television picture."
Russia said the apparent evacuation corridors came in response to French President Emmanuel Macron.
Ukrainian officials have reported Russia's military breaching of such pledges before, resulting in the halting of civilian evacuations — notably in the port city of Mariupol, where some 200,000 civilians were reported trapped over the weekend.
Zoom in: Ukrainian officials reported attacks across Ukraine, including in the southern city of Mykolaiv on Monday morning.
Ukraine's General Staff said in a statement on Monday morning that "Russia continues to carry out rocket, bomb and artillery strikes on the cities and settlements of Ukraine," per an AP translation.
"The invaders continue to use the airfield network of Belarus to carry out air strikes on Ukraine," it added.
Ukraine's State Emergency Service shared online images of razed homes that it said were shelled in the southern Ukrainian city of Mykolaiv on Monday morning.
What they're saying: Zelensky said on Sunday that "God will not forgive" attacks on civilians, including a family of four "killed in Irpin as they were trying to leave the city" in northern Ukraine.
Between the lines: The U.K. Ministry of Defense said on Monday that intelligence suggests Russia's military was attacking "targeting Ukraine's communications infrastructure in order to reduce Ukrainian citizens' access to reliable news and information" — noting the attack on a Kyiv TV tower last week and another strike on a Kharkiv TV tower Sunday.
"Ukrainian internet access is also highly likely being disrupted as a result of collateral damage from Russian strikes on infrastructure," the Defense Ministry said in a statement. "Over the past week, internet outages have been reported in Mariupol, Sumy, Kyiv and Kharkiv."
Yes, but: Russia's invasion plans appear to be stalling in the face of Ukrainian resistance, according to a Defense Ministry intelligence update late Sunday.
"Over the past 24 hours, a high level of Russian air and artillery strikes have continued to hit military and civilian sites in Ukrainian cities. Recent strikes have targeted Kharkiv, Mykolaiv and Chernihiv, and been particularly heavy in Mariupol," the Defense Ministry said.
Despite this, "Russian forces probably made minimal ground advances over the weekend," the Defense Ministry said. "It is highly unlikely that Russia has successfully achieved its planned objectives to date."
Zoom out: The United Nations' International Court of Justice was hearing submissions from Ukrainian officials on Monday calling for the world court to make an emergency ruling to end the invasion, accusing Russian forces of genocide.
Go deeper: The latest on the Russia-Ukraine crisis
Editor's note: This article has been updated with new details throughout.
Go deeper