Updated Feb 11, 2022 -

World
Canadian judge grants order allowing removal of protesters blocking border bridge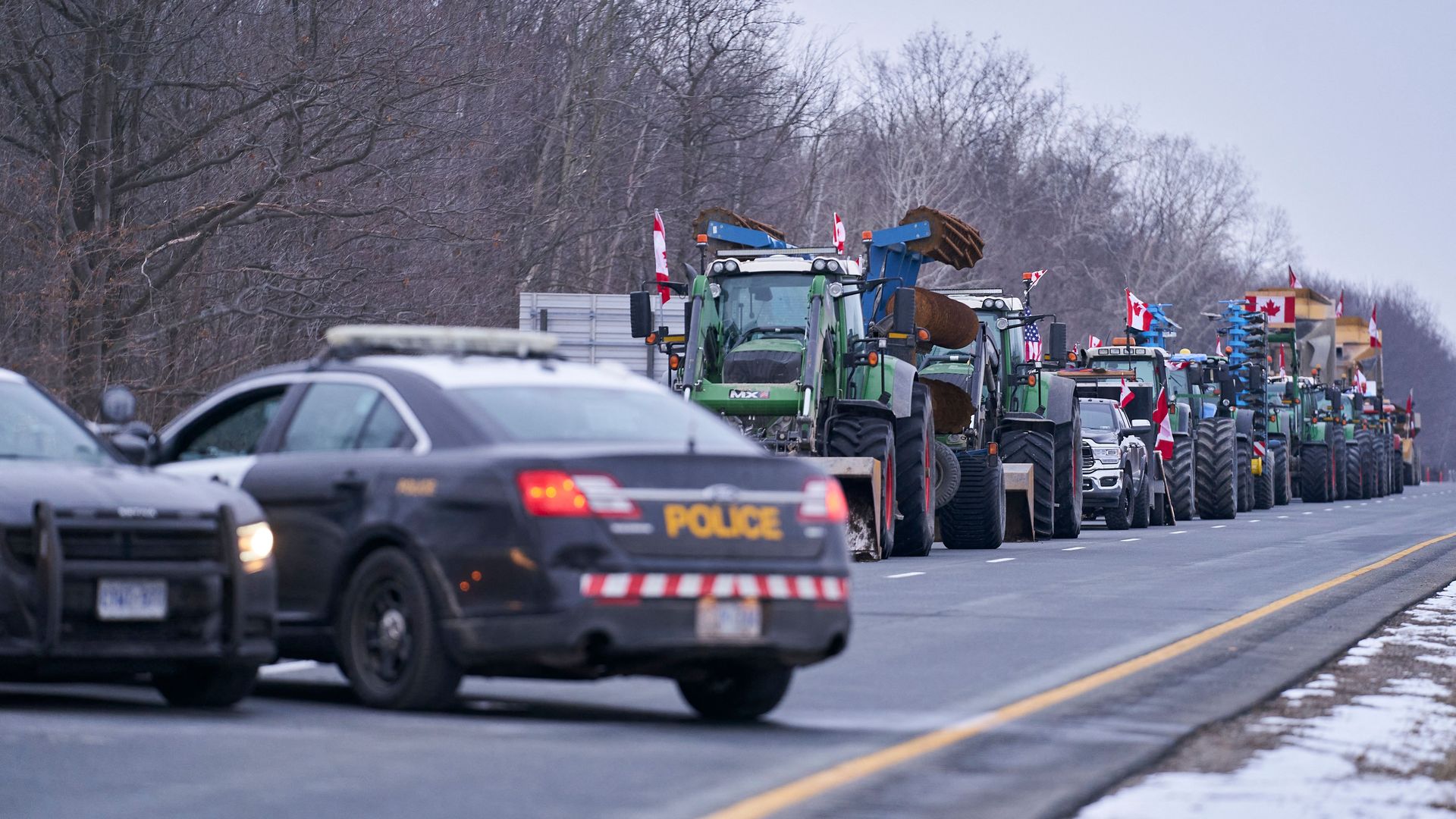 A Canadian judge on Friday granted an injunction that gives law enforcement more power to remove vaccine mandate protesters from the Ambassador Bridge following a five-day blockade at the U.S.-Canada border, AP reports.
The latest: Truckers, farmers and other protesters have blocked roads and portions of U.S.-Canada border crossings for days as part of the demonstration, cutting off key delivery routes. Factories facing a shortage of parts have been forced to stop production on both sides of the border, Axios' Joann Muller reports.
The city of Windsor and Canada's national Automotive Parts Manufacturers' Association applied for the injunction.

Protesters have caused a public nuisance and led to approximately $600 million in damage to Canada's auto industry, according to the court filing.

Ontario Premier Doug Ford declared a state of emergency earlier on Friday in response to the protests.
What they're saying: Ford said at a press conference that he will convene the executive council of Ontario "to urgently enact orders that will make crystal clear it is illegal and punishable to block and impede the movement of goods, people and services along critical infrastructure."
He added that orders will include protecting international border crossings, 400-series highways, airports, ports, bridges and railways.
Those who do not comply will be subject to fines of up to $100,000 and up to a year in prison.
"We cannot have people occupying cities, holding them hostage," Ford said.
In a Friday call between President Biden and Canadian Prime Minister Justin Trudeau, the leaders "agreed that the actions of the individuals who are obstructing travel and commerce between our two countries are having significant direct impacts on citizens' lives and livelihoods," per a readout from the White House.
Biden expressed concern about adverse effects on U.S. companies and workers, while Trudeau "promised quick action in enforcing the law."
They will "stay in close touch in the days ahead to ensure that the free flow of traffic is restored at these vital transit points," the readout said.
The big picture: Earlier this week, Ottawa Mayor Jim Watson declared a state of emergency in response to two weeks of massive demonstrations in Canada's capital over COVID-19 restrictions.
Go deeper: Republican lawmakers target GoFundMe over Canadian COVID mandate protests
Go deeper