Remembering Balbir Singh Sodhi 20 years after post-9/11 hate crime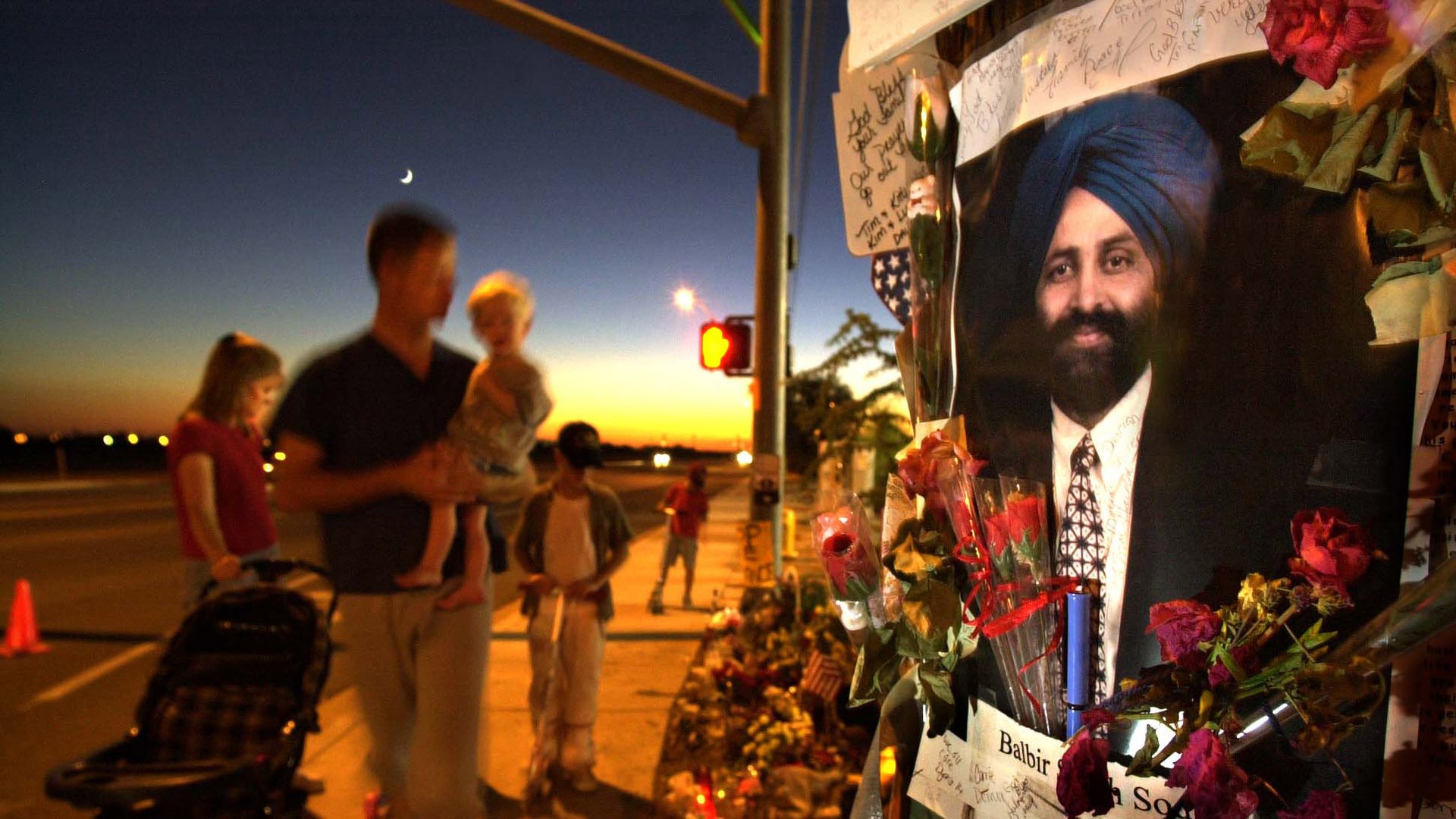 Four days after the 9/11 attacks, a white man who allegedly said he wanted to go "shoot some towel-heads" attacked Balbir Singh Sodhi as Sodhi was planting flowers in front of the gas station he owned.
Why it matters: Balbir's death marked the first deadly post-9/11 hate crime and kicked off what would become a rising stream of hate incidents against Muslims, Arabs and South Asians. Twenty years later, on the anniversary of his death, community leaders, lawmakers and advocates gathered to honor his life and legacy.
Context: Between 2000 and 2001, hate crimes against Muslims surged 1617%, according to the FBI. The Sikh Coalition documented over 300 cases of violence and discrimination against Sikh Americans in the first month after the 9/11 attacks.
"Children were harassed on their way to school and taunted as 'terrorists;' immigration crackdowns tore apart communities like Little Pakistan in Brooklyn; and an NYPD surveillance program spied on innocent people in New York and beyond for more than a decade," The City writes.
An ecosystem of grassroots advocacy groups formed in response.
What they're saying: At a memorial celebrating Sodhi on Wednesday night, Sikh civil rights leader Valarie Kaur spoke about her relationship with "Balbir Uncle" and called the gas station where he died "the second Ground Zero."
Erika Moritsugu, senior White House Asian American and Pacific Islander liaison, shared a message from President Biden: "Silence in the face of hate is complicity. For our country and our future, we cannot be complicit."
The Sikh Coalition said in a statement that on Sept. 15, "[w]e honor Balbir's memory ... and recognize two decades of strength, solidarity and resilience from our communities in the face of ongoing hate.
Sikh scholar and activist Simran Jeet Singh tweeted along with a video about Sodhi that he "should be alive today," adding: "Watch to learn more about this beautiful soul, and commit to bringing more love into your lives and communities."
The Congressional Asian Pacific American Caucus tweeted: "He was the 1st post-9/11 hate crime death. But he wasn't the last. We must never again let our fear become an excuse for prejudice."
The big picture: The gas station in Mesa, Arizona, where Sodhi was killed has become a site of pilgrimage for many Sikh Americans.
"Like our fellow Americans, we were collectively victims of the terror attacks — but we were not allowed to mourn the same way, as we were also victims of prejudice and suspicion," Arab American Institute's Maya Berry and Sikh Coalition's Satjeet Kaur wrote in a recent opinion for the Religion News Service. "[S]erious policy change is still needed to move forward."
Worth noting: Reps. Pramila Jayapal (D-Wash.), Ilhan Omar (D-Minn.), Rashida Tlaib (D-Mich.) and Judy Chu (D-Calif.) introduced a resolution last week that would acknowledge that "individuals experienced hate and were targeted by the government on account of their faith, race, national origin and immigration status" in the aftermath of 9/11.
It would also suggest forms of relief to support those affected.
The White House hosted a virtual meeting with Asian American, Native Hawaiian and Pacific Islander faith leaders on hate prevention and AAPI inclusion in the lead-up to 9/11.
Go deeper