Conservative group targets Biden IRS plan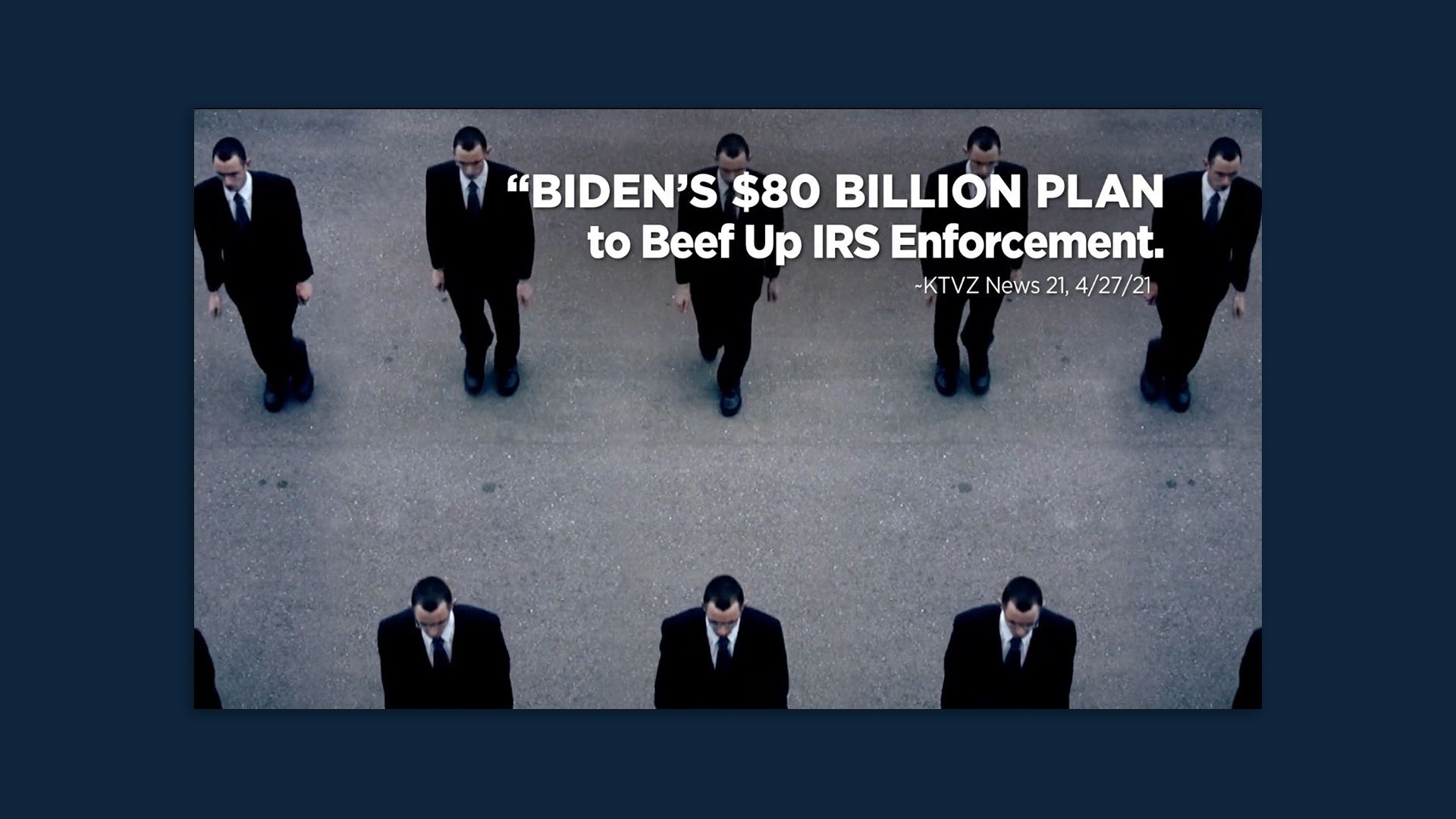 A conservative anti-tax group views President Biden's proposal to increase funding for the Internal Revenue Service as a means to sink his tax-and-spend infrastructure package.
Why it matters: By launching a six-figure cable and local TV buy for an ad against first-year Rep. Carolyn Bourdeaux (D-Ga.) and Rep. Conor Lamb (D-Pa.), the group is testing a broader potential line of attack against the $2.3 trillion package.
"If Joe Biden gets his way, they are coming: IRS agents," warns the ad's narrator. "Biden's massive tax increase plan includes a staggering $80 billion to help recruit an army of IRS agents."
The ad is being run by the Coalition to Protect American Workers, a group with ambitions of raising up to $25 million to prevent the plan from passing Congress.
"We plan to make sure that voters hold accountable any member who votes for these massive tax increases," said Marc Short, who founded the group and formerly served as Vice President Mike Pence's chief of staff.
The big picture: Paying for Biden's infrastructure proposal is emerging as one of the key stumbling blocks to a potential bipartisan deal.
Republicans are expected this week to offer their second counterproposal, which could climb as high as $800 billion for hard infrastructure projects like roads, bridges and waterways.
While some Democrats, including Sen. Mark Warner of Virginia, have suggested user fees to help fund the spending, the White House has rejected them.
It argues they would "violate" Biden's promise not to raise taxes on Americans making less than $400,000 annually.
Go deeper: Biden plans to raise $700 billion by investing another $80 billion into tax enforcement at the IRS, to focus on Americans making more than $400,000.
The ad conflates Biden's stated positions — such as increasing funding for the IRS — with accusations "congressional Democrats want to defund the police."
That leaves the false impression Democrats want to take money away from police departments so they can shift it to IRS enforcement.
What they're saying: "A massive, bipartisan majority of the American people support making the richest Americans and biggest corporations pay the taxes they owe — without increasing the rate of audits on any people or small-business owners earning less than $400,000 a year — so can we use that money to invest in the middle class," said Michael Gwin, director of White House Rapid Response.
"A few special interest-funded ads won't change that fact or a single mind."
By the numbers: The conservative group poll-tested their IRS message in both Georgia's 7th District, represented by Bourdeaux, and New Jersey's 5th District, represented by Rep. Josh Gottheimer (D-N.J.).
The two districts voted for Donald Trump in 2016 but flipped to Biden in 2020.
The group claims 63% of Georgians would oppose a lawmaker who voted for Biden's IRS plan. In New Jersey, the number was 69%.
But, but, but: The White House likes a poll from Data for Progress, which puts support for increased IRS enforcement at 60%.
Go deeper