Trump says Black Lives Matter is "discriminatory" and "bad for Black people"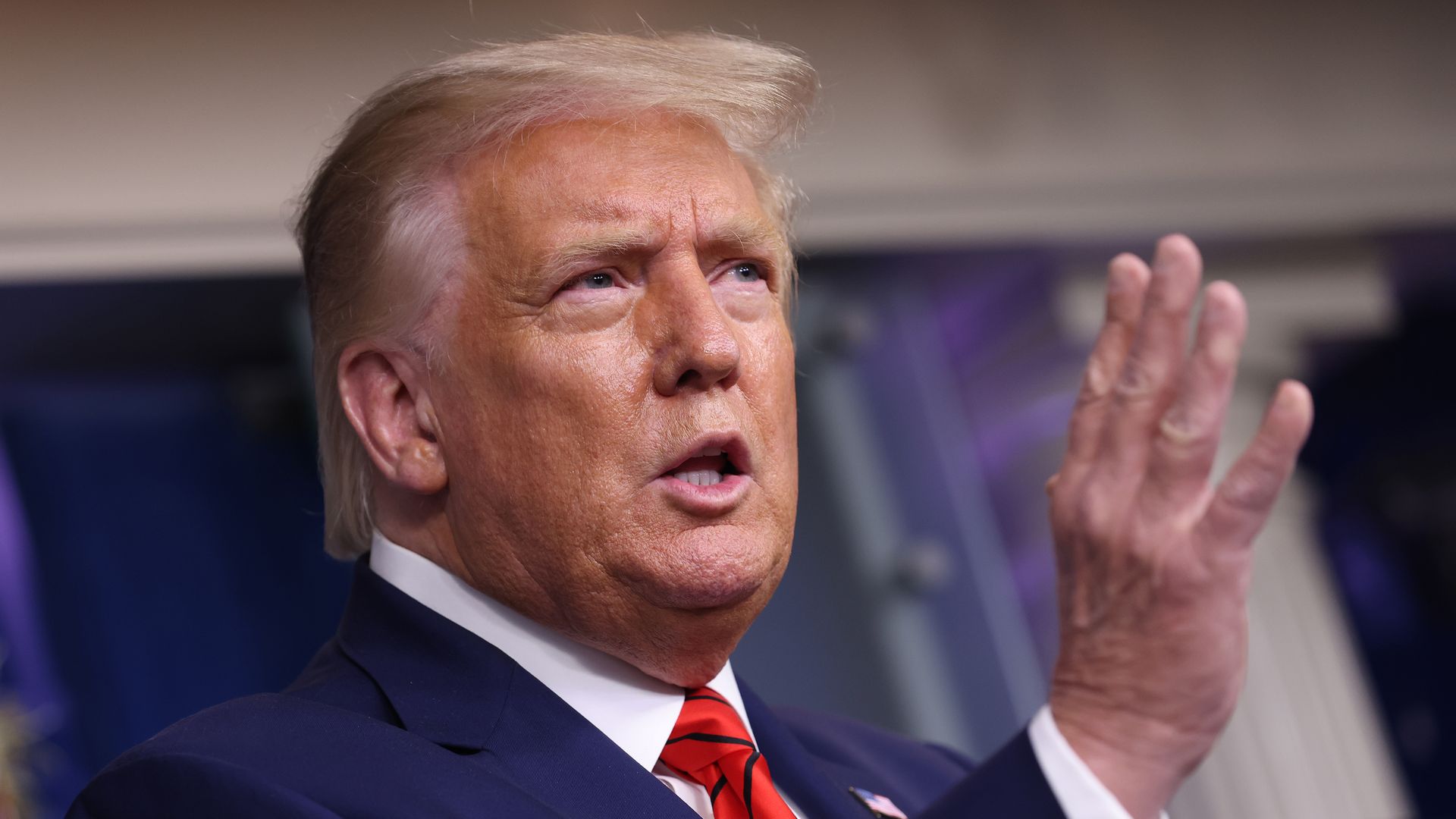 President Trump again denounced Black Lives Matter as a "Marxist organization" and said it was "discriminatory" during an interview with Fox News that aired Monday night.
What he's saying: "The first time I ever heard of Black Lives Matter, I said, 'That's a terrible name.' It's so discriminatory," Trump told Fox News' Laura Ingraham. "It's bad for Black people. It's bad for everybody."
Driving the news: Trump made the comments following unrest this week in Portland, Oregon — where a fatal shooting occurred during clashes between supporters of the president and Black Lives Matter protesters — and in Kenosha, Wisconsin, following the police shooting of Jacob Blake.
Earlier Monday, Trump declined to condemn Kyle Rittenhouse, a 17-year-old supporter of his charged with murder over the shooting deaths of two people during protests in Kenosha last week.
He told Ingraham that he's visiting Kenosha on Tuesday because he's a "tremendous fan of law enforcement" and wants to thank officers.
Wisconsin Gov. Tony Evers (D) asked him to reconsider the trip, citing concerns that it would "hinder our healing" and "delay our work to overcome division and move forward together."
Of note: During the interview, Trump said corporations that donated "hundreds of millions to Black Lives Matter" had taken the "easiest path," showing they're "weak" and "led by weak people."
Addressing the issue of excessive force, Trump likened an officer who did so as a "choker." "Just like in a golf tournament, they miss a three-foot putt. People choke. And people are bad people. You have both," he said.
"You could be a police officer for 15 years and all of a sudden you're confronted. You've got a quarter of a second to make a decision. If you don't make the decision and you're wrong, you're dead. People choke under those circumstances, and they make a bad decision."
Flashback: What Trump said about "law and order" during his 2016 RNC speech
Editor's note: This article has been updated with new details throughout.
Go deeper