Protests intensify across U.S.: Portland and Seattle police declare riot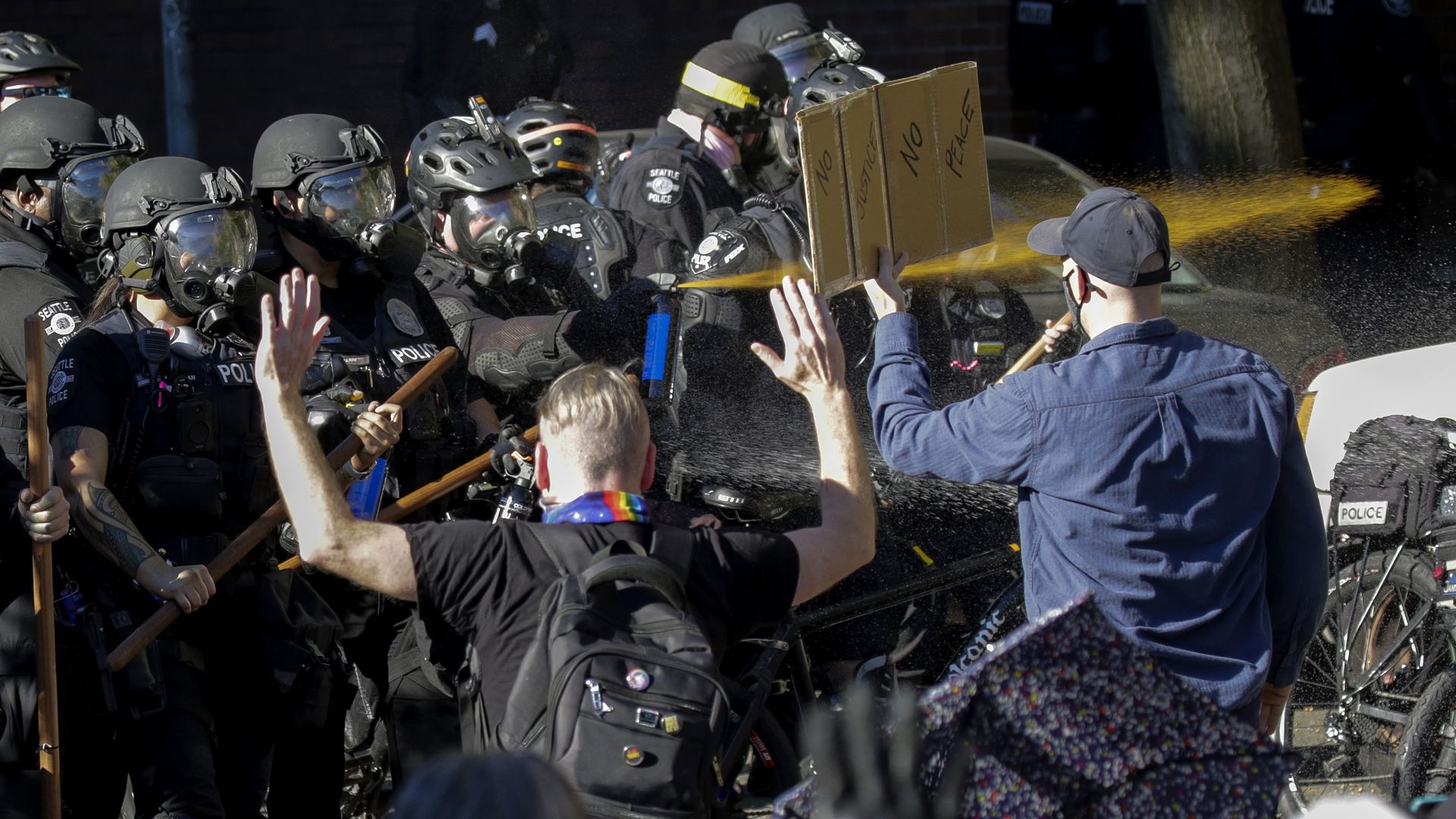 Tension flared across the U.S. overnight as thousands of protesters rallied against racial injustice, with authorities first in Seattle, Washington, and then in Portland, Oregon, declaring a riot.
Driving the news: Standoffs between federal agents and Portland protesters in recent days triggered huge turnouts, and later clashes with authorities, on Saturday in several U.S. cities, including Los Angeles, per the New York Times. Unrest in Portland continued well into Sunday morning.
Portland police announced just after 4 a.m. Sunday that a riot had been declared, tweeting: "The violent conduct of people downtown is creating grave risk of public alarm."
Thousands of people marched earlier in the 58th straight day of protests in the city, which Craig Gabriel, an assistant U.S. attorney in Oregon, described as largely peaceful, though he noted some "federal agents had been injured by fireworks and lasers that protesters shone into their eyes," per the Times.
Protesters "breached a fence surrounding the city's federal courthouse," where the agents have been based, AP notes. Police and federal officers used tear gas to try to clear the area, according to the news agency.
In Seattle, the police department said in a statement officers had arrested 45 people following unrest during massive protests in the city's East Precinct.
Police used pepper spray in an attempt to disperse demonstrators at the former Capitol Hill Organized Protest zone, per AP, which notes thousands of people turned out earlier to rally peacefully.
Police said 21 officers "sustained injuries after being struck by bricks, rocks mortars/other explosives."
Most officers were able to return to duty, but one was treated at a hospital for a knee injury, the statement said.
In Los Angeles, hundreds of people rallied in a largely peaceful demonstration, but "several demonstrators shattered windows" of a U.S. government building and some "painted anti-fascist, anti-police messages on its walls and signage," the Los Angeles Daily News reports, citing police.
In Richmond, Virginia, "police fired chemical agents at hundreds of protesters who had marched through the city and gathered around the Richmond Police Department," according to the New York Times.
Richmond Police Department said in a series of tweets that an "unlawful assembly" had been declared at the department's headquarters and that protesters "set a city dump truck ablaze" outside the building.
In Louisville, Kentucky, the NFAC, a Black militia that stands for "Not F--king Around Coalition," rallied to demand justice for Breonna Taylor, a 26-year-old Black woman who was fatally shot by police in March. The Three Percenters, a far-right militia group, staged a counter-protest.
Three people were hit by gunfire Saturday when someone's gun discharged at the NFAC demonstration, police said.
In Aurora, Colorado, on Saturday a car drove into a crowd of Black Lives Matter protesters, a demonstrator then fired a weapon, wounding one activist and a courthouse office was set on fire later in the night, police said.
In Austin, Texas, police detained a suspect after one man was fatally shot during a Black Lives Matter protest downtown.
In Omaha, Nebraska, police arrested up to 100 protesters after they obstructed a road while protesting the death of James Scurlock, a Black demonstrator killed by a white bar owner in May, according to KMTV.
Editor's note: This article has been updated with new details throughout.
Go deeper