New York Times endorses Elizabeth Warren and Amy Klobuchar for president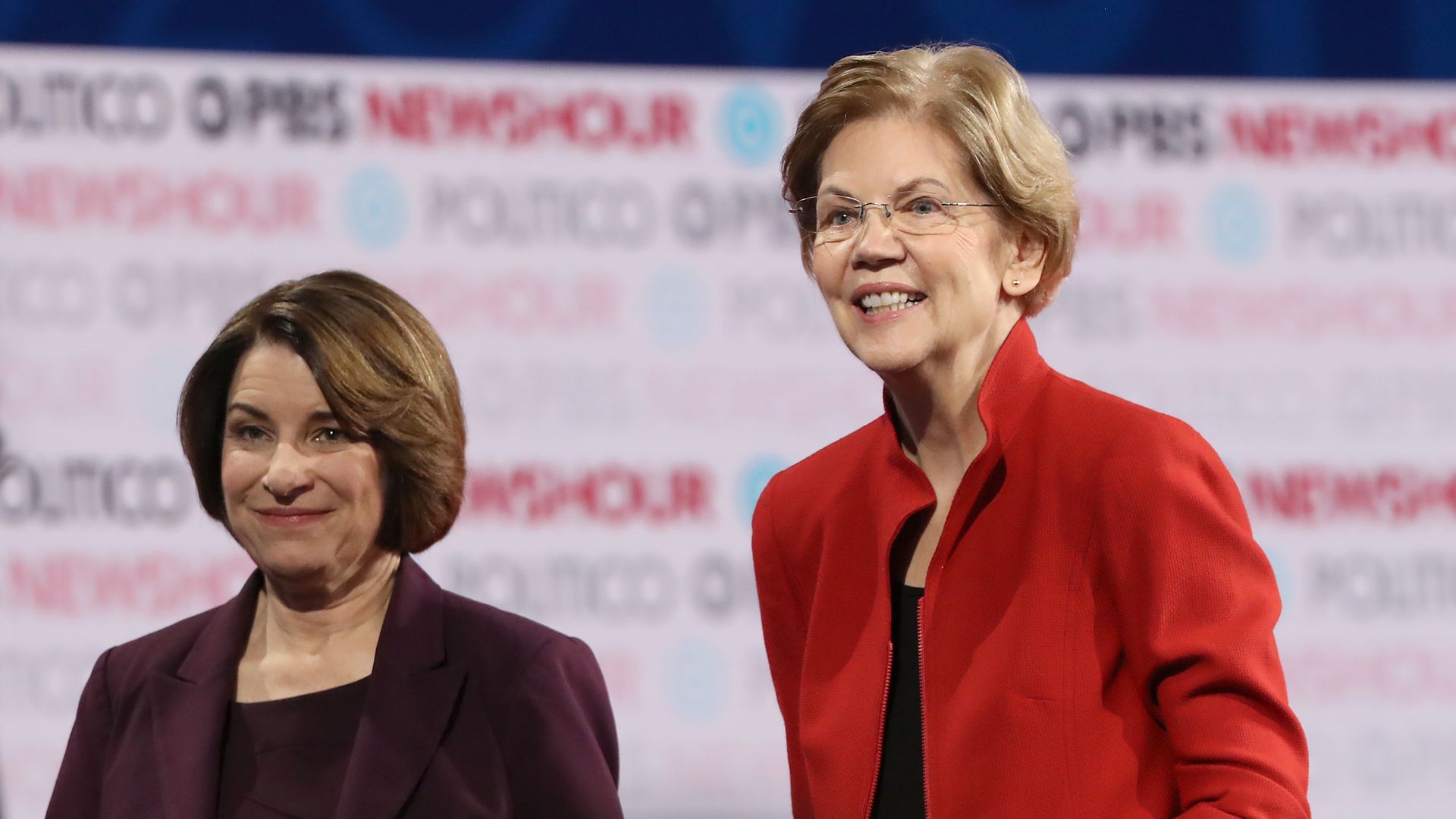 The New York Times editorial board has endorsed Sens. Elizabeth Warren and Amy Klobuchar for president, in a decision announced on national television Sunday night.
Why it matters: The board writes in its editorial it decided to break with convention and endorse two candidates in order to address the "radical and the realist models" voters are faced with by the 2020 Democratic field.
"May the best woman win."
— Excerpt from the Times' editorial
What they're saying: The board noted in its editorial that some would be dissatisfied that it wouldn't be "throwing its weight behind a single candidate, favoring centrists or progressives."
But it added, "this a fight the party itself has been itching to have since [Hillary] Clinton's defeat in 2016, and one that should be played out in the public arena and in the privacy of the voting booth."
"That's the very purpose of primaries, to test-market strategies and ideas that can galvanize and inspire the country," the board continued. "Ms. Klobuchar and Ms. Warren right now are the Democrats best equipped to lead that debate."
The reaction: Klobuchar tweeted a link to the editorial endorsement with the comment, "An honor!"
Warren tweeted: "So, I guess @AmyKlobuchar and I are now both undefeated in elections and undefeated in New York Times endorsements!"
(Flashback: Warren said at last week's Democratic debate in Iowa "the men on this stage have lost 10 elections" but the two women had won all theirs. In one of several clashes with Warren, Sen. Bernie Sanders responded that he'd beaten an incumbent congressman. To which Warren replied, "But that was 30 years ago.")
The big picture: NYT deputy editorial page editor Kathleen Kingsbury said on Twitter this month that the board was putting all pre-endorsement 2020 candidate interviews on the record for the first time because "we aim to make it our most transparent endorsement process to date."
The Times faced both criticism and applause for its decision to air the process on television. While some readers lauded the paper for its transparency, others argued that it turned the process into a spectacle, akin to a sports draft pick. 
Washington Post media reporter Paul Farhi tweeted that whatever anyone might think about the NYT's endorsement, "the amount of disclosure/transparency about the process (a TV show, articles, transcripts, videos, tweets, etc.) is unprecedented. Only four years ago, this was all a mystery."
In an interview with Farhi, Kingsbury conceded the "reality is when you bring TV cameras into any meeting, people's behavior changes." She added, "I'm still wondering if we should have done this on TV or if we should have just released the transcripts."
Go deeper:
Editor's note: This article has been updated with more details on the endorsement, reactions from Klobuchar and Warren, and further context.
Go deeper