5 takeaways from the third Democratic debate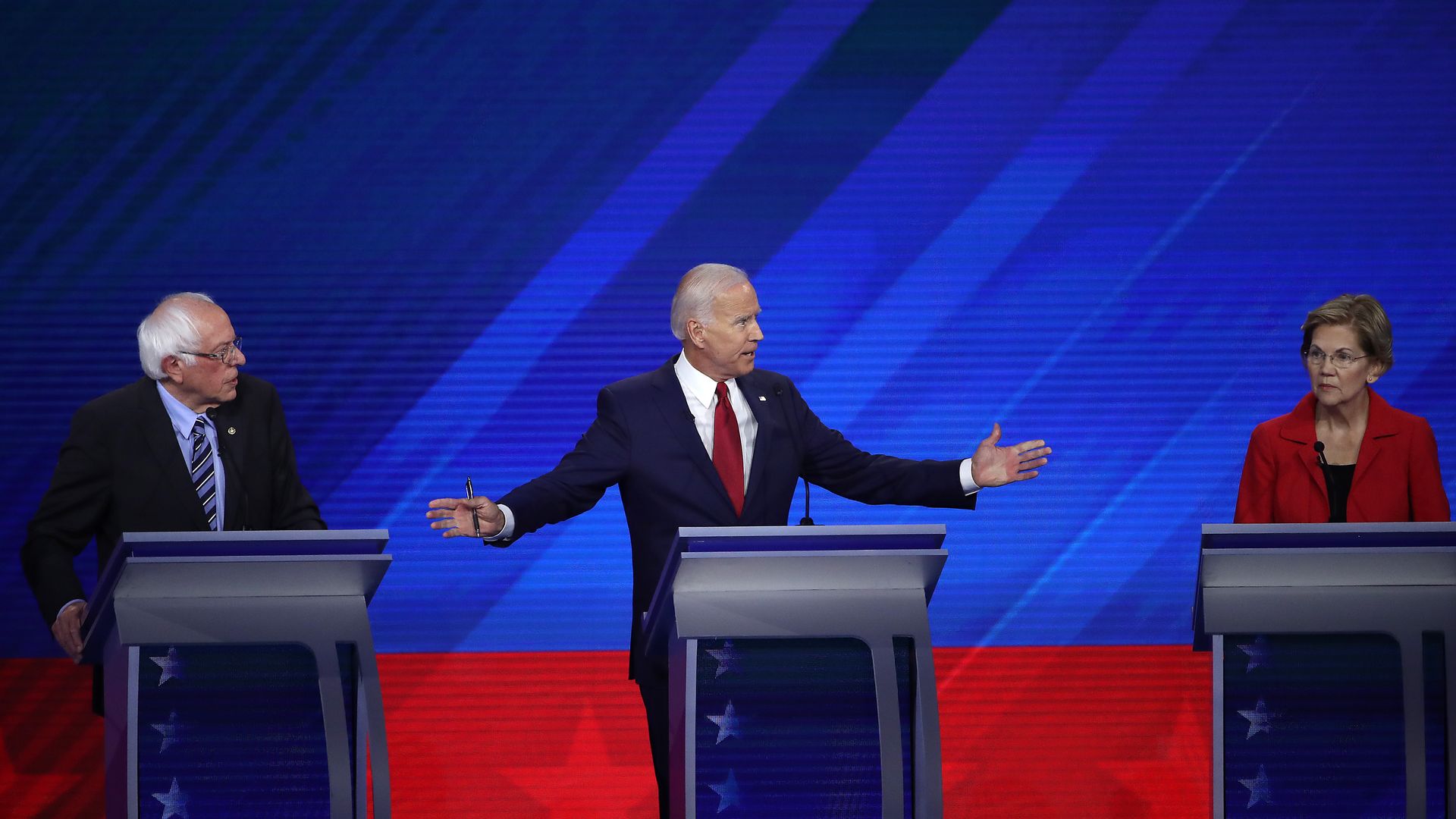 Thursday's 3-hour Democratic debate marked the first time the top contenders all squared off on 1 stage, resulting in the 2020 cycle's most comprehensive discussion yet among the candidates most likely to face Donald Trump as the party's nominee.
The big picture: Joe Biden, who remains atop the polls despite being bombarded with nonstop negative press, had a strong showing out of the gate, but at times found himself getting lost in his own answers. A hoarse-sounding Bernie Sanders stuck to his brand but was confronted over his self-described socialist agenda, while the rest of the pack struggled to hit fellow progressive Elizabeth Warren with an attack line that landed.
Highlights:
1. The Democratic Party's internal fissures over health care crystallized on stage for the 3rd straight debate — unsurprising, given that it consistently polls as the most important issue facing Democratic voters. Biden and Amy Klobuchar hammered home the idea that a public option for the Affordable Care Act constitutes the realistic, more affordable middle road, and they directly attacked Sanders and Warren for budget-busting Medicare for All plans that would eliminate private insurance.
Warren may have provided fodder for an attack ad when said she'd "actually never met anyone who likes their health insurance company." It's not about liking their insurance company, as Axios' David Nather notes, it's about liking their plan — and an awful lot of people didn't like when the ACA canceled their plans.
Pete Buttigieg argued that his "Medicare for All Who Want it" plan is the right path because he trusts Americans to make their own choices. Kamala Harris pivoted to Trump's efforts to repeal the ACA and strip health care coverage from millions of American.
2. Harris' pivot appeared to be part of a new strategy. After a show-stealing first debate and a disappointing second, Harris came to the third ready to attack Trump, rather than her Democratic opponents, on nearly every issue. It's likely a play at the "electability" argument that has helped prop up Biden's poll numbers thus far, perhaps seeking to illustrate to voters of what she would do to Trump if they were sharing a debate stage.
3. Beto O'Rourke, who has twice tried to "relaunch his campaign" after struggling to break out in the polls, had his best debate performance yet. He brought the same raw emotion and blunt language about gun violence that has defined his campaign in the month since the mass shooting in his hometown of El Paso. His biggest applause line of the line came when he responded to a question about his plan for mandatory gun buybacks: "Hell, yes, we're going to take your AR-15."
O'Rourke also condemned Trump as a "white supremacist" and — about halfway through the debate — updated his website with a long list of examples of what he calls "proof" of Trump's racism. O'Rourke received high praise from at least 5 candidates for his gun control advocacy in the wake of El Paso, but it's doubtful his performance will be enough to catapult him to the front of the pack.
4. The litigation of President Obama's legacy continued. Most of the candidates praised the former president for setting the foundation for universal health care, but Sanders argued that Obama and Biden bear responsibility for 500,000 Americans going bankrupt as a result of the Affordable Care Act.
Julián Castro, who served as housing secretary in the Obama administration, argued that Biden's health care plan would leave 10 million people uncovered, and, in one controversial moment, accused him of forgetting the details of his own plan. "I'm fulfilling the legacy of Barack Obama, and you're not," Castro later quipped.
Biden was also asked by moderator Jorge Ramos whether Obama made a mistake deporting 3 million undocumented immigrants, a question on which Biden punted. This set up another chance for Castro to accuse Biden of taking credit for the positive aspects of Obama's legacy and wiping his hands of the negative.
5. Socialism made its first appearance in a Democratic debate, with the centrist Biden mocking Sanders for believing that employers would return wages to union workers who become covered by Medicare for All: "For a socialist you've got a lot more confidence in corporate America than I do."
Sanders was also asked to defend the difference between his "democratic socialism" and the ideology of Venezuelan President Nicolás Maduro, a question he called "extremely unfair." Painting Democrats as "far-left socialists" has been a key part of Trump and his Republican allies' messaging campaign.
The bottom line: It was a heated night, but it lacked any moments that are likely to fundamentally reset the race.
Go deeper: More highlights from Thursday's debate
Editor's note: This story has been corrected to note that the public option would be for the Affordable Care Act, not Medicare.
Go deeper