What the 2020 Democrats are saying about economic inequality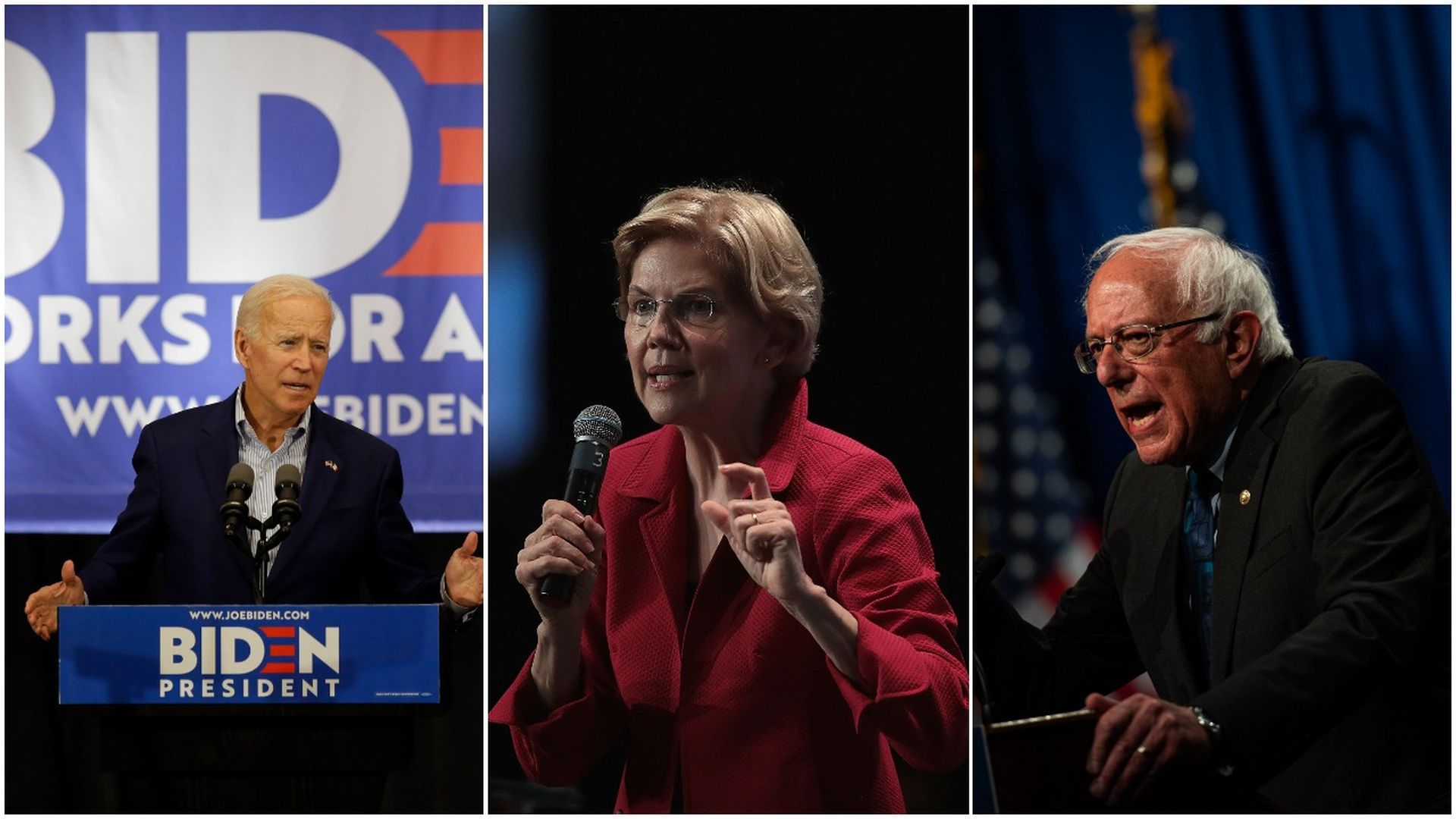 Democrats are toying with a number of ideas to address economic inequality in the U.S., with candidates such as Sens. Bernie Sanders (I-Vt.) and Elizabeth Warren (D-Mass.) making it an integral part of their campaign messaging.
The big picture: Addressing economic inequality means different things to different candidates. There's a push to address tax cuts for the rich, affordable housing, minimum wage, income inequality, labor and unions.
There's a general consensus among Democrats to repeal President Trump's tax plan which some say disproportionately benefits the wealthy.
Most Democrats agree on raising the minimum living wage and closing the gender pay gap.
What they're saying:
Former Vice President Joe Biden:
He's characterized himself as "the" advocate for the middle class, with a strong focus on labor laws and tax codes.
He's attacked Trump's tax cuts saying they benefited the wealthy.
Andrew Yang:
Yang's key proposal is the Universal Basic Income plan which would give every American $1,000 with no strings attached.
He also wants to reduce student debt interest rates.
Former Rep. Beto O'Rourke (D-Tex.):
O'Rourke supports raising the minimum wage to $15.
He supports raising taxes on the wealthy and large corporations.
Sen. Bernie Sanders (I-Vt.):
Sanders advocates for higher quality universal child care and passing the Green New Deal for job creation.
Sen. Elizabethe Warren (D-Mass.):
Warren wants to break up Big Tech companies she says monopolize industries and harm small business.
She wants workers to elect 40% of their company's board members.
Warren proposed a $640 billion student loan debt cancellation plan.
She is proposing a tax hike on households with incomes exceeding $50 million annually.
Her housing plan aims to cut down rent by 10% and create 1.5 million jobs because of construction needs.
Sen. Cory Booker (D-N.J.):
Sen. Mike Gravel (D-Alaska):
He wants to establish the American National Fund that would increase taxes on the wealthy, real estate and IPOs to be redistributed to Americans 18 years and older.
Gravel wants to establish a $15 minimum wage, and eliminate the tipping minimum wage.
He wants to repeal the Taft-Harley Act, saying it prevents labor unions from having authority.
Gravel wants to establish a free credit registry.
To increase access to affordable housing, Gravel wants to enact a vacancy tax, increase tenant's rights and pass rent control legislation.
Sen. Kamala Harris (D-Calif.):
She wants to reverse Trump's tax plan, saying it only benefits the wealthy and corporations.
Harris wants to raise the minimum wage to $15.
She wants to pass the Rent Relief Act, giving a tax credit to people who spend more than 30% of their incomes on rent and utilities.
Sen. Kirsten Gillibrand (D-N.Y.):
Mayor Pete Buttigieg:
Former Gov. John Hickenlooper:
Hickenlooper supports raising the minimum wage to $15.
Mayor Bill de Blasio:
Sen. Michael Bennet (D-Colo.):
He says the issue of economic inequality is more pressing than anything else, including health care and climate change.
Bennet proposed the American Family Act that would've increased the child tax credit to reduce child poverty.
Gov. Steve Bullock:
Bullock established the Equal Pay for Equal Work task force with the goal of making Montana the first state to close the gender pay gap.
Former HUD Secretary Julián Castro:
Under Castro, HUD provided $173 million in grants to develop affordable housing.
He advocates for a higher minimum wage.
Marianne Williamson:
Williamson wants to repeal Trump's tax plan saying it only benefits the wealthy.
She wants to reduce or forgive student loan debt.
Williamson supports closing the gender pay gap and increasing the minimum wage.
She proposes eliminating the income cap on payroll taxes, carried interest and ETF tax loopholes.
Sen. Amy Klobuchar (D-Minn.):
She supports raising the minimum wage to $15.
Klobuchar proposed a bill to tax the wealthy to fund retirement plans for middle-income Americans.
Rep. John Delaney (D-Md.):
Delaney supports closing the gender pay gap.
He focused on how the future of artificial intelligence could affect job prospects, and called for a national plan.
Rep. Tusli Gabbard (D-Hawaii):
Gov. Jay Inslee:
Inslee supports strong labor unions, and says their decline is tied to increasing economic inequality.
He believes combating climate change will create more jobs.
Rep. Tim Ryan (D-Ohio):
Ryan opposes further tax cuts, saying cuts are responsive for wage stagnation and increased health-care costs.
Rep. Seth Moulton (D-Mass.):
Rep. Eric Swalwell (D-Calif.):
Mayor Wayne Messam:
He increased minimum wage in the city of Miramar.
Go deeper: What you need to know about the 2020 presidential candidates, in under 500 words
Go deeper