Axios Sneak Peek
December 21, 2022
Welcome back to Sneak. Smart Brevity™ count: 988 words ... 3.5 minutes.
⚡ Situational awareness: The House Ways and Means Committee voted tonight to publicly release six years of former President Trump's tax returns, following a years-long legal battle that reached the Supreme Court.
1 big thing: Zelensky's D.C. trip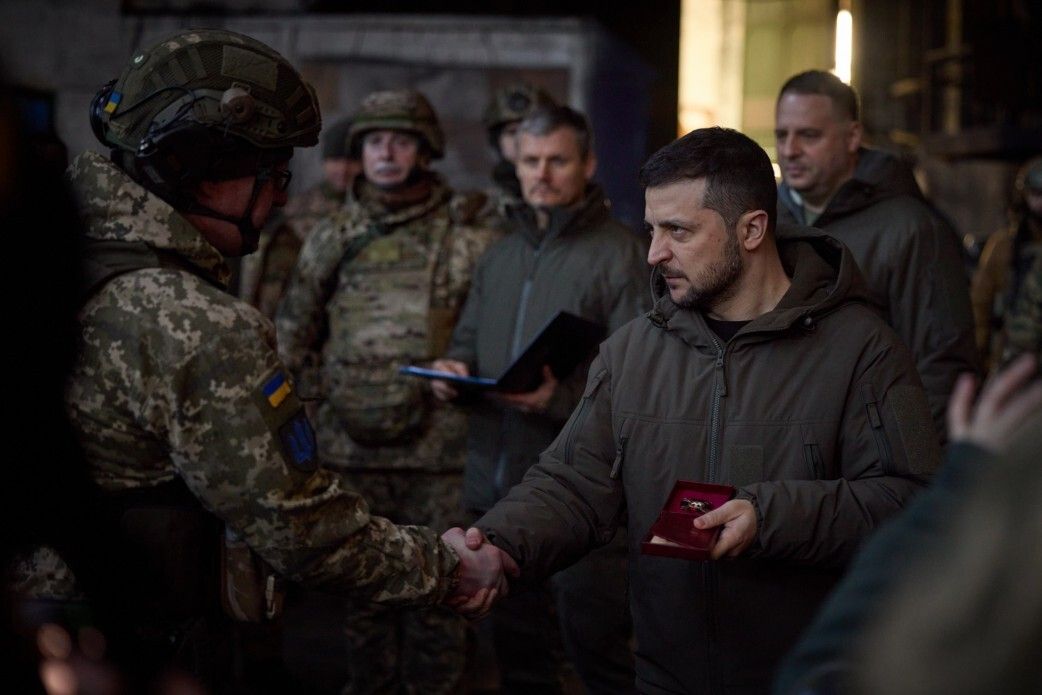 Ukrainian President Volodymyr Zelensky is planning to travel to Washington tomorrow — barring security issues — to address a joint session of Congress, Axios' Alayna Treene has learned.
CNN reports President Biden is also planning to host Zelensky at the White House, and that the visit will coincide with an announcement that the U.S. is sending Patriot missile systems to Ukraine.
Why it matters: Zelensky has not left Ukraine since Russia launched its brutal invasion on Feb. 24, unleashing incalculable suffering on the Ukrainian people and triggering shock waves throughout the global economy.
If Zelensky's first overseas travel is to Washington — 300 days after Russian hitmen parachuted into Kyiv in a failed attempt to assassinate him — it will send a powerful signal that U.S. support for Ukraine is working.
Congress is poised to pass $45 billion in additional military and economic aid to Ukraine this week as part of its $1.7 trillion omnibus funding bill, bringing total U.S. assistance to over $100 billion.
Between the lines: The incoming House Republican majority has expressed deep reservations about continuing to send aid to Ukraine.
Zelensky's visit would give him the chance to meet personally with some of his skeptics — or at the very least GOP leadership — to convince them that U.S. aid is vital and being used responsibly.
With Hanukkah underway and Christmas approaching, Ukraine is suffering from massive power outages caused by Russian strikes on civilian infrastructure. An emotional appeal by Zelensky could cut through to lawmakers as they prepare to leave town for the holidays.
Flashback: When Zelensky addressed a joint session of Congress virtually back in March, he summoned some of the darkest days in U.S. history — including Pearl Harbor and 9/11 — in his plea for greater assistance.
For many Americans, the tragedy in Ukraine has receded into the background as fighting rages on with no end in sight.
For Zelensky, nothing else matters: Just today, he made a surprise trip to the besieged city of Bakhmut to hand out awards to troops involved in one of the war's fiercest battles.
2. 👀 Scoop: Biden's inflation-immigration pitch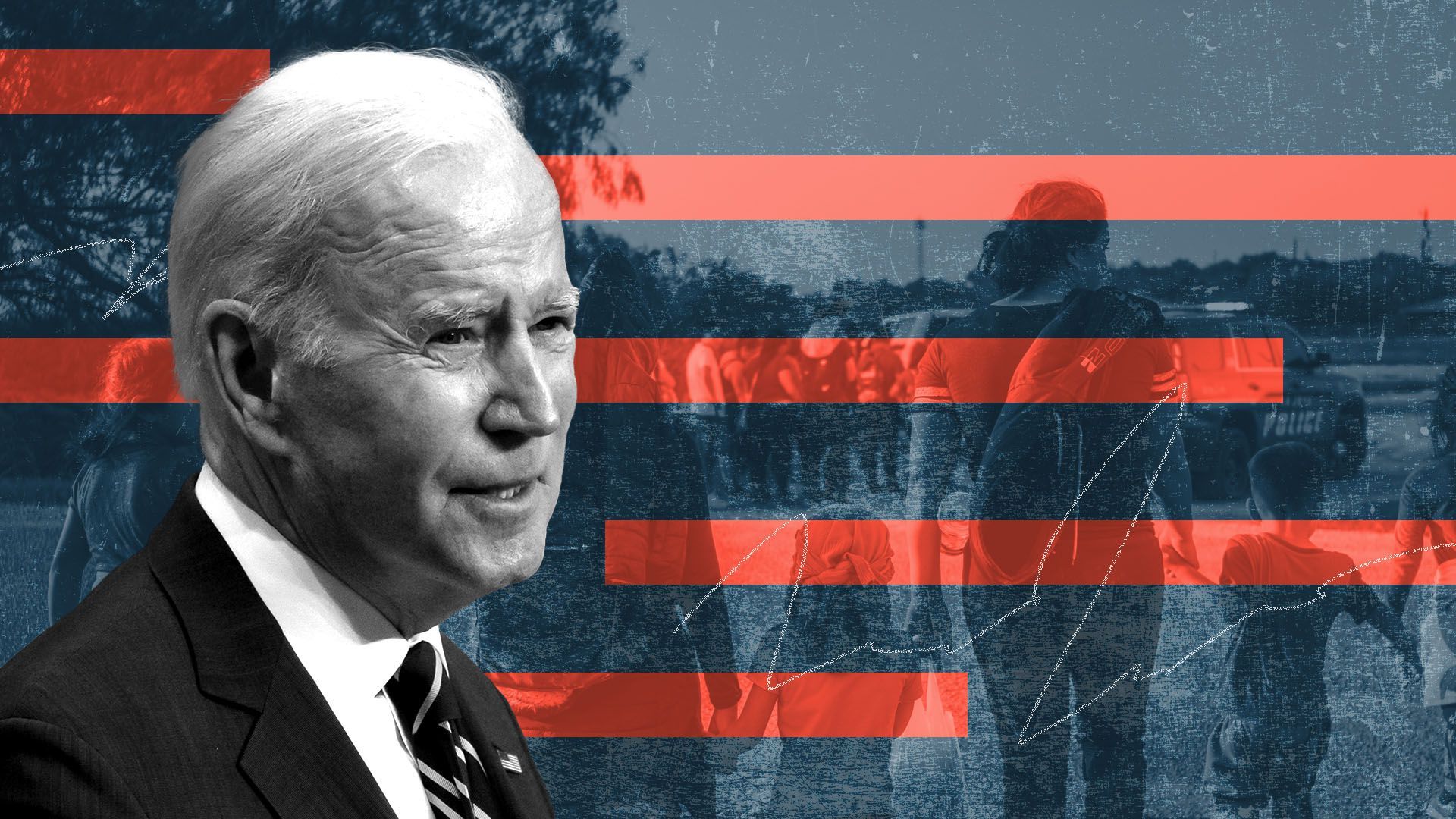 The Biden administration is plotting to make a fresh push on immigration reform in the new year, looking for ways to provide legal status for so-called "Dreamers" and increase the labor supply to help lower inflation, Axios' Hans Nichols reports.
Why it matters: Biden's political advisers know the situation at the border — with up to 14,000 migrants expected to be crossing every day if Title 42 ends — presents an urgent humanitarian emergency and a long-term political dilemma.
At the same time, top economic aides are concerned that the lack of immigrant workers is leading to labor shortages, which will continue to keep inflation high.
But finding a legislative compromise that's acceptable to the GOP-controlled House, as well as the president's progressive base, will be a massive challenge. Biden officials are willing to try.
What they're saying: Immigration reform is "harder in the divided Congress, but it's so clearly necessary in light of what we're seeing in the job market," Commerce Secretary Gina Raimondo told Axios.
"The thing that's underpinning inflation still — that's driving inflation still — is this tight labor market," she said.
"Immigration is a lever," she stressed. "We're down a million immigrants a year. That's a workforce that we need."
3. 🐘 GOP senators brush off "silly" McCarthy threat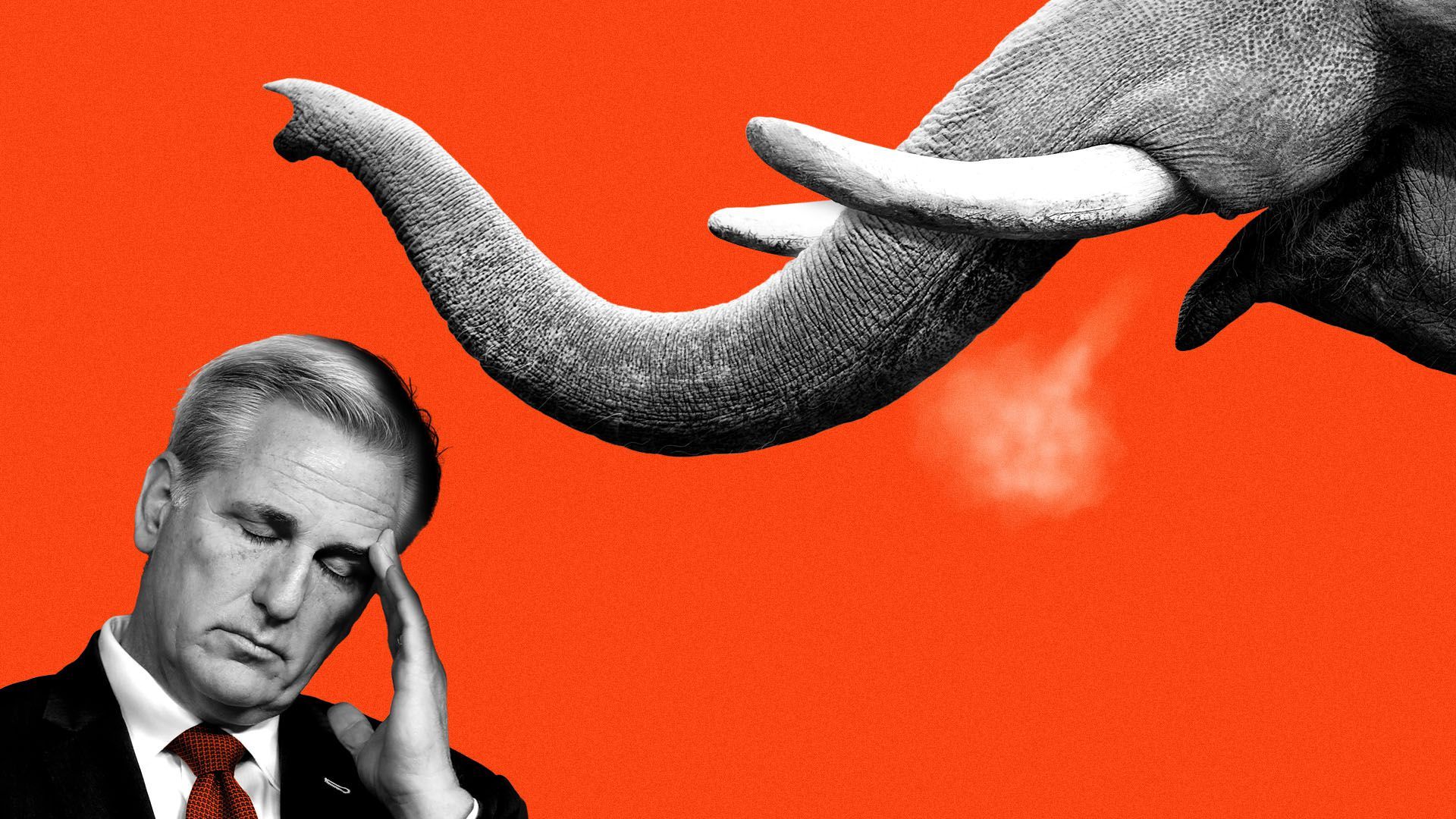 Senate Republicans today shrugged off a vow from House Minority Leader Kevin McCarthy (R-Calif.) to block the legislative priorities of any GOP senator who votes for the $1.7 trillion omnibus spending bill, Axios' Andrew Solender and Alayna report.
Why it matters: Senate Republicans are saying what their House counterparts can't — that McCarthy's tough talk is intended to win over the conservatives whose votes he needs to become speaker and that he won't follow through.
"We're enduring the silly season of the campaign," said Sen. Mitt Romney (R-Utah). "[For] most of us that's over after you get elected, but he's running for speaker of the House, so the silliness is still evident."
"He's focused on being speaker, and if I were in his shoes that's what I would be focused on, trying to get enough votes. But I don't think that intimidates anyone," said retiring Sen. Richard Shelby (R-Ala.), the top negotiator on the omnibus.
Driving the news: More than 20 GOP senators voted tonight to begin debate on the omnibus, a sign that the bill easily has enough support to pass a final vote. Every senator Axios spoke to said McCarthy's threat won't sway any votes.
4. 🗣️ Quoted: Leahy's goodbye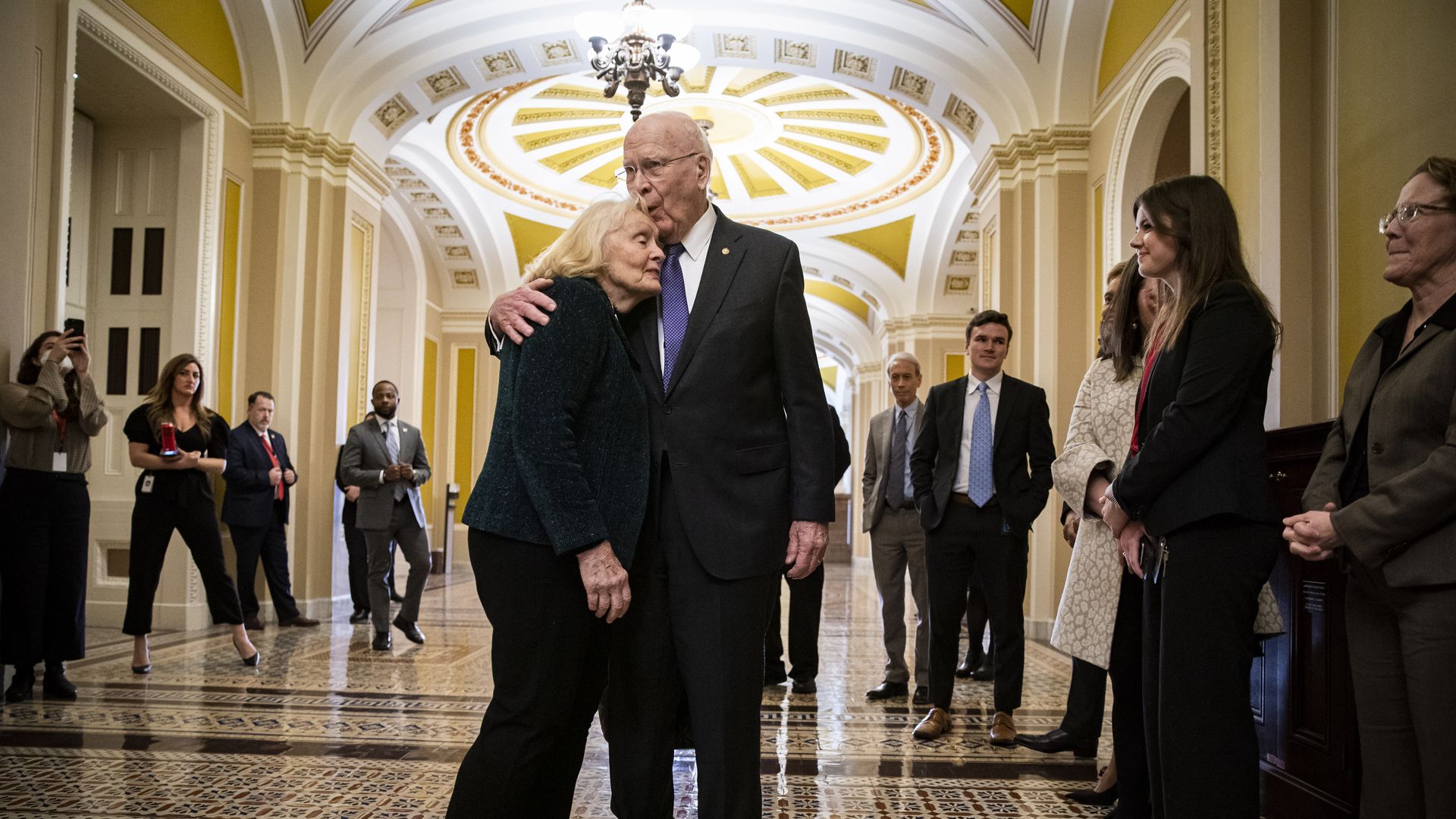 Sen. Pat Leahy (D-Vt.) has been serving in the Senate for so long that when he arrived in 1975, there were no women senators.
In the 47 years since, Leahy has cast 17,000 votes, served alongside 400 senators and ascended to third in line to the presidency.
Today, the last remaining "Watergate baby" (and a star in five "Batman" movies) delivered his farewell address after negotiating one last omnibus funding bill as chair of the Senate Appropriations Committee:
What a journey. What an abiding hope that someday after I've gone, the Senate in both parties will come back together to be the conscience of the Nation.
Together, you can build a Senate defined not by soundbites, but one strengthened when women and men with a sense of history insist that our republic move forward. 
5. 🐦 Grassley's resolution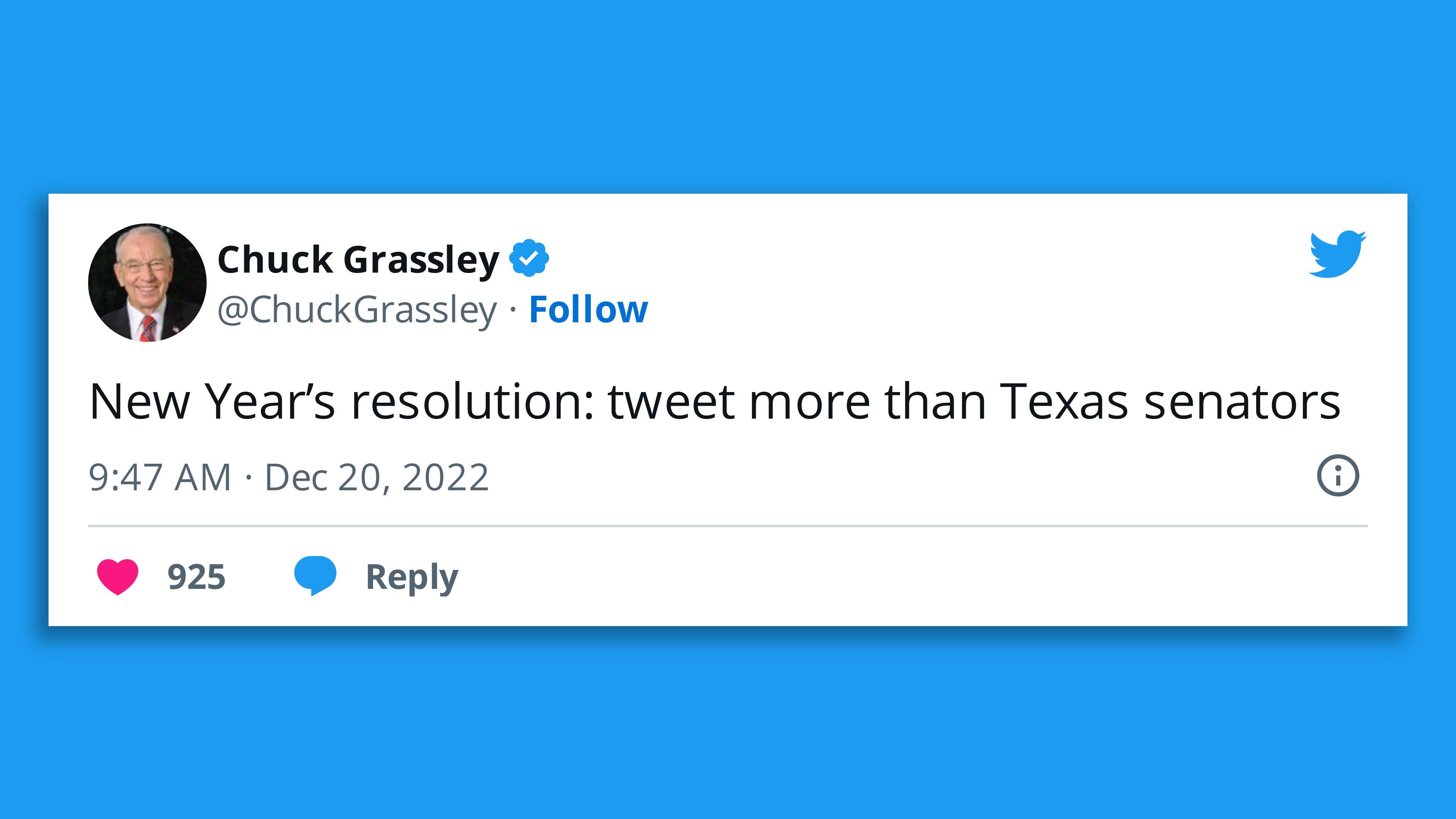 Sen. Chuck Grassley (R-Iowa) was apparently bummed out that he came third behind Sens. Ted Cruz (R-Texas) and John Cornyn (R-Texas) in the list of senators who tweeted the most in 2022, charted in Sneak Peek last night.
📬 Thanks for reading tonight. This newsletter was edited by Zachary Basu and copy edited by Kathie Bozanich.