Axios Sneak Peek
December 22, 2022
🎄 Welcome back to Sneak for the final time this year. Smart Brevity™ count: 983 words ... 3.5 minutes.
🇺🇦 Situational awareness: Ukrainian President Volodymyr Zelensky is preparing to address a joint session of Congress at 7:30pm ET. More on his visit below.
1 big thing: Trump's White House-in-waiting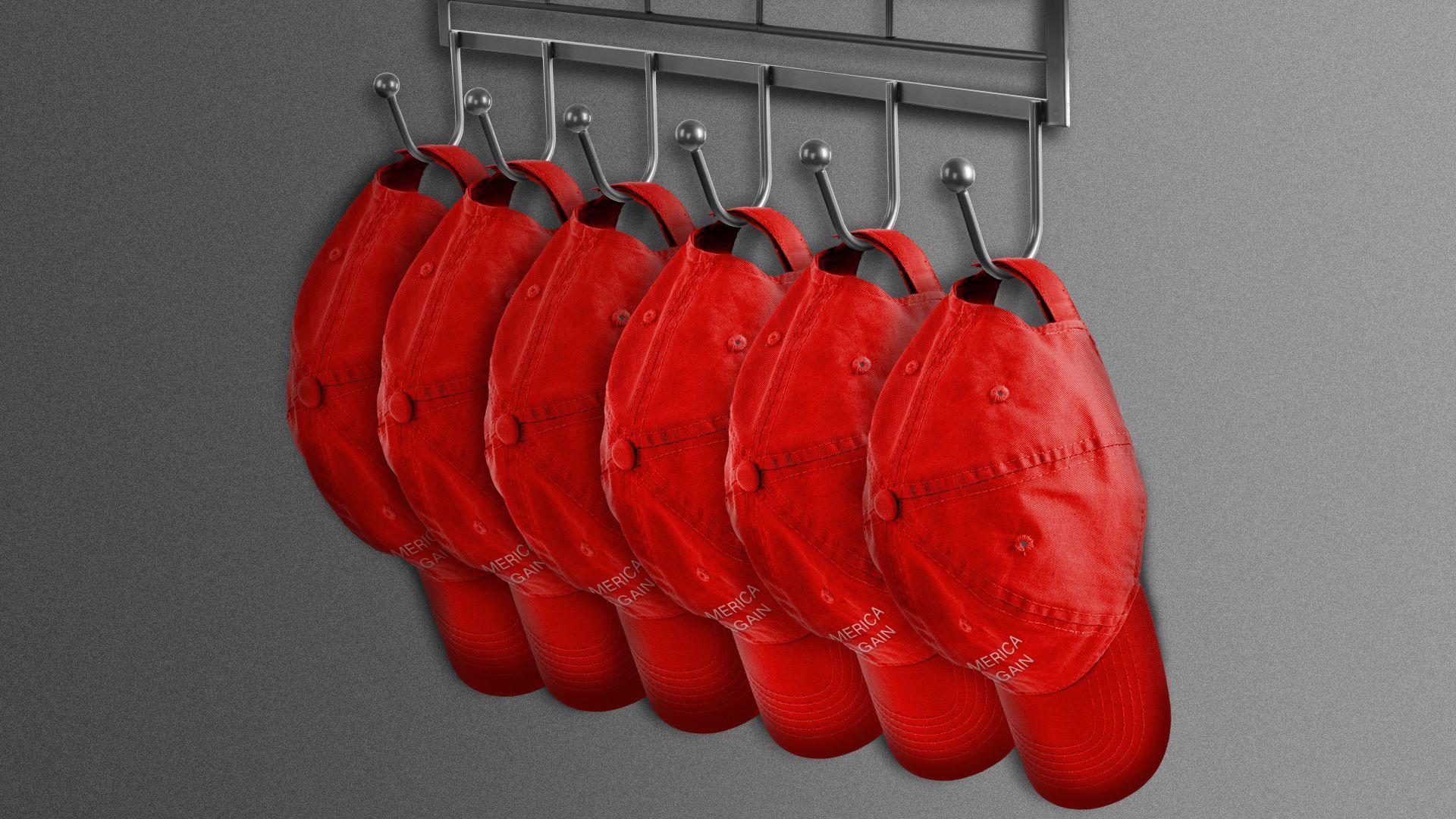 If Donald Trump is once again elected president, he will enjoy a key asset absent from his 2017 White House transition: a sprawling infrastructure already preparing to staff a new administration and immediately enact major policies, Axios' Lachlan Markay reports.
Why it matters: No such apparatus devoted to Trump's political brand existed in 2017. The fractious conservative movement of the time — split among Trump loyalists, reluctant hangers-on and outspoken opponents — fueled the internal dysfunction that plagued his early administration.
Few such divisions would exist in a second Trump term — or a first for a like-minded Republican such as Florida Gov. Ron DeSantis.
If an "America First" candidate prevails in 2024, a constellation of conservative groups — many created since Trump left office — hopes to cement that ideological brand in the policy and personnel makeup of the new administration.
What they're saying: Brooke Rollins, Trump's former Domestic Policy Council chief and the president of the America First Policy Institute, told Axios that preparations are underway so that "on Day 1 of a new administration, no matter who the president is, we will have 2,500 people ready to report to work to begin to implement that agenda."
What's happening: Annual tax filings for AFPI and other groups in the network have trickled in since last month, providing the first glimpses at the structures and finances of D.C.'s MAGA infrastructure.
Together, the groups are pouring tens of millions of dollars into what effectively amounts to an administration-in-waiting.
Many of the groups are integral to burgeoning efforts by Trump allies to remake the federal civil service to align with an "America First" policy agenda — including by purging thousands of bureaucrats and replacing them with loyalists.
The organizations generally fall into three camps:
Some sprouted from the remnants of an explicitly pro-Trump apparatus created during his term. AFPI is staffed by dozens of his former Cabinet secretaries and senior aides and is operating on a $27 million budget this year.
Others are pursuing a broader ideological project, but also have deep ties to Trumpworld and are aligned with his political brand. The Conservative Partnership Institute, led by former Sen. Jim DeMint (R-S.C.) and ex-Trump chief of staff Mark Meadows, has incubated and financially supported a network of allied groups.
Legacy conservative organizations such as the Heritage Foundation are also seen as key to a future GOP presidential transition.
2. 🇺🇦 Biden sees Zelensky's "soul"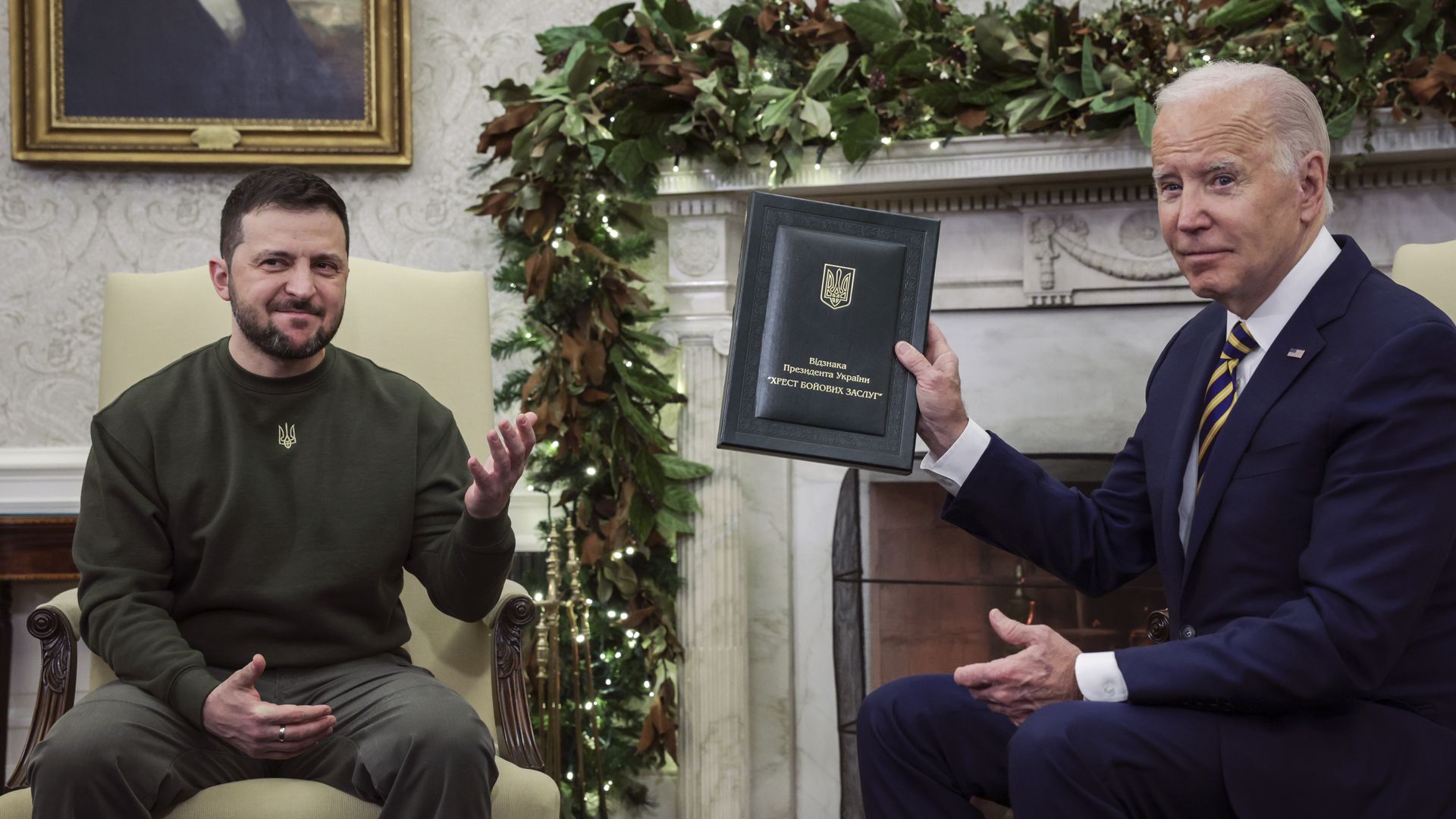 Asked what he gleaned from his historic in-person meeting with Ukrainian President Volodymyr Zelensky that he couldn't get over the phone, President Biden told reporters that there's no substitute for looking someone in the eye:
This guy — to his very soul — is who he says he is. It's clear who he is. He's willing to give his life for his country, as are all the folks that came with him today.
Why it matters: The standout moment from today's press conference reflects Biden's core belief that all politics are personal. He claims he told Russian President Vladimir Putin in 2011, "I don't think you have a soul" — to which Putin allegedly replied, "We understand one another."
The big picture: The biggest news from today's visit was a new $1.8 billion military aid package that includes, for the first time, the Patriot missile defense system, Axios' Hans Nichols writes.
While celebrating the international coalition supporting Ukraine, Biden also acknowledged its limits.
The U.S. was willing to provide more weapons but was being held back by European resistance and fears of escalation, Biden implied.
Between the lines: The images of the press conference are likely to outlast the words: Two democratically elected leaders — one in a blue and yellow tie, the other in military green — standing united, toggling between tough talk and light humor.
But there was no finality to the press conference — no Churchillian hint that the war was beginning to end or was at the end of the beginning.
There was only a pledge from Biden that the United States would stand with Ukraine until the end.
3. 🔥 Hard-right's dueling op-eds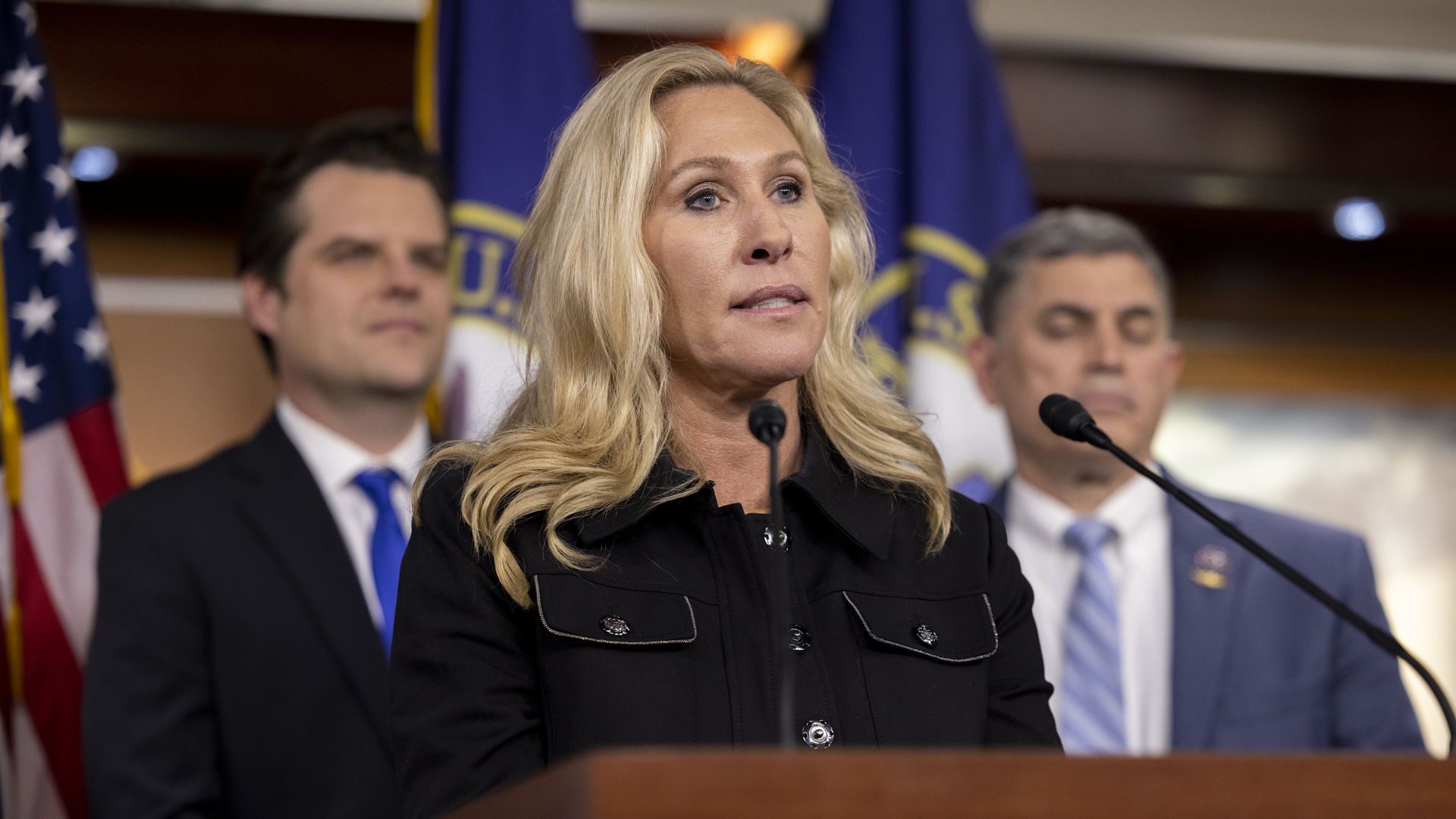 Rep. Marjorie Taylor Greene (R-Ga.) is going scorched-earth on some of her closest ideological colleagues, accusing the "Never Kevin Five" of "lying to the base" in a Daily Caller op-ed backing GOP Leader Kevin McCarthy (R-Calif.) for speaker.
The "Never Kevin Five" are already vacating the chair by refusing to vote for our conference nominee while simultaneously demanding the "Vacate the Chair" rule to remove the Speaker at a later date.
If they are successful, they will give us something worse than Paul Ryan.
In his own op-ed on the same website, Rep. Matt Gaetz (R-Fla.) accused McCarthy of having "no ideology" and leading Republicans to disappointment in the midterms:
The McCarthy camp is spinning that Kevin must be accepted because "we have to avoid chaos." Chaos for who exactly? The special interests that are counting on McCarthy as their lapdog? I'm worried about chaos in the lives of my constituents. They live under the chaos of vaccine mandates pushed by Kevin's donors.
Go deeper: Behind the scenes of McCarthy's lunch with Senate Republicans today
4. 💧 Jan. 6 drip-drip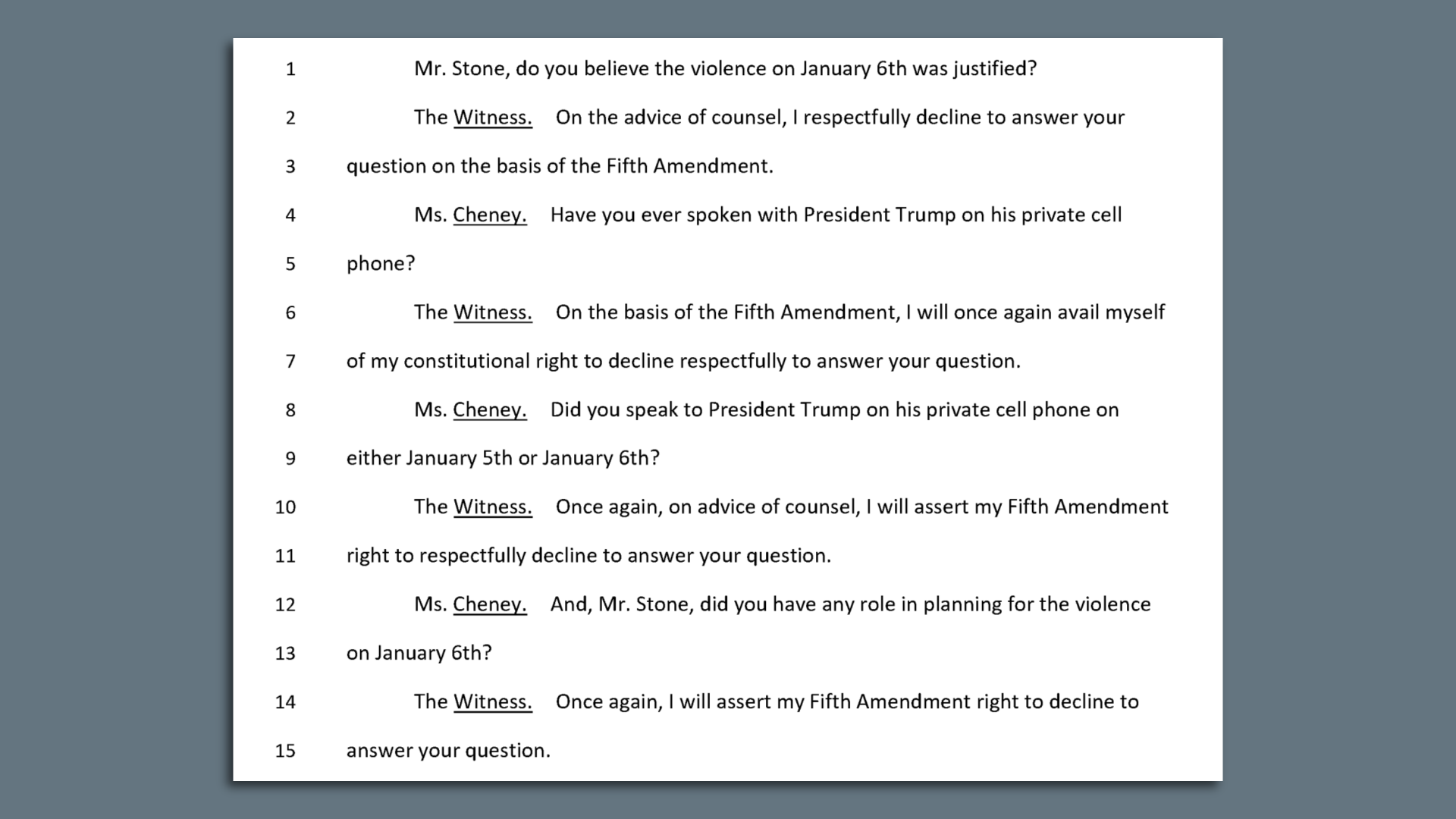 The House Jan. 6 committee delayed the release of its final report till tomorrow, with D.C. largely consumed by Zelensky's visit and last-minute passage of the omnibus (not to mention the coming "bomb cyclone").
Instead it released 34 transcripts of testimony from witnesses who largely pleaded the Fifth Amendment, including white nationalist Nick Fuentes, former national security adviser Michael Flynn, and Trump attorney John Eastman.
5. 🏛️ Parting shot: Zelensky on the Hill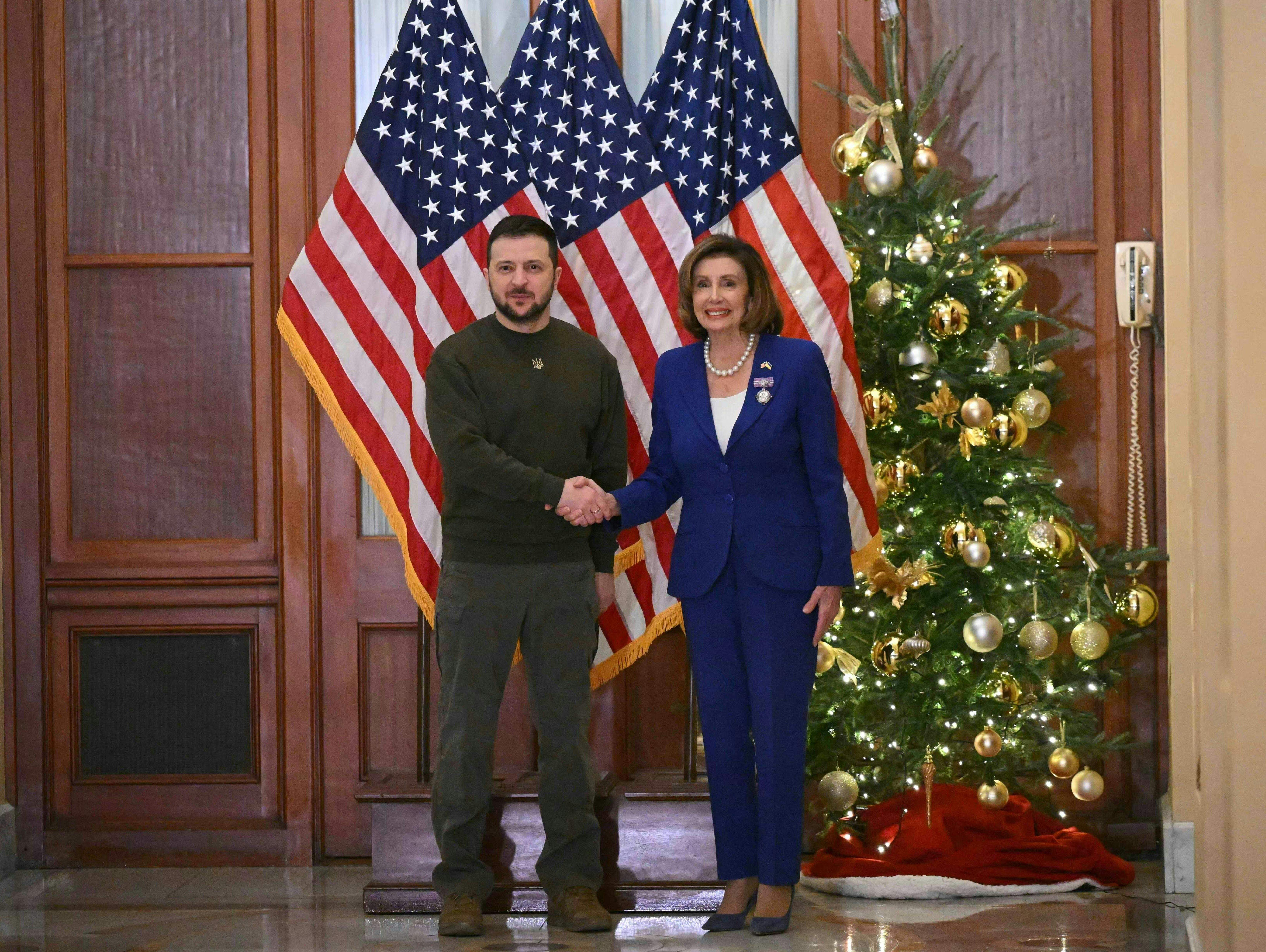 🥳 Thanks for reading tonight and all year long. Best for the holidays, and we'll see you Jan. 3. This newsletter was edited by Zachary Basu and copy edited by Brad Bonhall.