Axios PM
October 01, 2019
Good afternoon: Today's PM — edited by Justin Green — is 506 words, a 2 minute read.
Situational awareness: "Harvard University's undergraduate admissions process doesn't intentionally discriminate against Asian-American applicants, a federal judge ruled, a victory for the university that is expected to be appealed as high as the Supreme Court." (WSJ)
1 big thing: Tweets, threats and truth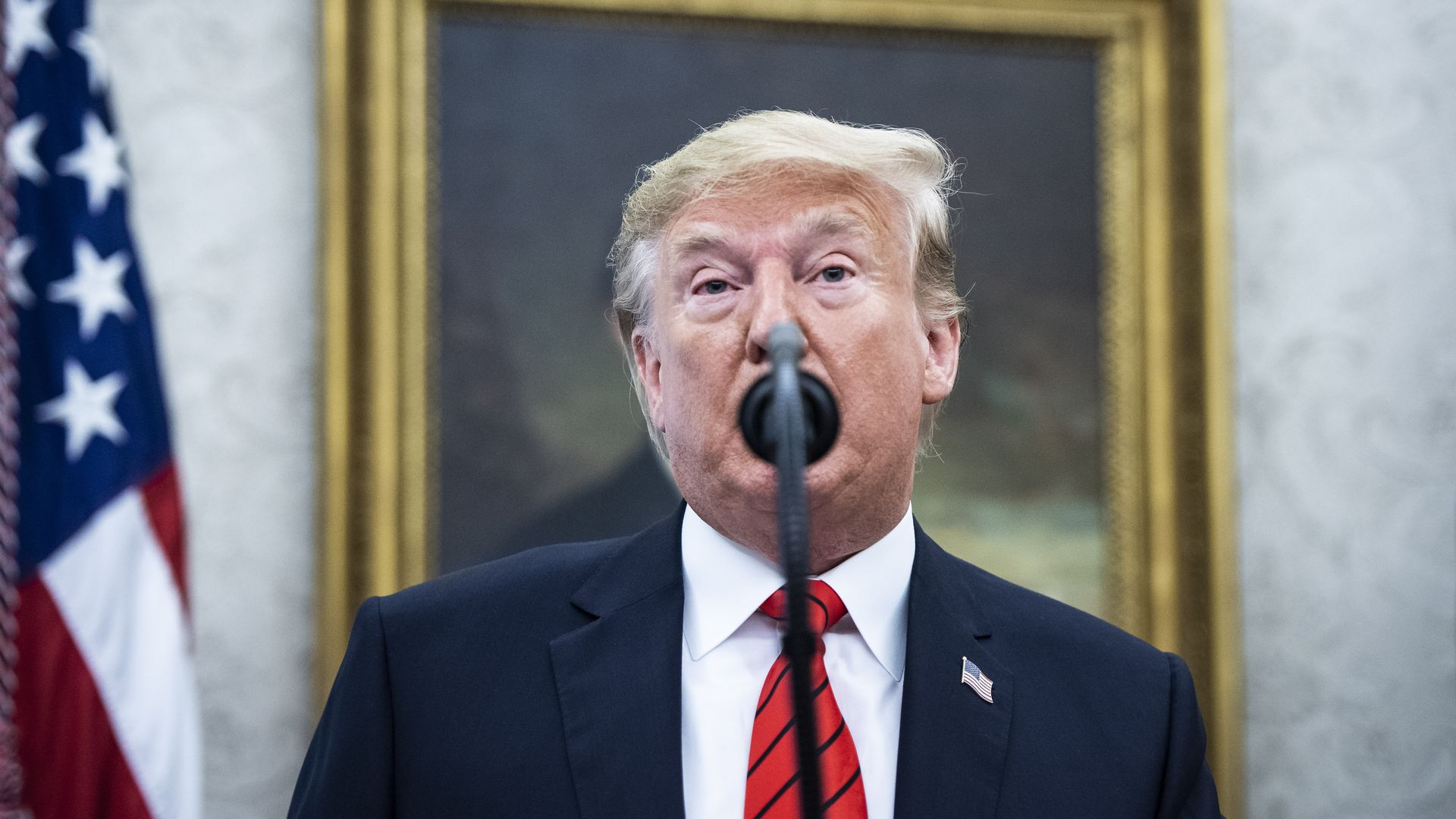 It's easy to get lost in the flurry, but President Trump's threats and attacks against the impeachment inquiry are escalating.
Over the past 72 hours, Trump has:
Called 3x for arresting a House Democratic chair steering his impeachment inquiry, falsely claiming Rep. Adam Schiff broke the law and even suggesting he committed treason.
Demanded to meet the whistleblower, which violates the anonymity guaranteed by whistleblowing laws and is opposed by Republican Sen. Chuck Grassley.
Attacked his own watchdogs, pushing an incorrect story about whistleblower forms being shadily changed.
Repeatedly defended as "perfect" the Ukraine call where he pushed for investigations into his political rival Joe Biden.
Between the lines: Axios' Zach Basu emails a rapid readout of what really happened with the Schiff remarks that enraged Trump.
In the opening statement at last week's hearing that angered Trump, Schiff summarized what he called "the essence" of what Trump communicated in his call with Ukrainian President Volodymyr Zelensky.
Schiff described his interpretation of the call from Trump's perspective, exaggerating certain aspects and purporting to read between the lines in order to illustrate how it could be viewed as "a classic organized crime shakedown."
At the end of the statement, Schiff again stated that "this is, in sum and character, what the president was trying to communicate with the president of Ukraine." It was a dramatic portrayal, but there is no mistaking it for a verbatim reading of the call transcript.
Today, House Financial Services Committee Chair Maxine Waters called for Trump to be imprisoned and face solitary confinement.
"But for now, impeachment is the imperative," she tweeted.
Go deeper: Trump's playbook for planting suspicion
Bonus: Pic du jour
A protester detained by police as demonstrations take place in the streets of Hong Kong during the National Day holiday marking the 70th anniversary of communist China's founding.
2. What you missed
Fired Dallas police officer Amber Guyger was found guilty of murder for shooting Botham Jean, an unarmed African American man, in his own apartment while she was off duty. Go deeper.
Alcohol consumption in Russia decreased by 43% per capita from 2003 to 2016, according to the World Health Organization. Go deeper.
Trump renewed his attacks on the Fed after a key U.S. manufacturing gauge signaled the second consecutive month of sector-wide contraction. Go deeper.
Sen. Elizabeth Warren wants answers from private equity firms invested in prison services companies. Go deeper.
Hillary Clinton: The "gutsiest thing" she's ever done in her personal life is to stay in her marriage to former President Bill Clinton. Video.
3. 1 fun thing: Oldest ex-president ever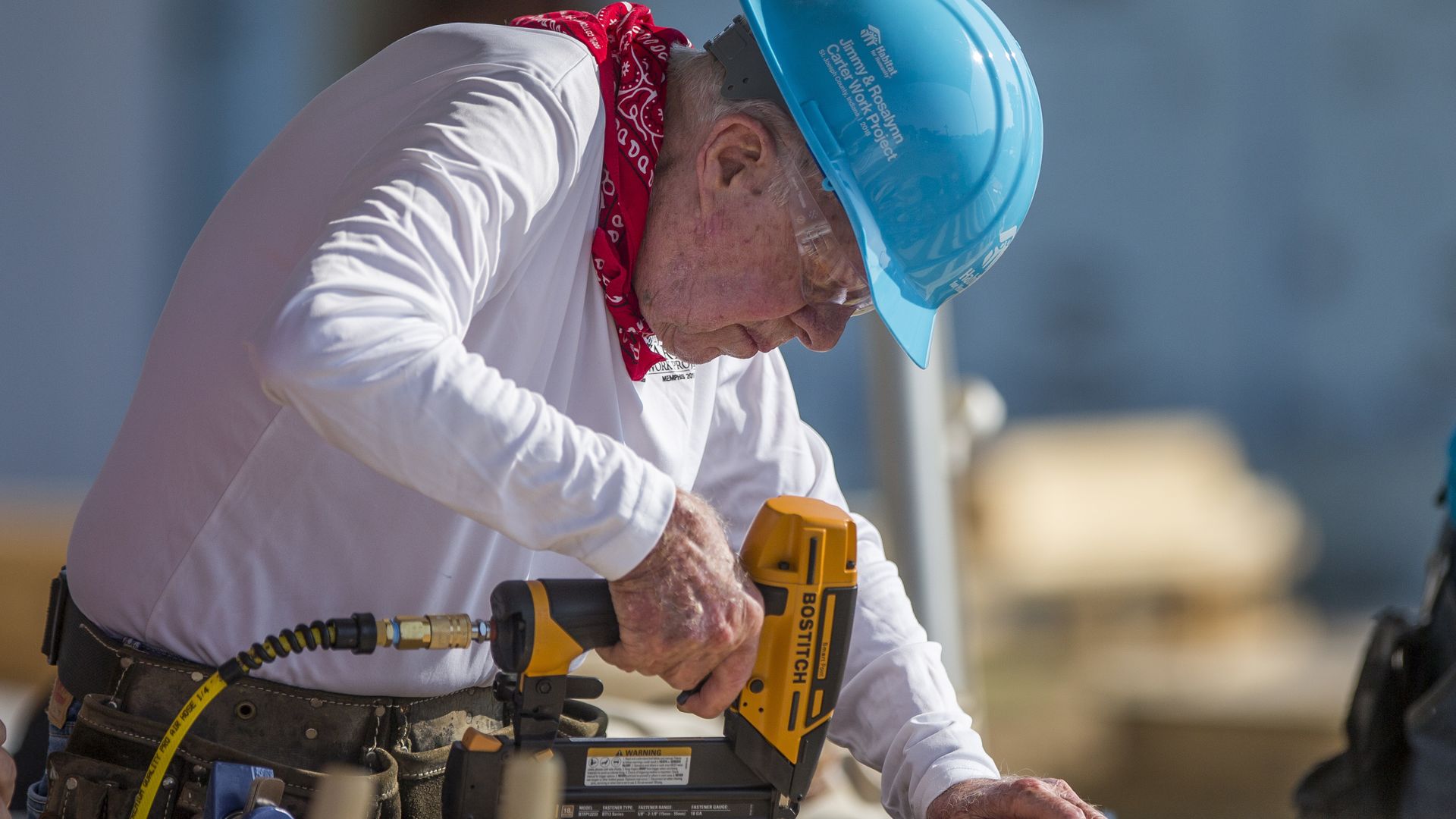 Jimmy Carter quietly became today the first ex-president to reach the age of 95, with no public events but an upcoming trip to help build houses with Habitat for Humanity in Nashville, the AP reports.
Carter survived a dire cancer diagnosis in 2015 and surpassed George H.W. Bush as the longest-lived U.S. president in history this spring, the AP notes.
He's had some trouble walking after a hip replacement in May, but he still teaches Sunday School in Plains, Georgia.