Axios Media Trends
July 30, 2019
Good morning. Thanks for subscribing to Media Trends. Tell friends to follow along by signing up here.
Today's Media Trends is 1900 words, a 7-minute read.
1 big thing: Local media falls victim to partisan politics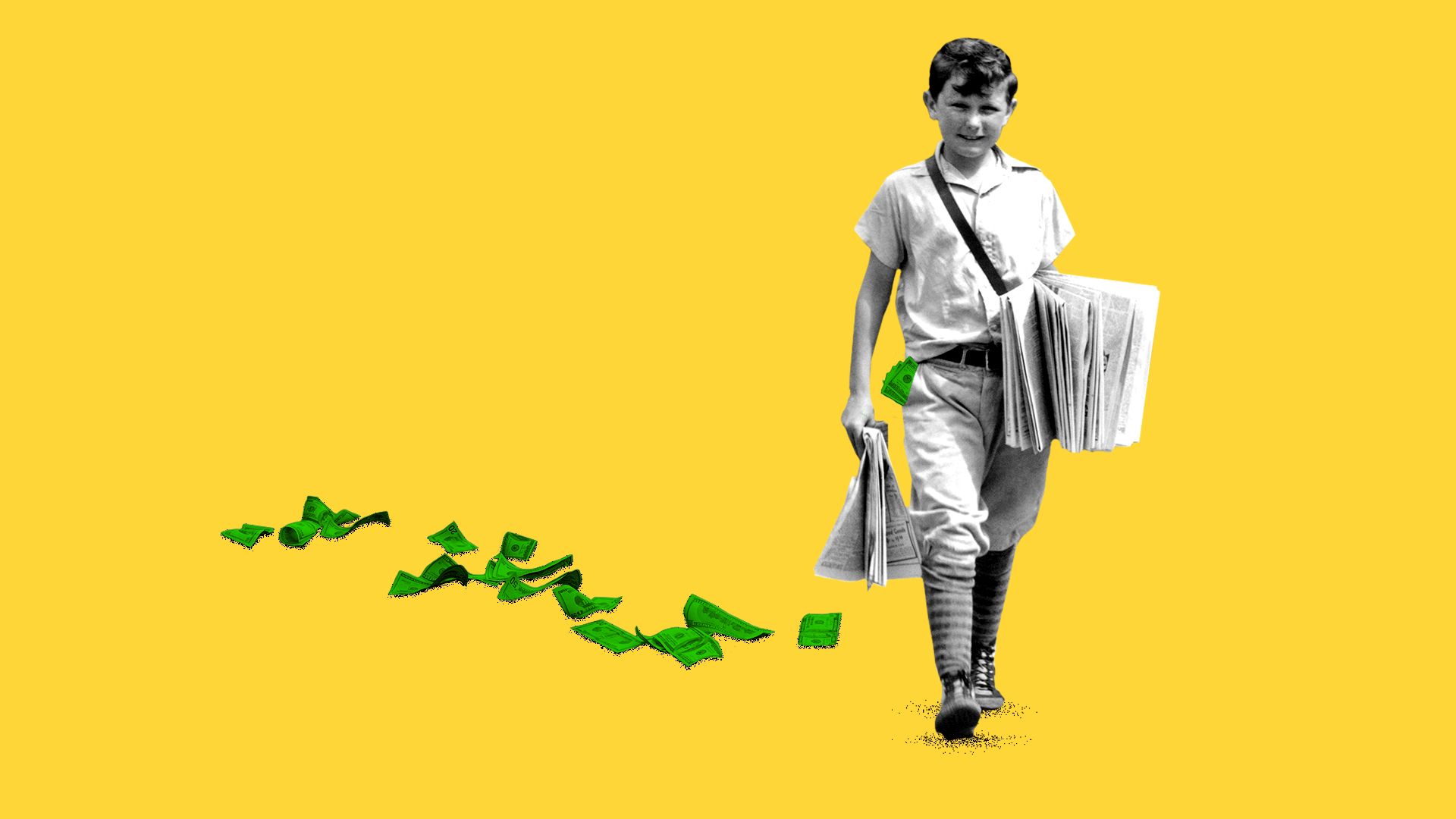 Political groups on both sides of the aisle are throwing money and resources at propping up local, partisan websites that are often designed to appear as straight news.
Why it matters: What's often missing from these sites are adequate disclosures about funding and authorship.
Some of these sites are leveraging Facebook advertising to boost their content.
Driving the news: Publishers on the left have been ramping up their investments in local media this year, launching websites that focus on the stories they think are being ignored by the mainstream news.
Priorities USA, one of the biggest Democratic super PACs, plans to spend millions of dollars on social media ads that will pump news from independent outlets, Vice News reports.
The news follows a report from Axios two weeks ago that ACRONYM, a progressive non-profit, plans to invest more than $1 million in "The Dogwood," a hyper-local digital news site catering to residents of Virginia over the next two years.
In April, a group of private local investors launched "The Texas Signal" to challenge what it calls the right-wing media empire in Texas.
Be smart: The right has traditionally been ahead of the digital curve, experimenting with similar "local news websites," memes and advertising tricks before their Democratic rivals — and most consumers — catch on.
"They invented it. They've perfected this and it's time progressives jump on board in terms of getting our own message out."
— Kevin Nix, CEO and executive editor of The Texas Signal
Between the lines: What's often missing from these websites are adequate disclosures about funding and accountability, argues Newhouse School of Public Communications professor Jennifer Grygiel.
Two weeks ago, Grygiel and BuzzFeed News' Craig Silverman published an in-depth look at a decades-old digital site called "The Patriot Post." They found the owner of the obscure conservative entity has undisclosed ties to Tennessee Republicans. The site has spent thousands of dollars on Facebook ads touting President Trump's accomplishments.
An investigation by Snopes in May found that a series of seemingly innocuous local websites, first reported last year by Politico, are being run by GOP consultants whose businesses are funded in part by candidates the websites cover.
Yes, but: While this trend is growing on the left, it isn't totally new to either political party. Axios reported last year about a number of "local news sites," from Democrats and Republicans, with minimal disclosures about who was really behind them.
The big picture: Grygiel argues technology, and Facebook in particular, has made it easier for partisan news outlets to buy up ads to promote their stories and agendas.
"Hyper-partisan media is really flourishing. People have realized the potency of Facebook ads as propaganda."
2. Meanwhile, states throw up guardrails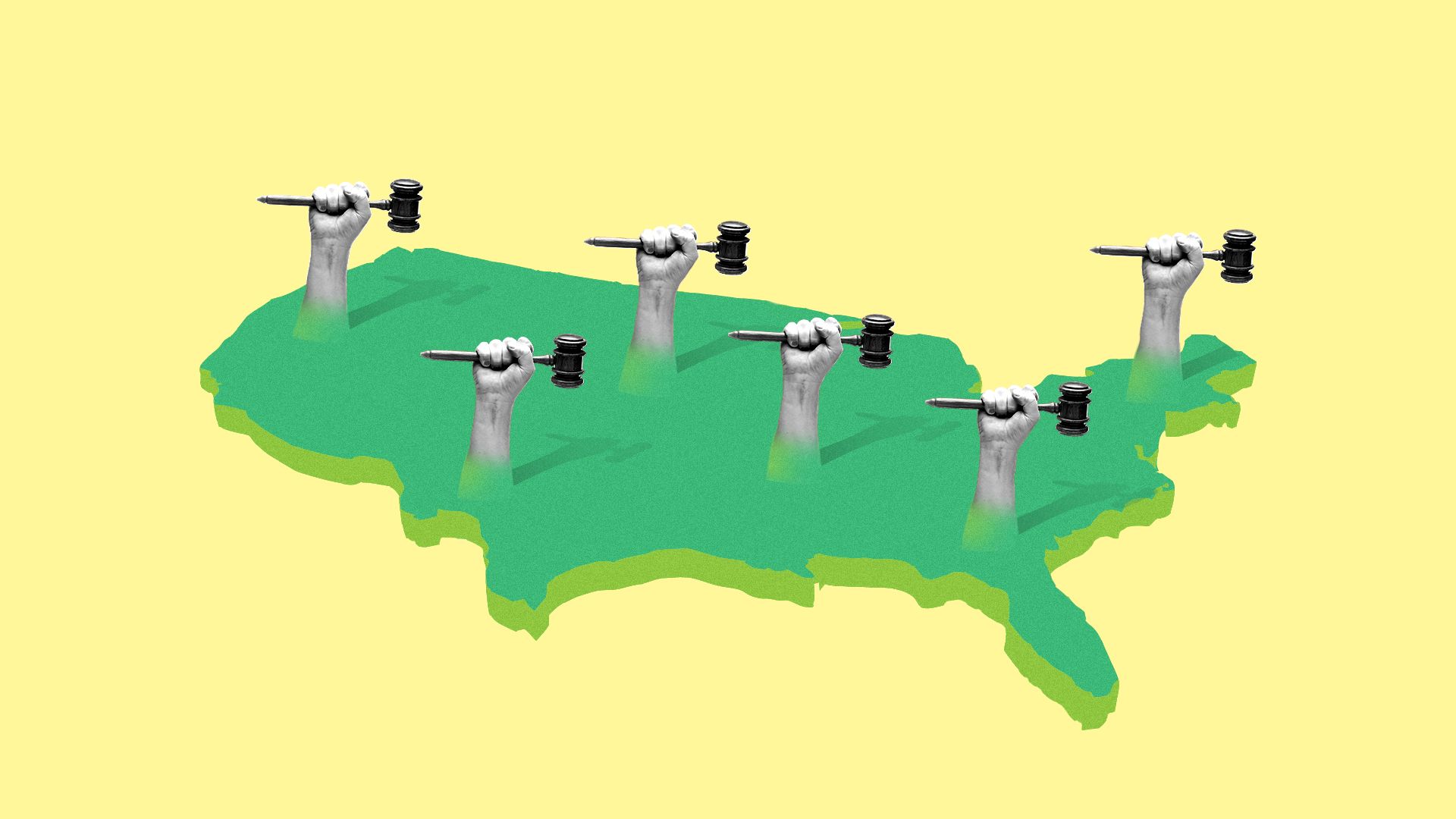 Attorneys general in states have become one of the most powerful forces managing in media and tech oversight during the Trump administration.
Driving the news: Last week, the Federal Trade Commission voted along Republican party lines to fine Facebook $5 billion for privacy violations.
Democratic commissioner Rohit Chopra, one of many critics who think the fine didn't go far enough, is now urging state attorneys general to step in as a last resort.
"We didn't solve it with this action. But all over the globe there are regulators and all throughout our states there are state attorneys generals who now know that the ball is in their court."
— Chopra on MSNBC's "
Kasie DC
" Sunday night
Why it matters: With two branches of the U.S. government embroiled in politics, the courts have been left to manage a lot of industry oversight. State attorneys general have been bringing lawsuits to the courts.
Between the lines: Ten Democratic state attorneys general are currently suing to block a merger between T-Mobile and Sprint that was just approved by the DOJ.
Earlier this year, the 2nd Circuit Court of Appeals in New York ruled Trump violated the Constitution in blocking critics of his viewpoints on Twitter.
Be smart: "It's an interesting thing about antitrust right now. State attorneys general have become quite partisan," says Matt Stoller, a fellow at the progressive Open Markets Institute.
"It seems like whats happening is the Democratic state attorneys general are interested in regulating telecom. With a few exceptions, Republican state attorneys general seem to be more interested in regulating Big Tech."
Speaking of antitrust: TikTok is exhibit A in Facebook's "we're no monopoly" case (David McCabe — Axios)
3. The Juggernaut's new investors
A handful of venture capitalists have participated in the seed round for The Juggernaut, a premium subscription publication for South Asian stories and news, Axios has learned.
It's the latest in a series of investments from venture capitalists and Hollywood giants in South Asian storylines and talent.
Driving the news: Precursor Ventures, Kevin Lin (co-founder of Twitch), Bhaskar Ghosh (partner and CTO at 8VC), and Sheel Tyle (founder, Amplo), among others, will join Y Combinator in investing in the startup led by Snigdha Sur.
Details: The company started as a newsletter in October 2017 and launched a $4.99-per-month paid subscription service in February. Sur says 80% of users sign up for an annual plan.
Its free newsletter has open rates of about 30-60%, says Sur. (The average rate for publishing is usually around 20%.)
Sur says the conversion rate from the free newsletter to the paid subscription has so far been about 6%.
The trend: Media companies in the U.S. are looking to better cover the South Asian population. This year...
Mindy Kaling and Priyanka Chopra inked a deal with Universal for a wedding film.
Netflix green-lighted a semi-autobiographical coming-of-age comedy series with Kaling starring.
HBO is developing "Attachment," a comedy series that centers on a first-generation Indian-American tech CEO.
"The South Asia diaspora is so large. I can't believe this audience doesn't have publication or voice in way they want to to be spoken to covering stories matter to them."
— Charles Hudson, managing partner, Precursor Ventures
4. Niche media rising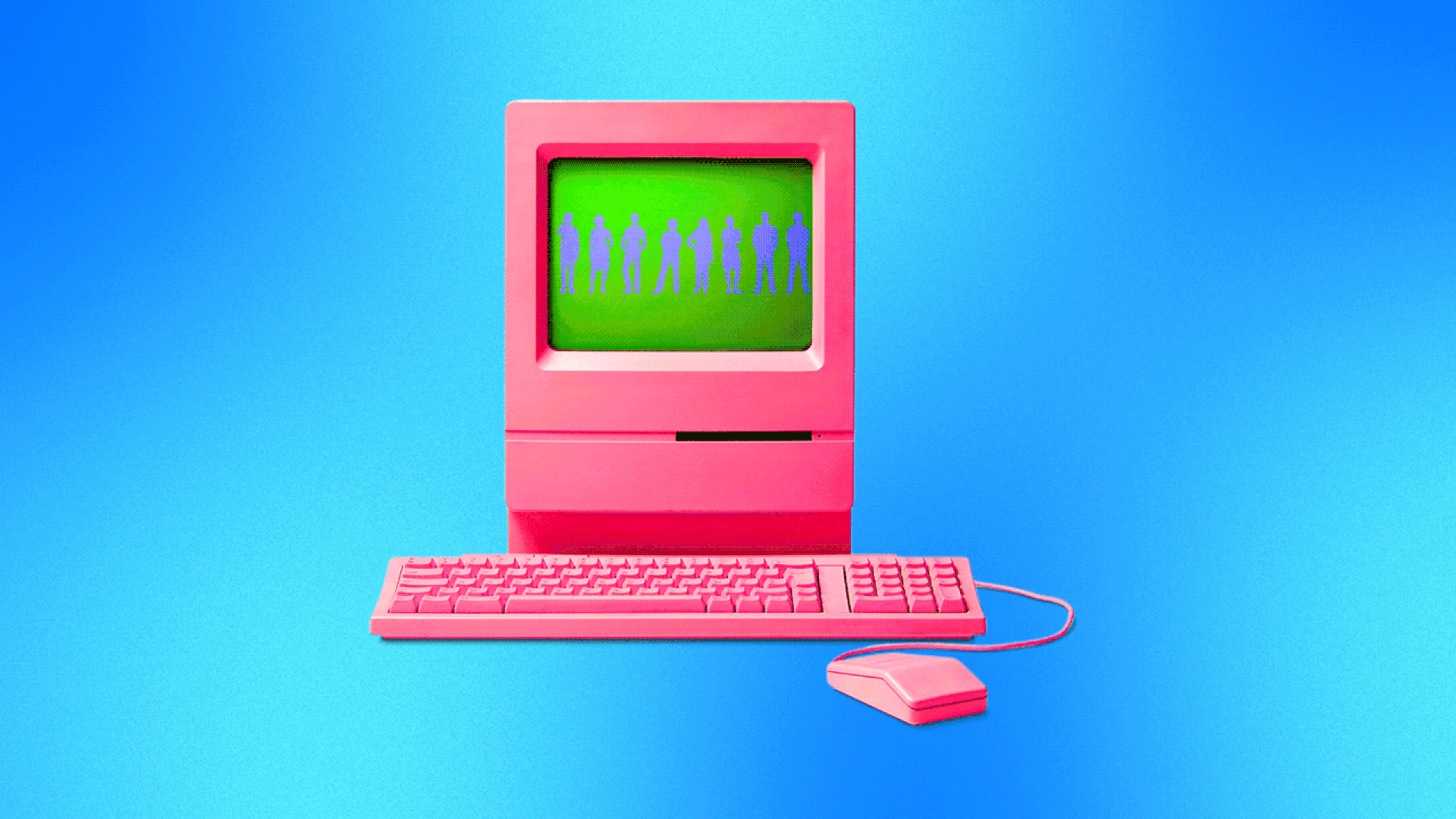 Niche media outlets are having their moment:
Sports: The Athletic, a digital sports news subscription service, has reached more than 500,000 subscribers and expects nearly 1 million globally by years' end, thanks to heavy investments being made in the U.K.
Travel: The Skift is in the middle of its second major acquisition right now, CEO Rafat Ali tells me. (The first was Airline Weekly last year.) It's also looking closely at two other acquisitions.
Luxury: Glossy, a luxury and fashion brand from Digiday, has seen a revenue increase of more than 300% since last year.
Black millennials: Blavity, which now includes five sites covering news, technology, travel, entertainment and women's wellness, secured a Series A round last year and is now running two conferences.
Food and experiential: The Infatuation's newsletter subscriber base will nearly double by year's end, executives tell me. The company plans to launch a new restaurant discovery platform with the Zagat brand next year.
The big picture: Consumers will pay for good quality content they can't easily get somewhere else, says Charles Hudson, a managing partner at Precursor Ventures and an investor in both The Juggernaut and The Athletic.
"In an age where everything has become disintermediated, the importance of direct relationships with users is becoming a lot more apparent. That is the thing you can't do at scale," says Ali.
Our thought bubble: Many of these outlets are venture-backed, and could face the same fate that some other venture-backed media companies have experienced over the past few years. But most of these outlets are so narrowly focused they haven't raised enormous sums of money.
Meanwhile, Vice Media is in talks to buy Refinery29, WSJ's Ben Mullin reports.
5. Debate talk shifts
Issues that got the most heat in the first debate made a dent in the social-media conversation since then, Axios' Mike Allen writes. Data was harvested by Hamilton Place Strategies, an analytical public affairs consulting firm.
"Some of the most notable moments in the debate were around health care and immigration, and both of those topics gained in share of voice after the debate," partner Matt McDonald tells Mike.
Go deeper: Axios-NewsWhip 2020 attention tracker: Dominant storyline for each candidate via Axios' Neal Rothschild
6. Tech giants still eat the ad market, despite looming threats
Despite ongoing efforts to reel in the dominance of Big Tech companies, a few major firms still manage to eat up more ad revenue than most other publishers (and publishing industries) combined.
Why it matters: The continued strength of these companies, particularly in the data-based advertising sector, has shifted the focus in Washington from holding firms accountable for bad policies or sloppy mistakes to taking action against them as monopolies.
Driving the news: All of the major ad-driven tech firms (Facebook, Google, Twitter, Snapchat, Amazon) exceeded Wall Street expectations on revenue growth last quarter.
Startling stat: Combined, the five firms brought in over $50 billion in ad revenue over the course of three months. That's more than the entire radio industry brought in over the course of 2018.
Yes, but: Investors worry that ad growth at some of these companies will slow in response to privacy-related changes and saturation.
The big picture: As these companies continue to grow their advertising footprints, legacy businesses in television, newspapers and telecom are consolidating in an effort to simply keep up.
7. TV news' climate change bias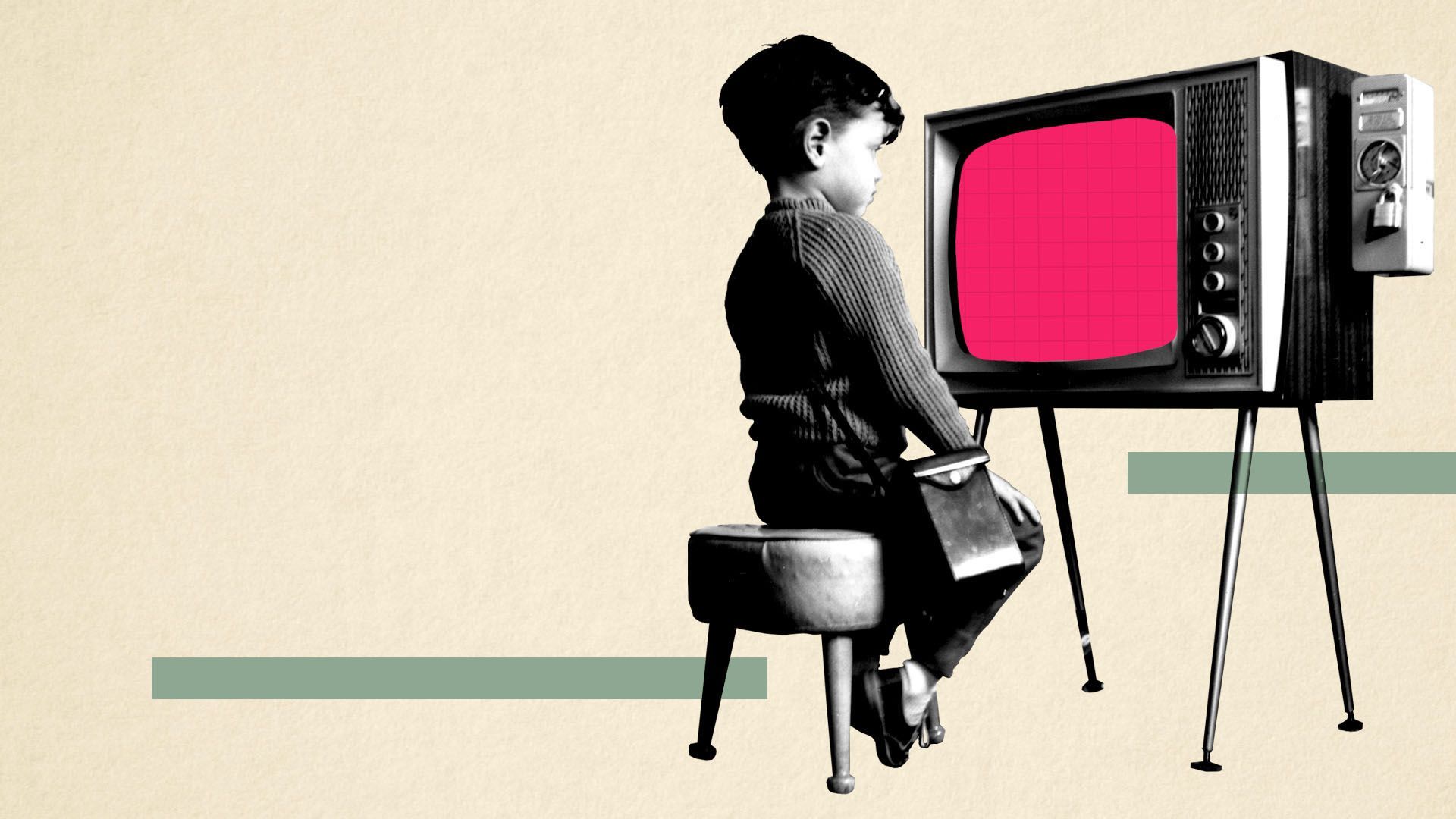 While newspapers are teaming up to double down on their climate change coverage, broadcasters are mostly focusing on covering the byproducts of climate change — natural disasters and extreme weather.
Why it matters: Climate change tends to be a ratings killer for television, because it can be abstract and complicated to explain in short, visual bites.
Yes, but: As the economic and political debate around the topic increases ahead of 2020, media experts will be looking at the ways TV outlets cover the issue, as television is still the most common place for Americans to get their news.
A hopeful sign: Last week, 60 prominent news outlets in radio, TV, and print committed to running one week of focused climate coverage around the U.N.s climate summit in September.
What's next: CNN will host a presidential candidate forum on climate change in September, and MSNBC is a media partner on another event — strong signals of the topic's entry to the national political stage.
Go deeper: Read our full quarterly trends update on climate change.
8. Disney's domination
Disney's 2019 movie run broke the all-time annual global box office record just 7 months into the year, Axios' Dion Rabouin writes.
Why it matters: With more big-budget blockbusters still to come this year, the company seems unstoppable.
What's happening: Disney's acquisitions of LucasFilm and Marvel have delivered huge wins for the company, but it's been the ability to produce live-action remakes from its own catalogue that has set the table over the last decade.
"The Lion King" is the latest Disney release to become the No. 1 film in the world, and it held onto the crown this weekend, having generated nearly $1 billion globally in just 2 weeks.
The company has made $7 billion at the box office from the remakes since the release of "Alice in Wonderland" in March 2010, per CNBC.
What's next: Disney is releasing a sequel to "Maleficent" in October and a live-action version of "Lady and the Tramp" in November. They also announced a live-action remake of "Mulan" in 2020.
The big picture: Disney's roughly 40% share of total box office revenues so far this year is far and away the highest ever for a studio.
9. 1 fun thing: Peak everything