Axios Markets
August 31, 2023
📈 Another day, another tidy gain for the market. Wednesday's 0.4% rise in the S&P 500 makes it four in a row. Today's trading session — the last of the month — could make it five.
Today's newsletter is 600 words, 2.5 minutes.
🌎 1 big thing: U.S. corporate profits return to earth
U.S. corporate profits fell for the second straight quarter in Q2, per the latest government numbers.
The intrigue: Investors remain untroubled by the slowdown, Matt writes.
Driving the news: Profits for all U.S. corporations — not just the large, publicly traded firms on the stock market — were down 6.5% from Q2 of 2022, the Commerce Department reported.
A 25% profit downturn at financial firms hammered by interest rate increases over the last year helped drive the downturn.
Other companies did a bit better, with profits down just 4.5% compared to a year earlier.
Yes, but: The middle of last year was the most profitable period on record for corporate America, with pre-tax profits topping an annual rate of $3 trillion in the second and third quarters.
It would have been hard for that to last.
Be smart: The stock market is forward-looking as investors look at profits expected 12 months out.
The bottom line: If the profit decline is behind us, and the recent drop in interest rates helping to supercharge tech shares is for real, it could be an autumn to remember for the market.
2. Catch up quick
👀 UBS initiates major layoffs after $29 billion Credit Suisse windfall. (Bloomberg)
💻 Microsoft to unbundle Teams from its Office suite to avoid EU antitrust fine. (Reuters)
💰 Elon Musk's X is gaining value, Fidelity says. (Axios)
🏦 Fed ramps up demands for corrective actions by regional banks. (Bloomberg)
3. 🗣 What they're saying: Taking stock of inventories
The Commerce Department revised down its reading on second-quarter economic growth yesterday.
It now says the economy grew at a 2.1% annual rate in the three months ended in June, down from a 2.4% initial reading, as our Macro colleague Neil Irwin reported.
The big picture: Most economy watchers didn't seem especially troubled by the downgrade, as it was largely driven by businesses burning through inventories instead of building them up.
Underlying sales to domestic buyers seem to be holding up fine, supported by strong demand that's allowed the economy to continually dodge recession.
What they're saying: "Inventories are key to watch as they will likely be a larger drag going forward," wrote analysts from Oxford Economics.
"Businesses are responding to softening demand for goods and significantly higher borrowing costs by reducing inventory," Pantheon Macro analysts wrote.
"The details of the report continue to point to an economy with positive underlying momentum and that demonstrated resilience in the face of elevated interest rates, tighter credit conditions and a weak global backdrop," wrote economic analysts at EY.
The bottom line: The economy continues to slow without falling off a cliff, and growth slowing to 2% is pretty much the dictionary definition of a "soft landing."
4. 🤑 New rule would boost eligibility for overtime pay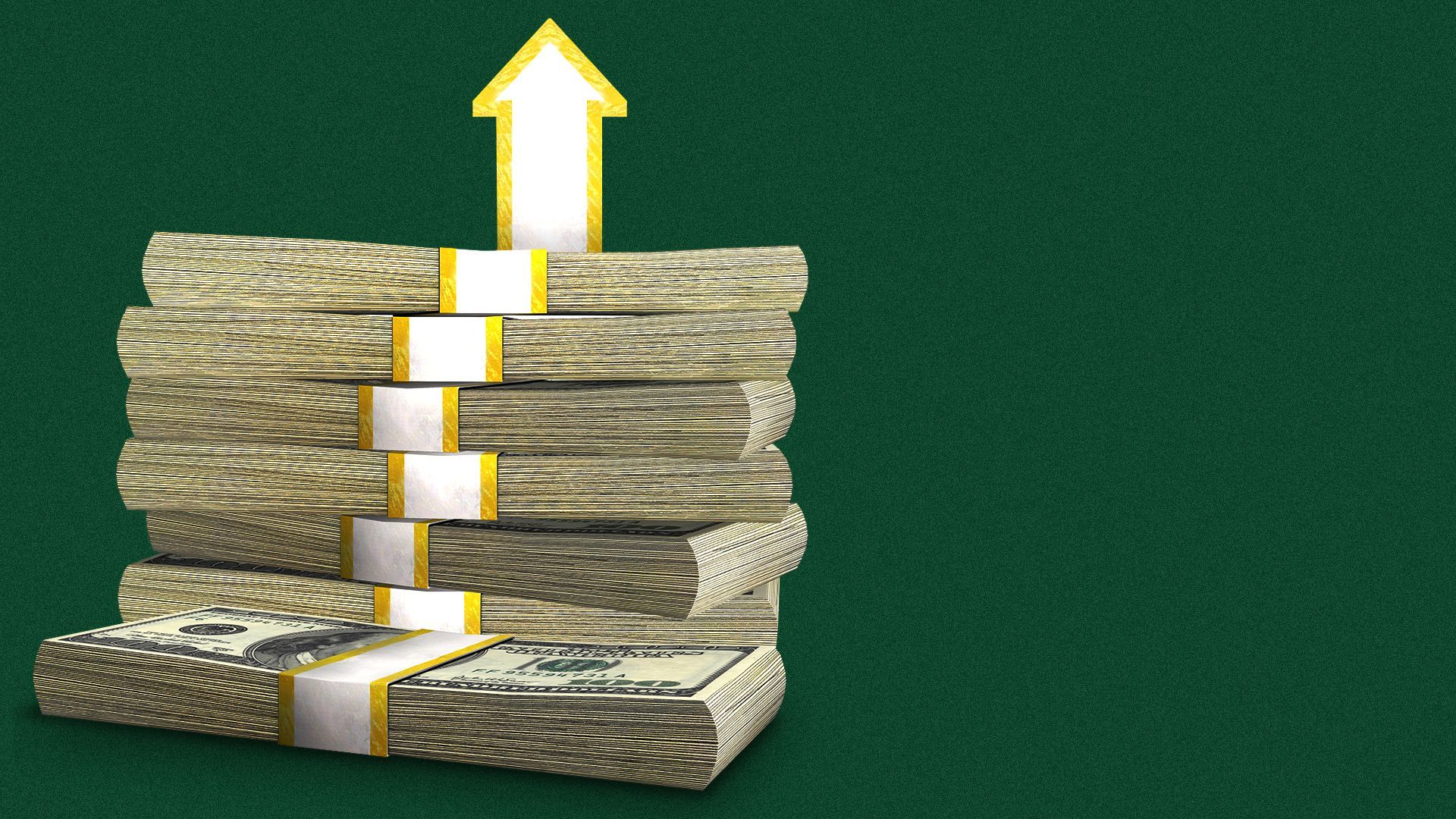 Salaried workers making under $55,000 annually may become eligible for overtime pay thanks to a proposed Labor Department rule, Axios' Shauneen Miranda writes.
Why it matters: If approved, the effort would extend protections to 3.6 million salaried workers in the U.S. and mark an over 50% increase in the annual salary threshold for overtime pay previously set at under $35,568.
Despite hourly workers being subject to overtime pay, salaried "executive, administrative or professional" employees who make over $35,568 do not currently qualify for overtime pay.
Under the new proposal, salaried employees could get paid "time-and-a-half" for working over 40 hours a week.
Yes, but: The proposed rule is not a done deal, and it will be open to public comment for the next 60 days once published in the Federal Register.
Industry and small business groups are expected to oppose it, the Washington Post reported.
Was this email forwarded to you? Subscribe here.
Today's Axios Markets was edited by Javier E. David and copy edited by Mickey Meece.