Apologies for the extra-long newsletter. Tuesday was an extra-long day.
https://www.axios.com/newsletters/axios-login-065d357f-6b2c-43d0-8a65-5b521600ea13.html?chunk=0#story0
Three key takeaways from Apple's announcements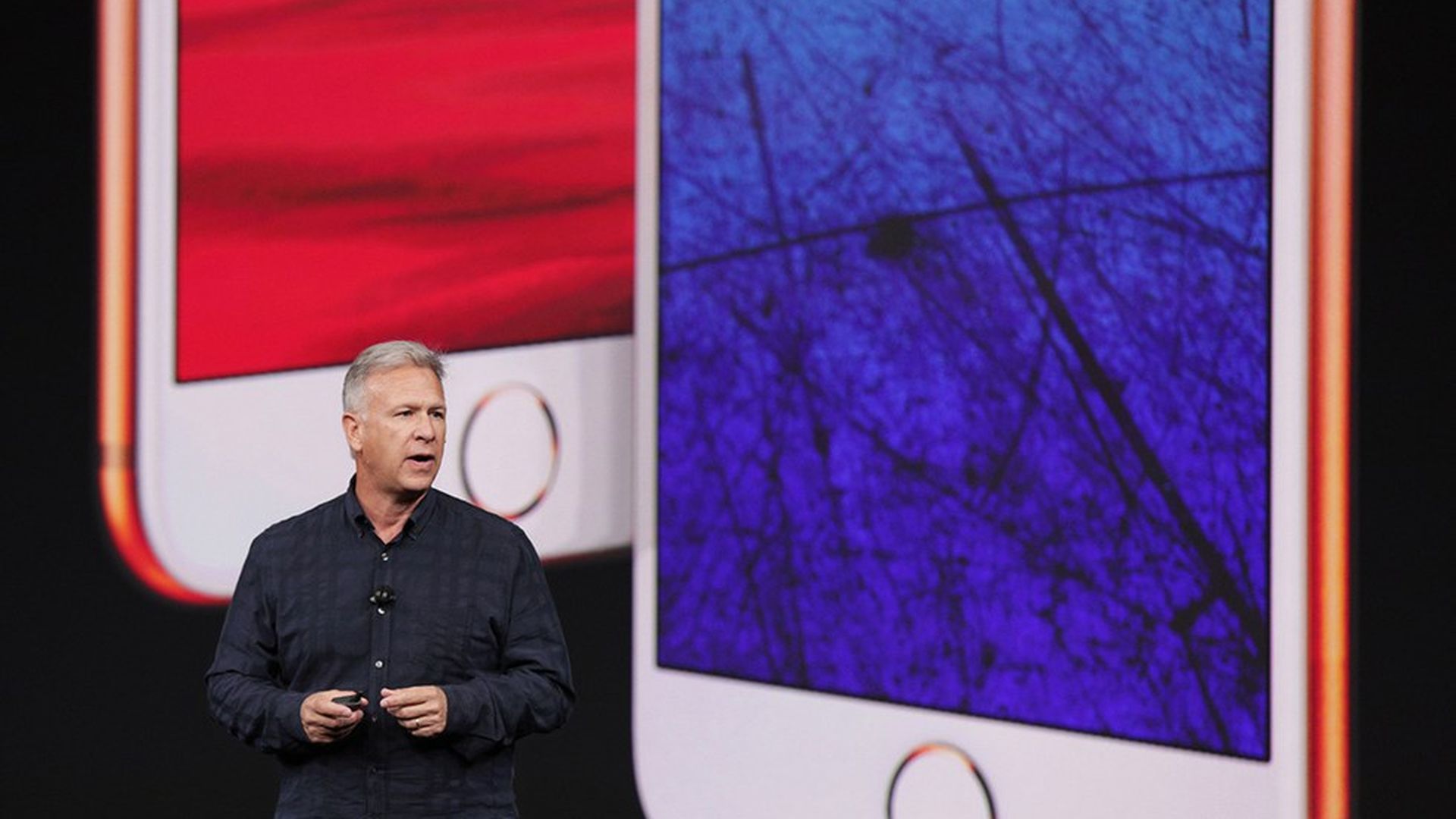 I attended the Apple Special Event yesterday at its newly opened Steve Jobs Theater at Apple Park in Cupertino. Here are three of my main takeaways:
The iPhone X is the phone you want, if you can afford it (and can stand to wait)Apple unveiled three phones (and a new Apple TV and LTE-equipped watch). But as expected, the high-end iPhone X (pronounced ten), stole the show. Its all-screen front packs a lot more display into a standard-size phone, and Apple showed its facial recognition to be both powerful (Face ID) and fun (animoji). But at $999, you are spending $300 more than you would for an entry-level iPhone 8. Watch this video I did during a brief hands-on with the iPhone X.
Augmented reality is both the present and the still-a-ways-off futureThe iPhone X and iOS 11's ARKit make AR on the smartphone an actual reality. There will be a whole range of uses from gaming to mapping to education and more. But everyone can envision how glasses would be way less cumbersome than staring into a phone (provided said glasses can be made cheap and light enough).
Apple isn't what it once was at keeping secretsLiterally everything Apple unveiled Tuesday had been leaked in detail. And these leaks weren't broad rumors from sources, but Apple-created code that confirmed all the key points. Apple didn't even try to joke about the issue, instead plowing ahead with its keynote as if this was the first time anyone was hearing about the products.
Here are a few other smart takes on Apple:
https://www.axios.com/newsletters/axios-login-065d357f-6b2c-43d0-8a65-5b521600ea13.html?chunk=1#story1
FCC chairman Pai talks about the limited role for regulation
Federal Communications Commission chairman Ajit Pai said the government's role should be to step in when there is a market failure — but he was tough to pin down on where he sees those occurring.
Our discussion: Speaking on stage with me at the Lincoln Network event Tuesday, Pai sounded skeptical that Facebook and Google are in need of being regulated as a utility in the same way that broadband providers are.
"Utility is a very seductive word to those who want [to] conflate it into 'something that is useful to me.' And the fact that something is useful does not necessarily mean that it should be regulated like a utility. There's a long, long history of utility regulation in this country as you know — and it comes fraught with a lot of very arcane, sometimes economically onerous regulations and those regulations can in some cases disserve consumers if applied fully to companies like the ones you mentioned. So, I always want to be careful about applying that moniker to any particular service or product."
At the same time, Pai acknowledges the challenge posed when some competitors face regulation and others don't.
"But I do think that companies that compete in a particular space should be regulated similarly. Whether all those companies together you just mentioned do in fact compete in the same space is a difficult question. Now, there's some sort of bleed over into — what is network and what is edge is becoming more and more and more of a (complicated) question. And that's something that I think ultimately lawmakers are going to have to sort out."
When asked whether he is frustrated that the FCC has oversight over certain companies, while others are overseen by the Federal Trade Commission, he replied:
"There's no question that in some cases the law says you may go this far, and my conception of the public interest would suggest we go further. Or conversely, we find that there is a problem that we should try to solve but yet the law gives somebody else the authority to do it...As boring and unsatisfactory as it sounds, we have to stay within the four corners of the law and that's not always the right answer for a lot of people."
Among his other points, Pai:
Declined to say if he thinks T-Mobile merging with Sprint would hurt or benefit competition.
Said that expanding broadband access remains his top priority as FCC chair.
Described his relationship with President Trump as "productive" but declined to comment on how he thinks the president is doing overall.
You can watch a full video here.
https://www.axios.com/newsletters/axios-login-065d357f-6b2c-43d0-8a65-5b521600ea13.html?chunk=2#story2
America's insatiable wireless appetite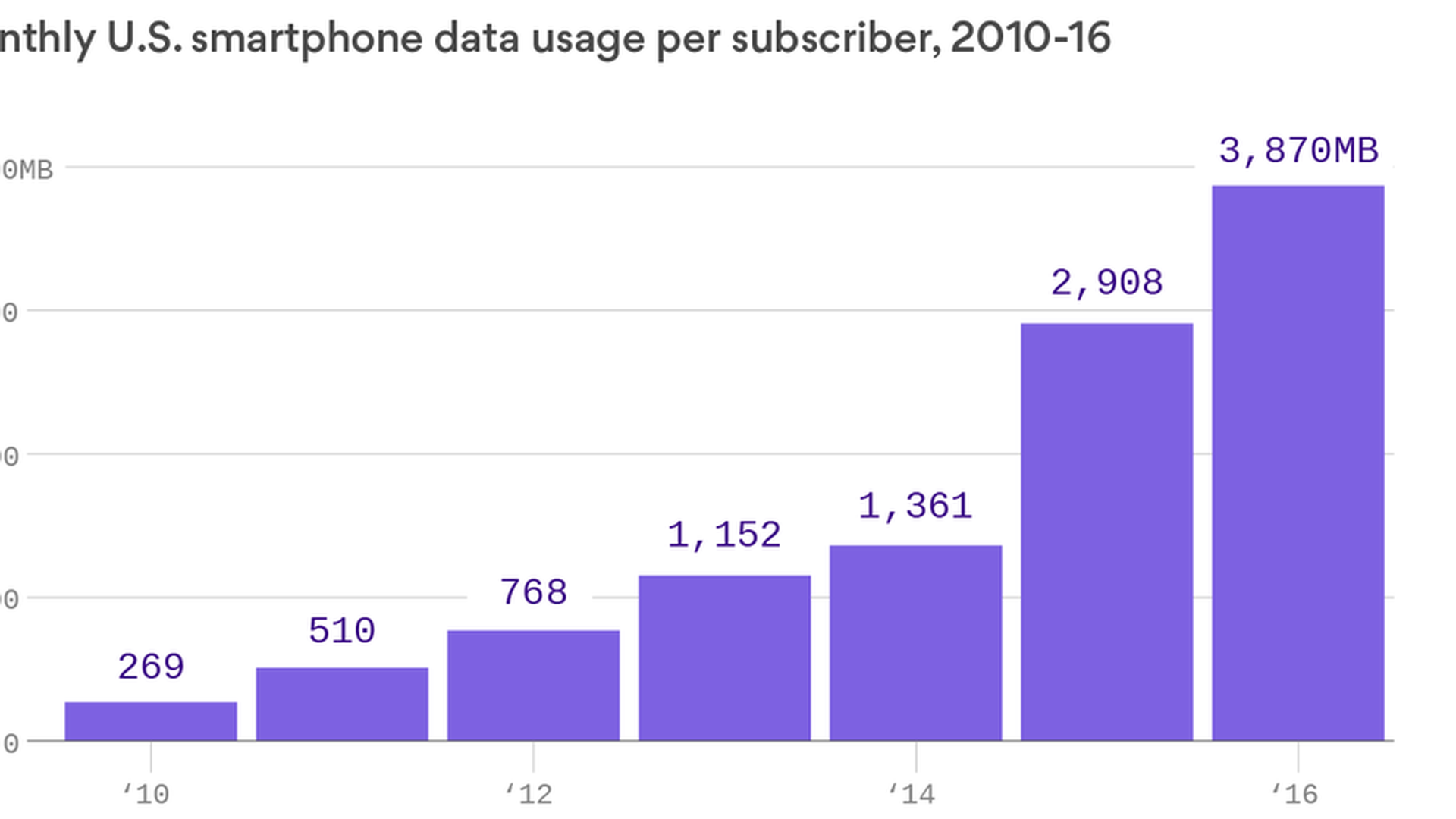 In many ways, the release of the first iPhone 10 years ago launched the smartphone era. Since then, mobile data consumption has skyrocketed and, in the process, helped turn wireless companies into digital media conglomerates, Axios' Kim Hart reports.
By the numbers:
Mobile data traffic has experienced a nine-fold increase since 2012 in North America, and it has the highest smartphone and 4G network adoption rates of any region worldwide, according to the trade association GSMA.
In 2016, there were 291 million unique wireless subscribers in North America, representing 80% of the region's population.
There are now more mobile subscriptions in the U.S. than people.
Follow the money: In revenue terms, North America is estimated to be a $250 billion market this year, accounting for more than a fifth of global operator revenue. It also ranks way up there in terms of early adoption and mobile engagement — aka the amount of time consumers spend on their mobile phones — making it a very attractive market for companies to launch new media and e-commerce services, video content, and interactive applications.
Biggest boost: Engagement among users in the U.S. is consistently higher than in other developed countries, with the highest engagement rates in digital commerce and entertainment. This reflects the rapid growth of services like Amazon Prime and Netflix.
Biggest drag: But while engagement is way up, traditional mobile revenue is way down. The market is saturated, with smartphones accounting for 80% of wireless connections. To win over customers, carriers are offering free perks. AT&T announced Tuesday it would give subscribers free HBO service, following T-Mobile's offer to give free Netflix to customers last week.
Kim has more here.
https://www.axios.com/newsletters/axios-login-065d357f-6b2c-43d0-8a65-5b521600ea13.html?chunk=3#story3
TV ad projections reduced due to increased cord-cutting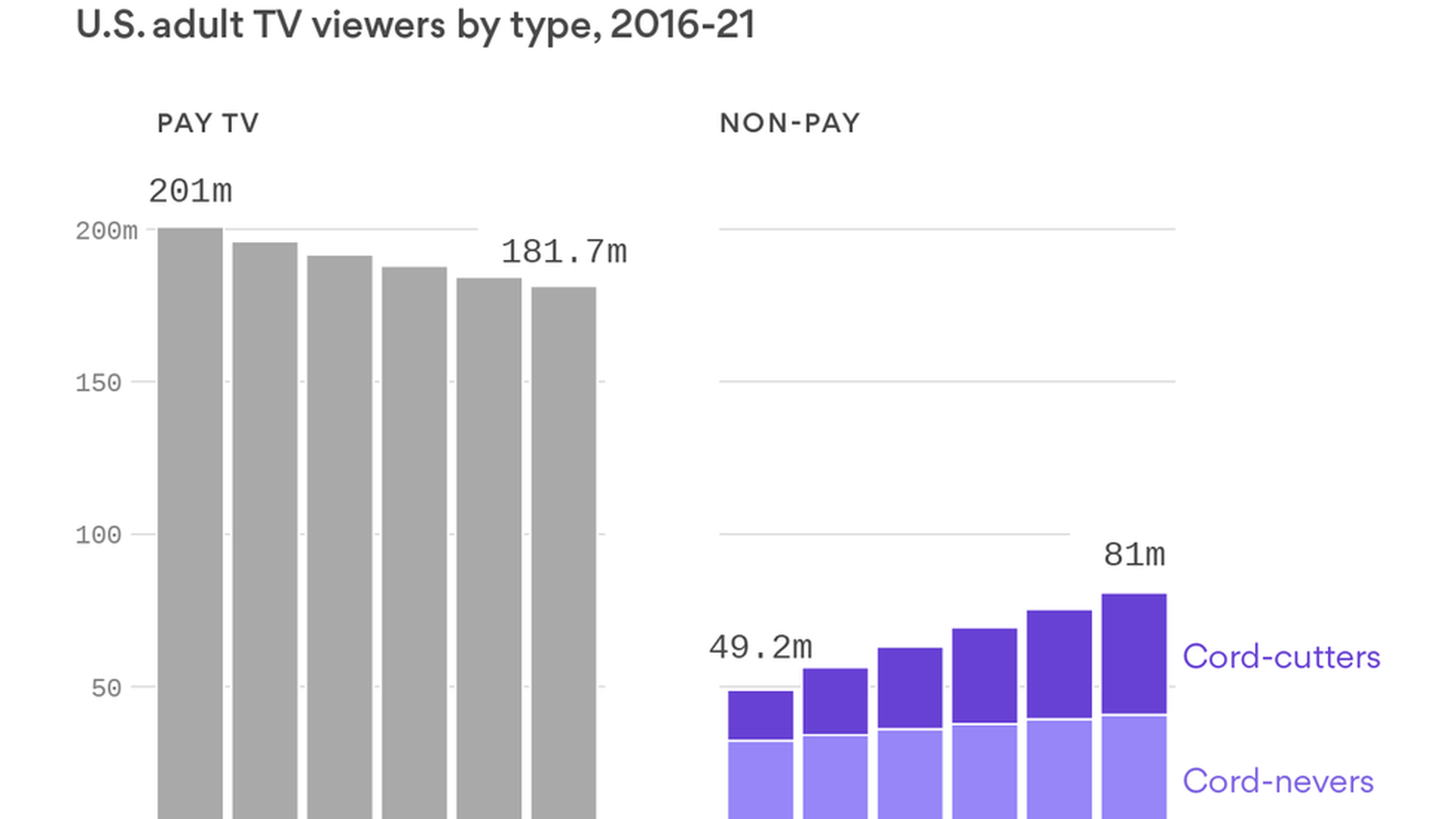 Axios' Sara Fischer reports that eMarketer has reduced its estimate for TV advertising spending in the U.S. this year by nearly $1 billion due to an uptick in cord-cutting, or people ditching their expensive cable bundles for cheaper streaming options. The group predicts that by 2021, the ratio of Pay TV viewers to non-Pay TV viewers will drop from 4:1 to nearly 2:1.
It also expects TV advertising spending to increase only by 0.2% this year, around half of its previous annual growth rates in non-election, non-Olympics years.
As a result, it estimates that TV's share of total media ad spending in the U.S. will drop from 36.6% to 34.9%, and is expected to fall below 30% by 2021, as mobile advertising becomes the dominant advertising medium in the U.S.
Why it matters: The trend reflects consumers switching from bundled cable packages to more affordable, niche bundled services that can be accessed on TV box tops or on mobile. YouTube TV and Hulu TV launched within the past year, joining the likes of Dish's SlingTV, Sony's Playstation Vue and AT&T's DirectTV Now, all at a roughly $40 monthly price point — a bargain considering the average American pays $92 monthly for cable.
Read more of Sara's story here.
https://www.axios.com/newsletters/axios-login-065d357f-6b2c-43d0-8a65-5b521600ea13.html?chunk=4#story4
While you were gawking at the new iPhone...
Workplace chat company Slack had a fancy event of its own, Axios' Kia Kokalitcheva tells us. There, April Underwood, VP of product, announced that Slack users can now chat with folks who aren't part of their company or organization — a notable departure from the typical way the office chat tool works.
Why it matters: Workplace chat tools like Slack are often touted as "email killers." But while they can reduce or get rid of emails between coworkers, email has remained the only (or at least simplest) way for workers to communicate with the outside. Slack's new shared channels are an attempt to replace some of inter-business email. However, it still requires collaborators to all use Slack and for all parties to opt in.
Users can now chat with business partners or other outside collaborators who also use Slack without adding them to their company's network. They can create new or expand existing channels, and chats will be confined there.
Slack's other features, including platform apps and the ability to send private messages to another user, are also available in these shared channels.
https://www.axios.com/newsletters/axios-login-065d357f-6b2c-43d0-8a65-5b521600ea13.html?chunk=5#story5
In Memoriam: Edith 'Edie' Windsor
Edie Windsor, best known as a plaintiff in a key same-sex marriage case, died Tuesday at age 88. But, what many people don't know is that her role as LGBT activist was her second career. She spent nearly two decades as a programmer at IBM, before retiring in 1975. Honoring both those careers, Lesbians Who Tech named its coding scholarship in her honor at its gathering in San Francisco last year, according to TechCrunch, and today posted this tribute.
https://www.axios.com/newsletters/axios-login-065d357f-6b2c-43d0-8a65-5b521600ea13.html?chunk=6#story6
https://www.axios.com/newsletters/axios-login-065d357f-6b2c-43d0-8a65-5b521600ea13.html?chunk=7#story7
After you Login
The WSJ visualized the iPhone decade in 12 charts. It's not every day you see the iPhone compared to the Barbie doll, Rubik's Cube, and Zippo lighter (see the last chart).