Axios Generate
March 07, 2023
🥞 Good morning! We're in Houston at the big CERAWeek by S&P Global conference.
🏃🏽‍♀️Today's newsletter has a Smart Brevity count of 1,232 words, 5 minutes.
🎶 We're honoring Texas artists all week, and Houston's Z-Ro has today's unstoppable intro tune...
1 big thing: Kerry chats with Axios about China woes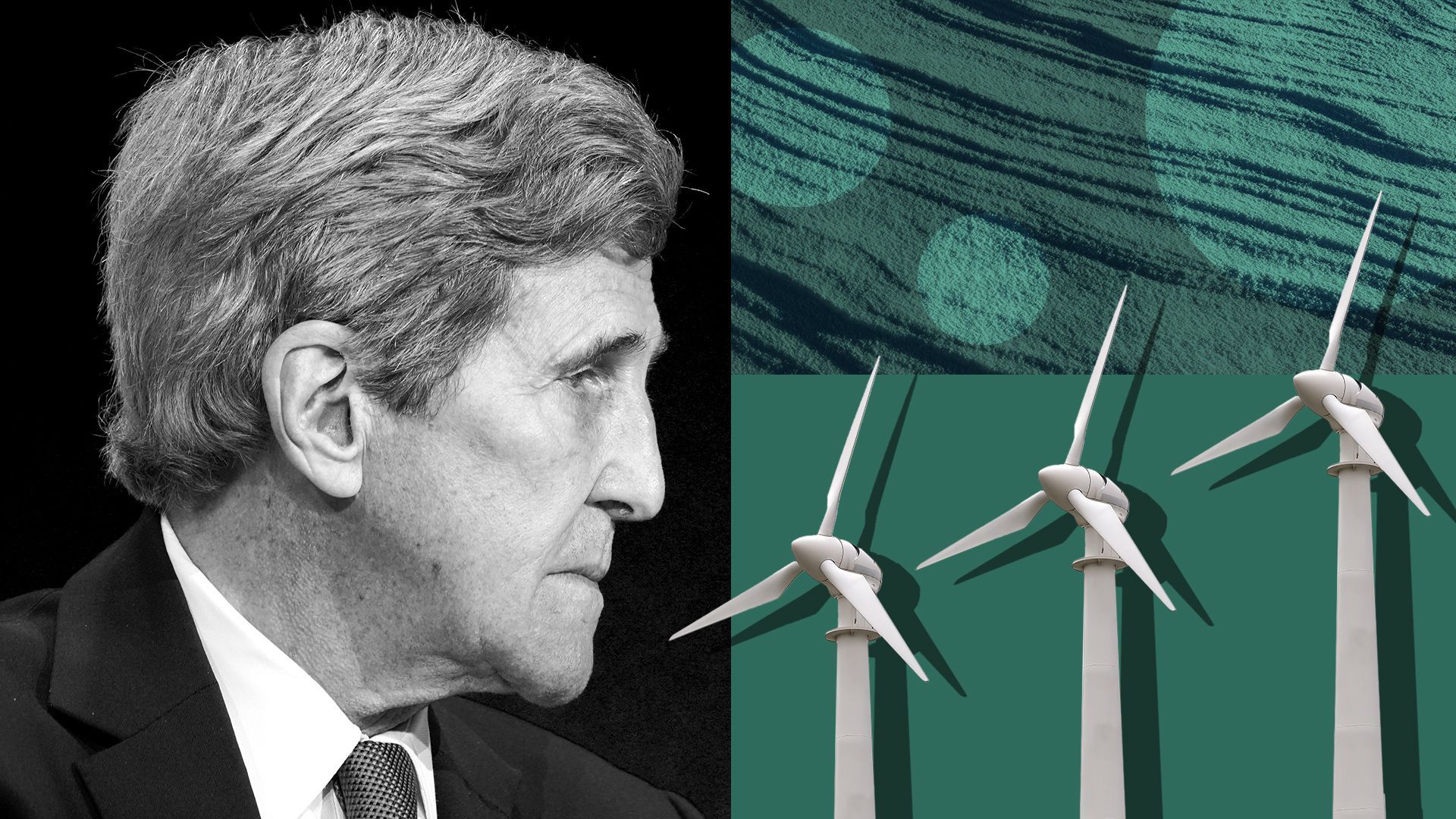 HOUSTON — U.S. climate envoy John Kerry tells Axios his work with China has stalled amid wider tensions between the world's two largest greenhouse gas emitters, Ben and Andrew write.
Driving the news: "Regrettably, in the last year ... what was not supposed to happen has happened, which is the climate issue has gotten mixed up into all the other tensions that exist between our countries," Kerry said in an interview at the CERAWeek by S&P Global conference.
Catch up fast: The two countries made a surprise joint declaration on climate ambition in late 2021.
But the relationship — already tense — has deteriorated after China's anger at then-House Speaker Nancy Pelosi's visit to Taiwan and, more recently, the Chinese spy balloon incident.
Kerry said he last spoke to his Chinese counterpart Xie Zhenhua virtually about a month ago, but overall acknowledged the joint efforts have ebbed. He noted Xie has been ill recently.
Meanwhile: Kerry also revealed he personally called BP CEO Bernard Looney after the energy giant announced last month it was scaling back its 2030 targets for cutting oil and gas production.
But Kerry also noted that BP, at the same time, announced it was increasing its spending on low-carbon initiatives by billions of dollars and that their long-term decarbonization plans remain intact.
Overall, Kerry signaled a mixed verdict on the industry, noting concern about Chevron's planned oil production growth.
What we're watching: Axios learned, and Kerry confirmed, that he met Sunday with UAE climate envoy Sultan Ahmed al-Jaber, who is slated to head the COP28 climate conference in Dubai later this year and is also at CERAWeek.
2. COP28 chief offers an olive branch, with a catch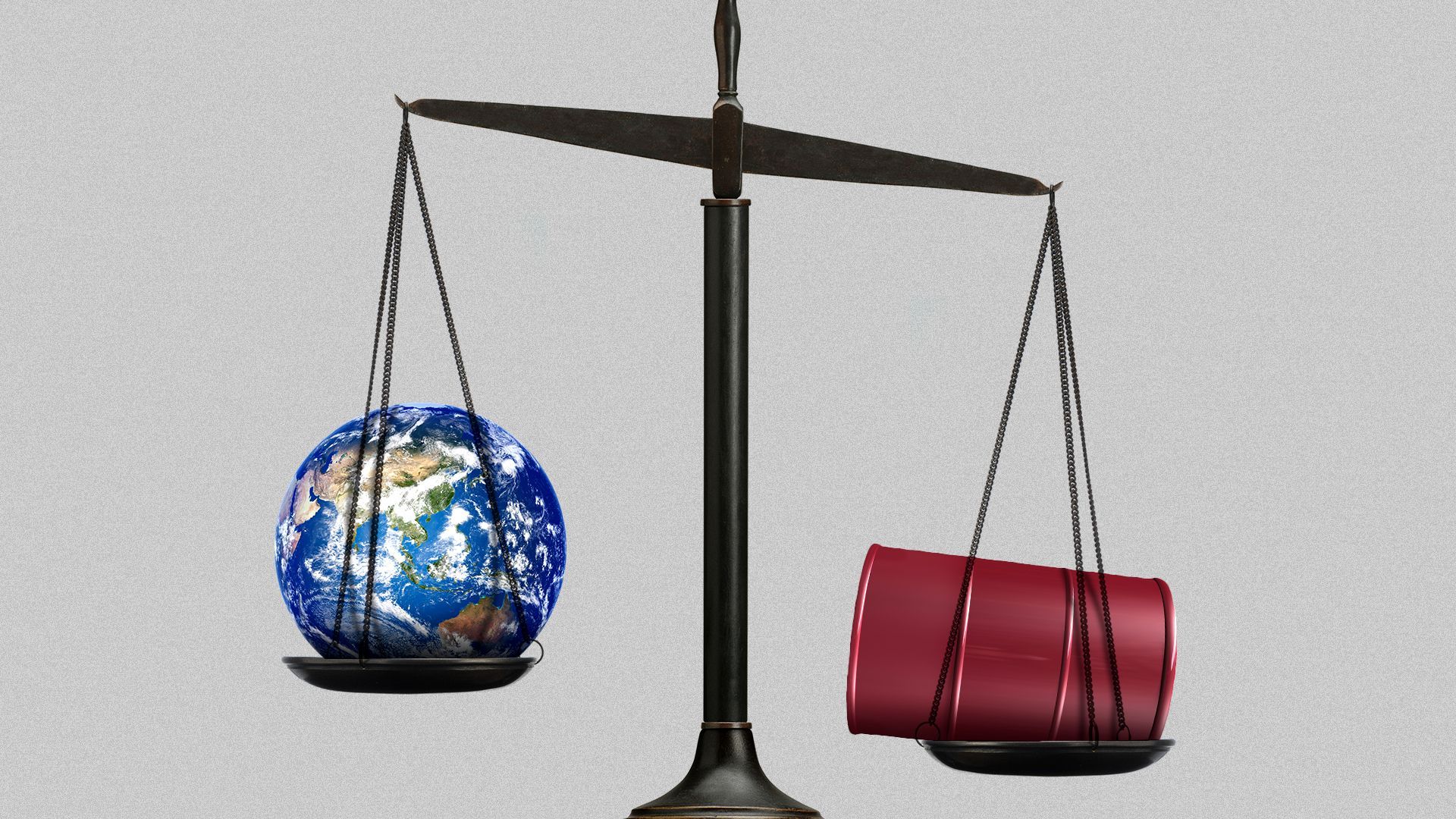 HOUSTON — The head of critical upcoming UN climate talks offered a roomful of oil execs both a welcome mat and a warning at a huge energy conference here, Andrew writes.
Driving the news: Sultan al-Jaber, the CEO of ADNOC and head of this year's COP28 UN climate summit, called on oil and gas companies to be part of the solution to human-caused climate change, in a speech to top energy industry executives in Houston Monday.
Why it matters: Al-Jaber's COP28 assignment has drawn criticism from environmentalists and some Democrats for his multi-hatted role in his country's oil, gas and clean energy sectors.
He indicated that industry would be more welcome at COP28, if it recognizes its role in causing the problem and responsibility for addressing it quickly.
Between the lines: In coming to CERAWeek by S&P Global, a major oil and gas industry confab he had been attending for years as an oil executive, al-Jaber signaled what some environmental groups have feared — an even larger presence of oil and gas officials at the next climate summit.
"I know that some of you have felt excluded from the climate dialogue in the past, while others may have felt this isn't their problem to fix," al-Jaber said.
Zoom in: He called upon executives to work to keep the Paris Agreement's 1.5-degree warming target within reach by finding ways to slash greenhouse gas emissions and promote renewables.
"The oil and gas sector needs to up its game, do more and do it faster," he said.
3. The fight to define a major oil project and more policy notes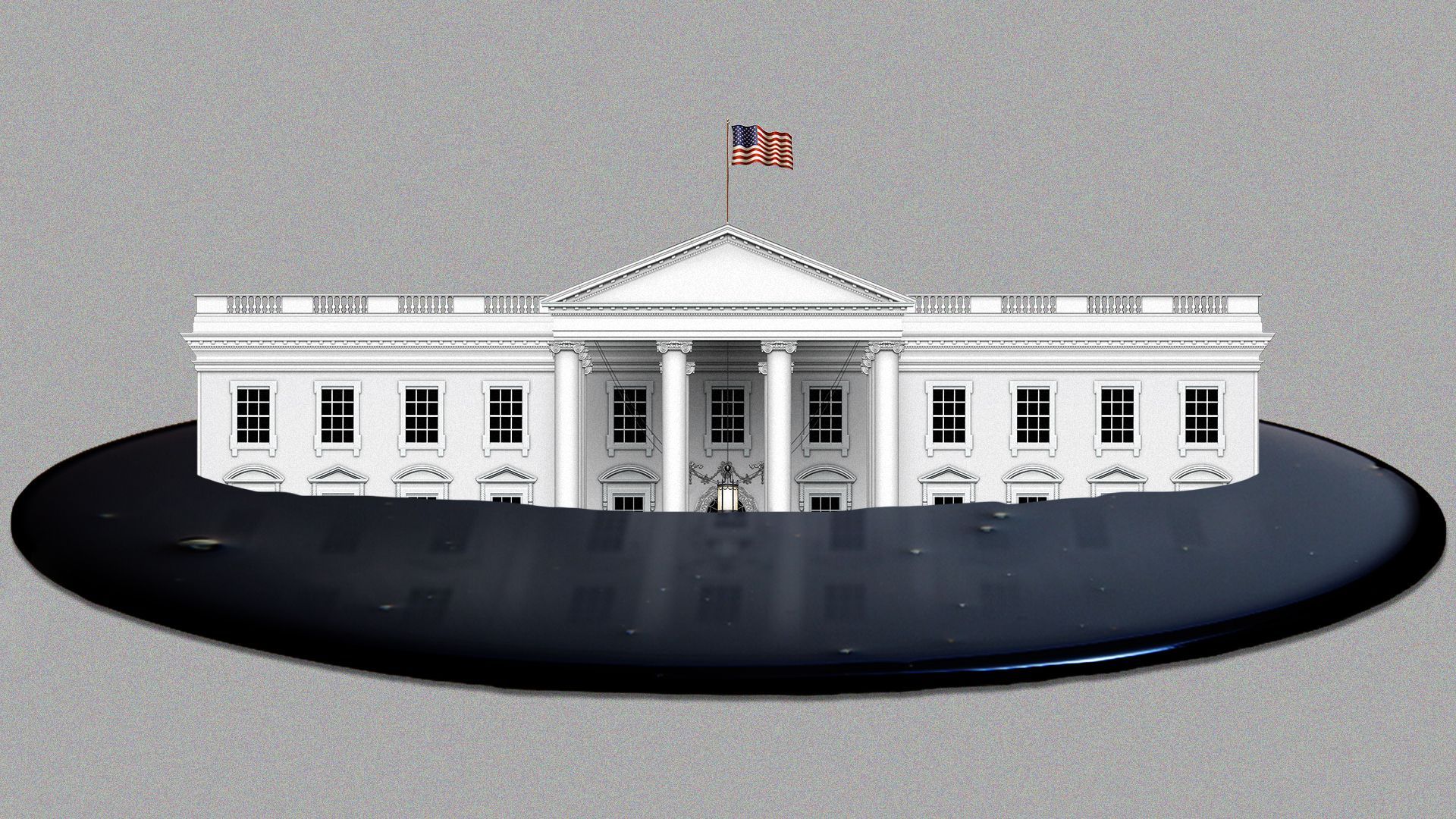 HOUSTON — Two battles are unfolding over a looming White House decision on a major Alaskan oil project: one is about the substance, while the other is about how to interpret it, Ben writes.
What we're watching: Biden officials are on the cusp of announcing whether they will approve ConocoPhillips' Willow project on federal lands in Alaska — and, if so, in what form.
Climate groups are pressing the White House to reject it. Alaska lawmakers and the industry want it approved — and say a scaled back version reportedly under federal consideration isn't viable.
The intrigue: Willow backers call it a gauge of whether the Biden administration is walking the walk in supporting domestic production and U.S. energy security.
"All the people I'm talking to today, even people not from ConocoPhillips, they're saying this is a test," Alaska GOP Sen. Dan Sullivan said onstage at CERAWeek.
The other side: John Podesta, a senior White House climate aide, disputed claims that the Willow decision is about the wider administration posture.
"What we are dealing with...is a specific project and question of whether it will be permitted," he told reporters here.
What we're watching: Speaking of Podesta, he's here to push the energy industry to take advantage of incentives and finance in the new climate law and the infrastructure law.
Yes, but: One dilemma is that permitting of low-carbon projects and transmission needs to speed up to fully breathe life into the efforts.
He said onstage that permitting for "clean" sources and transmission is "plauged by delays and bottlenecks."
Podesta talked up executive efforts but also called for the revival of Sen. Joe Manchin's legislation on the topic.
However, that measure faces resistance on the left because it would speed up fossil projects, too.
Go deeper: Biden climate law will stumble without permitting reform, industry warns (Reuters)
4. 🏃🏽‍♂️Catch up fast on business
🛢️Occidental CEO Vicki Hollub said at CERAWeek that the company is eyeing further diversification, name-checking potential investment in lithium extraction and even nuclear power, per the Houston Chronicle.
🤝🏽 "Chesapeake Energy Corp said on Monday it would supply a unit of Swiss commodity trader Gunvor Group Ltd with up to 2 million tonnes per annum (MTPA) of U.S. liquefied natural gas (LNG) for a period of 15 years." (Reuters)
💰 "Spain's Repsol SA is planning to invest close to $1.5 billion in 2023 in exploration and production in North America and is planning to invest about $1 billion in renewable sector in the U.S., CEO Josu Jon Imaz said in an interview." (Bloomberg)
🇨🇳 "Cheniere Energy expects to ship more liquefied natural gas (LNG) to Asia this year, after European customers took the lion's share of its 2022 cargoes." (Reuters)
5. Charted: The U.S. power shift
The Energy Department's stats arm has a nice graphic and explainer on the huge shifts in what's being added to power grids, Ben writes.
Of note: A reminder that capacity isn't the same as generation, especially when it comes to intermittent renewables.
6. California snowpack's promise and peril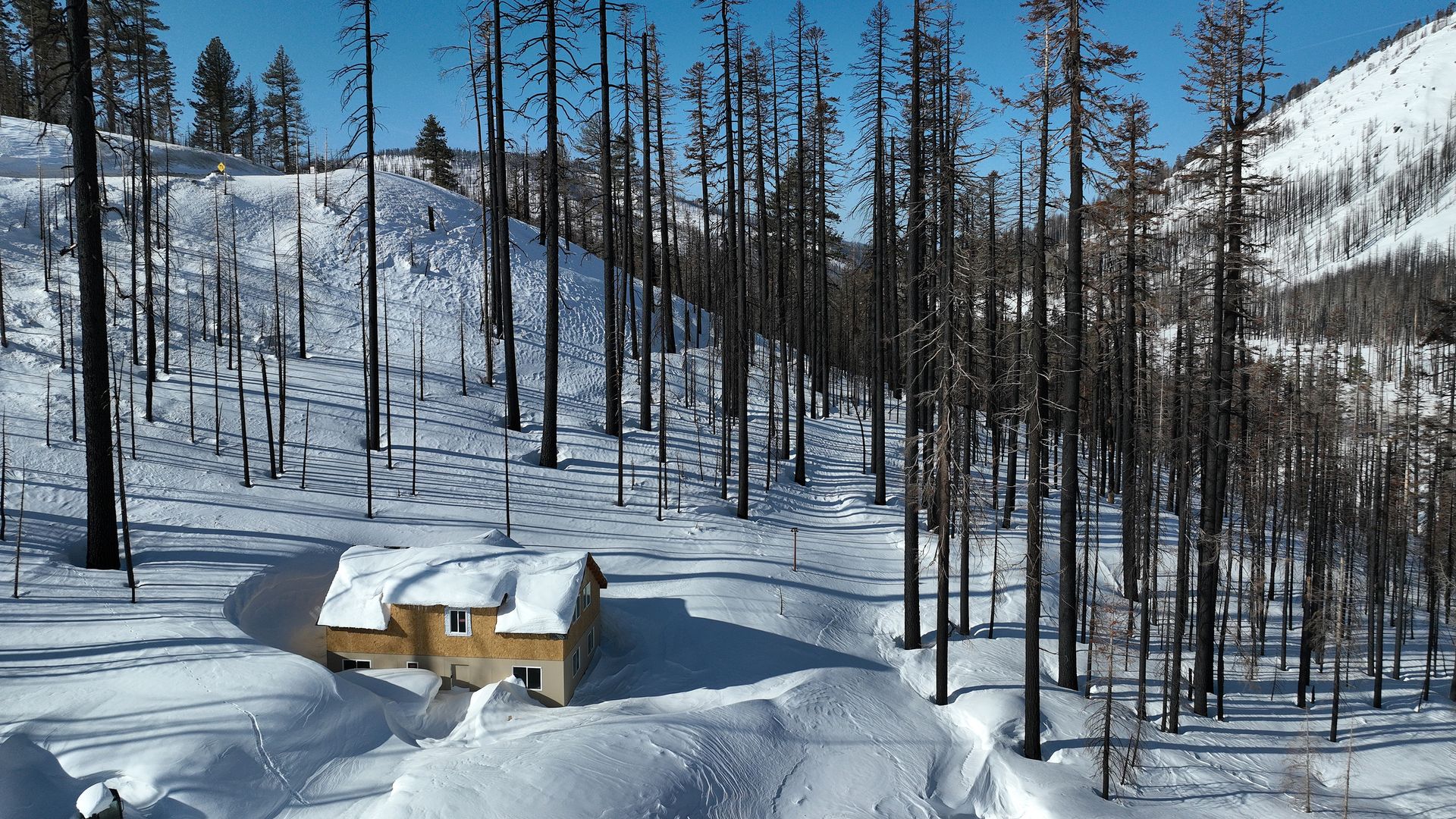 The astonishingly thick snowpack in California for this time of the year has raised hopes of more abundant water supplies and a less active early fire season across the state, Andrew writes.
But so much snow sitting at lower elevations in particular is also a concern this week.
Why it matters: An atmospheric river event is predicted to hit Northern California beginning Thursday and lasting through Friday. This will be a milder storm than the series of blizzards that have hit the state recently, delivering rain on top of snow even at mid-to-high elevations.
Threat level: The rain on top of snow through about 6,000 feet is likely to cause flooding, including of streams and rivers, and water loading of homes and businesses could lead to structural damage.
Any rain that falls above that is less likely to cause flooding because the snowpack is so thick and cold, meaning it won't melt as suddenly.
It could, however, trigger landslides.
What they're saying: In an online forecast discussion, NOAA's Weather Prediction Center flagged precipitable water anomalies — a key measure of how strong the atmospheric river may be — of four standard deviations above normal.
🙏 Thanks to Nick Aspinwall and David Nather for edits to today's edition.