California on track for record snow year as storms cause chaos across state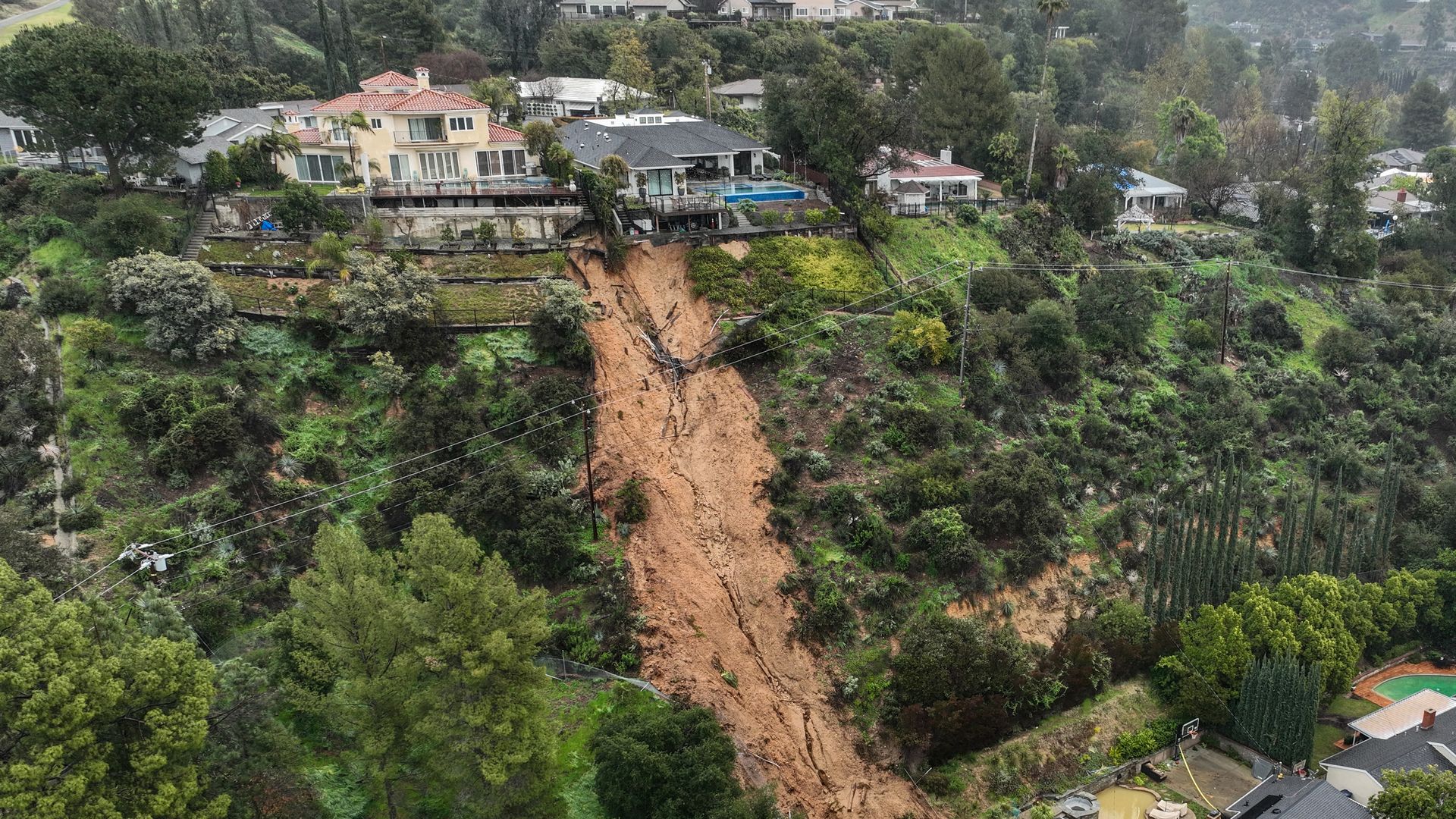 California is being hit with more severe winter weather — as forecasters warn more heavy rains and snow will continue to slam the West Coast through Wednesday.
The big picture: Schools and roads across Northern California remained closed, as the National Weather Service said the region faced "two more rounds of heavy snow" and dangerous blizzard conditions combined with wind gusts up to 60 mph in the Sierra Nevada until at least early Wednesday.
Additional snowfall of 4 to 7 feet was expected along the Sierra Nevada, with snowfall rates in excess of 2" per hour, according to the NWS — which warned travel "will become very dangerous to impossible at times" in the mountains.
The Sierra Avalanche Center issued an advanced avalanche warning for the backcountry around Lake Tahoe. Another "much stronger storm" was arriving Monday, bringing "continued gale-force winds," colder temperatures and up to 6 feet of snow by Wednesday morning, it noted.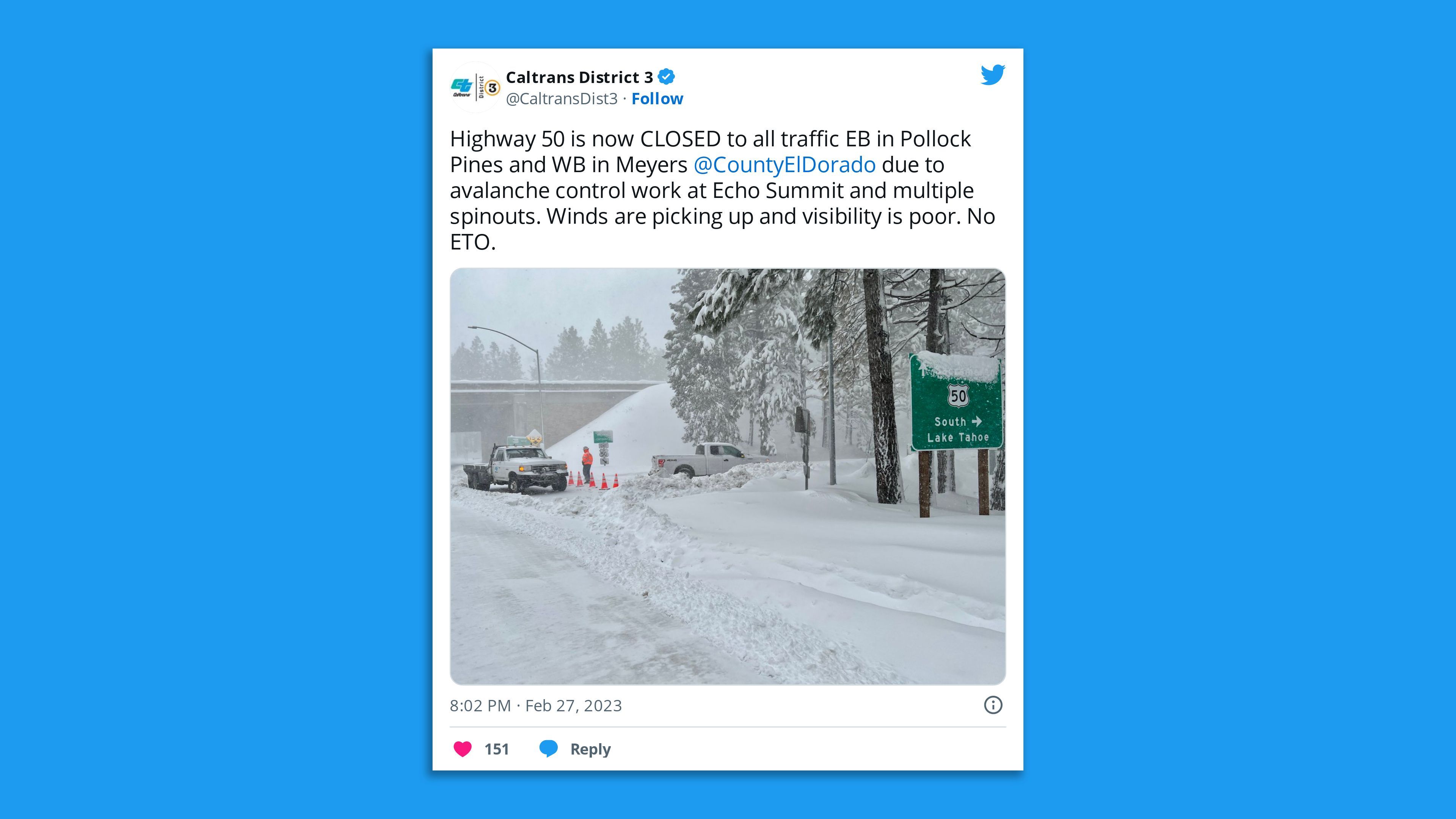 In Southern California, officials were still responding to the fallout from a weekend storm that saturated the region — triggering flash flooding and prompting the NWS' San Diego office to issue its first-ever blizzard warning for the San Bernardino County mountains.
San Bernardino County declared a local emergency Monday after some 5 feet of snow that fell in five days at Lake Arrowhead left some residents and people in vacation homes trapped.
A winter storm warning for the region remains in effect until at least Wednesday afternoon.
The Governor's Office of Emergency Services said in a statement that it was working closely with county officials and agencies with more snow plows and road crews, essential services and opening a shelter for those unable to get home.
"Weather conditions are forecasted to worsen in the coming days," it noted.
By the numbers: Rainfall over the weekend totaled up to 11.51 inches at Pine Mountain Inn and 4.92 inches in downtown Los Angeles, and snow peaked at Mount High, which received 93 inches, per the NWS.
Meanwhile, the UC Berkeley Central Sierra Snow Laboratory has recorded 460 inches of snowfall this season as of Monday — 100 inches more than the seasonal average.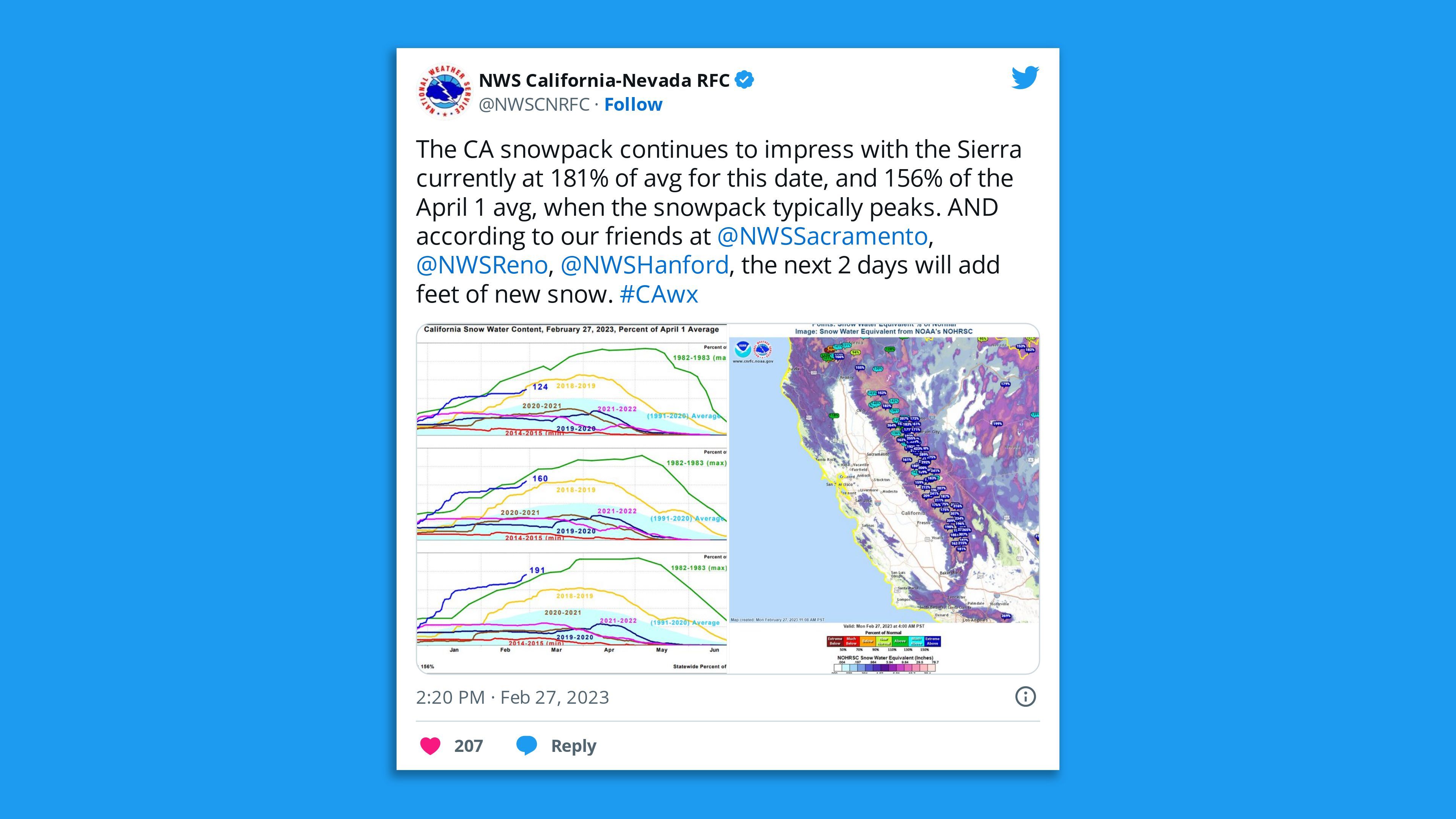 What to expect: Heavy mountain snow will spread across the Intermountain West, Southwest, and central and southern Rockies over the next few days, per the NWS.
The agency said the winter storm systems would continue to impact the West Coast through Wednesday, "with the final storm in the series pushing over the Southwest U.S. Wednesday into Thursday."
Context: Climate change is causing more precipitation extremes, both heavy rain and snow, as well as sharpening swings between wet and dry periods across the U.S. West, including California — which is still in the grip of its worst drought in 1,200 years.
Climate scientist Daniel Swain noted in an online discussion that in the past decade, California will have experienced some of the most snowy years on record and also "the least snowy years on record," which he said "really speaks to this notion of hydro climate whiplash."
What we're watching: Swain said that given the outlook of "a continuation of very active and cold, snowy conditions for at least the next couple of weeks, it's very possible" parts of the state could end up with "one of the top two snow years" on record.
"It'll be interesting to see how this goes over the next few weeks before the snow accumulation season starts to tail off in April," the University of California, Los Angeles, scientist said.
The bottom line, per Swain: "Regardless, we're going to end this year with a very large Sierra Nevada snowpack."
Editor's note: This article has been updated with additional details throughout.
Go deeper