Axios Generate
May 31, 2023
🚀 Off we go! Today's newsletter has a Smart Brevity count of 1,186 words, 4.5 minutes.
📬 Did a friend send you this newsletter? Welcome, please sign up.
🎶 At this moment in 1975, Kool & the Gang were #1 on Billboard's R&B charts with today's spectacular intro tune...
1 big thing: CO2 removal startup lands Boeing deal
Breaking: Equatic, a UCLA spin-out pairing carbon dioxide removal using seawater and hydrogen production, just unveiled a major deal with Boeing, Ben writes.
Why it matters: While the deal is preliminary and contingent upon Equatic's ability to scale its tech, it's large for the nascent carbon removal market.
🗞️Driving the news: The "pre-purchase option agreement" is for 62,000 metric tons of CO2 removal and 2,100 metric tons of "carbon-negative" hydrogen that Boeing sees as feedstock for cleaner jet fuel.
It covers a roughly five-year period that starts mid-decade, a spokesperson said.
Equatic is also divulging more details about its structure and plans.
John Browne, the former BP CEO who's now chairman of the climate tech fund BeyondNetZero, is heading Equatic's advisory board.
Reality check: Volumes in recent industry deals are growing. But they're still tiny compared with the global scale envisioned to make removal a meaningful tool in future decades, which involves handling multibillions of tons a year.
That's hardly a sure thing, and for now, the priority is scaling and driving down costs.
How it works: Equatic's tech passes electrical current, obtained via renewables, through seawater — a process called electrolysis that splits water into hydrogen and oxygen.
They then pass atmospheric air through the processed seawater. "These steps trap CO2 in solid minerals and as dissolved substances that are naturally found in the oceans," the company said.
🧮The big picture: The process enables precise accounting of how much CO2 is removed, Equatic said.
And the hydrogen can be used in heavy industry, electricity, production of transport fuels — or powering Equatic's CO2 removal plants.
🔍Zoom in: Equatic has pilot projects in L.A. and Singapore.
It hopes to reach 100,000 metric tons of carbon removal annually by 2026, and millions by 2028 for under $100 per ton, a goal set by the Energy Department.
Removal pledged under a far smaller deal with Stripe in 2021, when Equatic was called SeaChange and housed at UCLA, was for $1,370 per ton.
🏃🏽‍♀️Catch up fast: Equatic has raised over $30 million. Its many backers include the Chan Zuckerberg Initiative, the Anthony and Jeanne Pritzker Family Foundation and DOE.
The intrigue: Chief Operating Officer Edward Sanders told Axios that Equatic's hydrogen production will be eligible for climate law tax credits for U.S. projects.
But separate carbon removal credits don't apply because they're only for geologic storage, not ocean-based removal, he said.
Sanders said he hopes lawmakers will broaden the applicability but added that Equatic's business model doesn't rest on it.
He's also confident a U.N. panel will eventually reverse its preliminary view that engineered removal should be excluded from carbon markets under the Paris Agreement.
The bottom line: Equatic's novel vision of merging direct air capture, CO2 storage in oceans and hydrogen production, shows how no tech is yet dominant in the emerging removal field.
2. Sustainable aviation fuels expand beyond major airlines
CleanJoule, a sustainable aviation fuel startup in Salt Lake City, today announced a $50 million investment round that includes three airlines that are new entrants into the space, Andrew writes.
Why it matters: The deal signals that midsized, lower-cost air carriers are eyeing SAF fuels to help reduce their greenhouse gas emissions.
Until now, mainly large airlines have been investing in and purchasing SAFs, which can be blended with traditional jet fuel to cut emissions.
How it works: CleanJoule produces SAFs from agricultural residues and waste biomass, lowering but not eliminating life cycle emissions.
Zoom in: Frontier Airlines, Wizz Air, which is based in Europe, and Mexico's Volaris airlines each are investing in CleanJoule, along with investors led by the principles of Indigo Partners, a private equity firm, and other funds.
According to CleanJoule, this is the first SAF investment for each of these airlines. A Volaris spokesperson confirmed this is the growing carrier's first SAF investment.
Inquiries with Frontier and Wizz Air were not returned by deadline.
Volaris has operated one SAF flight, but it was a delivery flight of a new Airbus from France.
The airline needed to look outside Mexico for a supplier due to a lack of domestic SAF makers.
Of note: As part of the consortium's investment, the airlines signed binding commitments for a total of 90 million gallons of SAFs.
3. Charted: China's path to setting early carbon goals
In theory, China could meet its 2060 goal of "carbon neutrality" a decade early — with the right investment patterns, Ben writes.
The big picture: To reach net-zero in 2050, "China will have to triple the rate of investment in the latter half of this decade to an annual average of $1.66 trillion," a BloombergNEF analysis finds.
The total needs are almost $38 trillion.
Why it matters: China is the world's largest greenhouse gas emitter by far. It's already the global leader in renewables deployment — but also in coal-fired power generation.
What they found: The firm's analysis finds massive growth in zero-carbon power is needed.
For instance, cumulative wind and solar capacity reaches a cumulative 6,700 gigawatts by 2050, up from 800 gigawatts last year. Bloomberg has more.
4. Catch up fast on tech: Gas, planes, carbon sinks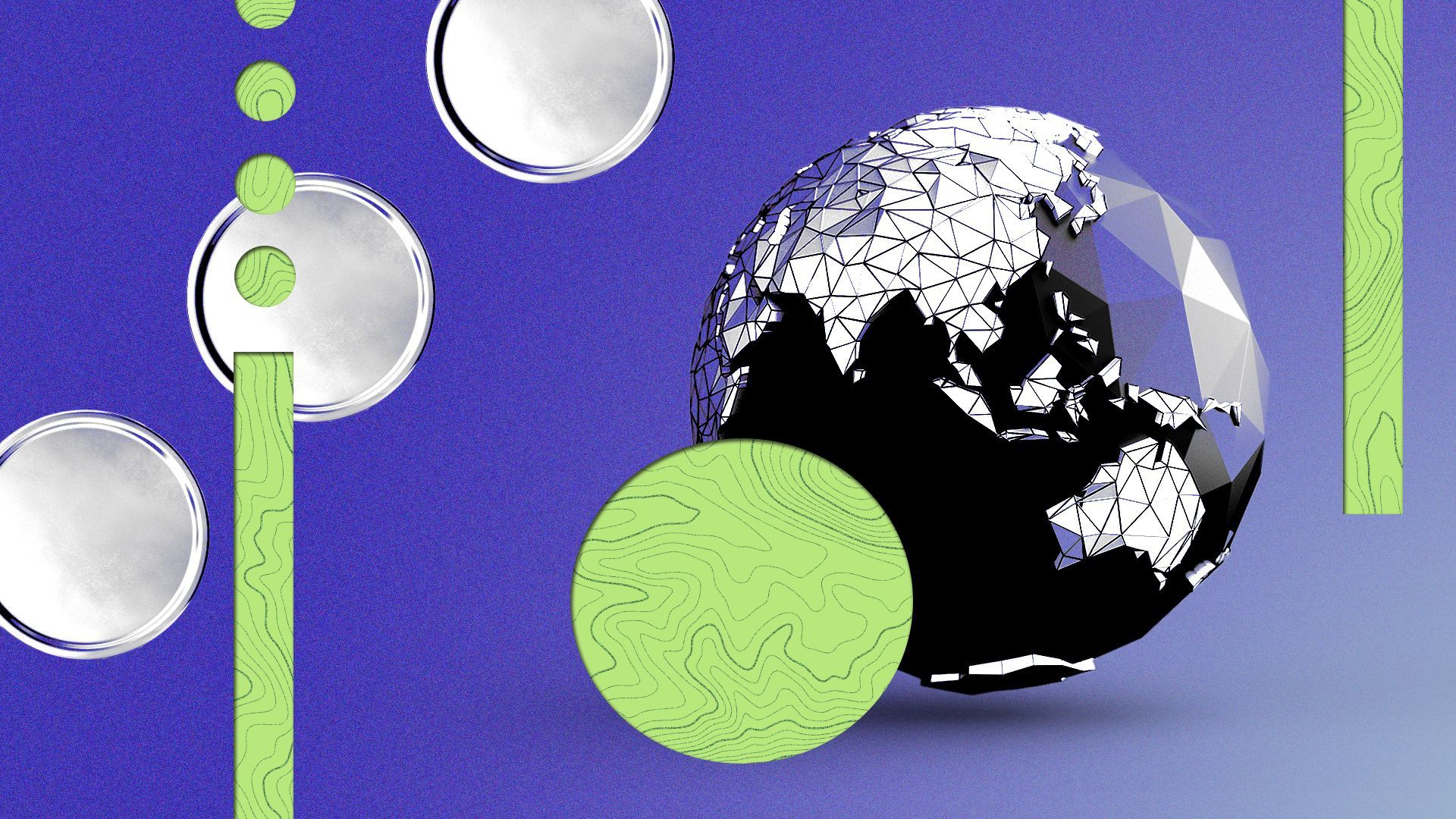 🤝TotalEnergies and Tree Energy Solutions today unveiled preliminary plans to build a U.S. factory to create synthetic natural gas from hydrogen and CO2, Ben writes.
Why it matters: If the project proceeds, it will benefit from tax credits under the climate law, the companies said.
Zoom in: The hydrogen production will be effectively powered by wind and solar obtained through power purchase agreements.
✈️BP will use Honeywell's "Ecofining" tech for production of "sustainable aviation fuels" at five plants in the U.S., Europe and Australia.
Why it matters: "This technology can help BP achieve its aim to supply 20% of the SAF market globally by 2030," the companies said today.
💧Climate tech startup Vesta is pursuing as much as $25 million for a Series A aimed at turning American coastlines and marshes into carbon sinks, Axios Pro Climate Deals' Alan Neuhauser reports (subscribe!).
5. The fight for the EV charging future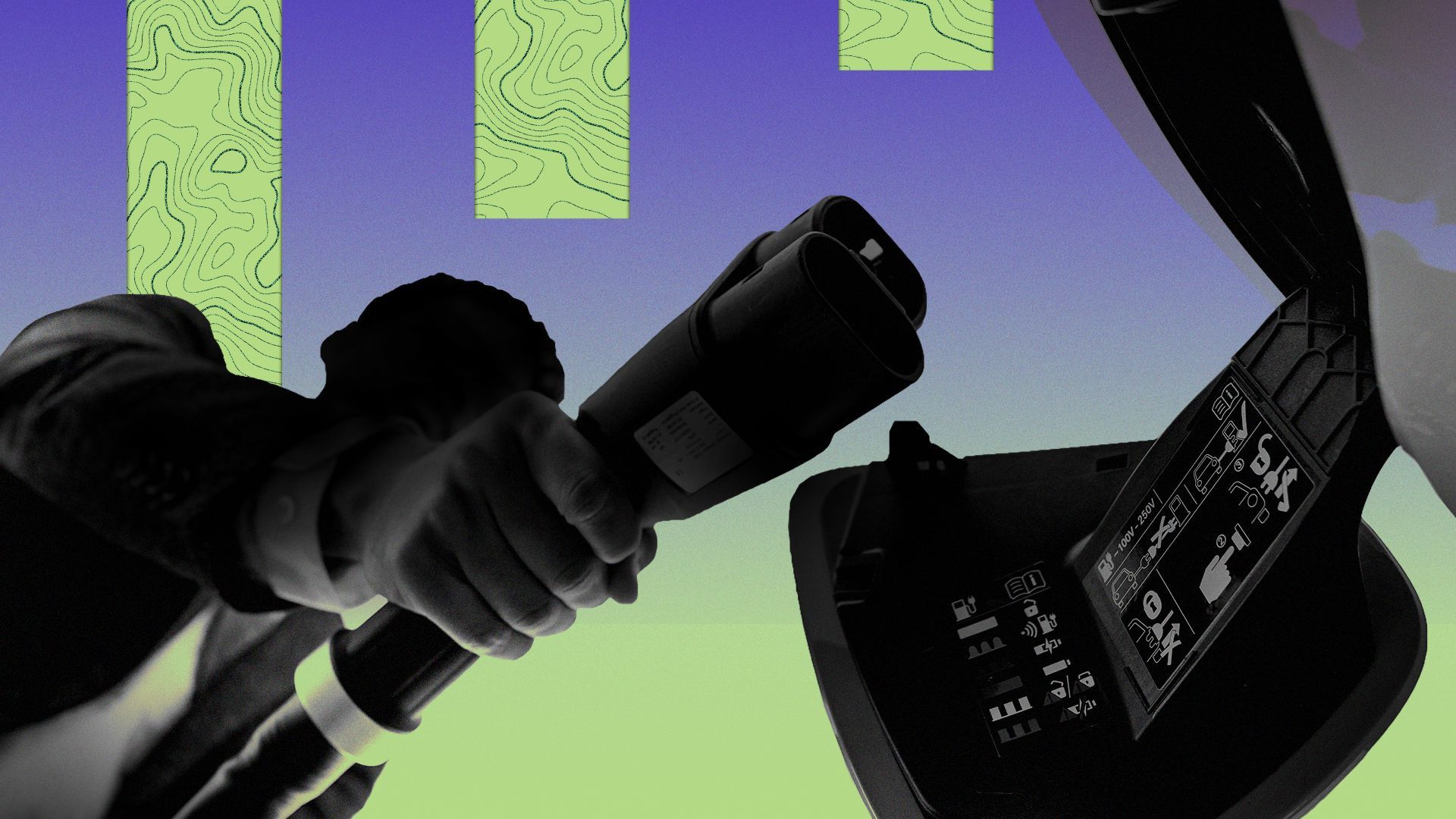 Ford's unexpected embrace of Tesla's charging technology dramatically escalates the battle for the future of electric vehicle charging — the next great VHS vs. Betamax-style standardization war, Axios' Joann Muller reports.
The big picture: EVs won't go mainstream until refueling them is as simple as filling up a gas-powered car.
As two competing standards — Tesla's favored North American Charging Standard and Combined Charging System, used by most other EV makers — duel it out for supremacy, everyday drivers may be left confused and frustrated.
Catch up fast: Ford and Tesla announced Thursday that Ford EV owners will have access to more than 12,000 Tesla Superchargers in the U.S. and Canada starting early next year.
Why it matters: The bigger news is that on future vehicles, Ford is pivoting away from the widely used CCS and will instead adopt Tesla's charging system, which until recently had been proprietary.
6.🛢️Quoted
"The big elephant in the room is the continued drama over the debt ceiling ... Until we get the votes, the market is going to be on edge."
— Price Futures Group analyst Phil Flynn,
via Reuters
That's Flynn's take on one reason why oil prices fell yesterday as traders eye Congress, China's economy, the upcoming OPEC+ meeting and more.
Prices are sliding further this morning.
🙏 Thanks to Gail Hughes and Javier David for edits to today's edition, along with the talented Axios Visuals team.