Tesla opens Superchargers to Ford EVs in rare collaboration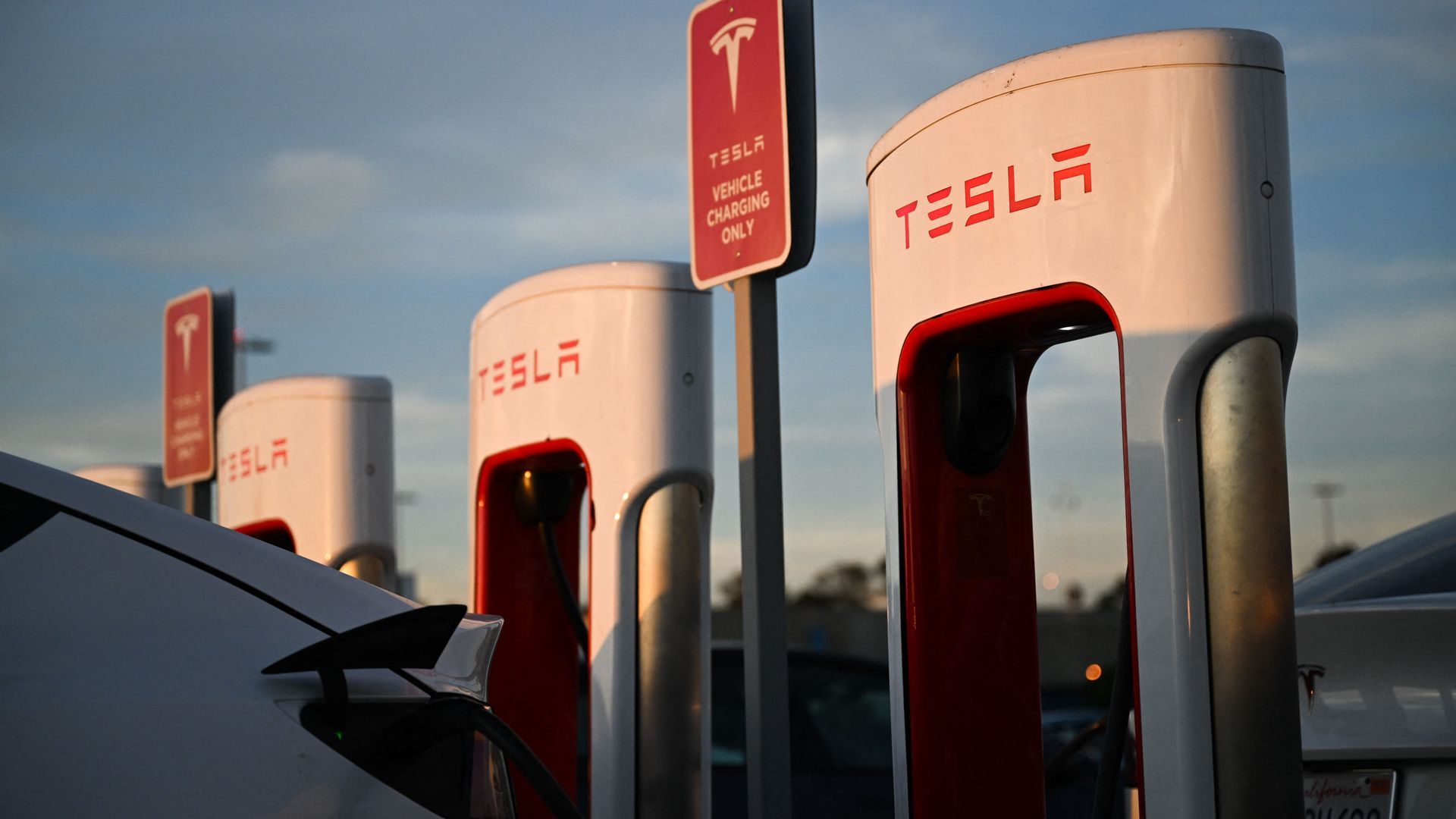 Ford electric vehicle owners will get access to Tesla Superchargers in the U.S. and Canada in a new partnership that appears likely to accelerate adoption of Tesla's preferred charging setup.
Why it matters: Charging access is widely seen as crucial to speeding EV adoption — and Tesla has the largest network of chargers, although until recently it has been open only to Tesla owners.
Tesla's plug is proprietary; other EVs use a different design.
Ford said it favors Tesla's technology and is encouraging other automakers and charging equipment suppliers to adopt it as the new industry standard.
Driving the news: Tesla CEO Elon Musk and Ford CEO Jim Farley made the announcement Thursday in a live Twitter Spaces discussion.
"We think this is a huge move for our industry and for all electric [vehicle] customers," Farley said.
Details: Ford EV owners — including owners of the Mustang Mach-E crossover and the F-150 Lightning pickup — will get access to more than 12,000 Tesla Superchargers in the U.S. and Canada.
Current owners will have to pay for an adapter that Musk said would cost "in the hundreds of dollars range."
Starting in 2025, Ford said it will offer EVs with North American Charging Standard (NACS) connectors that work with Tesla Superchargers, "eliminating the need for an adapter."
Ford said it's also taken steps to allow vehicle owners to pay for Tesla charging through the FordPass and Ford Pro Intelligence apps.
Ford owners will still have access to the BlueOval Charge Network, which has more than 84,000 chargers.
Yes, but: Ford's next-generation EVs — those equipped with the Tesla-style connectors — will then need an adapter to use non-Tesla chargers, a spokesman confirmed.
The big picture: The auto industry is in the midst of a historic shift to electrification, and the standards are still being decided.
The battle over charging connectors resembles the VHS vs. Betamax contest for video technology a generation ago.
Context: The White House announced in February that Tesla had agreed to make part of its extensive charging network available to drivers of other brands, Axios' Ben Geman reported.
Tesla said it would make at least 7,500 chargers nationwide available by the end of next year, per a White House summary.
Worth noting: The vibe on the Twitter Spaces talk was positively chummy as both Musk and Farley made each other laugh and acknowledged each other's accomplishments.
"Looking forward to doing perhaps more in the future," Musk said as the call ended.
Go deeper