The electric car revolution hinges on equitable, affordable charging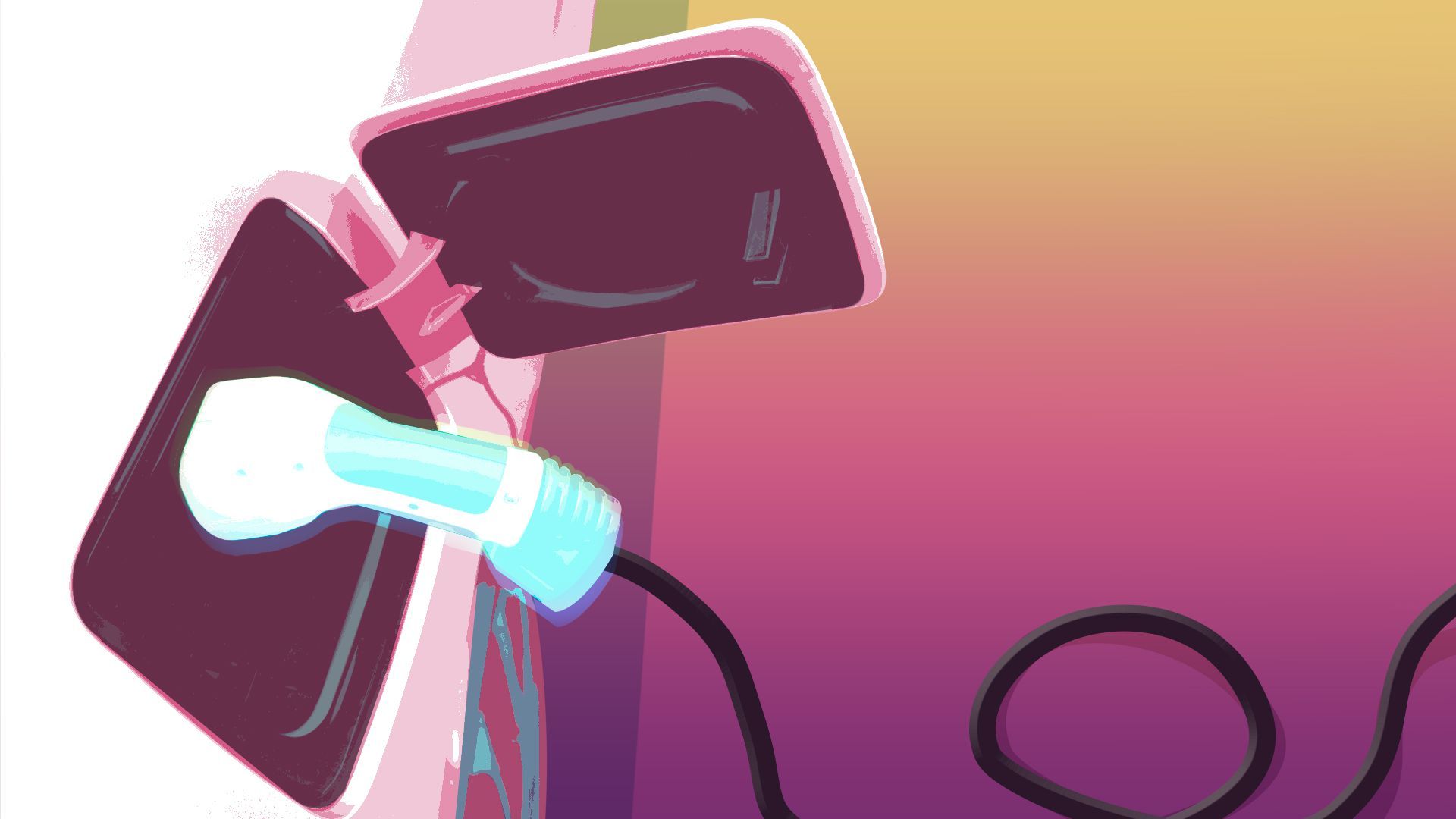 The electric vehicle (EV) movement is growing nationwide, but people who live in apartments, low-income neighborhoods and rural areas without easy charging access could get left behind.
Why it matters: If the benefits of cleaner transportation — better air quality, less noise, lower energy costs — don't flow equitably to all Americans, EV adoption is likely to stall, limiting the country's ability to achieve its climate goals.
In a first of its kind study, University of Michigan researchers found that the lowest-income U.S. households would keep experiencing the highest transportation energy burdens even if all gas-powered cars were replaced with EVs.
"We identified disparities that will require targeted policies to promote energy justice in lower-income communities," lead author Jesse Vega-Perkins said in a release, pointing toward charging subsidies and better public transportation.
Where it stands: With most EVs priced like luxury cars, early adopters have typically been wealthy people who live in single-family homes where it's relatively easy to install a home charger.
When more affordable cars like GM's $30,000 plug-in Chevrolet Equinox hit the market in 2024, access to public charging will become more important — especially for those who don't have a private garage or driveway.
A recent Axios analysis found that public chargers are easier to find in whiter, wealthier neighborhoods.
What's happening: The federal government is aiming to spur more investment in public charging with $7.5 billion allocated over five years under the 2021 infrastructure law.
The package includes $5 billion for highway chargers and $2.5 billion for other community charging sites.
The feds' goal is to install 500,000 EV fast-chargers across America, starting along interstate highways.
Once a reliable nationwide charging network is established — meaning plugs every 50 miles along major highways — states can use leftover funds to install chargers in other places, including disadvantaged neighborhoods, multi-family buildings, and rural or tribal areas.
Between the lines: Equity is supposed to be a focus of the program, even for highway chargers.
An executive order signed by President Biden in 2021 requires that 40% of the overall benefits of federally funded programs go to disadvantaged communities.
Yes, but: That doesn't mean 40% of all charging infrastructure must be installed in disadvantaged communities.
Rather, it means each state must identify, prioritize and measure the total benefits that flow from federally funded EV charging infrastructure, including job growth and more.
What they're saying: "It's good that Uncle Sam is writing big checks to do what the private sector hasn't done on its own," John Gartner, senior director of the Center for Sustainable Energy, tells Axios.
Reality check: Installing more public chargers doesn't fully address inequity issues because it's more expensive to charge at a public station than at home.
Residents of single-family homes have access to low-cost, off-peak rates from their regulated utility. Users of public chargers, however, must pay whatever fee the operator chooses — often double or more the cost of home charging.
The average price of electricity in the U.S. is 16 cents per kilowatt-hour, while public charging rates can be anywhere from 30 cents to 60 cents per kilowatt-hour.
While recharging your EV at home might cost about $10, it's likely to cost $20 or $30 at a public charger, based on typical rates and figures.
What's needed: States should update building codes to provide metered EV charging access for all residents of multi-family homes, advocates say.
"If electricity is more expensive for cars of people living in apartments, they'll be slower to adopt, whether rich or poor," says Marc Geller, co-founder of Plug In America.
"You can't rapidly electrify if everyone doesn't get to participate."
Go deeper