What Ford's backing of Tesla chargers means for the future of EVs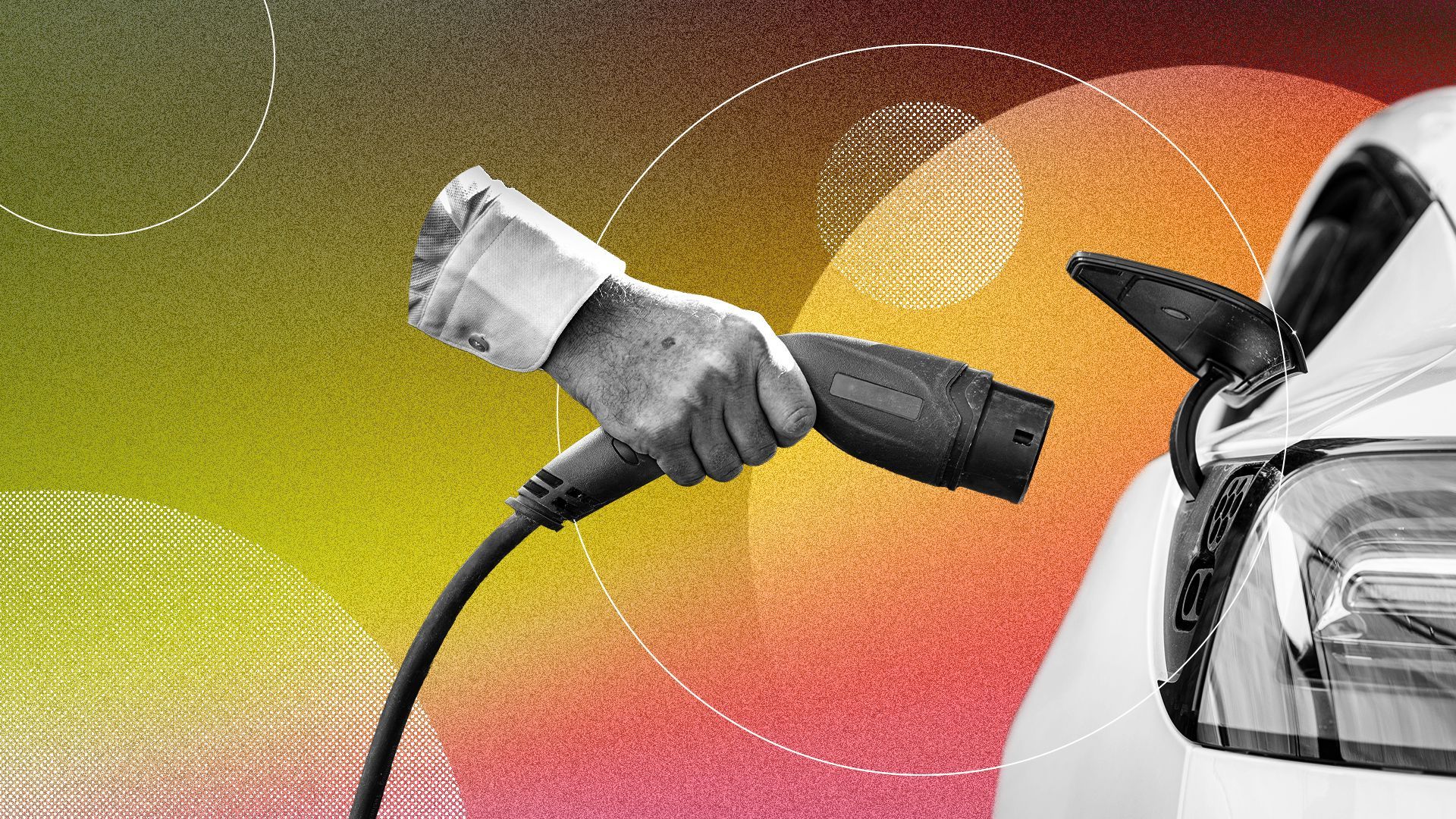 Ford's unexpected embrace of Tesla's charging technology dramatically escalates the battle for the future of electric vehicle (EV) charging — the next great Lightning vs. USB-C or VHS vs. Betamax-style standardization war.
Why it matters: EVs won't go mainstream until refueling them is as simple as filling up a gas-powered car.
As two competing standards — Tesla's favored NACS and CCS, used by most other EV makers — duel it out for supremacy, everyday drivers will be left confused and frustrated.
Catch up quick: Ford and Tesla announced Thursday that Ford EV owners will have access to more than 12,000 Tesla Superchargers in the U.S. and Canada starting early next year.
The partnership is intended to make charging easier for existing Ford EV owners.
But the bigger news is that on future vehicles, Ford is pivoting away from the widely used CCS and will instead adopt Tesla's charging system, which until recently had been proprietary.
What they're saying: "This completely throws a stick into the spokes of standardization," said Chargeway CEO Matt Teske, whose company aims to simplify the charging experience for consumers.
"But from an EV owner's experience, this decision validates that Tesla's technical approach and design approach and ecosystem is actually better for drivers."
Tesla's cables and connectors are smaller, lighter and easier to manage than the bulky CCS cables.
Plus, its Supercharger network is larger and widely regarded as more reliable than competing CCS networks, such as Electrify America, EVgo and others.
The big picture: Everyone wants a universal charging experience, no matter whose charger they plug into.
The industry currently has that with CCS, which stands for "Combined Charging System." It was developed by engineering standards organization SAE and introduced in 2012.
The exception was Tesla, which instead rolled out a proprietary network using a different connector.
In November 2022, Tesla opened its EV connector design to other automakers, and gave it a new name — NACS, for North American Charging Standard (albeit "standard" in name only).
Only one niche player, solar car company Aptera Motors, had adopted Tesla's charging system before Ford's announcement.
Be smart: One reason Tesla opened up its network to other brands is to qualify for a share of the $5 billion the U.S. government is doling out to build a national charging network.
Tesla agreed in February to open a portion of its Supercharger network to other EV brands by the end of 2024, but progress has been slow.
Ford owners will get access to more Tesla chargers by early next year, and will be able to use their Ford app, rather than Tesla's, to manage their charging sessions.
Yes, but: Tesla owners aren't happy that they'll now have to jockey with non-Tesla EVs at already crowded Superchargers.
What to watch: Whether other carmakers and charging companies shift toward Tesla's technology.
So far, no one else is jumping on the Tesla train.
"GM believes that open charging networks and standards are the best way forward to enable EV adoption across the industry," a General Motors spokesperson said.
"EVgo remains committed to electric vehicles for all, and serving all sorts of fast-charging cars on our network — Fords, Teslas and more — and we're looking forward to hearing more about this partnership," EVgo chief commercial officer Jonathan Levy tells Axios.
The intrigue: Even Ford is being cagey about its future vehicles, saying "there will be a transition period" as it moves toward the Tesla standard.
"We're engineering for NACS starting in '25," spokesperson Emma Bergg tweeted. "Having both inlet ports is an option for us — but nothing more to share right now. More to come!"
Future vehicles might include an adapter that can be used on CCS chargers.
Ford CEO Jim Farley summed it up in a live Twitter Spaces discussion with Tesla CEO Elon Musk Thursday: "We're going into the second inning of a nine-inning game. It's not either-or. We need physical outlets."
The bottom line: It's a reminder that we're still in the early days of the EV movement, and that industry standards could evolve.
Go deeper