Axios Communicators
September 07, 2023
🍂 Welcome back!
🗓 Mark your calendar: Axios will kick off Hispanic Heritage Month in Los Angeles on Sept. 14 with its second annual Visionarios event, featuring LA Mayor Karen Bass, Mexico Women's National Flag Football Team captain Diana Flores, and showrunner, writer, producer and actor Gloria Calderón Kellett. Register to livestream the event here.
And speaking of events ... I often get asked which events to attend and how to make them worthwhile. We explore that below.
Today's newsletter is 1,621 words, a 6-minute read.
1 big thing: Evaluating events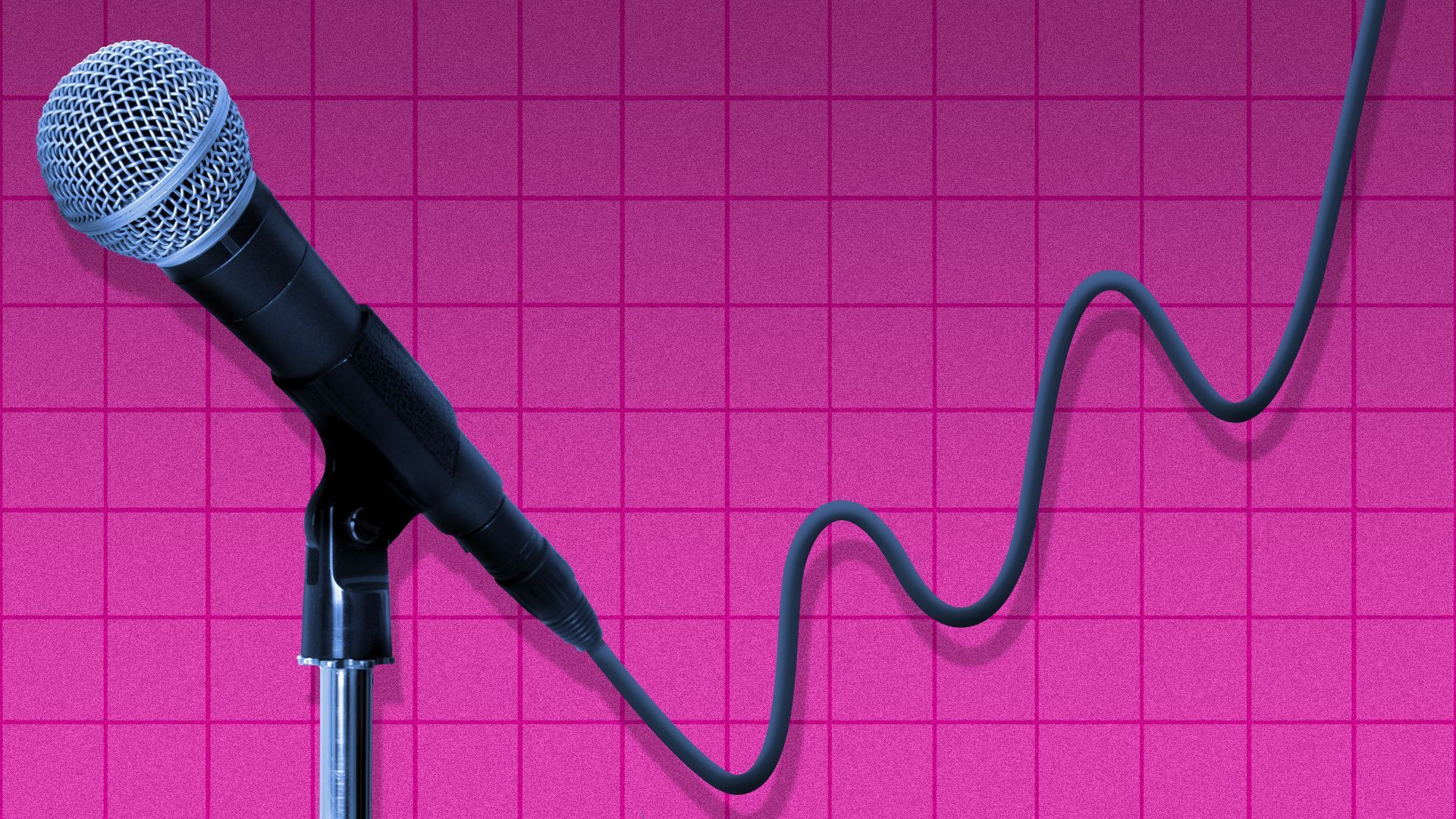 In-person gatherings are back in full force following years of scarcely filled conference center ballrooms and virtual appearances.
Why it matters: There are more event opportunities than ever before, but time is limited and budgets are tight, making it critical for communications to teams identify and book the most worthwhile opportunities.
Zoom in: Big-name executives typically plan their news-making around global tentpole events — think the World Economic Forum at Davos, COP, Cannes Lions, Web Summit and SXSW.
Yes, but: It doesn't have to be a main-stage global summit to be worthwhile.
There's interest in smaller, more curated formats like membership retreats, salon dinners, roundtables or programmed receptions that target very specific, high-level attendees and encourage more engagement and networking opportunities.
Between the lines: Regardless of the format, there is real power in being the entity or organization that convenes the right people in the right place. Random bump-ins in the hallways or waiting in line at the bar can forge relationships that can change the course of someone's career or business.
"Speakers are a huge part of any event, but networking is a massive part of why people attend events like Web Summit and SXSW. The goal for us is to engineer serendipity as much as we can," Todd Hansen, executive producer of Web Summit and former head of conference programming and strategy for SXSW, told Axios.
"The time people are at our event is finite, so the job is to create as much value there as possible. It's the stories from events that people bring back to their jobs or communities that end up creating a flywheel effect, and that organic word of mouth [can] strengthen both the brand and the event at its core."
By the numbers: More people are seeking out these opportunities than in years prior. According to a recent report from event management software company CVENT, nine in 10 event planners are optimistic about the state of in-person gatherings.
72% will hold more in-person meetings in 2023 than in 2022, and roughly half are willing to increase their budget by up to 20% to book a preferred hotel or venue to create a more curated experience.
Half of planners also say that attendee engagement is one of the three most important gauges for success.
Zoom in: Topics like diversity, wellness and sustainability will be key priorities for event planners in 2023 and 2024, per the report.
"I've always found that anything related to brand marketing or advertising content is always a draw. AI is also currently a big pull and genuine conversation around sustainability or the environment does well too. ... Being as culturally timely as possible should always be the goal," says Hansen.
What they're saying: "Yes, [events] present an opportunity for executives to share a corporate narrative or any critical messaging, but there's also a benefit in showing that a CEO is accessible, relatable and capable of answering questions in a live setting," Leigh Gallagher, senior managing director at Teneo, told Axios.
"Audiences want to witness authentic moments, so it can be an effective way for leaders to raise their profile by being seen, heard and getting their message across in what is often perceived as a more off-the-cuff way."
The bottom line: There are plenty of opportunities for thought leading, but knowing which events to build, sponsor or participate in is the hard part.
Case in point ... 👇🏻
2. When to book an appearance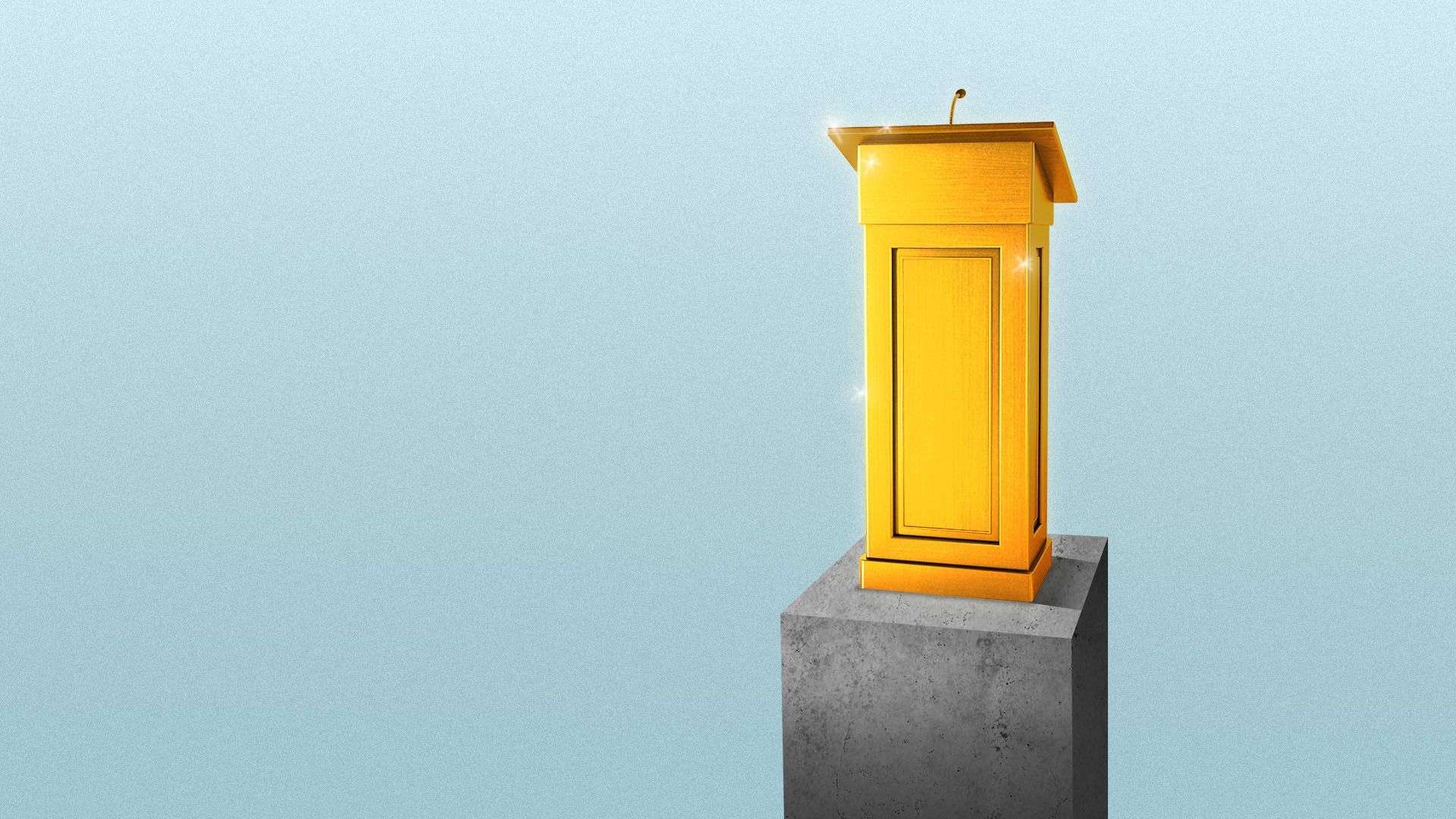 Executive communications experts Axios spoke with shared these helpful reminders and tips for sharpening your strategy.
Who: Determine the target audience for what you're hoping to accomplish — whether it's generating news, reaching investors, networking or professional development — and find the audience's conference ballroom of choice.
What: Understand — or negotiate — the parameters and topics.

Who are you sharing the stage with? Is it a pay-to-play opportunity? And is it closed-door, open to the public, livestreamed and on the record?
Bonus: Identify break-out opportunities or side tracks that allow for executives or spokespeople beyond the C-suite. If your CEO is speaking on the main stage, is there an opportunity for those staffing or attending the event to also shine?

Why: Establish expectations for every speaking engagement, conference or event before making a commitment.

Maybe it's nailing a key message on stage (that you can then amplify across other channels), meeting a specific person in attendance, creating brand awareness in the exhibition hall or simply learning something new that you can take back to your team.

Where: Make sure the opportunity allows for other in-person business meetings, reporter one-on-ones and community engagements.
3. Chart: Tracking in-person attendance
According to check-in data from CVENT, spring in-person attendance was 34% higher than last year and 23% higher than 2019 pre-pandemic levels.
What's next: The summer lull mirrors that of years past, but expect a huge spike in event attendance this fall.
❓ What events or summits are you planning to attend this year? And where should Axios Communicators have a presence? Let me know.
4. New report: Employee happiness at three-year low
Employees are more unhappy now than they were during the height of the COVID-19 pandemic, according to a new report from human resources cloud platform BambooHR.
Why it matters: Disengaged employees can be costly, and openly unhappy or disloyal employees can directly impact company morale by creating a toxic workplace.
State of play: BambooHR gathered data from 57,000 unique employees across 1,600 companies between January 2020 and June 2023 and found that employee satisfaction has fallen significantly since 2020.
Employee sentiment has declined at a rate 10 times faster than the previous three years.
Zoom in: Health care employees are the most unhappy, having seen positive sentiment drop by 32% from June 2020 to June 2023, followed by the education sector, which saw happiness ratings fall two times faster than in the previous two years.
Those in tech and finance also reported declining scores.
Yes, but: Those in construction are the happiest due to a rise in wages and job opportunities.
What they're saying: Macro stressors trickle down and affect how people feel at work, Anita Grantham, head of human resources at BambooHR, told Axios.
"There's a general sense of uneasiness — whether it's the rate of inflation, rounds of layoffs, uncertainty with return to office, hybrid or remote work policies and the isolation that comes with it, plus the most recent wave of COVID, a lot is happening right now to make [employees] feel gloomy."
Between the lines: Lack of connection could also be to blame.
Remote, in-person and hybrid employees feel disconnected from their workplaces' "mission and purpose," according to a new Gallup survey.
Employees aren't experiencing highs or lows — instead, they are expressing a sense of resignation or even apathy, according to BambooHR.
Go deeper ... Read the entire report
5. Communicator Spotlight: Erin Pelton, Shopify's head of communications and public affairs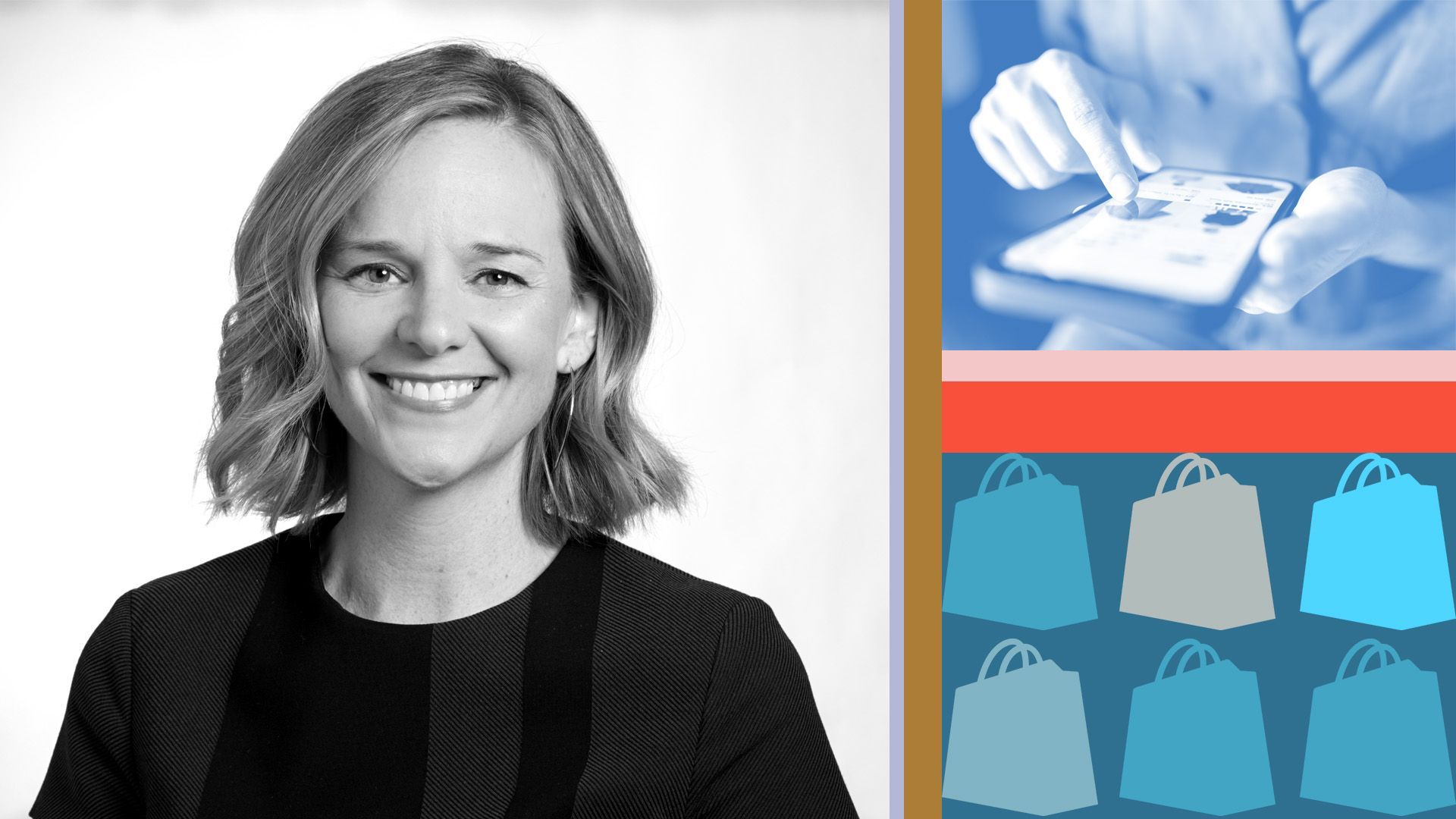 This week we spotlight a communicator who is leading the charge on workplace productivity, while also supporting a platform that allows global businesses to thrive online. Meet Erin Pelton of Shopify.
Erin Pelton leads communications and public affairs for global commerce platform Shopify, which connects millions of independent retailers to consumers worldwide.
Why it matters: Shopify's platform is transforming the way we exchange goods and services, while the company's internal policies are pushing the boundaries of work-life balance and productivity — and Pelton is responsible for sharing both stories.
📍How she got here: She spent the first 10 years of her career as a U.S. foreign service officer, serving overseas and at the U.S. State Department, National Security Council and the U.S. Mission to the United Nations.
She then went into public affairs consulting and, in 2021, Pelton joined the Biden administration as chief of staff at the White House Domestic Policy Council under Susan Rice.
🗣 What she's saying: "In the foreign service, you're constantly getting reassigned to new countries and you have to get smart really quickly about a new place and its context," Pelton tells Axios. "In consulting, you are dropped into a problem set and you have figure out where the pain points are, who are the key audience is and craft a strategy."
"I'm really mission-driven, and I struggled to find a company that I connected to and also provided the perfect amount of intensity. Shopify just gave me that in spades. The whole reason for its existence is to help entrepreneurs start and scale their businesses — and that's a very easy thing to get behind."
🏗 How it's structured: She reports to Shopify's general counsel and oversees a team of 50 responsible for internal communications, external communications and public affairs and policy.
📝 What she's working on: Pelton's team introduced Shopify's first-ever Entrepreneurship Index to provide a glimpse of the businesses that are popping up across the globe.
"We wanted to take all of the rich insights that we have about entrepreneurship and the impact that these people are having on their communities and in their countries, and put a story behind it."
📈 Surprising stat: Entrepreneurship in Eastern Europe is on the rise — Lithuania and Romania rank second and third behind the U.S.
🤖 Trend spot: How AI can support her team's work.
"We're all about innovation at Shopify, so leveraging technology to make ourselves more efficient is definitely of interest."
🔍 Who she's watching: Oatly.
"They're taking some risks, which we also endeavor to do on our team. It's been pretty smart, creative and interesting to watch. ... I like their ethos of doing things differently."
Go deeper ... Read her entire Spotlight.
1 important stat to go
Top executives think they are better communicators than they actually are, according to a new GE and Ipsos poll.
Zoom in: Asked whether executives effectively communicate the company's values, 85% of top leaders said yes — but only 62% of junior employees agreed.
🤓 Thanks for reading! And thanks to editors Nicholas Johnston and Cindy Orosco-Wright for their work on the newsletter.
Tell your communication pals to subscribe.