Goodbye Zoom: In-person events are back (and different) after pandemic lull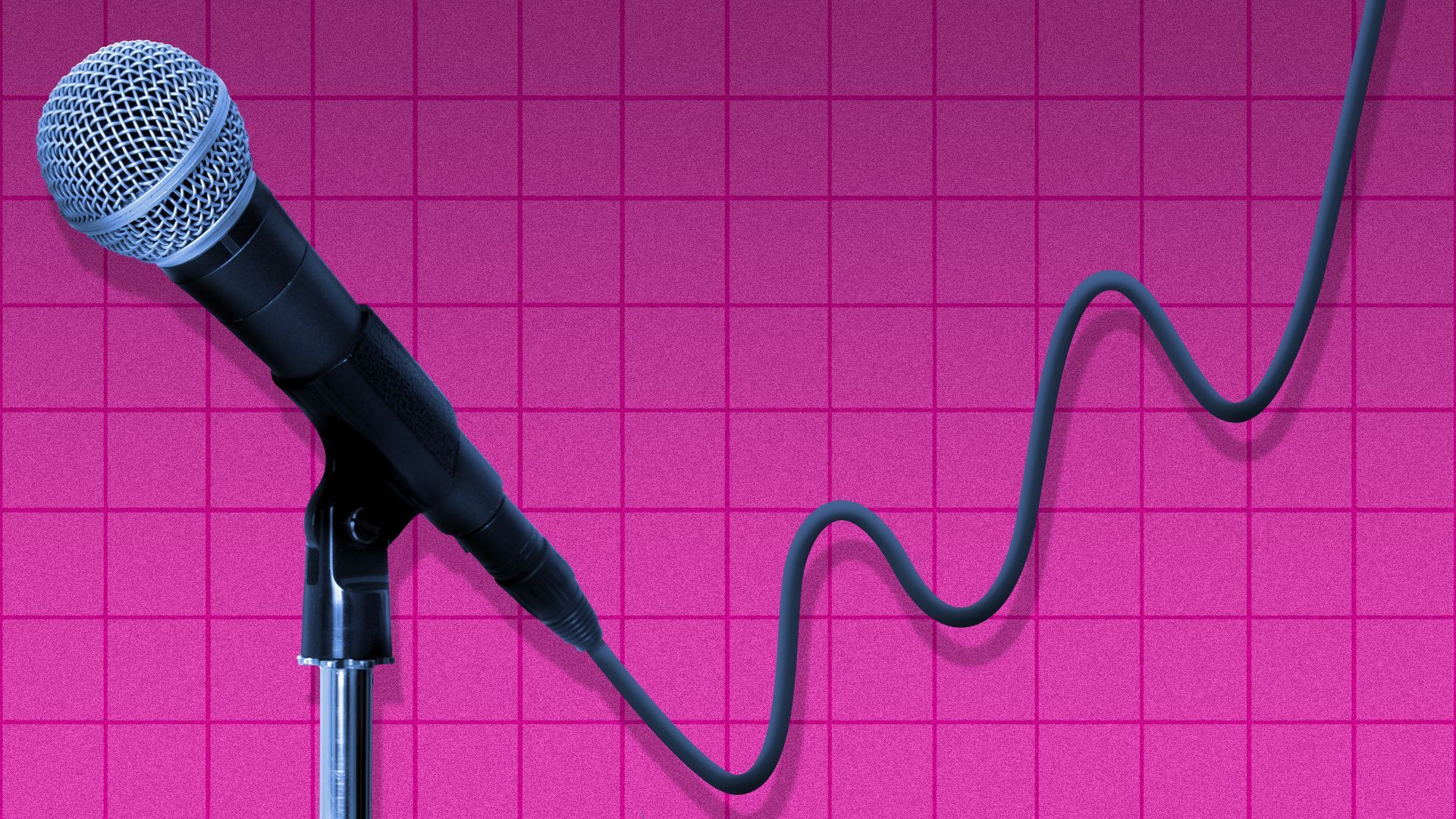 In-person gatherings are back in full force following years of scarcely filled conference center ballrooms and virtual appearances.
Why it matters: There are more event opportunities than ever before, but time is limited and budgets are tight, making it critical for communications teams to identify and book the most worthwhile opportunities.
Zoom in: Big-name executives typically plan their news-making around global tentpole events — think the World Economic Forum at Davos, COP, Cannes Lions, Web Summit and SXSW.
Yes, but: It doesn't have to be a main-stage global summit to be worthwhile.
There's interest in smaller, more curated formats like membership retreats, salon dinners, roundtables or programmed receptions that target very specific, high-level attendees and encourage more engagement and networking opportunities.
Between the lines: Regardless of the format, there is real power in being the entity or organization that convenes the right people in the right place. Random bump-ins in the hallways or waiting in line at the bar can forge relationships that can change the course of someone's career or business.
"Speakers are a huge part of any event, but networking is a massive part of why people attend events like Web Summit and SXSW. The goal for us is to engineer serendipity as much as we can," Todd Hansen, executive producer of Web Summit and former head of conference programming and strategy for SXSW, told Axios.
"The time people are at our event is finite, so the job is to create as much value there as possible. It's the stories from events that people bring back to their jobs or communities that end up creating a flywheel effect, and that organic word of mouth [can] strengthen both the brand and the event at its core."
By the numbers: More people are seeking out these opportunities than in years prior. According to a recent report from event management software company CVENT, nine in 10 event planners are optimistic about the state of in-person gatherings.
According to CVENT check-in data, spring in-person attendance was 34% higher than last year and 23% higher than 2019 pre-pandemic levels.
72% will hold more in-person meetings in 2023 than in 2022 and roughly half are willing to increase their budget by up to 20% to book a preferred hotel or venue to create a more curated experience.
Half of planners also say that attendee engagement is one of the three most important gauges for success.
Zoom in: Topics like diversity, wellness and sustainability will be key priorities for event planners in 2023 and 2024, per the report.
"I've always found that anything related to brand marketing or advertising content is always a draw. AI is also currently a big pull and genuine conversation around sustainability or the environment does well too. ... Being as culturally timely as possible should always be the goal," says Hansen.
Zoom out: There are plenty of opportunities for thought leading, but knowing which events to build, sponsor or participate in is the hard part.
Considerations include:
Who: Determine the target audience for what you're hoping to accomplish — whether it's generating news, reaching investors, networking or professional development — and find the audience's conference ballroom of choice.
What: Understand — or negotiate — the parameters and topics.

Who are you sharing the stage with? Is it a pay-to-play opportunity? And is it closed-door, open to the public, livestreamed and on the record?
Bonus: Identify break-out opportunities or side tracks that allow for executives or spokespeople beyond the C-suite. If your CEO is speaking on the main stage, is there an opportunity for those staffing or attending the event to also shine?

Why: Establish expectations for every speaking engagement, conference or event before making a commitment.

Maybe it's nailing a key message on stage (that you can then amplify across other channels), meeting a specific person in attendance, creating brand awareness in the exhibition hall or simply learning something new that you can take back to your team.

Where: Make sure the opportunity allows for other in-person business meetings, reporter one-on-ones and community engagements.
The bottom line: "Yes, [events] present an opportunity for executives to share a corporate narrative or any critical messaging, but there's also a benefit in showing that a CEO is accessible, relatable and capable of answering questions in a live setting," Leigh Gallagher, senior managing director at Teneo, told Axios.
"Audiences want to witness authentic moments, so it can be an effective way for leaders to raise their profile by being seen, heard and getting their message across in what is often perceived as a more off-the-cuff way."
Go deeper