The glaring cost of meetings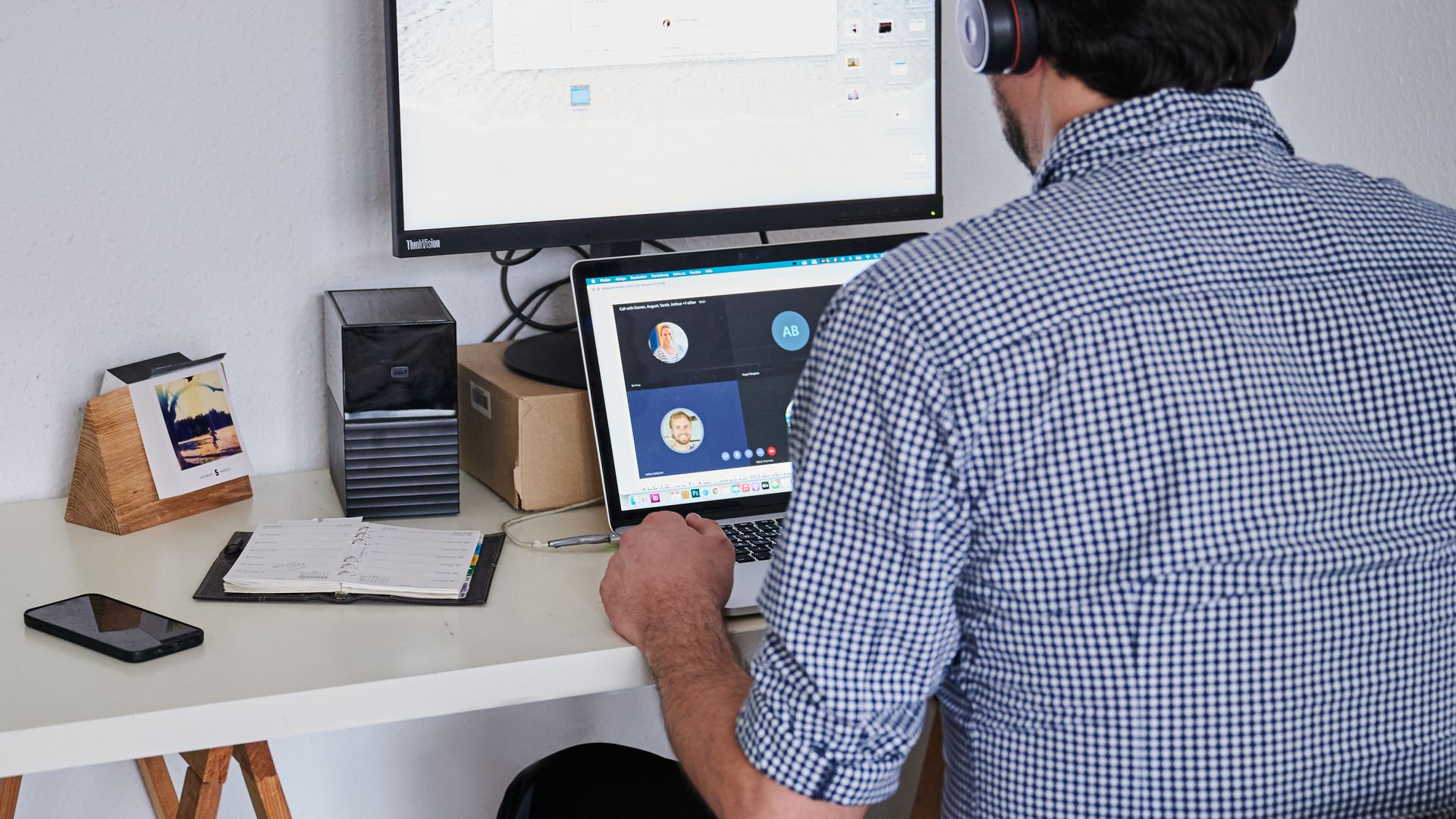 Endless meetings aren't just crushing productivity — they're also costing companies thousands of dollars.
Driving the news: One employer's new calendar tool, which calculates for staff how much each meeting costs, is the latest move among businesses to slash waste in the era of remote work — and keep employees happy.
"If you turn my day into Swiss cheese, where I can't find a two hour block to do heads-down work, then all of my core work, my job, gets shoved into the evenings, after the kids are in bed and after dinner," Brian Elliott, an executive advisor on the future of work, told Axios.
"I'm probably already burnt out from the day of meetings and interruptions that I've had and probably not at my best," he added.
What's happening: Canadian e-commerce giant Shopify rolled out a meeting cost calculator Wednesday to its more than 10,000 employees, a Shopify spokesperson told Axios.
Embedded in workers' calendars, the tool estimates the cost of meetings based off "average compensation by discipline and subdiscipline, along with attendee count, and meeting length," the spokesperson said.
By that token, the average Shopify meeting, consisting of three people and lasting 30 minutes, costs somewhere between $700-$1,600 USD.
Taking three meetings off each person's weekly calendar would reduce company costs by 15%, the Shopify spokesperson added.
Meanwhile, Shopify and other companies, such as Facebook parent company Meta, have also instituted meeting-free days.
Zoom out: Employees at many companies report they get bogged down in meetings and don't have enough uninterrupted time to focus on their work.
U.S. companies spend tens of billions of dollars each year on company-wide gatherings, and if done incorrectly these meetings can be a huge waste of time and resources, Axios' Eleanor Hawkins writes.
Unnecessary meetings can eat up to $100 million per year for large companies, according to a UNC-Otter.ai survey published last year.
"The Meeting Cost Calculator is here to challenge the status quo, nudging us to reconsider meeting necessity and explore more creative collaboration methods," the Shopify spokesperson said.
Worth noting: Shopify took aggressive steps in January to cut back on meetings after seeing an explosive growth over the past few years.
"Since our move in January to cancel recurring meetings en masse and try and eliminate meetings on Wednesdays, we have seen meeting creep seep back in and we needed to take immediate action," the spokesperson said.
The big picture: Elliott, the workplace consultant, said schedule flexibility — more than location flexibility — has a huge impact on worker productivity.
More focus time allows them to "do higher quality and better work" and affects "intent to stay, employee engagement, employee activation around the organization," he said.
Yes, but: One risk with a tool like the calculator is that it can be overused to cut out too many meetings, Elliott warned.
"Time together with people, whether it's virtually or in person, actually is really important from a relationship-building perspective and development-of-people perspective, as well as the decision making and debate perspective," Elliott said.
The bottom line: While the cost calculator is an effective tool for reigning in meetings, it's "certainly not the only one," Elliott said, with consistent enforcement and good management from leaders also being crucial.
Go deeper