Axios China
August 29, 2023
Welcome back to Axios China. Today we're looking at the end of China's reform era, Commerce Secretary Gina Raimondo's visit to Beijing, a new book on China-Africa ties, and lots more.
Today's newsletter is 1,488 words, a 5.5-minute read.
1 big thing: China's post-reform era has arrived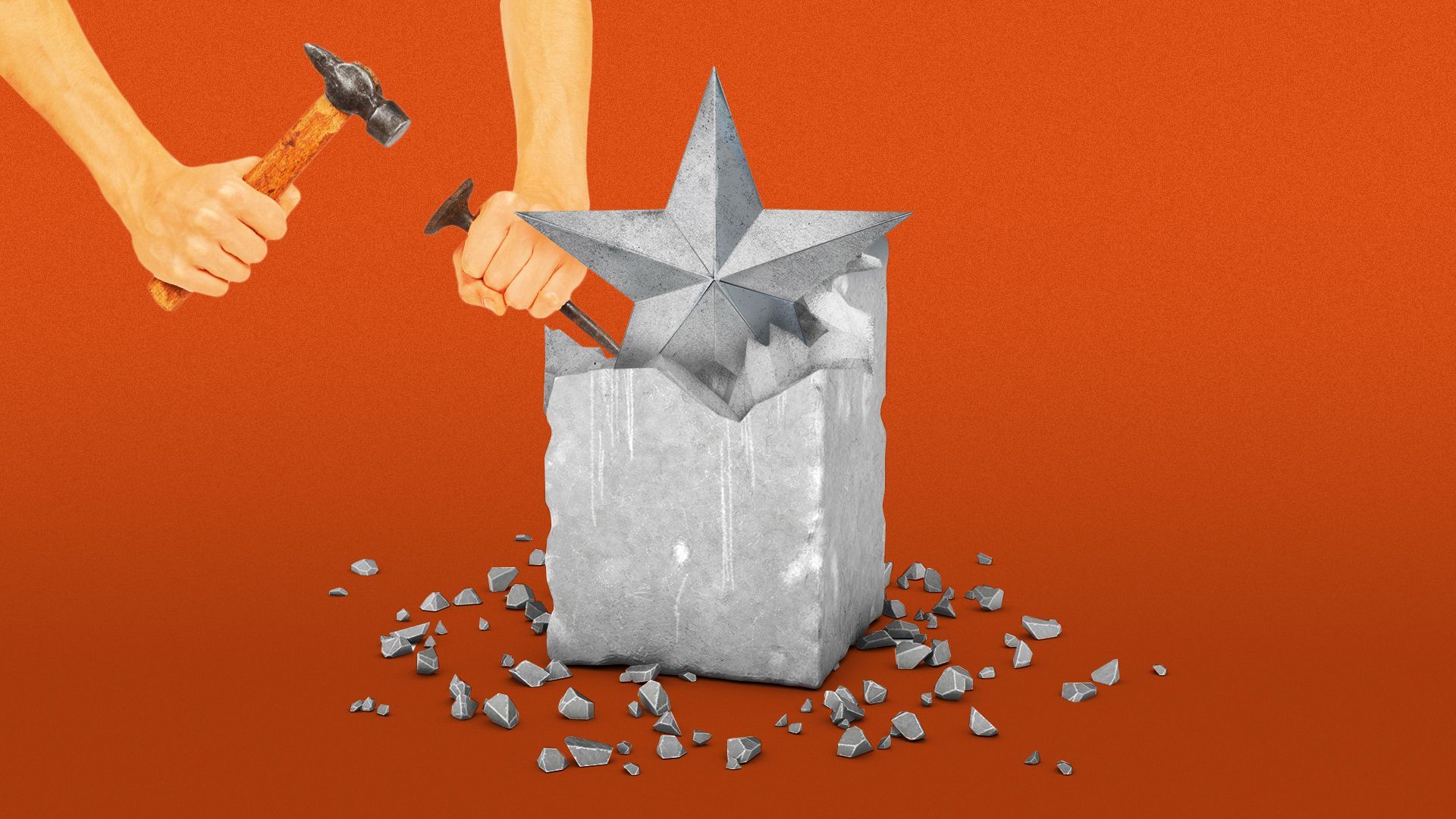 The period of economic and political opening that transformed China over the past 50 years is now over, a growing number of experts say. What the next 50 years will look like isn't yet clear.
Why it matters: Instead of reforming China to fit Western-led global institutions, Chinese leaders now aim to reshape the world in Beijing's image, forcing the U.S. and other countries to scramble to reassert influence.
China's slowing economic growth may complicate Beijing's goal in the next few years.
But it's far too early to say for certain that China's economy will enter a period of long-term stagnation — or that Beijing's political hardening will inevitably result in a weakening of the country's comprehensive power.
What's happening: China's reform era was "characterized by political stability, ideological openness, and rapid economic growth," Carl Minzner, an expert on Chinese law and governance at Fordham University, has written.
All three of those pillars have now been dismantled.
The Chinese Communist Party has reasserted substantial control over the economy, Xi has made hardline ideology a key driver of party policies, and the country's leaders have made it harder for Chinese people to engage freely with the rest of the world, especially the West.
Meanwhile, Xi has consolidated his personal power by abolishing term limits and putting loyalists in top positions.
What they're saying: "I tell the stream of visitors returning to China after the end of zero-COVID that we've entered a new era — the post reform era," Dake Kang, a Beijing-based correspondent for the Associated Press, posted on social media platform X last week.
Even after the extremely strict pandemic-era controls were lifted this year, "Beijing has clung to a strategy of accelerating government intervention in Chinese life," Ian Johnson, a China expert at the Council on Foreign Relations, wrote for Foreign Affairs last week.
China's model of economic growth powered by manufacturing and infrastructure projects has run out of steam, and ideological crackdowns have crushed civil society, targeted foreign businesses and scared off investors.
Those trends have led to comparisons between Xi's current policies and those that led to the eventual collapse of the Soviet bloc.
Yes, but: These challenges don't necessarily mean China has entered a period of decline.
China's economy, though growing at a less-rapid rate, remains massive and is still deeply intertwined with the global economy.
Western analysts have consistently underestimated the ability of Beijing's economic interventions — such as subsidies, state-directed investments and other non-market incentives— to boost new industries and power innovation. China's now-successful electric vehicle sector, initially heavily subsidized, is but one example.
What to watch: Xi's restructuring of China's economy toward high-tech industries could eventually pull the economy out of the doldrums.
The move is a test of the resilience of China's hybrid state-capitalist economy that, if successful, could further bolster Beijing's position that its political-economic model is a viable alternative to liberal democratic capitalism.
Or, the doomsayers may be correct, and China's economy, its standing in the world, and the relative appeal of its model may be headed for a long, slow decline.
2. Gina Raimondo's delicate dance in Beijing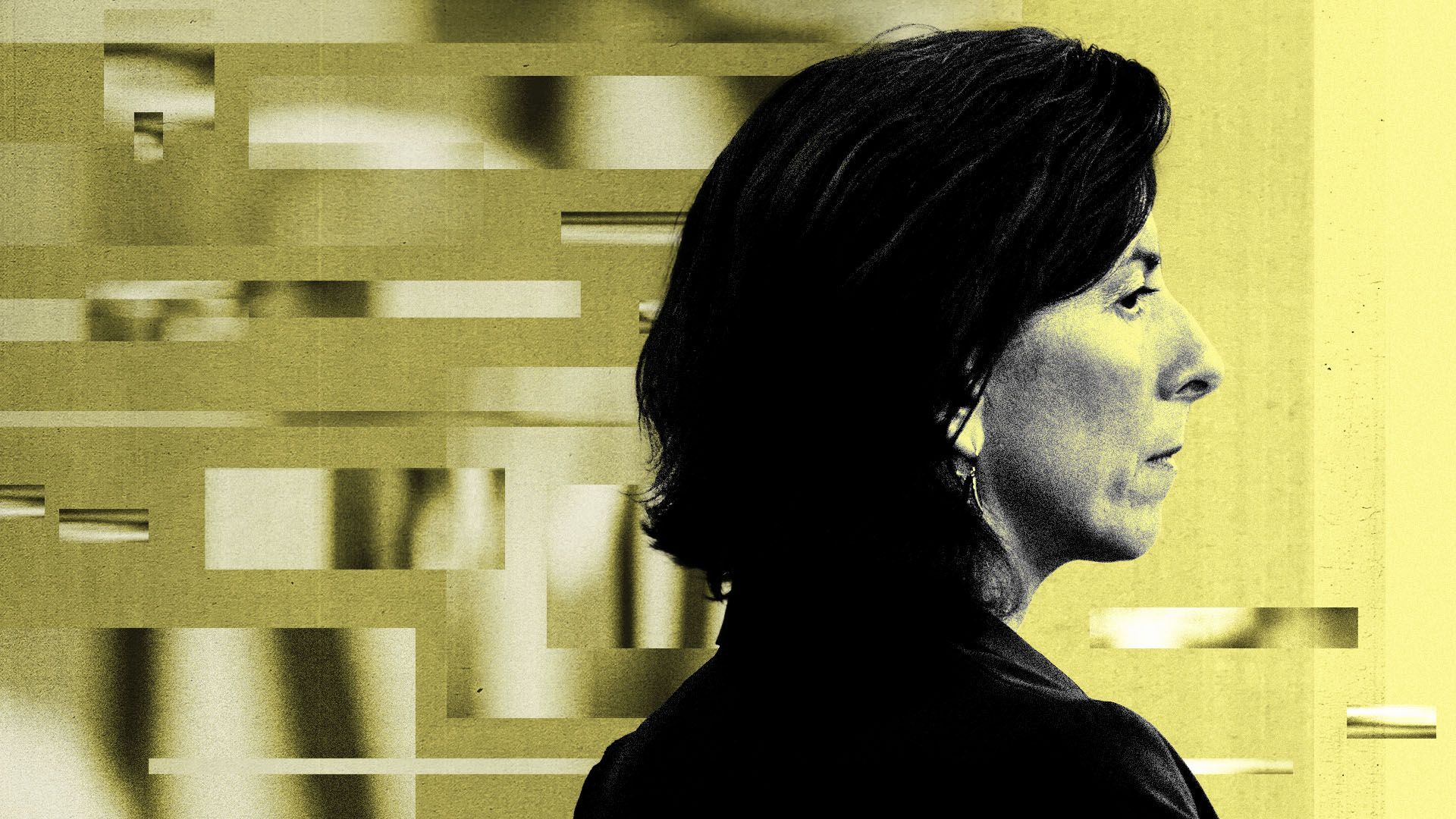 Gina Raimondo spent more than a decade in venture capital, before becoming Rhode Island's governor and then U.S. Commerce Secretary.
This week she's in China, in part defending the Biden administration's ban on U.S. venture capital investment in certain Chinese tech sectors, Axios' Dan Primack writes.
Why it matters: Raimondo must do a delicate dance in Beijing — maintaining hawkishness without clawing into a still-vital trade relationship.
For all the new policies and talk about China being an "enemy" and "threat," the reality is that our two economies haven't decoupled.
For example, trade between the two countries hit an all-time high last year.
That means China's economic slowdown could create at least short-term pain for many U.S. companies, both publicly traded and privately held, even if a weaker Chinese economy eventually strengthens America's global competitiveness.
The big picture: Raimondo is the fourth Biden Cabinet official to visit China in recent months, although there hasn't been reciprocation in terms of top Chinese officials visiting D.C.
Behind the scenes: There's no indication that Raimondo has authority to negotiate on the outbound investment rule, nor on recent chip export controls, saying at the start of her visit: "In matters of national security, there is no room to compromise."
But Raimondo and her Chinese counterpart did agree to an "information exchange" and to set up a "working group" on trade and investment that would include private sector representation.
One issue that hasn't come up is TikTok, according to The Information's Jessica Lessin.
The bottom line: Many of Raimondo's former VC colleagues may be ramping down their activities in China, but her job only looks to get busier.
3. Catch up quick
1. Anti-Japanese sentiment in China is rising after Japan started releasing slightly radioactive water from a nuclear power plant into the Pacific Ocean, the Wall Street Journal reports.
Japanese authorities say the water is safe, but China has now banned seafood from Japan.
2. Shares of heavily indebted Chinese property developer Evergrande fell almost 90% on the first day its shares were traded in more than a year, the Financial Times reports.
The company defaulted in 2021 and filed for bankruptcy protection in the U.S. in July.
3. The U.S. is seeking a six-month extension to a long-standing science and technology agreement with China amid concerns Beijing is benefiting from U.S. scientific advances and gaining a competitive edge. Go deeper.
The U.S.-China Science and Technology Agreement was first signed in 1979. It was going to expire on Aug. 27.
4. The Central American Parliament last week expelled Taiwan, which has held permanent observer status since 1999, and added China as a permanent observer, Reuters reports.
Guatamala is the only one of the parliament's six member states that still has official diplomatic ties with Taiwan.
4. Book: China-Africa party ties create Beijing-centric world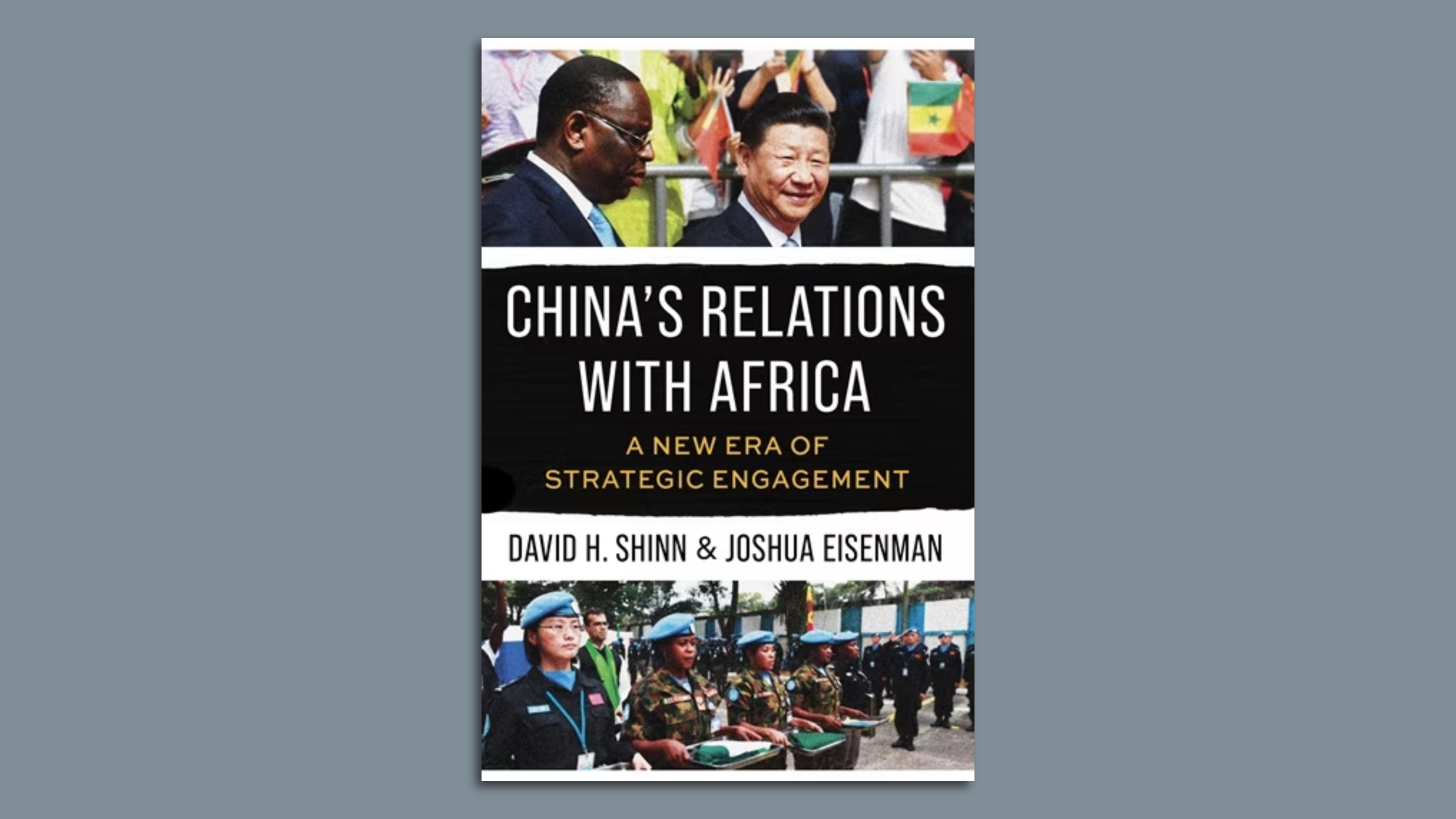 The Chinese Communist Party's relationships with dozens of African political parties are part of Beijing's sweeping push for influence on the continent, according to a new book.
Why it matters: By cultivating African elites, the CCP aims to legitimize its political model and compete with Western values abroad.
In "China's Relations with Africa: A New Era of Strategic Engagement" (Columbia University Press), former U.S. ambassador to several African countries David Shinn and University of Notre Dame political scientist Joshua Eisenman detail Beijing's economic, military, diplomatic, political and ideological outreach to African nations.
Details: The book includes groundbreaking research on the CCP's International Department (IDCPC), which manages the party's relations with foreign political parties.
The authors compiled an original database of interactions between the IDCPC and African political parties, documenting 881 exchanges and other events with the IDCPC and at least 130 African parties between 2002 and 2022.
The "ideological glue" that binds the CCP and many African parties isn't communism but rather a shared opposition to western dominance, Shinn and Eisenman write.
What they're saying: The CCP's goal, the authors write, is to build "interpersonal relationships with politically powerful and dependable Africans whom it calls on to validate the superiority of China's political system, adopt methods of governance similar to the CPC, support Beijing's territorial claims, help advance Chinese interests in their country, and oppose U.S. 'hegemony.'"
What to watch: Familiarity with Beijing's model "will have a profound psychological and political impact over the choices and preferences of African political parties, and thus over the African political landscape," the authors write.
Go deeper: In Tanzania, Beijing is running a training school for authoritarianism
5. What I'm reading
Keyboard warriors: China behind 'largest ever' digital influence operation (Politico)
"People with ties to China's law enforcement agencies conducted the largest known covert digital influence operation aimed at discrediting the West and promoting Beijing's agenda across more than 50 social media and online platforms, according to a report published Tuesday by Meta."
"The breadth of the international influence campaign by those associated with the Chinese government highlights how Beijing is vying for prominence alongside Moscow as the most active spreader of disinformation ahead of major elections in the European Union, U.S. and the United Kingdom next year."
Honey trap: Chinese sextortion scammers are flooding Twitter (Rest of World)
"Chinese sextortion scammer accounts have flooded X (previously Twitter) since April after the platform introduced a new blue-check policy allowing users to buy verified badges."
"Scammers target the Chinese community's most prominent voices, alienating many users who had turned to the platform as a crucial news source outside the Great Firewall."
6. 1 thing to watch: IPAC's Prague summit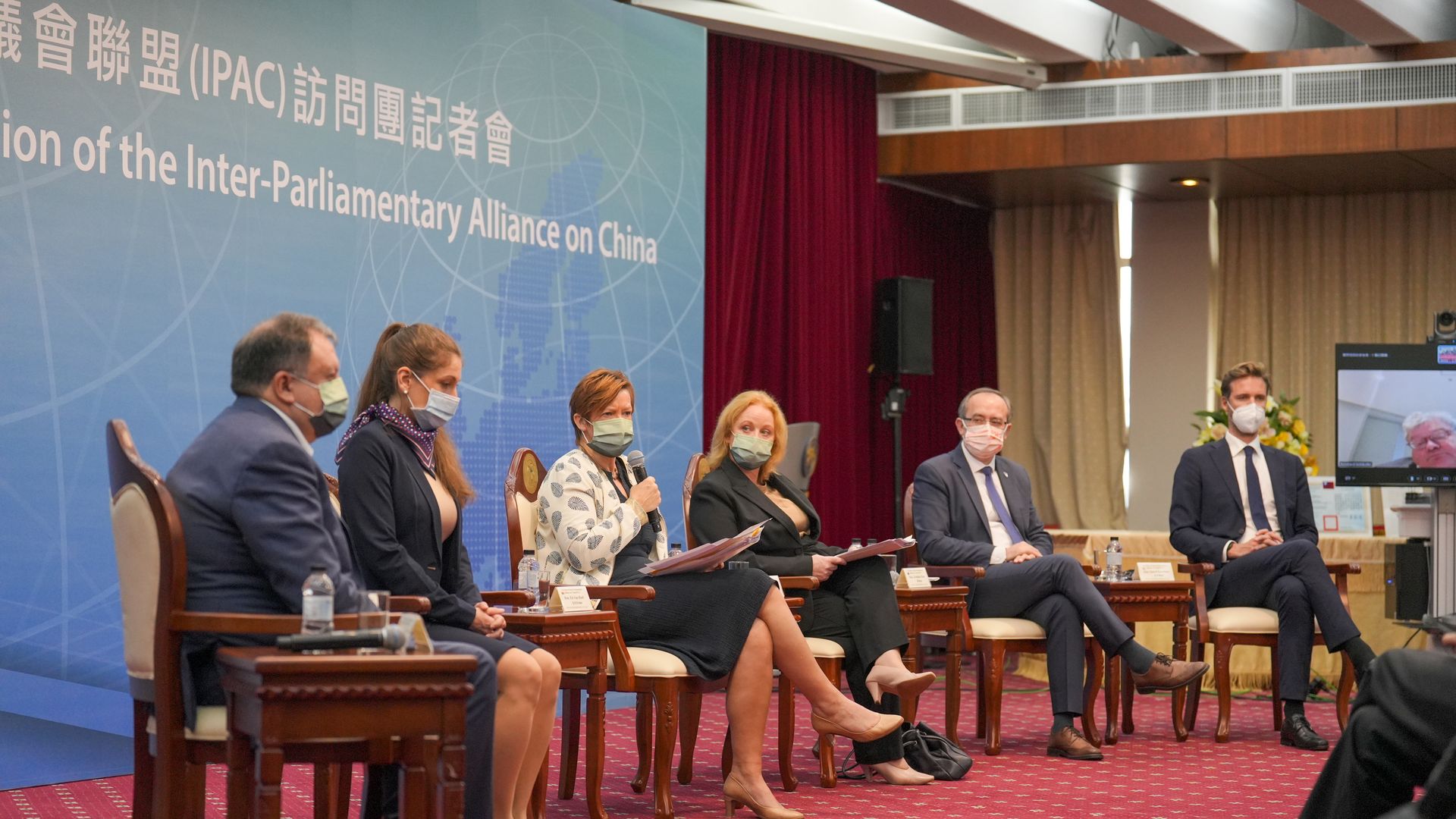 The Inter-Parliamentary Alliance on China (IPAC) will hold its third annual summit in Prague this week.
The coalition coordinates actions between lawmakers from democratic countries that are concerned about Beijing's growing authoritarian reach, including on issues such as Taiwan, the genocide in Xinjiang, and the Belt and Road Initiative.
Scoop: IPAC will announce that parliamentarians from three more countries will be joining the coalition, bringing the total number of participating legislatures to 31, IPAC tells me.
Go deeper: Read Axios' interview with IPAC coordinator Luke de Pulford
A big thank you to Alison Snyder for edits, Judith Isacoff for copy edits, Aïda Amer for visuals, and Dan Primack for contributing.