U.S. seeks short-term extension to science and tech agreement with China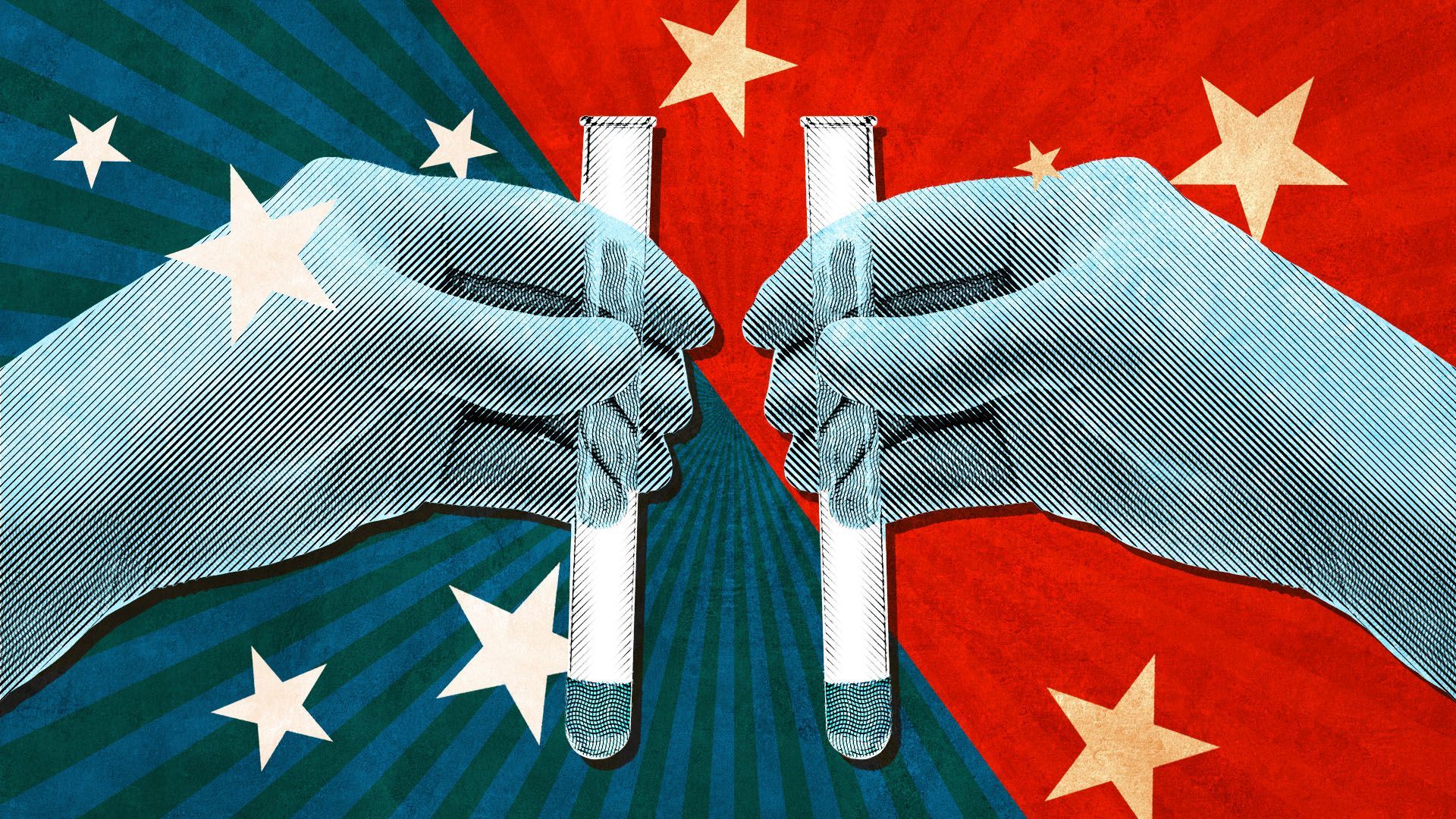 The U.S. is seeking a short-term six-month extension to a longstanding science and technology agreement with China amid concerns Beijing is benefiting from U.S. scientific advances and gaining a competitive edge.
Why it matters: The agreement — and U.S.-China science and tech cooperation more broadly — has come under intense scrutiny as lawmakers in Washington say it risks fostering Beijing-backed intellectual property theft.
State of play: The 44-year-old agreement set up a framework for the U.S. and China to cooperate on scientific research and has been renewed about every five years since it was first signed in 1979. It was going to expire on Aug. 27.
The U.S.-China Science and Technology Agreement (STA) will remain in place as the U.S. seeks "authority to undertake negotiations to amend and strengthen the terms," a State Department spokesperson told Reuters.
The agreement's supporters say the benefits of scientific cooperation and a window into China's scientific advances outweigh the risks opponents express about the Chinese military leveraging U.S. scientific advances.
What they're saying: "It is very important we in the U.S. make clear we are concerned about IP theft, defense information theft and human rights issues," John Holdren, former director of the White House Office of Science and Technology Policy (OSTP) during the Obama administration, told Axios earlier this month.
But, "it is more effective to argue about those problems with people on the other side than to cut off relations," he said.
Chinese Embassy spokesperson Liu Pengyu said in an emailed statement that Beijing's "views and positions on China-US science and technology relations are consistent. S&T is an open business."
"The more than 40-year history of China-US scientific and technological cooperation has fully proved that China-U.S.' exchanges and cooperation are mutually beneficial and have improved the well-being of the people of the two countries and the world at large," he added.
The other side: The House Select Committee on China has "strongly" recommended the U.S. not renew the STA, citing concerns that research under the STA could strengthen China's military-industrial complex.
Former U.S. chief technology officer Michael Kratsios wrote this week that allowing the STA to expire would "help refocus our cutting-edge R&D investments into venues where they are far less vulnerable to being used against the U.S. national interest." Kratsios worked on the last extension of the STA in 2018.
Between the lines: A top priority for the Biden administration is dialogue with China around climate change.
Formal climate talks between U.S. climate envoy John Kerry and his Chinese counterpart Xie Zhenhua, whose relationship is rooted in part in the STA, held a video call on Wednesday to discuss climate change cooperation between the U.S. and China, per Reuters.
What to watch: Republican lawmakers Andy Barr (R-Ky.), Neal Dunn (R-Fla.) and Rob Wittman (R-Va.) this week proposed a bill that would require congressional notification for science and tech agreements with China, Reuters notes.
Go deeper